Finding a good hosting company for your business website is quite a difficult task in today's competitive environment where there are multiple businesses promising the same things.
It becomes even more difficult when you are looking for cloud hosting. But we are here to make things easier for you with our reviews.
For today's review, we have come up with a Webgate review based on our tests and analysis of different parameters like features, security, support, and more. We have used the hosting for months to perform all these tests and analyses and after all the research compiled this review will help you know all about the Webgate hosting company which offers promising web hosting services on high-speed cloud servers in Israel.
Let's get started with the review.
About Webgate
Webgate is an Israeli web hosting company providing professional web hosting solutions for the private and business sector since 1998. They offer a range of web hosting solutions like CMS, shared web hosting, reseller hosting, VPS, Dedicated hosting, and much more.
Webgate's storage services use the most advanced management interfaces. The company's servers are built on a private communication cloud which is based on virtualization technology and located in Bezeq International's server farm in Petach Tikva, Israel. It features independent and exclusive storage, network, information security, and backup infrastructures.
Test & Analysis
Here in below are the results of the main tests and analysis that we performed for Webgate to understand the quality of the hosting that it provides.
User Interface & Ease of Use
Webgate's servers can be configured with cPanel, DirectAdmin, and Plesk control panels, all of which are industry standards for web-based control panels that allow you to control each and every aspect of the server.
With that, there is amazing ease of use and control of the platform and you can easily navigate through your website.
Webgate Customer Support
Webgate offers 24/7 customer support included with all of its web hosting plans. You can contact the support staff via phone or email. There is also a live chat option on their website but it is not available 24/7.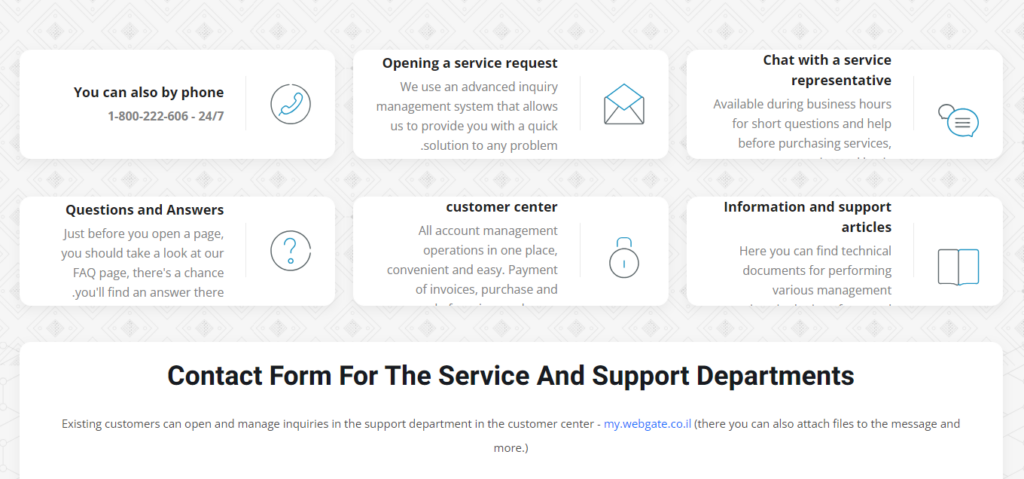 They also provide several other support services for WordPress, which cost extra. The support staff is highly skilled, and the response times are pretty quick.
Security Analysis
Webgate offers free SSL certification with all their hosting plans, which protect sensitive information, affirms your business identity, and improves customer trust.
Additionally, they provide load balancing and DDoS protection services on the server level which protects the servers from unwanted attacks and unauthorized access.
They also offer backups to keep the data secure from any accidental deletion, tampering, or theft.
Key Features of Webgate
Here are some of the main features offered by Webgate.
Types of Web Hosting Offered by Webgate
Webgate offers the following types of web hosting services:
Webgate Pros & Cons
While testing out the services provided by Webgate, we found the following pros and cons.
Pros
Professional WordPress services
Option to choose between Linux or Windows hosting
24/7 support with all hosting plans
Backups are accessible and restorable for seven days 
Cons
Limited live chat support
FAQs – Webgate Review
Is there any refund policy webgate offers?
Webgate offers a 30-day money-back guarantee for all of its hosting packages.
How many Data Center Locations does webgate provide?
Webgate has one data centre located in Israel.
What security systems does WebGate provide?
Webgate provides the following security features
Load Balancing
SSL Certificates
DDoS Protection
Conclusion – Webgate Review
Webgate offers a wide variety of shared hosting solutions along with other services like reseller hosting, VPS hosting, dedicated servers, gaming servers, and more. If you are running a small business, in that case, their shared or VPS hosting services will be a perfect pick for you. However, as a large business, you really have to analyze your needs and be careful about this hosting.
Overall, we can conclude from this Webgate review that it is a great hosting solution for small businesses and you can only know how it works out for you by trying it.
So, you can decide based upon the review if webgate is suited as per requirements or not.