Why look anywhere else, when you can get a complete package to manage your website and take it online? You can not only choose to host your website but also get Domains at the most affordable price. Keeping everything in mind we have curated this guide on MidPhase Review.
MidPhase is a web hosting platform with a lot of different features which make web hosting really easy for you. You can use Midphase to build your website from scratch and do not need to have any prior knowledge in this field. It is the most budget-friendly hosting you can find and they have been in the market for almost 23 years now.
Let us learn more in this MidPhase review and what it has in store for us.
About MidPhase:
MidPhase is a web hosting or IT management company that has been around for quite some time. They started out in 1998 and have since managed to have teams in the UK, Ukraine, and India. The UK2 group owns WestHost and in 2007 MidPhase merged with WestHost.
Test and Analysis of MidPhase:
To have a clear idea of how any web hosting works. It is required that you know the correct uptime and that the security is provided by the web hosting platform. In this case, MidPhase has really outdone itself.
Uptime Test:
The uptime test of MidPhase is one of the highest among web hosting platforms. It is 99.995% since January 2021. It is really necessary to have good uptime since this will make sure your site is up and running every time there is a problem and avoid having the site crash.
Security Test:
Well, we all know that Security is a major aspect that every hosting provider must adhere to. Here, you may not find that staunch attention given to security with the servers. It only offers proper security measures to its WordPress plans overall.
Midphase does have other options such as daily Malware Scans and Removal but these are only limited to WordPress hosting plans and you will not find them with web hosting. You will also find network protection from DDoS attacks and also gives free SSL certification for your website.
Customer Support Analysis:
There is a 24/7 support team in place which is dedicated to making sure that you find your issues resolved as soon as possible. They are available all throughout and the response time is also great. You can choose to contact them through live chat, phone, email, and more.
Well, the best way to reach them is to create a Ticket or send them an email. We tried the same and the response hardly took a few hours. The live chat option is amazing as well but if you are facing some major issues, raising a ticket seems a lot better.
MidPhase Data Center Location:
The Main Datacenter location which is used primarily by MidPhase is the one located in Lindon, Utah since it is a protected and disaster-free area with security in place. There are however other locations available as well, like in the UK and the US.
MidPhase Key Features:
MidPhase sites come with unlimited free SSL certificates which are issued by Let's Encrypt. It means that your site is safe and secure from spam or hackers. Here are some key features you can look at.
Types of Web Hosting MidPhase Offers:
MidPhase offers a range of Web Hosting services and also email hosting services as well. Most of these plans have an increasing number of functions or advantages depending upon the plan.
They have a lot of inbuilt features and these really help in making sure the Website hosting is great.
Starter Package:
The Starter package brings you a lot of features such as:
Pro Package:
The Pro Package has a lot to offers as mentioned here:
Enterprise Package:
This is the package you need if you are a professional and have a lot of demanding work to do.
MidPhase Pro And Cons:
Each and every hosting platform out there has its fair points of pros and cons. However, is it always better to check if the pros overpower the cons without any bias.
Pros
Unlimited storage
Unlimited Bandwidth
Account backups nightly
Free Site Transfer
Cons
Expensive updates
Security is not their best suit
Midphase Domain
Using Midphase there are a lot of options in terms of domains you can choose from. These include.
Website Builder:
You can also choose to avail of their website builder packages which help you to build the most creative and professional website according to your needs.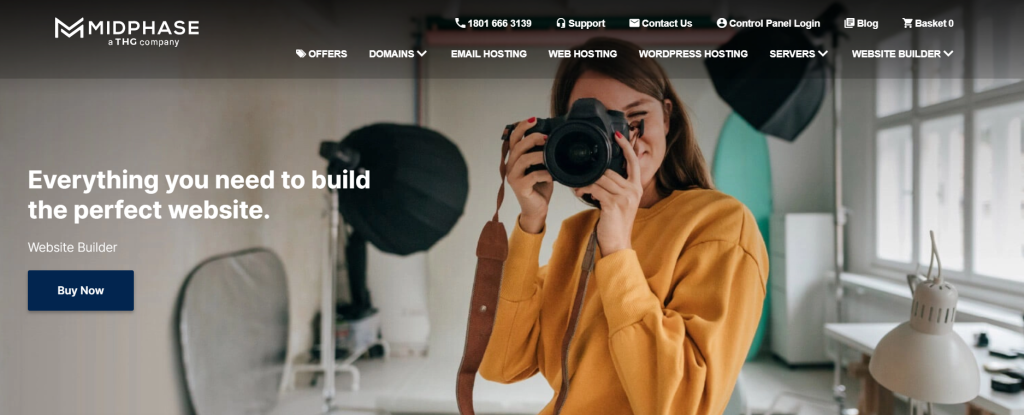 FAQs: MidPhase Review
Is MidPhase Good?
Midphase is not just good, it is excellent. It is great in terms of all the different features they provide and that too so budget-friendly.
This hosting service provider has an excellent interface that makes it easier it navigate through the features. Above all, it is beginner-friendly and highly reliable.
What Makes MidPhase Different from Other Hosting?
MidPhase is a lot more affordable than most other web hosting options. There are multiple plans and a list of features you can choose from based on your website and the overall budget.
Moreover, it takes good care of your privacy and ensures all your data is well taken care of.
Is MidPhase good for blogging?
Yes, MidPhase is in fact very good for blogging. MidPhase is a strong contender in the hosting provider market and it offers WordPress blogging along with all the features as well.
Since it is easy to use and create any type of blog on WordPress, we can say that MidPhase is in fact great for blogging. If you keep in mind the affordable prices of MidPhase there is nothing better that you could look at.
Conclusion: MidPhase Review
MidPhase is true to how they advertised. It is an affordable and friendly hosting website with all the perks you can ever think of. MidPhase has been in this field of hosting websites for a long time now, and you should really try to give it a go.
You can have certain issues with the security once you start hosting your website but if this is something you are not concerned about you can still choose to go with it. Or you can also visit their official site and learn more about the company.