Do you want to blog for social motives or building an outreach?
Maybe you don't want people to creep on you.
There can be several reasons to start an anonymous blog. Every reason differs in every person's respect.
Many people judge by seeing the author of the post. Are you worried about that?
I admit that some of you don't like the star lights; that's why using WordPress Hosting, you can start an anonymous blog quickly.
Why choose anonymous blogging?
As I stated, there are multiple reasons for anonymous WordPress blogging like:
I do not want the audience to judge.
I want (mostly family and friends) to separate my personal and professional life.
I am feeling gross when blogging on sensitive topics like human biological facts.
You want to protect the identities of another person if he/she writes on your blog.
I am expressing concern on controversial topics like politics or religion.
Contracts barred you from reproducing websites for reducing competition.
If famous, I am avoiding distractions by the comments of the people.
I am having a fear of being bombarded with calls, messages, and emails.
Last but most apparent – I am a newbie in this field.
How to Start an Anonymous Blog using WordPress
As claimed by WordPress.org, it runs one-third of the websites. It means that using WordPress is relatively easy and popular.
And why not when you are getting it for free!
Therefore, most of the users get tensed when they need a WordPress anonymous blog.
Below, I am listing five super easy steps for Anonymous blogging using WordPress.
Using Domain ID Protection with your domain name
Whenever you purchase a domain name, you are given an additional option of buying the domain ID protection.
What is Domain ID Protection?
As per the ICANN rules, a domain purchaser would have to provide his details to register the domain with the domain registrar.
The Registrar can make arrangements by hiding your info for some extra bucks. This hiding info is what webmasters term as Domain ID Protection.
Remember: All registered info is publicly accessible on the WHOIS directory. If you are opting out of Domain ID Protection, then anyone can look up your information.
Tip: For starters, this is not necessary. But, those who seek to start an anonymous blog should opt for this.
What is WHOIS?
It is a directory that showcases the personal information of the domain owners.
How Domain ID Protection and WHOIS work?
For answering this question, I will be taking the help of the domain youstable.com.
Visit the official ICANN Lookup WHOIS directory.
In the search bar, type youstable.com
After a couple of seconds, the results appear like this:
You can see that in the contact information section, everything is hidden by using – Contact Privacy Inc. Customer.
How to Apply for Domain ID Protection?
For this example, I took the help of YouStable.com.
Tip: Choose cheaper domain providers like Namecheap, BigRock, etc.
On youstable.com, I searched for my preferred domain.
After clicking the 'add to cart' button, this option started to show:
You can see that there is an option for ID Protection. This is what you have to select to start an anonymous blog.
Every domain registrar provides this facility either for free or for some payment.
Be sure to apply for this if you want to start an anonymous blog.
Maybe you need Adult web hosting
Most of the adult website owners hide their info using adult web hosting.
Therefore, if you wish to blog on adult topics, consider purchasing adult web hosting.
Web Hosting companies like ViceTemple and TempleHost provide this facility with the utmost privacy and protection.
On GoogieHost Blog, our author has listed the Best Adult Web Hosting Providers. Don't forget to check it!
Using a Pseudonym for Anonymous Blogging
A pseudonym means a pen name or fake name.
It comes in handy if you do not want others to pinpoint you.
Note: Using the same pseudonym on the other platforms can lead others to find your real name. So, use a pseudonym carefully.
For example, if your name is John, then try to write your post as Johan. This way, no one will be able to find your name.
Let me show you this example using WordPress.
Using a pseudonym in WordPress
Log in to your WordPress blog account.
Now your dashboard will appear.
Scroll down to the last section, and you will see the 'Profile' option. Click on it.
A screen will appear. Scroll down to its last section till you see this.
In this 'Name' part, change your 'First Name', 'Last Name' and 'Nickname' to anything fuzzy you like 😉 or say pseudonym.
Under the 'Display name Publicly option', select your fake name.
Now click on the 'Update Profile' button located down below the page.
You are all set to use a pseudonym with a WordPress account and to start an anonymous blog.
Anonymous blog with a VPN
A Virtual Private Network (VPN) offers you privacy and security while you are surfing the web. It facilitates a secure connection on both public and home networks.
By encrypting your data using the Best VPN and routing your traffic through their special servers, you can hide your identity while blogging.
You can use an anonymous blog app like Nord VPN to maintain your privacy.
Note: There is no plugin option in WordPress for using a VPN. In my opinion, if you start an anonymous blog, buy a VPN subscription.
Recommended Reading: VPN Meaning and its functions
Anonymous Email ID
Most of the bloggers use an actual Email ID.
However, to start an anonymous blog, you must use an anonymous email id like [email protected][dot]com or [email protected][dot]com.
How can you make an anonymous email ID?
It's easy and peasy! While you proceed to fill in necessary information while making an email, go with something unique and anonymous like shown above – [email protected][dot]com.
How to use an anonymous email ID in WordPress?
Follow the same steps in the case of applying a fake name in WordPress.
Pay attention to this screen now:
In the email section, simply full in your anonymous email ID and Confirm it via verification from your email.
You are set now to start an anonymous blog!
Hiding your Gravatar Icon
If you have set your Gravatar or icon, it is necessary to remove it to start an anonymous blog.
Visit Gravatar.
Now, log in using your credentials. (Login details are same – WordPress account)
Proceed to remove your gravatar icon and set to default or mysterious person image.
Tweak Cloudflare settings
If you have configured Cloudflare settings, then you must follow these steps to start an anonymous blog.
Visit the Cloudflare website.
Login using your credentials.
Visit the DNS Records management part.
This screen will appear.
Do you see the left pointers? The two A records are essential in pointing out your ID addresses. So proxying them would help to hide your identity. One CNAME is pointing out for mail records.
Now, see the right pointers; the orange cloud indicates that I have proxied them. Thus, no one can track me now.
The simple grey cloud icon indicates that my mail IP address is still exposed to the public view. Therefore, multiple people can now spam me.
(I have also proxied it now)
Note: You can register your domain on Cloudflare using this guide.
Verifying with the Results
Visit any DNS Lookup tool and search your domain ID.
For experimental purposes, I will be looking up www.youstable.com. 
Now, the results of DNS Lookup are:
Observe that the three A records of YouStable were successfully proxied.
The IP Address shows ISP as Cloudflare Inc., which is proof that you have hidden your IP address by adjusting Cloudflare settings. Congrats!
Tip: An advanced learner can find the IP address behind Cloudflare. So try to use all the steps to start an anonymous blog!
Proof?
See the screenshot below:
YouStable is a company in India and favourably protected its IP address or location address.
Use Tor Browser
Using the Tor Browser is the same as adjusting your proxy server. You can start blogging anonymously by using the insane workflow proxy server of the Tor Browser.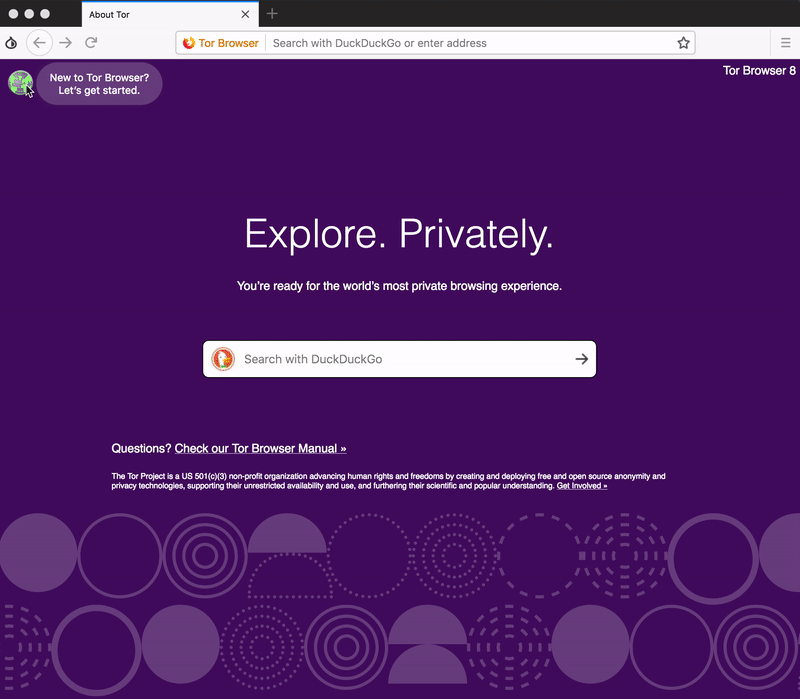 Just download the Tor Browser, and instead of any other browser, use this for posting online. You IP will not be tracked.
Note: Tor creates a heavy proxy route. Hence, you will experience low internet speed.
Use a proxy website
You can use proxy websites Hidester, hide.me, proxy site, kproxy, and many others for posting your content anonymously.
Note: Only after paying for a subscription, you will get better speed in the proxy servers to start an anonymous blog.
Do not Use Affiliate Marketing
If you are planning to start an anonymous blog, then forget using affiliate marketing.
The reason is simple; While you shake hands with the other companies, they store your info. Even if you use a pseudonym, they still will be storing your banking info for future payments.
Before we move to my final recommendations about how to start an anonymous blog, I was hoping you could look up these two headings.
Some popular anonymous blogs on the Internet
Tutsplus
Perezhilton
Techcrunch
Tucker max
Gary Vaynerchuk
Mashable
TPMCaradvice
Scobelizer
Problogger
How can you promote an anonymous blog?
There are several factors which can help you to promote and start an anonymous blog:
SEO
Being Unique and creative
Building Backlinks
Email Marketing
and many others
For the full answer, read – Promoting your new website
Final Thoughts about How to Start an Anonymous Blog
You may think that starting an anonymous blog is quite difficult. Creepers are everywhere; family, relatives, friends, and strangers want to poke you.
Why take tension when you can use my expertise and this article?
After all, Hiding is also an Act of ART!
But before you go, do not forget to check our special deals this Black Friday!
If you like the article, you can read other GoogieHost Blog Posts here.
You can also read reviews of top web hosting providers.
If you like this post, you can submit the feedback in both the star rating form and text in the comment box.
Note: You can post queries, to which our team will happily submit the feedback.