Hosting a website and managing the servers isn't an easy task for anyone. This goes especially for all the beginners who have just started a blog and are willing to take it online. But, with a proper hosting service provider, everything is taken care of. Antagonist is one such hosting provider that focuses majorly on beginners.
Antagonist is a web hosting service provider whose main intention is to provide fast, secure, and reliable web hosting. Also, the focus is on simplicity and quality as well as great customer service. Antagonist has been in the business of web hosting for almost 15 years now and also hosts more than 100,000 websites.
With such a huge client base, there is a lot to explore about this hosting service. Let us look at the Antagonist Review for more.
About Antagonist
It was founded in 2004 and has been a fresh look in the hosting market ever since. It has managed to grow into a big-shot business now. The company currently has a wide array of professionals working in every sector to make the system more reliable and user-friendly.
Also, the team believes in proving the simplest of functions in their product so that any person makes the best use of it. You will hardly find anything complicated such as hosting or even building your website from scratch.
Speed Test and Analysis for Antagonist
Antagonist provides lighting speed in loading all of the websites with 99.9% uptime and also 40% faster websites as well.
Ease of use :
Antagonist is really easy to use and you would not have any problem even if you are just starting out. It is really very easy to use and even beginners can make a site taking help from templates and if sucks by taking help from their fast-paced customer service.
Security Analysis:
Hosting with Antagonist is really secure and you also get GDPR compiled as well. The antagonist has also been rewarded in 2019 and 2020 for their outstanding security as well.
Customer Support:
The help desk replied very fast and the operative all throughout the day. You can choose to chat with them via the live chat option on the website and on social media.
Or you can also choose to email, emails will be replied to in just 4 hours and the hosting also comes with 150+ manuals as well, on how to host your website.
Antagonist Data Center:
Antagonist is mainly hosted on servers based in the Netherlands. The data remains protected and also runs very fast.
Key Features Of Antagonist
You get quite a bit of feature with Antagonist, some of these include: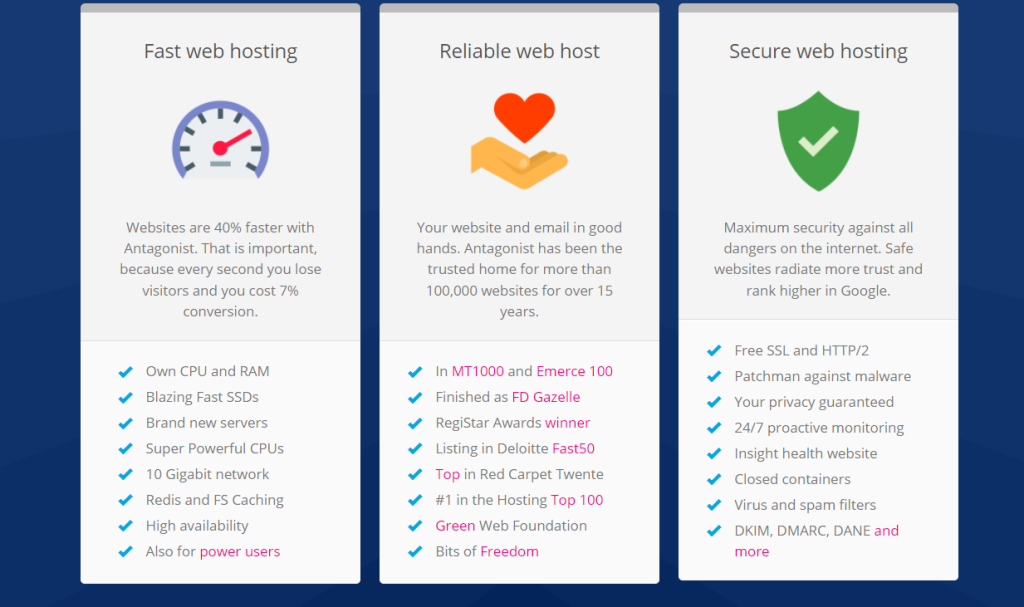 You will get enough space as needed for your web hosting and organizing emails will be child's play. Also, your website will not be under fire from any sort of viruses or spam and with unlimited subdomains, there is no limit to what you can achieve and how you want to customize it.
Antagonist Refund Policy
Antagonist prices start from around $4.96 /month, $9.83 /month to $19.87 /month. Applying for a refund is pretty easy and you can do it before 30 days of service.
Antagonist Pros & Cons:
Pros
Free SSL
No Redis Cache
Clear Agreements 
Cons
Limited Website Domains
Limited Emails per day.
How to host your website on Antagonist?
There are a lot of options you can avail of like Hosting Package, WordPress, Email and Reseller package, and also online storage.
You can also buy and transfer domains as well with all kinds of extensions. You can choose to Change the transfer service and domain using only around $130.69 and also get Remote assistance per 15 min on hosting your website for around $24.84.
Do we Recommend Antagonist Hosting Review?
Yes, we do recommend Antagonist hosting very much. It provides a lot of different domains land also comes with unlimited subdomains in most of the plans.
The 30-day money-back guarantee also makes sure that you do not have any problems regarding payment on increasing the tenure of the plans as well.
Conclusion – Antagonist Review
Therefore, Antagonist provides a lot of different options and features you can choose from. It becomes really easy to customize your website.
Make sure to try the antagonist hosting site, it is perfect for beginners since the interface is pretty easy to work on and has all the tools you need to get started making the website better one step at a time. You can also get tailor-made packages that are applicable to your needs.
The only issue we found was that they have limited website domains available for the users as well as you can only send a limited number of emails per day. If this is something you can work with, then overall it is a great option to choose from. Also, you can check out more on their official site.