Your website performance depends entirely on the quality of your hosting service provider. So, you want to ensure that your website is powered by a reliable, secure, and high-performing web hosting service provider.
Well, one good option before you is SmugHost. It's a reliable hosting solution that has been in the industry for years.
Today, in this SmugHost Review, we will explore this hosting service for its performance, security, and features to see if it's the right hosting solution for your business. So, let's get started!
About SmugHost
Born with the aim to solve the issues that come with different hosting services, SmugHost is a relatively new development in the hosting industry.
Its year of establishment is not precisely clear. However, it came around somewhere about 2018 and for the past four years, it's seen rapid growth as a promising hosting service provider that takes a multitude of web services in its purview.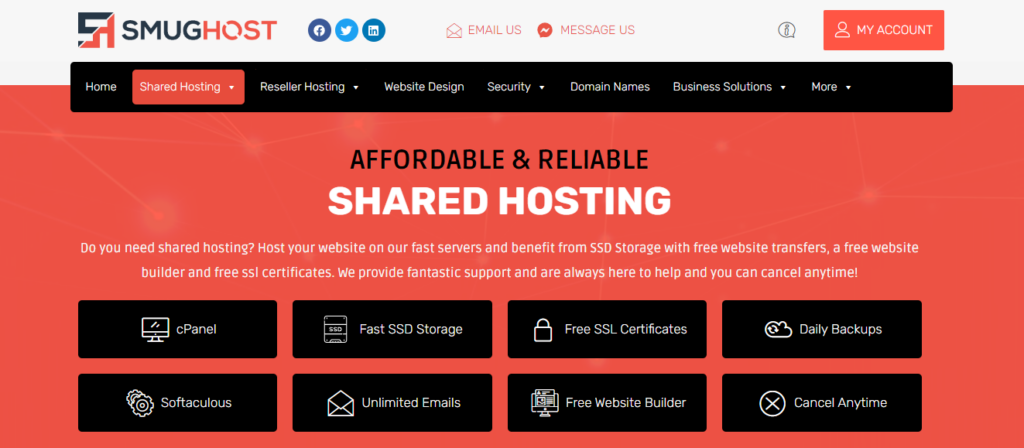 The company's major focus is providing excellent customer support and security to meet its end-to-end requirements beyond expectations. You can get all types of hosting on SmugHost, including shared and reseller hosting. Additionally, the platform is well-versed in delivering domain and designing services.
Test and Analysis
Testing and analysing a hosting service for its support and performance is essential to know that you're investing in the right place. Here are the results of our various tests and analysis of SmugHost.
User Interface & Ease of Use
The hosting solution comes with cPanel control panel support which is easy to use and understand. Besides the cPanel control panel, you also get CloudLinux support and a free website builder that makes website creation and customization quick and easy. So, the ease of use is quite amazing with SmugHost.
SmugHost Customer Support
Customer support is something that Smughost takes quite seriously. Support is one of the major issues faced by hosting solutions. Since SmugHost aims to come as a platform that resolves issues of other hostings, it focuses on ensuring that the support is instant and responsive.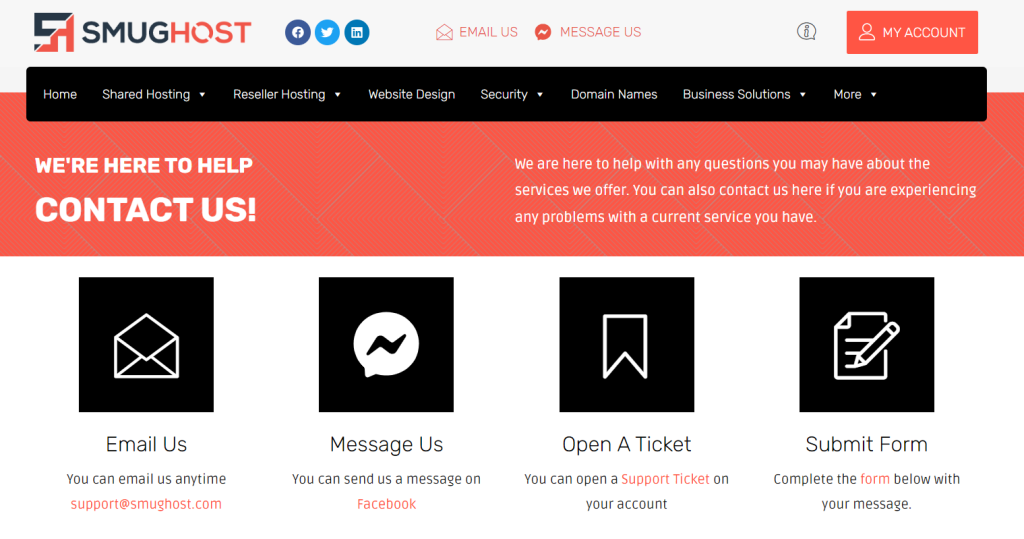 As such, you can reach out to the support via messenger or email, and the platform tries to reply to you at the earliest possible time during business hours.
Security Analysis
Security services are at the core of SmugHost hosting solutions. They make sure to power your websites with excellent security features and provide free SSL certificates and Sitelock with all the hosting plans. The security features also include Codeguard protection for added security on the websites.
SmugHost Data Centre
SmugHost started with a single data center in its country of origin, the UK. Any more information about its data centers is not precisely available. So, we can only assume that it has a single data center in the UK powering all its servers.
Key Features Of SmugHost
It's important to know the key features of any hosting service to judge its effectiveness and efficacy. Herein below is the core features that you get with SmugHost hosting plans.

SSD Storage
SmugHost offers SSD storage for all its hosting plans, which is easy to use and offers excellent space for safely storing all your data and information.
The SSD storage also ensures that your website runs at excellent speed and offers fast performance even with a lot of data and information stored on it.
Free Website Builder
SmugHost comes with a free website builder that you can use to create your website without any relevant coding or programming knowledge. The website builder has drag-and-drop functionalities and multiple templates that you can customize per your requirements, making website designing and development an easy task for you.
Daily Backups
You want to protect your data at all times and ensure that you have the means to recover it in case of accidental deletion or the files getting corrupt.
SmugHost has a feature to automatically take daily backups of your website, ensuring that all the data remains safe, protected, and recoverable.
Softaculous Script Installer
You need to use different applications and scripts on your website to extend its features and functionalities. All this is made easy with the Softaculous script installer feature that allows you to install and use different PHP scripts and other applications on your website in just a few clicks.
SmugHost Refund Policy
SmugHost has different refund policies and money-back guarantees for its different types of hosting. For private servers and VPS, it offers a 7-day money-back guarantee whereas, in the case of shared hosting or reseller hosting, the users can cancel their account within 30 days to get a refund.
The users must make the refund request within the 7-day or 30-day money-back guarantee period, whichever is applicable, to ensure that they receive a full refund in case they're not satisfied with the services.
Pros
High-speed, high-performance SSD storage.
Free site builder for quick and easy website designing and development.
Excellent security features and functionalities.
One-click installer to extend website functionalities with PHP scripts.
Comes with money-back guarantees.
Cons
Information about data centers and hosting establishments are not easily available.
FAQ's – SmugHost Review
Is it possible to get a free domain?
Yes, SmugHost offers domain services, and you can get a free domain with validity for a year by purchasing a hosting plan with SmugHost.
Does SmugHost offer a free trial?
Yes, you can use the coupon code TRIAL to avail yourself of the free trial period on SmugHost web hosting.
Conclusion – SmugHost Review
SmugHost is a pretty good hosting platform. Throughout this SmugHost review, we could see that it offers great performance, speed, and security.
One downside of the platform is that not a lot of information is available about SmugHost. However, you can get to know about it when you explore it by yourself.
The exploration of the platform doesn't hurt either because you have enough time to opt out of it. Moreover, you're never stuck in any contract with SmugHost and can cancel your subscription anytime if it doesn't seem to be suiting your needs and requirements.
Overall, SmugHost is quite a decent platform, and you can give it a try to see for yourself if it's the hosting solution to meet your business requirements or not.