Gaming is no longer a simple hobby or passion. People have converted this passion into a profession and given that many gamers look for gaming servers to conduct live streaming of their games or to connect with other gamers in the pool.
We came across PebbleHost, a wonderful hosting company that provides game servers, Minecraft servers, dedicated servers, and a lot more in the area of web hosting. We reviewed the company through and through and were so impressed that we couldn't quite keep ourselves from sharing all about PebbleHost Review with you.
So, here we are with a detailed PebbleHost review to help you find the best game servers for the most fulfilling gaming experiences.
About PebbleHost
Founded in 2017, PebbleHost comes as one of the most promising web hosting companies for gaming and dedicated servers. For 4 years, PebbleHost has worked with dedicated experience and expertise in meeting end-to-end client needs for fast and highly responsive game servers from multiple data centre locations around the world.
The hosting company also has a huge community over Discord where you can connect with the support to find answers to all your queries and host your servers with ease without any hassles.
Test and Analysis
Let us now test the services offered by this platform in this PebbleHost Review.
User Interface & Ease of Use
PebbleHost offers an easy to understand and simple user interface with a customizable control panel offering you complete control over the management of your servers. With such a customizable control panel you get significant ease of use in operating the servers and enjoying a fulfilling gaming experience.
PebbleHost Customer Support
The customer support at PebbleHost is pretty amazing. They've got a huge Discord community for customer support where you can get responses from the team almost instantaneously. Even if they have a lot of support requests on Discord, the responses take no longer than 30 minutes. However, for better Customer Support you can checkout kamatera, ChemiCloud, A2Hosting and HostArmada.
Besides Discord support, you can also get support from the knowledge base available on the website. Moreover, if you don't want to join the discord channel, you can simply go to the live chat option available on the website. The responses on live chat are also pretty quick.
Security Analysis
The security of the servers available on PebbleHost is top-class. All the servers in different plans are secured by DDoS protection to ensure that only authenticated users are able to get service from the servers and that the servers are protected from any attacks or risks at all times.
In addition to DDoS protection there are many more security features such as built-in passwords for the accounts to only allow authenticated users. You can also manage access for different accounts. There are also security firewalls, command blocks, and security plugins for managing security and access on your PebbleHost servers.
What Types of Hosting Does PebbleHost Offer?
PebbleHost offers multiple types of hosting all of which are related to gaming. The list of hosting available at PebbleHost includes-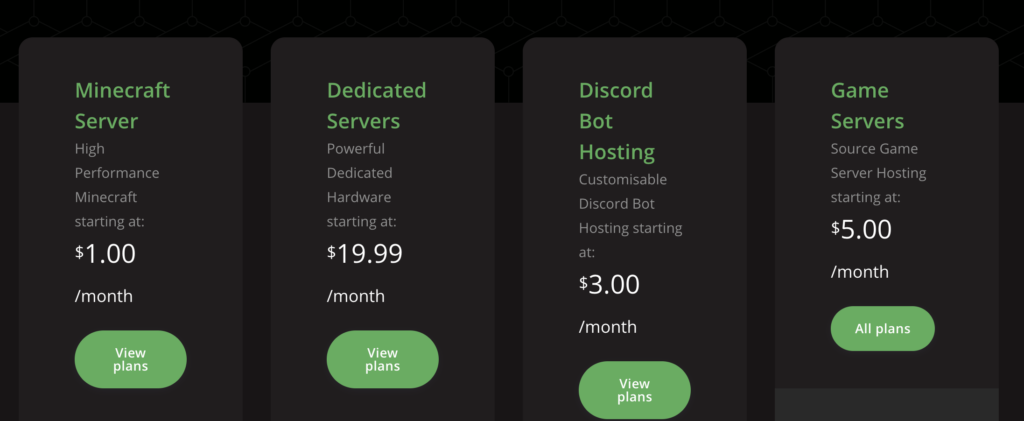 PebbleHost Data Centre
PebbleHost has data centres all around the world and you can choose from different locations depending on the location that offers the fastest service which you can determine with a ping test available on the PebbleHost website.
The data centre locations that you can choose from are –
Key Features Of PebbleHost
When you're determining the efficacy of a hosting solution, it's essential to look at its features. Herein below is the overview of the key features of PebbleHost hosting.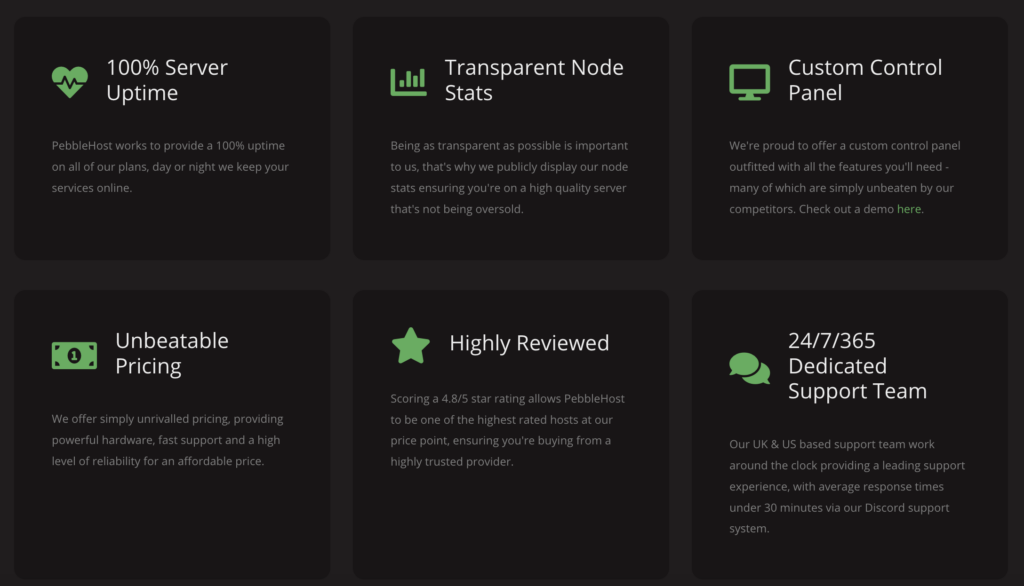 Custom Control Panel
All the hosting servers at PebbleHost come with a custom control panel that you can operate as per your specific needs and preferences. So, you remain at considerable ease of use when it comes to managing your servers on PebbleHost.
SSD Storage
PebbleHost servers come with SSD storage which is unmetered with some of the plans. So, you get excellent storage options to manage and maintain your data while also having the chance to maintain the fast speed and performance of your servers.
Automatic Backups
Your server data is important to you and you want to keep it protected at all times. PebbleHost ensures the same by taking automatic backups of your data on a daily basis to make sure that it's protected and can be restored in case of accidental deletion or the data getting corrupt.
100% Server Uptime
This is something that no hosting can guarantee, but PebbleHost does. They maintain uninterrupted service at all times by making sure that your servers remain uptime 24/7 without any discrepancies in the connections and networks.
Transparent Node Stats
Transparency is the key to the open and reliable services of PebbleHost. They keep their servers open and are transparent with all their node stats, clearly mentioning them with the servers thereby delivering high-quality servers that always remain uptime and deliver high speed and performance.
PebbleHost Refund Policy
PebbleHost has a very short-time refund policy. Once you've ordered a service, you can cancel the services within 72 hours and get a full refund without any questions asked.
However, the refund is not available on add-ons and dedicated servers. Other hosts like StableHost and HostArmada offer a 45-days refund policy.
PebbleHost Pros & Cons
Pros
Customized control panel
Transparent and reliable
100% Uptime Guarantee
SSD storage for the servers
Excellent security features
Highly affordable plans and pricing
Cons
The refund period is too short and it might not be possible to determine the usability of the servers in such a short time-frame.
FAQs – PebbleHost Review
Is PebbleHost Minecraft good?
Yes, PebbleHost Minecraft servers are great with advanced features and unmetered bandwidth and can offer you amazing gaming experience.
Does PebbleHost have unlimited storage?
Yes, you get unlimited bandwidth and storage with some of the plans and packages on PebbleHost.
Can PebbleHost have mods?
Yes, PebbleHost has a fantastic variety of mods that you can choose from to create even an entire factory of mods for more fulfilling gaming experiences.
How many games are available in Pebblehost?
There are games like Minecraft available on PebbleHost. You can also take game servers on PebbleHost to host and stream other games of your choice.
How is PebbleHost's customer support?
PebbleHost is great with its customer support. They offer support through Discord and their responses are pretty instantaneous on the support. You can also get support from the knowledge base.
Conclusion – PebbleHost Review
From the entire PebbleHost Review, we can conclude that it's a great platform for gamers. If you're a professional gamer or even looking for a gaming server for fulfilling and entertaining experiences, you can trust PebbleHost. In addition to game servers, PebbleHost is also great with dedicated servers.
The service quality, security, pricing, and features are top-notch and there will hardly be any complaints with the hosting company. Even though new, PebbleHost has got an established name in the industry and is worth a try.
So, go for it and see for yourself how its servers work out for your needs and requirements.