With things taking a digital turn on a global scale, individuals are focusing more on accessibility so that they can reach out to a larger audience.
One needs to know that they shape their website to ensure performance that includes low downtime, high speed, and an easy-to-steer user interface.
Thus, choosing the right web hosting provider is of utmost importance. It will provide a better skeleton for the website but will also help in retaining and boosting the number of website users and hence help with branding.
You can find different types of hosting services available in the market. Now, when you're trying to build a new website or expand your business through the website, it becomes essential that you choose the right web hosting solution.
Out of all the options available in the market, StableHost is one of the most well-known web host providers, which provides services at an affordable range and is also easier to navigate through, for beginners especially.
Following is a detailed review of StableHost as a web host provider, which will help you understand how it functions and make your choices easier.
About StableHost
| | |
| --- | --- |
| 🚀 Speed | From New York Server 1.0 to 1.5 sec |
| ⏰ Uptime | 99.93% uptime in the past 365 days |
| 👩🏻‍💻 Support | Phone, Live Chat, and Email |
| 💳 Payment Method | Credit and Debit cards, PayPal |
| ♻️ Refund Policy | 45-days refund |
| 💰Pricing | Starting from $1.75/m |
| 🌎 Data Center | USA, Singapore, Sweden, Amsterdam, Spain and Germany. |
StableHost is an Arizona-based privately owned web host provider founded in 1998 and launched in 2009. It is a tight-knit community of about 15 people who promise to prioritize your work and time.
Their team consists of genuinely passionate individuals who know about the concept of web hosting. They have been running without debts for ten years now and put back all the revenue into their business so that they can constantly upgrade their quality of services.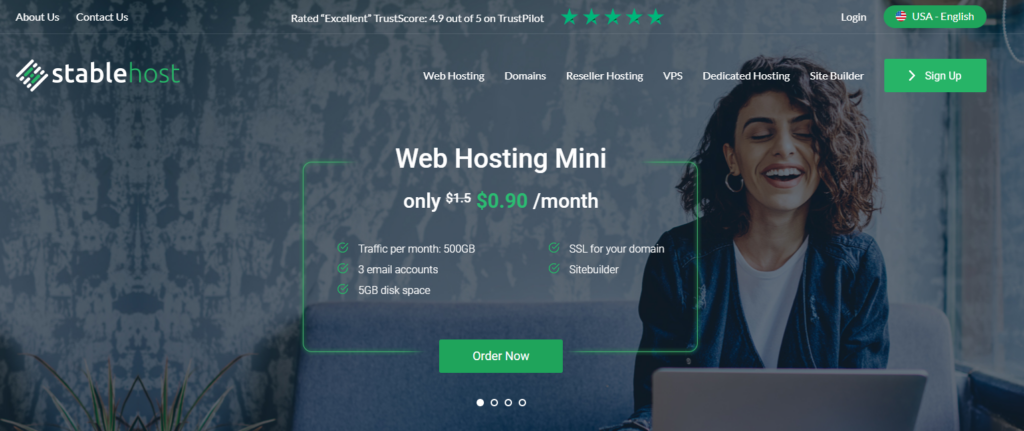 StableHost was considered one of the fastest-growing web hosting companies and part of Miss Group, in 2018. For over a decade, they have been dedicated to providing reliable and secure web hosting solutions.
They provide services like domain registration, shared hosting, dedicated VPS, an easy-to-use control panel, options for some languages other than English, etc.
Speed Test Analysis for StableHost
Speed is a crucial aspect of any website because statistically, a significant proportion of customers leave if the website takes too long to load.
StableHost provides good speed, but we have conducted a few tests while working on this review and based on these tests, we can safely confirm that if you are concerned about server speed, then choosing StableHost is the correct choice.
Customer Support Analysis
While building a website or expanding one, you might inevitably stumble into situations requiring some help, and it's when customer service comes in.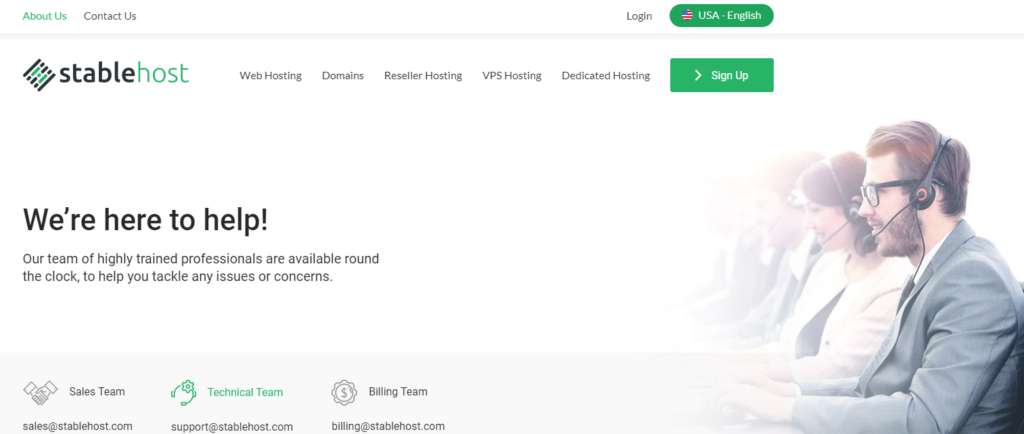 You can contact an expert whenever you need to. StableHost provides technicians for customer care, who work round the clock, i.e., 24/7/365, and respond within 20 minutes of raising a concern. For better customer support you can check out Chemicloud, YouStable, and HostArmada.
So, you can count on them to get back to you to address your concern.
Server Response Time
StableHost provides a good server response time. It refers to the time taken by the server to respond to a request made by a user. So, you can stay assured that you will see the website pages quickly and not have to wait around for things to load.
Speed Test
It is vital to ensure that the website runs at good speed because statistically, a website can lose a significant number of 40% of buyers or visitors if the page loading time is more than 3 seconds.
StableHost provides good uptime speed. The speed test conducted while working on this review confirms their claims. They use customized versions of Litespeed, PHP, and MySQL. They display steady speed with increasing visitors to work very well with your expanding business.
Security Analysis
Security is a priority for any website to flourish. A website needs proper security for important confidential data related to both the core technical team and the users, which must be safeguarded to increase the website's reliability.
StableHost provides many security features such as-
and other features for free. Additionally, you can pay to customize and optimize the security of your website.
StableHost even has special security analysis services to perform risk analysis and prevent your website from any malware attacks or other security threats.
You can choose it from different Site Lock Security Plans available on the website.
StableHost Data Center Location
StableHost covers a wide range of data center locations in different countries. They operate primarily from the-
They consequently also cater to languages other than English. You can always go to the center closest to your location for better service.
Key Features of Using StableHost Hosting
Let us now look at this platform's key features in this StableHost Review.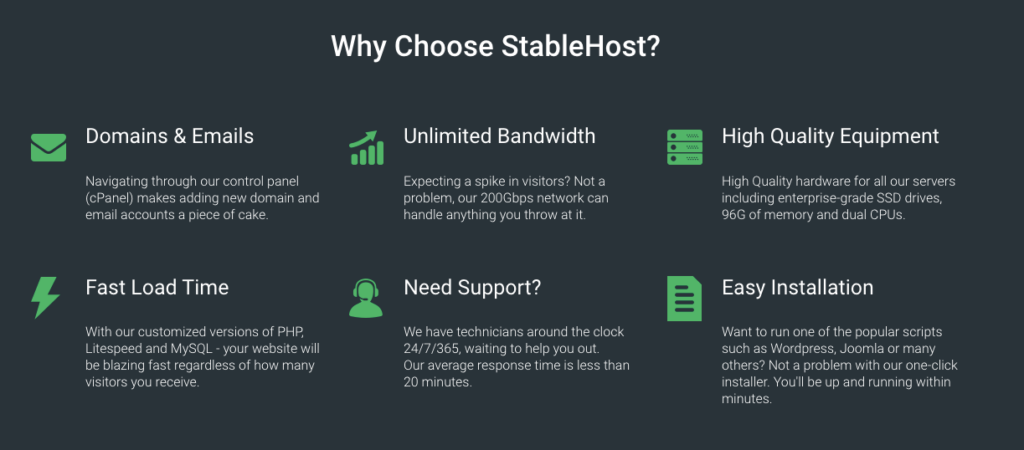 Clustered Shared Hosting
Clustered shared hosting helps in managing traffic and alterations made on the part of the technical team. StableHost provides clustered shared hosting where they use more than 100 SSD drives.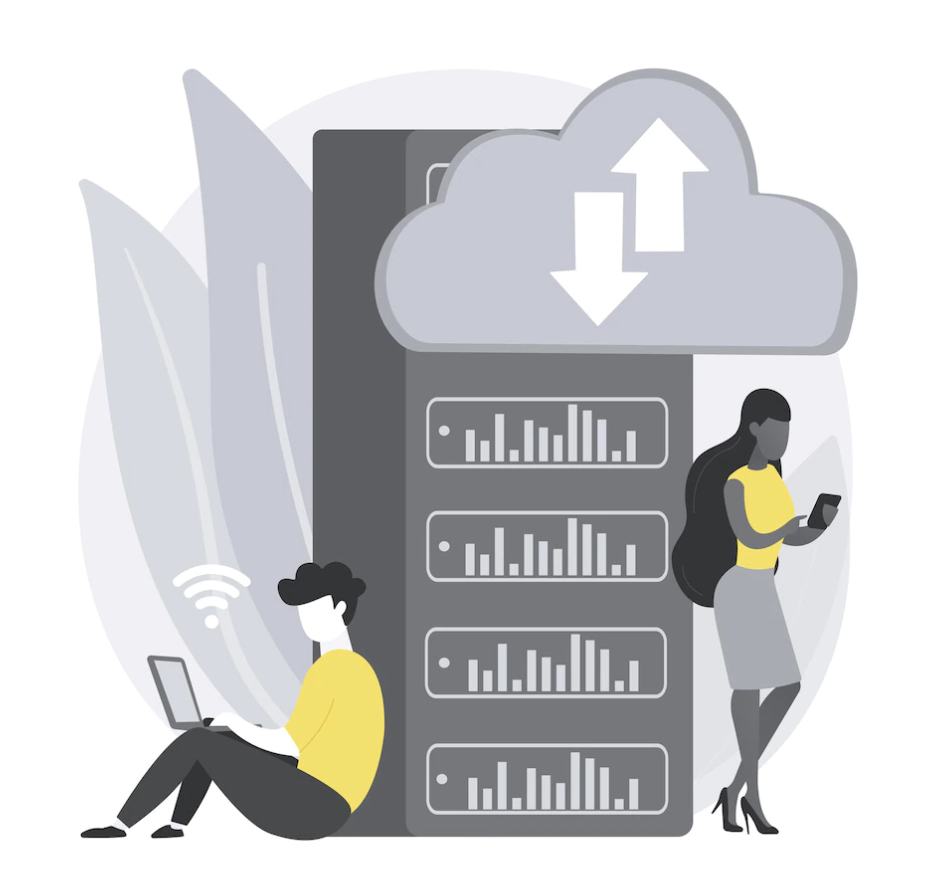 When you add information or make any sort of alterations to your SSD drives, at that time, the clustered shared hosting monitors all the SSDs and makes the most suitable server available for your work.
It is thus better monitored than standard shared hosting.
Unlimited Storage and Bandwidth
StableHost provides unlimited storage and bandwidth on all three plans, which means they do not limit these features based on the price you pay to avail of their services.
Thus, it provides no bandwidth restrictions, which helps maintain the website's stability even with an uneven rise in website visitors.
Unlimited Email Accounts
StableHost provides unlimited email accounts, which help the companies in branding with unlimited scope for customizing email accounts and creating unlimited auto-response emails with no stipulations.
It contributes to further branding and helps improve the brand's legitimacy.
Free SSL Certificates
SSL certificates enhance security measures for a website and help to provide more legitimacy by ensuring the safety of customer data. With StableHost, you get free SSL certificates to ensure better security for your website.
E-commerce Functionality
StableHost provides E-Commerce functionality, and hence individuals can use this platform to sell their products using the various tools provided.
Website Builder
StableHost will help you build your website from scratch with just the type of customization you would want on your website.
It provides options for 3 types of website builders based on the type of plan you will opt for, and you do not have to have technical knowledge for it, so it is pretty convenient.
VPS Hosting
StableHost has 5 different types of VPS hosting plans that cater to small businesses, expanding forums, and well-established businesses that work on larger scales, so that you can choose whichever fits your bill the best.
StableHost Refund Policy
StableHost has a pretty flexible refund policy that has managed and reseller hosting with a 45-day grace period, while for VPS hosting, StableHost provides a 7-day period. Thus, it provides ample time for its users to make up their minds.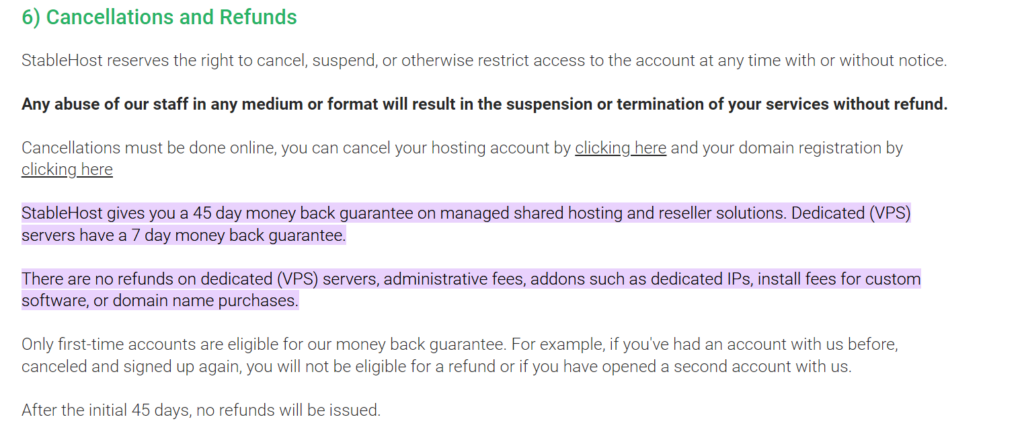 StableHost Pros and Cons
Every platform has its pros and cons, which makes them unique. So, let's have a quick look at the significant advantages and disadvantages of StableHost.
Pros
The clustered shared hosting helps fix bugs immediately, so the website will never be down for a prolonged period.
Guarantee money back within 45 days
Multiple hosting options
User-friendly control panel
They have a pretty responsive customer care service.
Cons
The uptime might sometimes fluctuate while reaching up to 99.93%
The price of the premium plans might not be suitable for everyone.
Lack of availability of customizable VPS.
Domain
StableHost provides for domain registration at decent rates, including a free domain name for the first year of service.

So, you don't have to look around to get a domain for your website. It's all sleek and easy at StableHost.
Backup
StableHost provides regular security and data backups so that your website and data remain safe at all times.
With regular backups on StableHost, you never have to worry about losing important data or information.
Site Builder
StableHost provides options for 3 types of website builders based on the type of plans you purchase for your business. They guide you through the whole process so that you do not have to worry about the technical aspects of it all.
With the different site builder options at your disposal on StableHost, you can create your stunning website in no time at all, and that too with no specific need for coding and programming. It works great for novice and non-technical users.
What Makes StableHost Different from Other Hosting?
There are quite a few factors that set StableHost apart from other platforms:
Why Should You Choose StableHost for your Website in 2023?
Stablehost is a very efficient web hosting provider that operates at a very reasonable price. It is beneficial for small businesses and businesses looking to expand. It provides value-for-money functions for entry-level hostings, which can be very beneficial for new investors.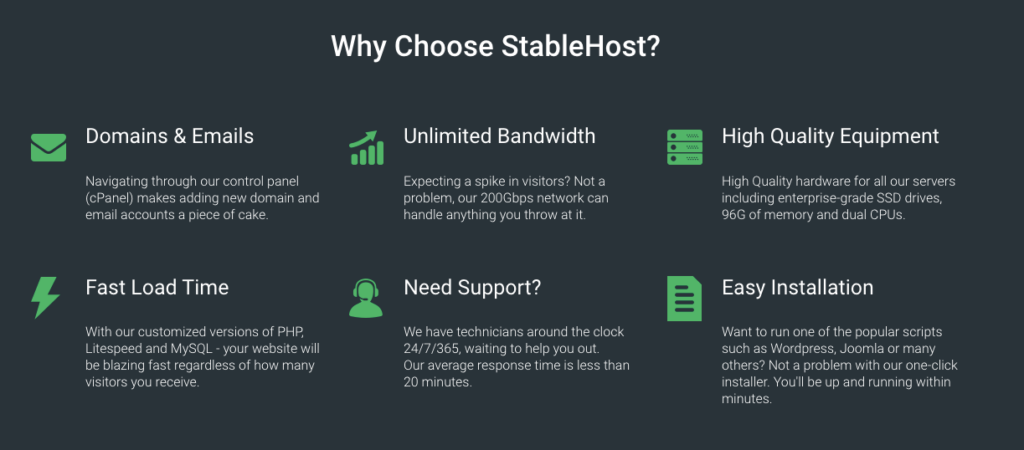 Moreover, its features, functionalities, speed, uptime, and even the refund policy are top-notch. With StableHost, you can scale your website to the next level, giving you every reason to choose it for your website in 2023.
FAQs: Stablehost Review
What is Stablehost Clustered Hosting?
It is a unique feature provided by StableHost. When you add information to or make any sort of alterations to your SSD drives, the clustered shared hosting monitors all the SSDs and makes the most suitable server available for your work.
Does StableHost offer a money-back guarantee?
Yes, StableHost offers a money-back guarantee within 45 days. They provide their customers with a small-time window that can be utilized to check whether it serves their purpose or not.
Does StableHost offer an uptime guarantee?
Where are StableHost's servers located?
StableHost's servers are primarily located in the U.S.A., Spain, Germany, Netherlands, and Singapore.
What features are included in the StableHost Starter Plan?
These features that are included in the Starter plan for StableHost are:
UNLIMITED DISK SPACE
UNLIMITED BANDWIDTH
ONE FULL CPU CORE
99.93% UPTIME GUARANTEE
ROUND THE CLOCK CUSTOMER CARE SERVICE
ACCESS TO THE SITE BUILDER
HOSTING FOR ONE WEBSITE
Does StableHost offer any free trial?
They do not provide a free trial but a money-back guarantee that applies for 45 days, so you can use it and check if it gives your website the desired outcome.
How does StableHost Stand on Hosting Competition?
Even though StableHost is smaller than most of its contemporaries, it provides a solid base for its hosting solutions. It can also accommodate large-scale enterprise-level hosting by incorporating multiple servers.
If I'm a beginner, which plan is best for me?
You should definitely go for the Starter plan if you are a beginner. It is reasonable and will give you value for your money. It will also help you better understand the whole concept of websites and online businesses.
Do we Recommend StableHost Web Hosting?
Having done this in-depth StableHost review, we have found it to be an amazing web hosting solution having excellent features and functionalities.
The solution not only offers hosting but also domain registration and website-building abilities as well. On top of it, it's a very affordable hosting service. Given all this, we recommend StableHost Web Hosting without any reservations.
Conclusion: StableHost Review
StableHost is an outstanding web host provider that provides services at a very reasonable price. It provides scope for optimum customization, and their team prioritizes your work which helps propel your business to newer heights.
While there is always some room for improvement, it is a wonderful option for small businesses and those looking to expand and branch out.