Cloud computing is a very popular technology that changes how companies host and manage their data and resources. However, getting the right cloud servers for your resources is quite a challenge, with so many companies out there promising the best-performing cloud solutions.
We overcame that challenge of choice by presenting detailed reviews for different companies engaged in cloud solutions and hosting, and today we have come up with LayerStack Review.
Let's get on to this LayerStack review to help you see if this is the solution you are seeking for your organisation.
About LayerStack
LayerStack is a cloud computing and hosting company with a strong footing in the market for over 18 years. LayerStack is committed to providing the most high-performance cloud services and solutions with an excellent team of cloud developers and engineers.

Its experience and amazing data center locations are in Hong Kong, Singapore, Japan, and Los Angeles. LayerStack delivers a simple, stable, and scalable cloud environment for efficient business growth for its clients and customers.
Test & Analysis – LayerStack Review
In order to have a detailed overview of the performance of LayerStack, we have performed a detailed test and analysis of the platform on multiple factors.
Herein below are the results of all our tests and analysis.
User Interface & Ease of Use
The user interface is quick and simple. You can set up your cloud servers and resources within minutes. Additionally, it offers one of the best graphical web-based control panels.
Using its cPanel server control panel, you can access various functionalities like publishing a website, creating emails & calendars, backing up, and more.
Moreover, you can also transfer all web files using the control panel, manage domains, launch databases using MySQL, Wizard, phpMyAdmin, and access various other tools.
LayerStack Customer Support
LayerStack offers 24/7 customer support 365 days a year. You can contact the sales and technical experts using WhatsApp, tickets, or the live chat feature on the website.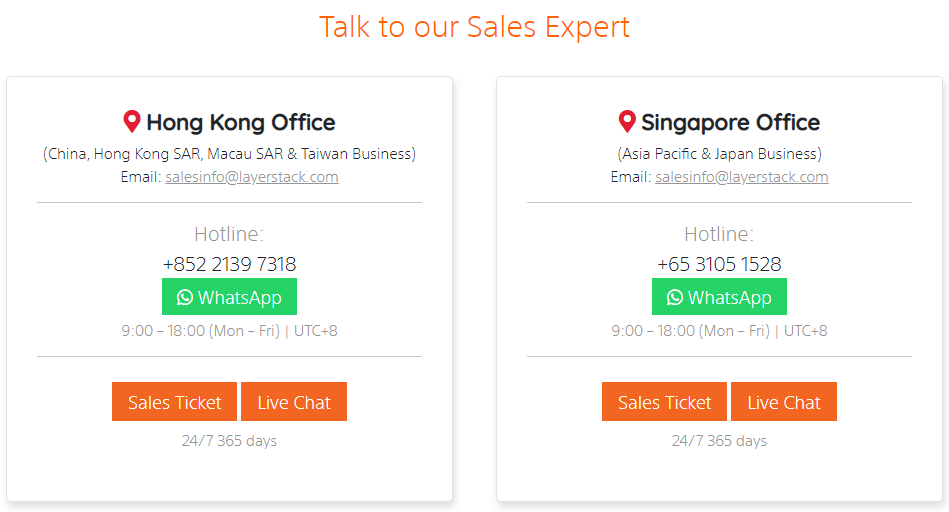 You also have the option to email them if you want to. LayerStack also offers consultancy services if you have any product or plan questions.
Security Analysis
LayerStack offers various web protection products like DDoS protection starting from $51.00 /month, which safeguards your website against DDoS attacks. The Hong Kong defence servers with a CN2 direct Chine connection allow for seamless protection of your servers by sorting out and filtering all the incoming malicious traffic. 
LayerStack also provides a global private network, an isolated network designed for privacy, allowing you to dodge security potholes and bypass internet congestion using a fully isolated environment.
Lastly, LayerStack also provides firewall services to protect your servers against cyber-attacks, enable restrictions based on IP addresses, prevent trojans, and much more.
Key Features of LayerStack
Here are some of the key features offered by LayerStack:
LayerStack offers a powerful API that can be automated to perform different functions on your LayerPanel.

You can deploy the LayerStack servers in a single click, and the entire process takes less than 60 seconds.

Your servers always remain protected with a Global Private Network that hosts the resources in isolated environments.

You can manage the load on the servers by distributing the traffic among different servers, thereby ensuring uninterrupted services.

The servers come with NVMe SSD storage which is fast and secure and keeps your servers performing at high speed and performance.
Types of Web Hosting LayerStack Offers
Flexibility to choose the service you actually want is a big deal. LayerStack offers a lot of services. Although they are primarily a VPS providers, you can choose add-ons and some networking services as well.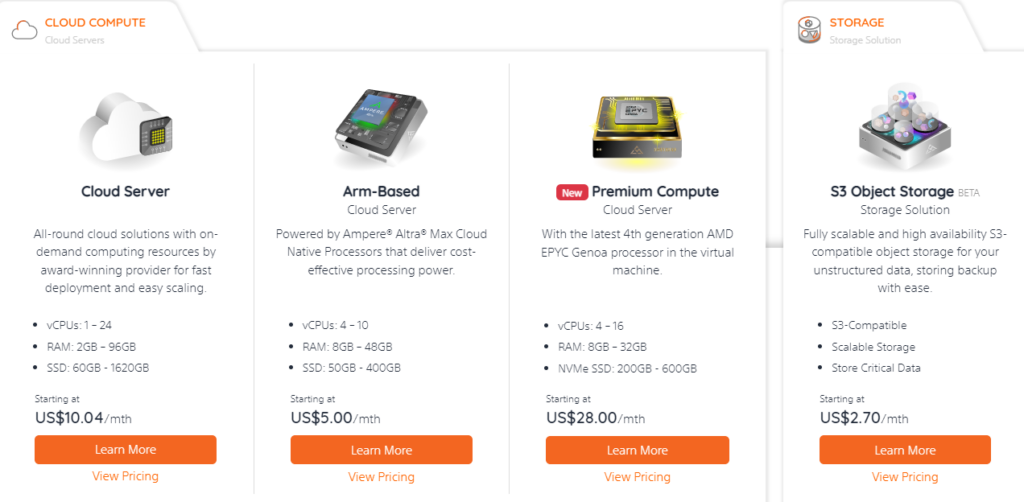 LayerStack offers two different kinds of web hosting services:
In addition to these two services for hosting, they have multiple add-ons to improve the services, such as load balancer, firewall, DDoS protection, Global Private Network, etc.
Pros & Cons – LayerStack Review
While testing out the services provided by LayerStack, here are some of the pros and cons we found.
Pros
Hong Kong data center with a direct route to China
The robust and modern UI system
Load Balancer
Excellent security for the servers
Global private networks keep the servers isolated from one another 
Cons
Pricing is a little complex 
No Refund Policy
 FAQs – LayerStack Review
How much does LayerStack cost?
Layer Stack cloud servers start from $10.04 / month to $923 / month.
Does LayerStack offer free domains?
How many data centre locations are provided by this company?
LayerStack has six data centers,  three located in Hong Kong and the rest in Japan, Los Angeles, and Singapore, that offer redundant design infrastructure with a point-to-point dark fiber network that operates at extremely low latency, in the range of microseconds.
This ensures secure and continuous data transmission across local data centers. 
 Is LayerStack's Customer Support good or bad?
LayerStack Customer Service was very responsive to our queries, and they offer Live Chats with a human. So, their Customer service is pretty great as per our experience.
Does LayerStack Offer Website Migration?
Conclusion – LayerStack Review
So, that was a detailed LayerStack review. Considering the factors mentioned in the entire review LayerStack is a relatively new company in the hosting business, but it is backed by years of experience and offers good services with unique features and functionalities.
The ease of use, support, security, everything is good. You can get a bit confused with the complex pricing, but it's nothing that you cannot understand.
Overall, it is a good platform that is worth a try.