KdHost is a popular web hosting website that offers innumerable utilities to its users. It provides web hosting services with a variety of attractive features.
The 24/7 service that KdHost is providing to its users is just amazing. The website has a fantastic feature of allowing users to navigate various websites while working on the same platform.
Web Hosting is a service that enables users to create their websites and web pages. Web Hosting is providing a storage room to the internet users on the World Wide Web so that they may be a part of a larger community.
Various platforms are available nowadays that provide the service of Web Hosting. Still, not all are up to the mark regarding the characteristics of a proper web hosting provider.
KdHost is one such website that is outstanding in every aspect of the parameters that are looked upon while choosing a Web Hosting platform.
About KdHost
KdHost is a Web Hosting service provider that can be considered equivalent in reliability, trust and quality. Its website has a range of domains available that supports many interested users.
An excellent tech team is always available for the clients, and this team is made of members with expertise in their respective fields. Not only in India but throughout the whole world, KdHost provides an arena of Web Hosting services to its users and fulfils all their requirements as a platform.
Test and Analysis
We have examined the real-time performance of key components of KdHost, and here are our results:
User Interface & Ease of Use
KdHost has a user-friendly interface and offers simple tabs to relocate to its users. The website is simple and sophisticated.
It has all the information which the user wants to retrieve. The live chat session is amazing for easy one-to-one communication between the user and the company.
KdHost Customer Support
The platform has more than three mediums to allow its customers to interact with it for the resolution of any query or any issue about the Web Hosting Service.

The contact number, contact address, and head office address are mentioned on the website. You can also resolve your queries through its chat support.
Security Analysis
Despite being a dirt-cheap website hosting provider, KdHost offers decent security features to protect your website. It offers free SSL certificates and DDoS protection with all its plans. KdHost also offers free backup for data safety and access to secured email accounts through POP3/IMAP.
Key Features of KdHost
KdHost has got the following remarkable features: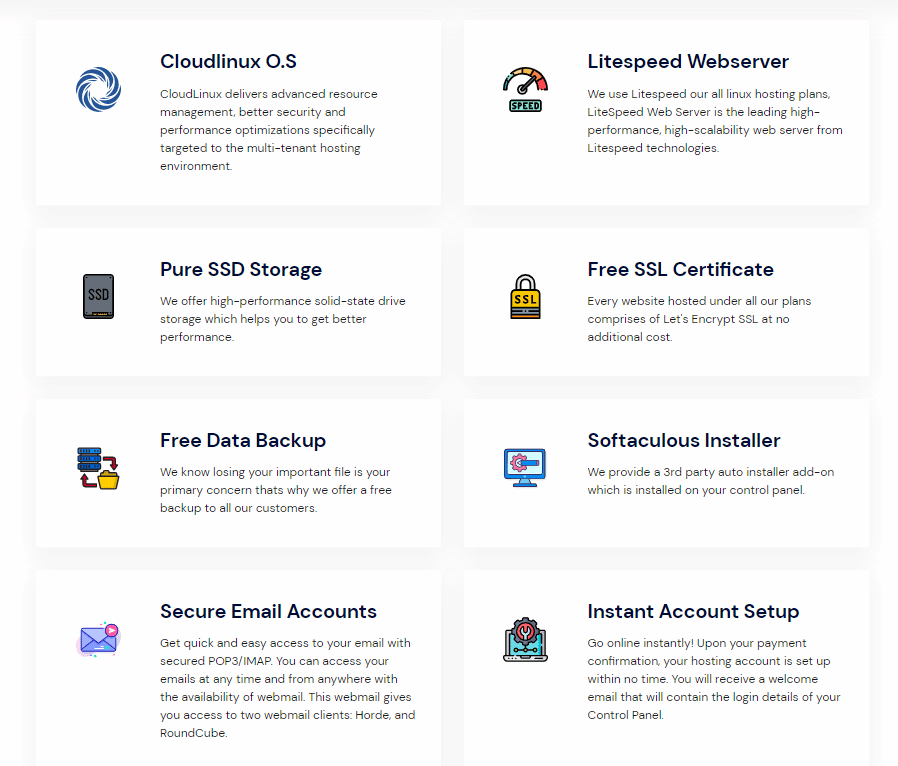 Types of Web Hosting KdHost offers
KdHost provides the below-mentioned Web Hosting services:
KdHost Domain
There are about ten domains that are available on the KdHost website for Web Hosting purposes:
Finding a service provider with many domains to work with is very difficult. Hence, it is an additional feature that makes KdHost the best Web Hosting provider.
KdHost Pros & Cons
Now that we have provided information on the key components and features of KdHost, it is time to mention its pros and cons so you can make a better decision.
Pros
24*7 availability for customer support.
A user-friendly platform for easy navigation on the website.
Availability of various means to communicate directly to the team.
Cheapest service provider among all Web Hosting websites.
Cons
It does not offer high-end specs for hosting big websites with a lot of traffic.
FAQ- KdHost Review
Is KdHost a good web host?
Yes, KdHost is a very good web host. It has all the features that a user desires to be there in a web hosting service.
What control panel does KdHost use?
KdHost uses a cPanel/WHM control panel for its website. It has a good management system to make the users' experience more delightful and easy.
How much does KdHost cost?
KdHost is considered to be one of the cheapest Web Hosting service providers. This can be visualised by considering that it charges approximately $11.95 per year for the .com domain, which is considered the most expensive among all domain types.
Does KdHost offer a Free Domain and SSL?
No, as such, no free Domain is provided by KdHost. It provides an SSL certificate to its users at the cost of just $16.50 per year. This helps the user to claim its clients on their website.
Conclusion- KdHost Review
KdHost is, in a nutshell, a perfect Web Hosting platform. Its users have reasonable rates, and its user-friendly platform enables the website to be favorable for many small businesses.
The firm ensures that every user query is resolved, and to achieve this motto, KdHost has 24/7 live chat support available on its website.