Web hosting is one of today's most important online services. With every business coming up with a business website, it's common for newer hosting service providers to surface in the market constantly.
However, while finding a hosting is easy, finding the perfect managed hosting that would take care of all the issues and other queries arising with your hosting is difficult. Well, we have a new and rising hosting service provider in that area.
IntuitionHosting is a recently launched managed hosting service provider you can check out to meet your hosting requirements. Here is a detailed IntuitionHosting Review to understand if this is the managed hosting to go with or not.
Overview of IntuitionHosting
IntuitionHosting was a relatively new company in the hosting industry, being established in 2020. However, despite being founded just recently, the hosting company works with years of experience, expertise, and knowledge of the two founders and the brilliant team that keep customer satisfaction at the center of their vision and mission.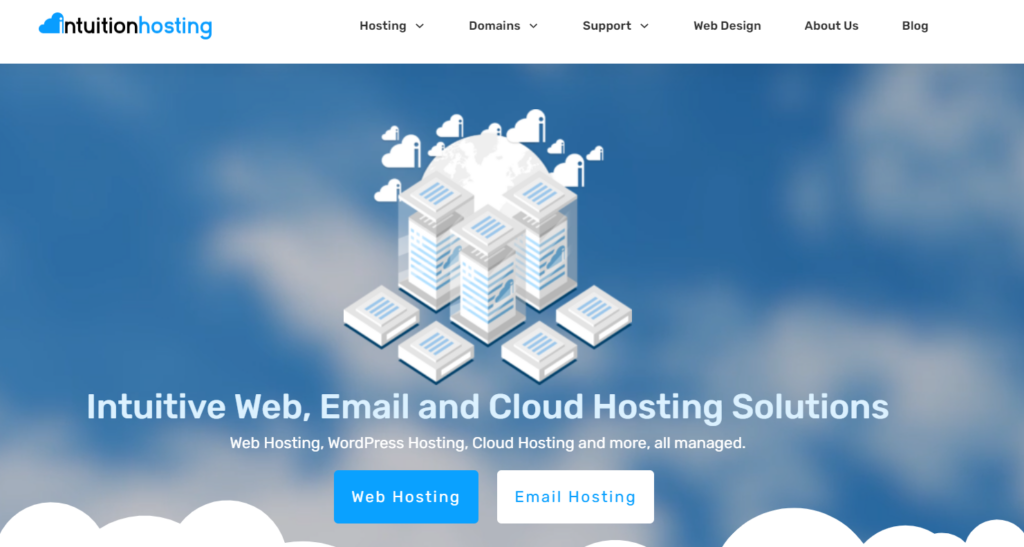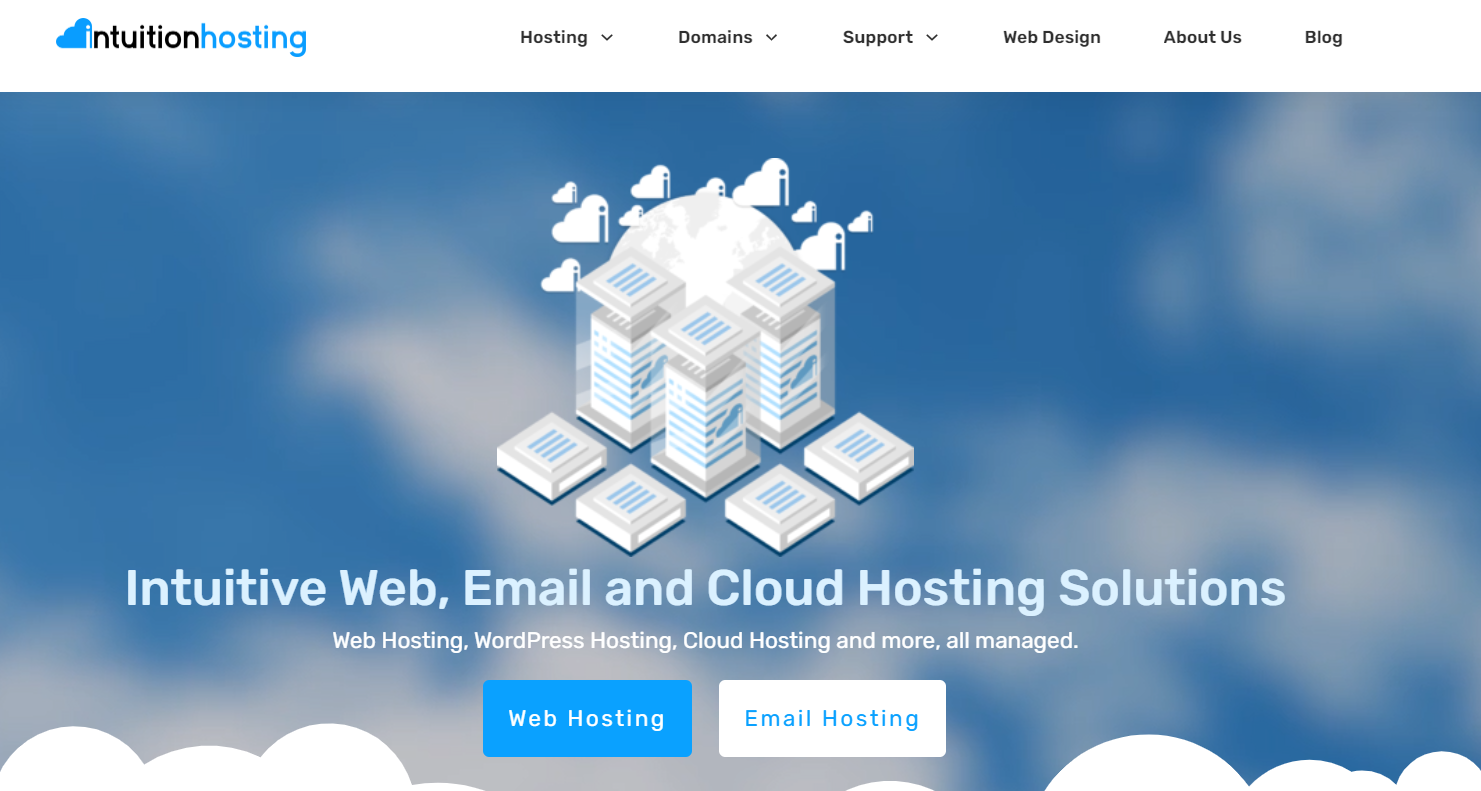 The company provides end-to-end managed hosting solutions for different platforms, including WordPress and cloud. You can also get domain registration and other design services for your website with IntuitionHosting.
Test and Analysis
When looking at a managed hosting solution, you need to look into the support and security as well as the ease of use of the hosting so that you can leverage it to the best capabilities. Hereinbelow are the results of all the tests and analysis that we performed for IntuitionHosting.
User Interface & Ease of Use
The platform offers fully managed hosting services, which means once you subscribe to the plans, you get all the support and assistance you need to manage and maintain your website. So, you can expect significant ease of use from the hosting with a simple and easily understandable user interface.
IntuitionHosting Customer Support
Customer support becomes essential with a managed hosting solution, and IntuitionHosting boasts its readily available support.

However, upon testing, we could see the support failing. The support lacks an instant live chat feature. You can reach out to them via calls or emails, but there's hard luck getting them answered. Overall, you cannot rely much on IntuitionHosting Customer Support.
Security Analysis
The security of your website is the most important when looking at a web hosting solution. You want to make sure that your website is secure, and this will depend on the security features of your hosting service provider.
IntuitionHosting provides free SSL certificates for the security of your website. Additionally, they use an anti-virus system and firewall to block other malware, virus, and security attacks on your website and keep it protected.
IntuitionHosting Data Center Location
There's no authentic information available about the data centre locations of IntuitionHosting, and there could be no answer from the support either.


As such, we can only assume that since the company is situated in England and open for services only in the UK, the data centres are located in the UK.
Core Features of IntuitionHosting
You can understand the efficacy of a hosting solution only by looking at its features. Below are the core features of IntuitionHosting for you to analyse and judge its performance and usability.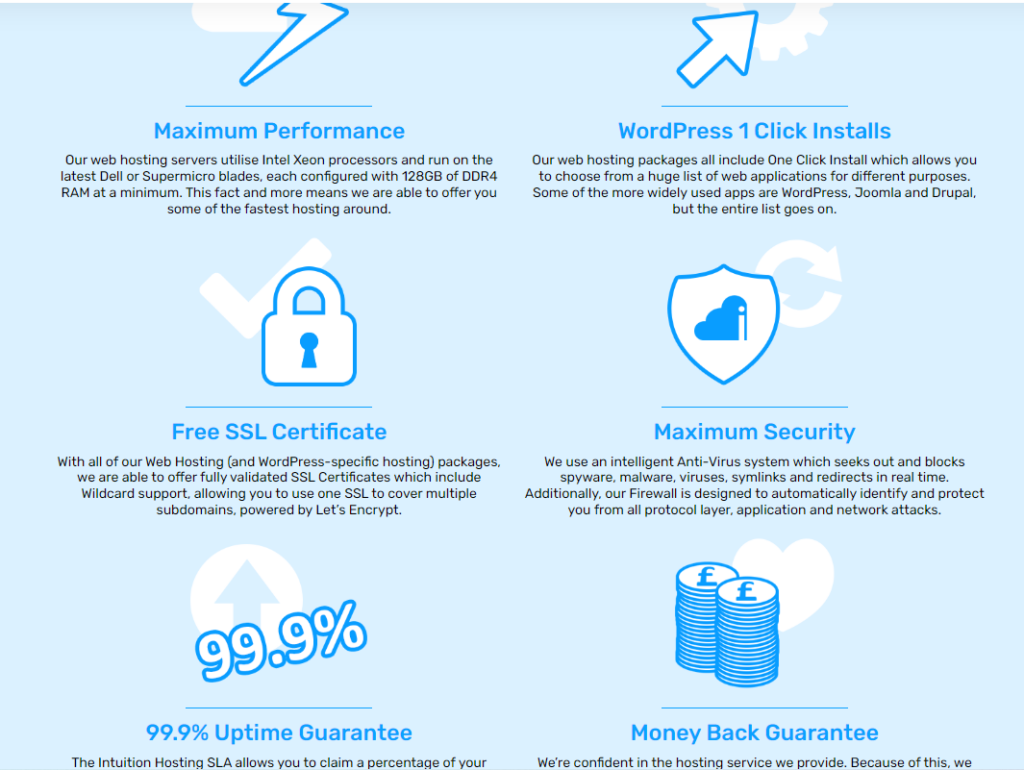 SSD Storage and Xeon Processors
The speed and performance of the hosting service are the major assessment of its efficacy. IntuitionHosting offers SSD storage along with Xeon Processors and superfast micro blades configured with excellent RAM to offer phenomenal speed.
With such specifications, your website will load at lightning-fast speed when hosted on IntuitionHosting.
One-Click App Installation Features
You need different applications on your website, and with IntuitionHosting, you can install all such applications easily with a single click.
The hosting supports plugins, themes, templates, and other functionalities of CMS like WordPress, Drupal, Joomla, and more. You can easily download and install them to extend the functionalities of your website.
99.9% Uptime Guarantee
The uptime of a website is very important for uninterrupted services. IntuitionHosting provides a 99.9% uptime guarantee for all its servers with DDoS protection. So, you can be assured that your servers and website will always remain up and running.
Types of Web Hosting IntuitionHosting Offers
IntuitionHosting takes a multitude of hosting services into its purview. Hereinbelow are the details of the core types of web hosting that it offers-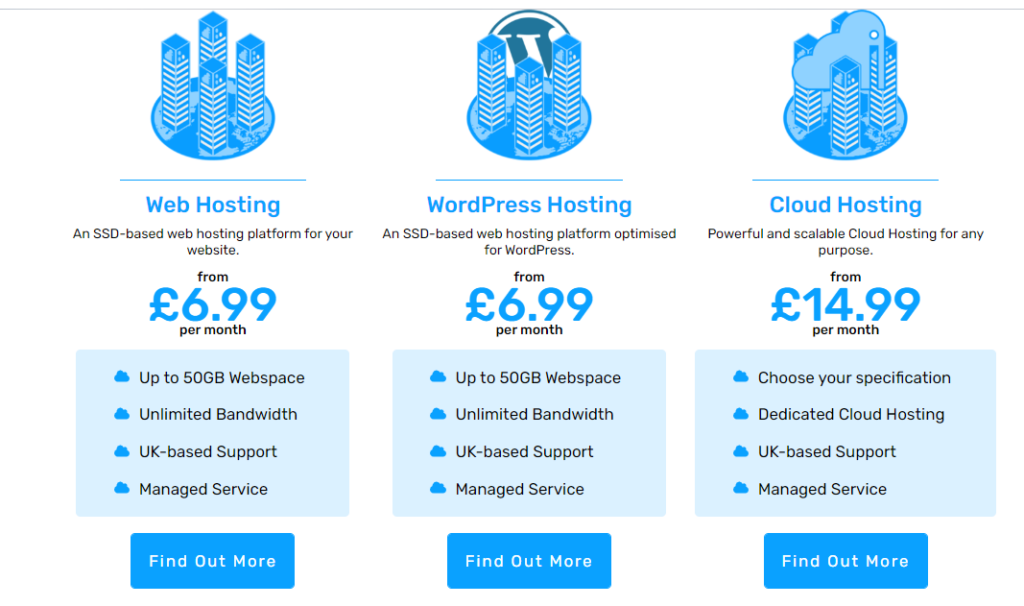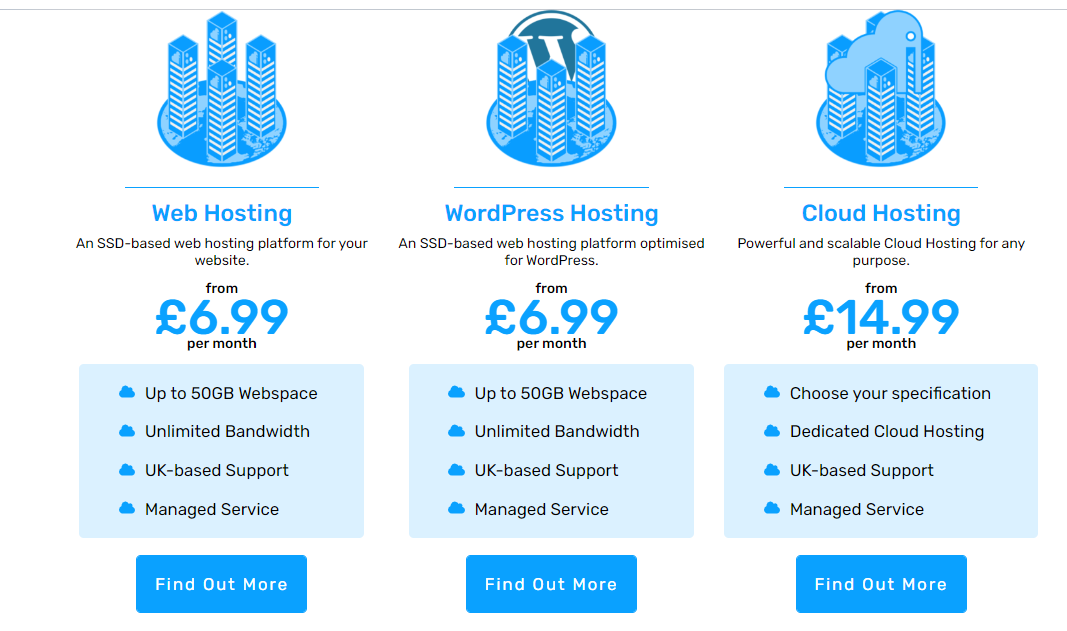 Important Note: Web Hosting prices are updated frequently. So, I request you to verify the pricing by visiting the respective websites.
IntuitionHosting Domain
IntuitionHosting helps with web hosting and can even use the platform for domain registration and transfer.
Register a New Domain
You can easily register a new domain on IntuitionHosting at affordable prices. The domain registration also comes with other features such as Domain Locking and Domain Management.

Moreover, the domain renewal can be done at the same price at which you purchased the domain.
Transfer a Domain
If you have a domain registered with another hosting company and wish to transfer it to IntuitionHosting, you can do it at the same cost as registering a new domain. So, you need not bear additional expenses, and your domain gets extended.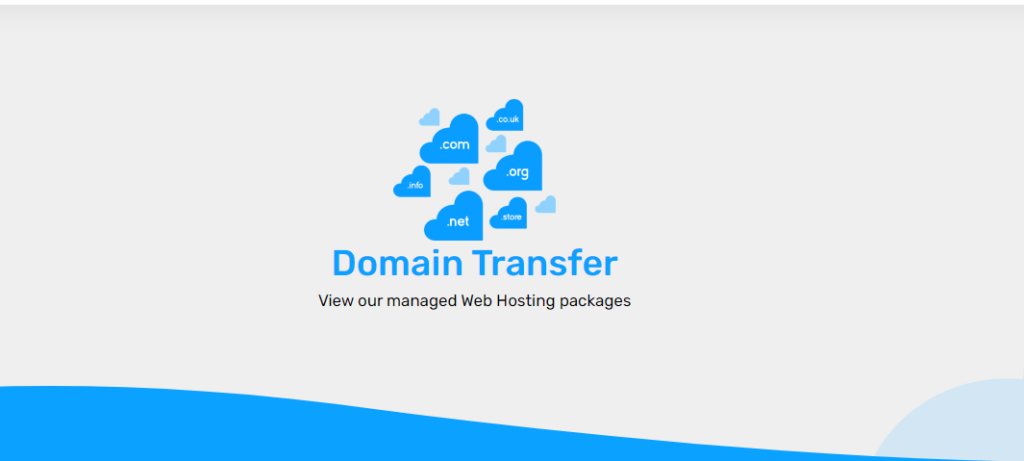 The entire process for domain transfer is explained on the official website, and you can get done with it in no time.
IntuitionHosting Pros & Cons
With each hosting, you need to look into its pros and cons before making the final purchase decision. Hereinbelow are the pros and cons of IntuitionHosting.
Pros
High-speed storage and processors offer excellent performance.
99.9% uptime guarantee.
Free SSL certificates.
Other advanced security features.
Domain registration and transfer services.
Affordable pricing.
Cons
The support is not very responsive.
No information is available about the data centres.
The site runs really slow
FAQ's – IntuitionHosting Review
Does IntuitionHosting Offer Free Domain to all plans?
IntuitionHosting does not offer a free domain for any of its plans. The domain registration services are paid. However, the costs are nominal, and you can easily afford them.
Does IntuitionHosting offer Managed Cloud Hosting?
Yes, all types of hosting available at IntuitionHosting are managed hosting, and you have all the support and assistance they need from their team to maintain your website and servers.
Why Choose IntuitionHosting?
IntuitionHosting is a strong web hosting solution with fast speed and performance and excellent security features. This makes it a must-try hosting for your business website.
What Makes IntuitionHosting Different from Other Hosting?
Unlike other hosting services that only offer to host your website leaving all the control, management, and maintenance in your hands, IntuitionHosting provides managed hosting services within which they take care of all the support and assistance required in making the website perform to the best of its capabilities.
This constant assistance through managed hosting makes IntuitionHosting different from another hosting.
Conclusion – IntuitionHosting Review
IntuitionHosting is a relatively new hosting platform, and there are still downsides to be worked upon. For instance, the support can be more responsive not to make prospective users wait for answers to their queries and problems.
Also, their website will take time to respond, making it irritating for us to continue with them plus if you go into some heading, it will not show up but lead you to teh landing page again. So, if you're going to look for some information, it's difficult to access through it.
However, if you overlook the cons, the hosting is good with efficient performance, high speed, and excellent security. Moreover, it is affordable as well.
Given all these factors, you can definitely try IntuitionHosting and see how it works out for you.