For easy website management, SiteGround Nameservers have offered reliable web hosting services since 2004. To offer their services to clients in different regions, SiteGround is spread globally.
The services of SiteGround include web hosting, WordPress hosting, WooCommerce Hosting, Cloud Hosting, domain creation, and many more. Following are more details regarding the name servers, DNS, and domain management of SiteGround.
Where do I Find and Manage Domain Nameservers?
If you want to find your domain and manage your domain's nameservers in SiteGround, follow the steps given below: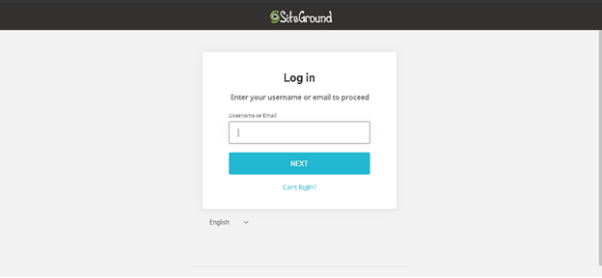 Give your username/email and click on next.
Enter your password and click login
Once you have logged in to your account, click on Services.
Now you can see two tabs called Hosting and Domains; click on Domains
Click on the Manage button shown against the domain name
Look for the Manage Nameservers link on the right and click on it
There you can find your nameservers for the selected domain and edit or change the domain's nameservers there.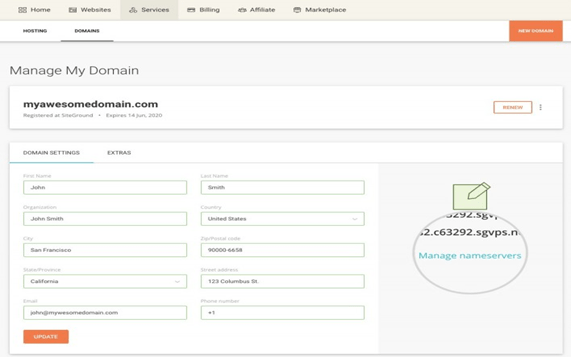 👉 Also Read: InterServer Nameservers
What are the Nameservers and DNS?
Nameserver helps in connecting the URLs with the IP addresses of web servers. It is an essential part of the DNS (Domain Name System), and people call it the phone book of the internet. It is the nameservers that define a domain's current DNS provider.
👉 Also Read: A2hosting Nameservers
How to Point My Website to SiteGround?
If you would like to point your domain to SiteGround, it is necessary to have SiteGround Nameservers. See the steps below and follows the steps as said to point your domain to SiteGround.
First, Log in to your SiteGround account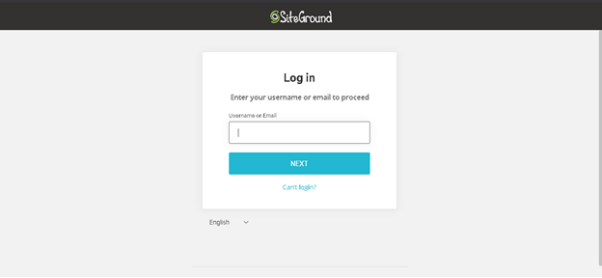 Click on Website Tab.
Then click on Site Tools.
In the Site Information section, you will find the nameservers
Once you have pointed your domain to SiteGround, all your DNS records like records, MX records, CNAME records, etc, along with your emails, will be managed from your account in SiteGround.
If you have created custom DNS records and if you want to keep them, then use the DNS Zone Editor in the Site Tools section to see
Remember that you can only update the domain's record to point to your hosting account's IP address.
👉 Also Read:- YouStable NameServers
What is Siteground Nameservers?
SiteGround Nameservers are those nameservers created by SiteGround. They will handle the queries related to the location of the domain name's several services like a website, emails, and many more.
When you try to create a nameserver for a domain, you can either pick default nameservers or create custom nameservers according to your wish.
SiteGround Nameservers is also a part of the DNS, which retains a directory of domain names and converts them to IP addresses.
How do I Change Nameservers for My Domain?
If you have registered your domain with SiteGround, you can easily change the SiteGround Nameservers of your domains.
Click on Services
Then you can see the option of Domains; click on that
Now select the domain for which you want to change the nameserver and click on the Manage button
Then click on Manage Nameserver
Now modify the NS records for your domain
Click on Confirm button to save the changes you made.
👉 Also Read: Hostinger Nameservers
How to Order a Hosting Package from SiteGround?
SiteGround offers three different hosting plans. You can check the features of each plan and select one according to your needs.
Visit the website of SiteGround first.
On the Home Page, you can find three plans named StartUp, GrowBug, and GoGeek.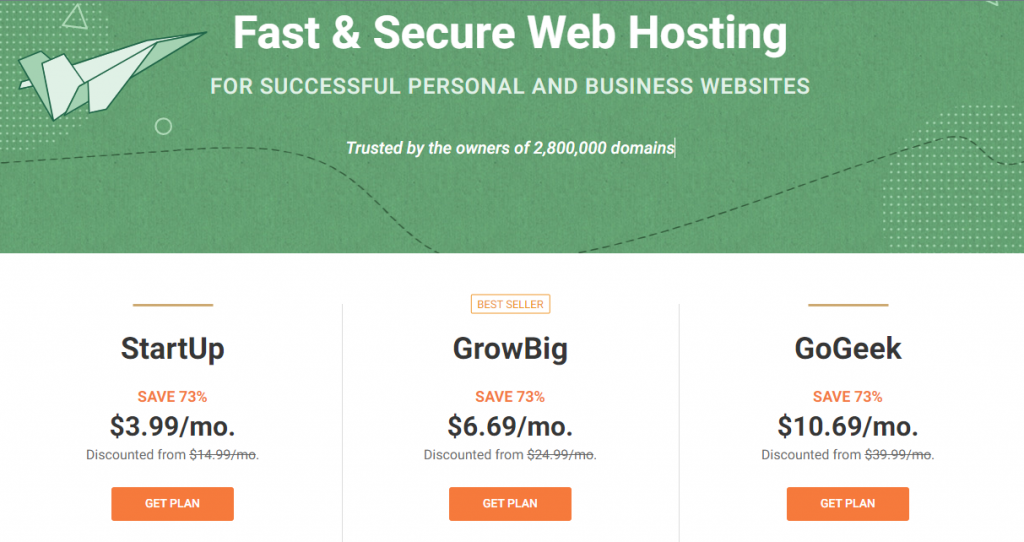 The rates per month are also mentioned on each plan. Scroll to see the essential features of each plan.
Select the plan you want. If you are a newbie, you can start with the small package and upgrade later.
Click on the Choose Plan button, which can be seen under the packages.
The next step is to choose the domains. You can register a new domain if you do not have one, or you can enter the name of the domain if you already have one
Click on Proceed.
Enter all the information asked on the form provided on the screen
Select the payment option
Click complete or check out to finish the process
👉 Also, Read this Related Post: A2 Hosting Nameservers
Conclusion
Web hosting is very important, and to make your business website available online, you must create SiteGround Nameservers.
SiteGround can help you with all your queries related to creating a domain and further procedures, as they have a great support team to guide you at all points of time.
Choosing SiteGround as your website host is perfect as Siteground is crafted with top speed, great security, and 24*7 customer support.
More than 2 lakh domains have already been registered with SiteGround, and many companies are running their business website through SiteGround.
Related Post:
Helpful Info