Are you a new user and do not know how to register complaints in case of troubles to support teams in BlueHost? Or do you find contacting the support team problematic? There are issues that require proper guidance and for that contacting the BlueHost support team is foremost important.
Therefore in this article you'll discover the answers to the doubts stated above. So without any further delays, let's proceed. 👍
About Bluehost
BlueHost,founded in 2003, is the longest running wordpress.org that offers Shared/WordPress, VPS and dedicated server hosting at an unbeatable rate.
It has a top class support team, providing assistance 24/7 to its potential clients. But sometimes users find establishing contact with the support team difficult.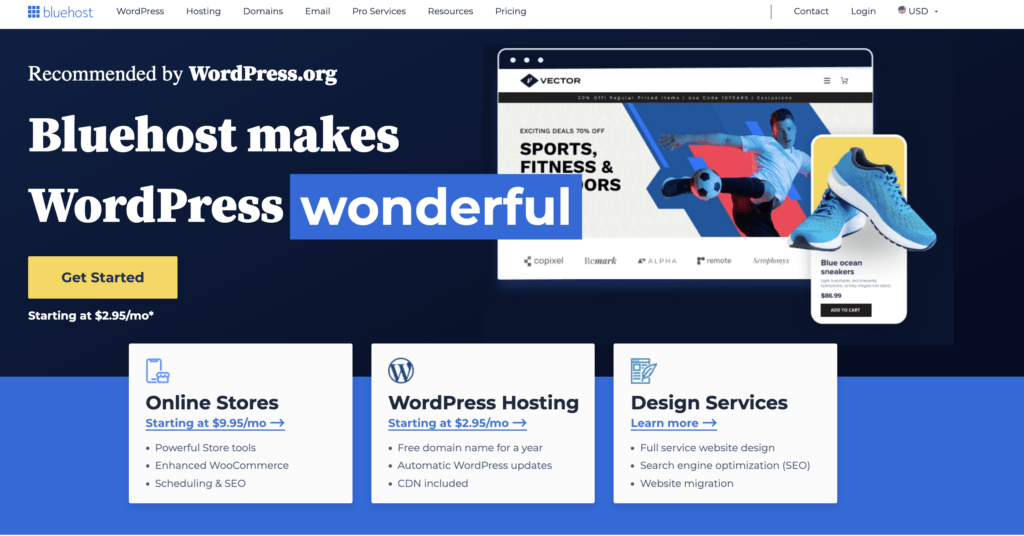 Well in that case, a proper knowledge is required to be kept about the support team so that in case of emergency tech support you can contact them easily and trouble free. So, how many support channels do BlueHost offer to assist its client 24/7? To know this let us discuss in a detailed manner.
We have also tested the support channels to gather relevant experience which we will be sharing in this article as well.
What Support Channels Does Bluehost Offer?
BlueHost is not only known for its excellent web hosting service but also its 24/7 customer assistance that is provided by them undeterred. It offers altogether 3 support channels to enable clients to get their issues registered. They are provided as under:
How to Contact Bluehost Support?
Here, we have given a comprehensive guide to contact the support team of BlueHost in case the clients have login, technical or billing related issues.
Live Chat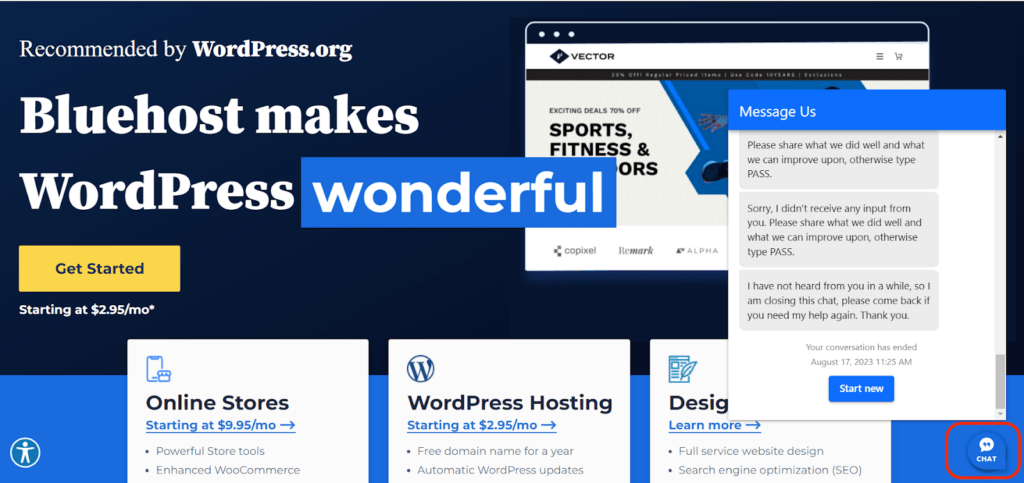 KnowledgeBase
The knowledgebase provides comprehensive information about the various configurations that a user ought to know while using the hosting services.
To access the KnowledgeBase option, one needs to follow the given instructions: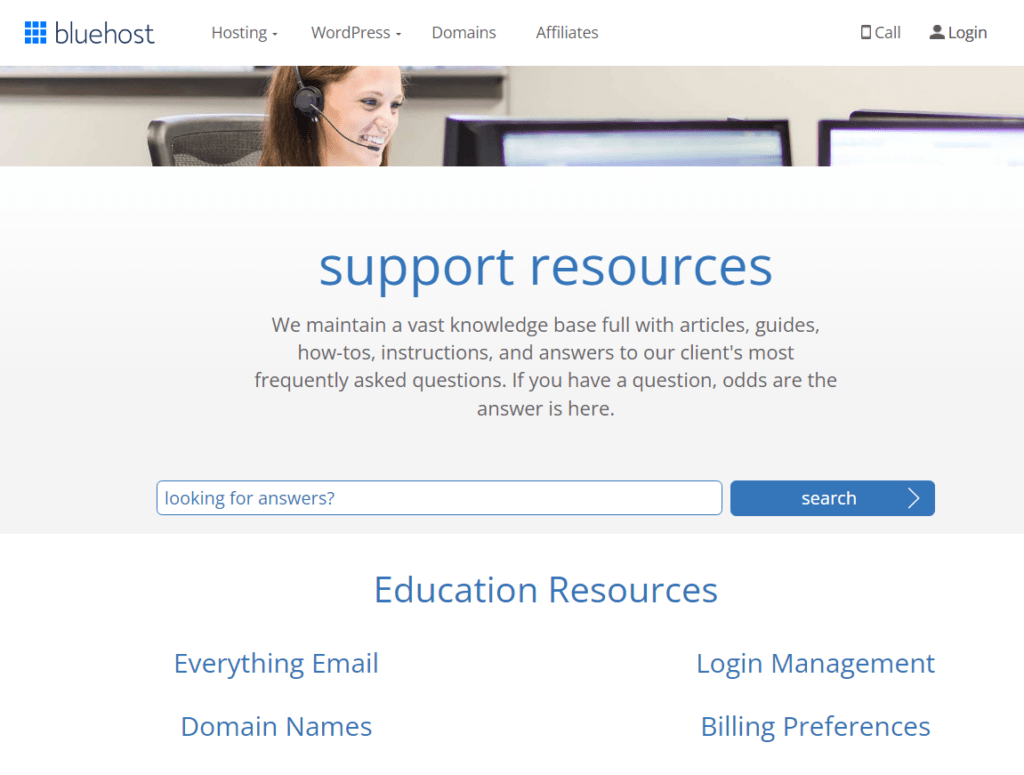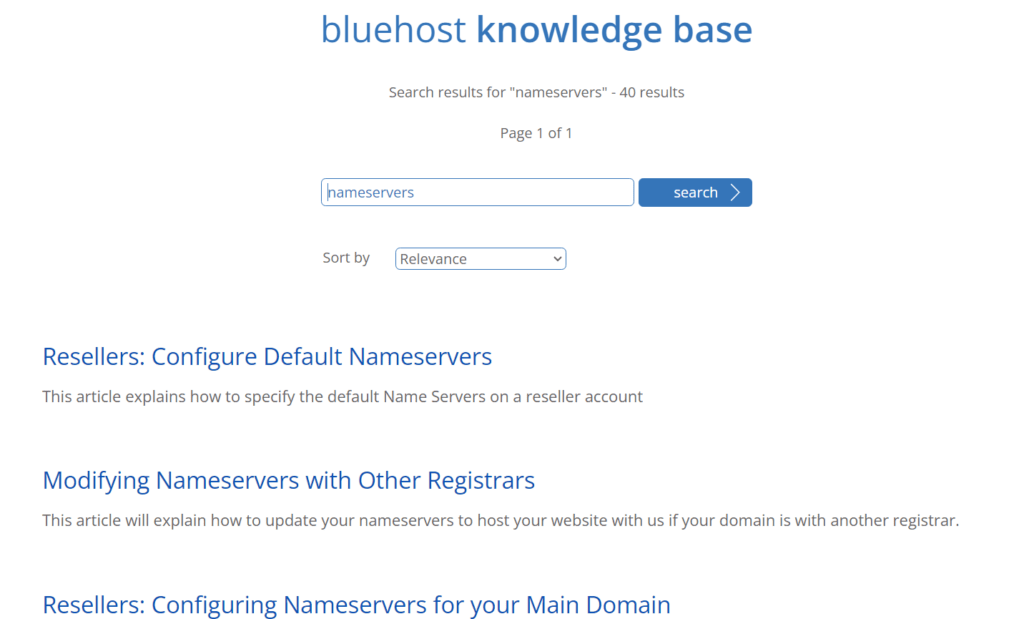 Phone Support
Verbal conversation is not only simple but also effective and swift in receiving replies. Therefore, if international calling cost is not an obstacle for you, then calling the support team is also one of the best options available to us at stake.
The client can reach the support team by dialing:
888-401-4678
How do I Check My Support Ticket History?
If you are an existing user and have an account registered with BlueHost, then you can not only create a support ticket by accessing the options from your dashboard but also check and verify the status of your ticket as well.
Other Bluehost Customer Feedback
The bedrock of any hosting company is its 24/7/365 support services. And as far as BlueHost support services are concerned, it is user-friendly when it comes to potential users who actively purchase and utilize the services offered by BlueHost . 
New users, who visit the official website of BlueHost may find contacting the support team very challenging as a live chat option is available to them which is answered by a bot. The only means of establishing a contact is left with the KnowledgeBase and phone support. That's why we might see a heavy backlash in the feedback posted by new users.
So let's see what the clients and the new users got to say about the support team: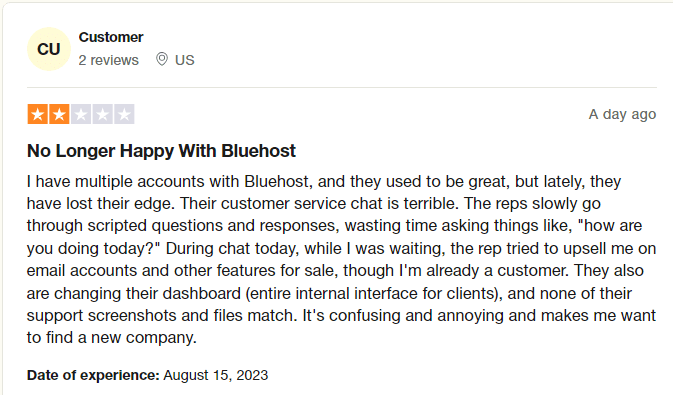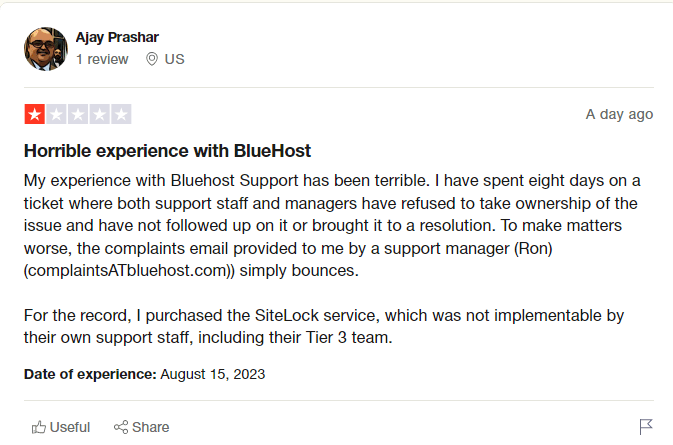 If you are new to Bluehost and want to purchase the hosting services, we urge you to take a sincere tour of the review of services offered by BlueHost. 
Our Experience with the Bluehost Support
By means of this article, we have also been able to share experience by successfully contacted the support team of BlueHost enabling our fellow readers to comprehend how efficient the support mediums offered by BlueHost are:
Live chat 
Phone support 
Knowledge Base
As far as support services of BlueHost are concerned, the customer care is not functional most of the time. However, the support channels offered by BlueHost are diverse and serviceable 24/7/365, they are unavailable for the greater part of the day due to unavailability of staff.
FAQs- Bluehost Support
Conclusion – Bluehost Support
In this article we have systematically discussed the support channels, the way to approach them and the experience that we have gathered by contacting them.
Finally, we would like to convey that if you are a new user and trying to contact the BlueHost support team, it will prove better if you try reaching them via live chat, Voice call & KnowledgeBase as it is not only diverse, user friendly but also it is responsive.
If you find the information provided useful, we urge you to post your valuable comment to make a sincere move to motivate us.👍