If you need a platform to host your gaming needs then Host Havoc is the one for you. Host Havoc has built up their website with the promise of providing honest and high-performance hosting services for all. Their team of gamers love to engage in demanding games and thus host them with utmost quality and reassurance.
Their Instant setup is one of the greatest features which means you can play games instead of taking a lot of time in setting up your website. With 10 data centers worldwide, you won't find a more popular hosting website that provides such good features at some of the lowest costs.
Overview Hosthavoc
They are registered in Canada and provide 24/7 support to all their users. Also, they maintain low overhead but adhered to exceptional quality standards. The Cost-efficient solutions they provide are a boon for all looking for a good web hosting site.
The company currently has around 11 data centres that give great speed to all its users. It was founded in 2013 and has grown all over the globe since then. The best part about the company is that it provides the best game servers you can ask for such as specifically for Minecraft.
Speed Test and Analysis:
If you are going to be using web hosting software, it is important to know some of the basic features and be able to compare them later on. Some of the features you should have a look at are
Uptime test:
They guarantee an uptime of 99.9% and also based on hosting infrastructure, they are the best data keepers with the most reliable uplinks you can find.
Speed test :
Their ultra-fast processors make sure to provide speeds of up to 4.6GHz and result in unmatched power and performance.
Customer Support Analysis :
Host Havoc provides you with 24×7 support and the average response time is <10 minutes.
Security Analysis :
You get free DDOS protection from all the hosting services, which means they take off everything from basic UDP floods to Source Engine query attacks as well. HostHavoc protects from 35+ attacks and has mitigated 3000+ attacks since 2013.
Key Features of Hosthavoc
Some of the key features you get using HostHavoc are: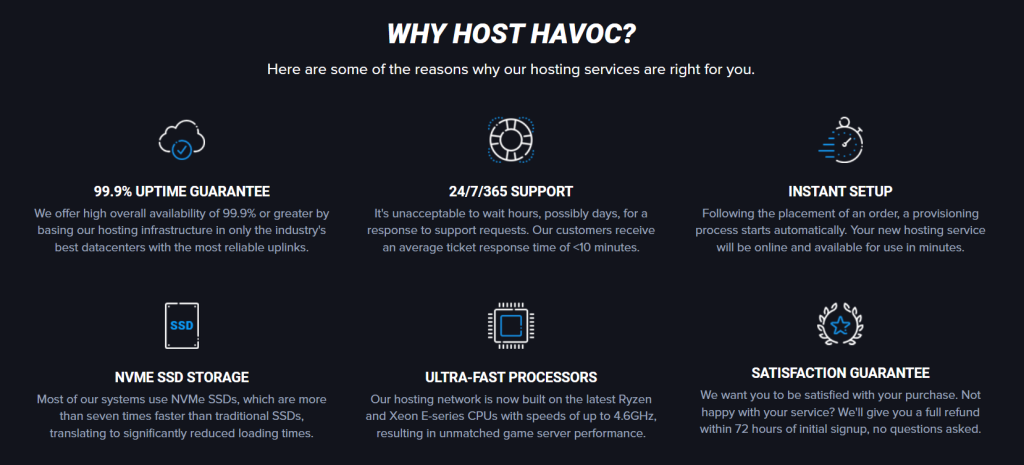 Price and Plans
Let us list out the pricing and plans of this hosting platform in this Hosthavoc Review.
Shared Hosting Plans
For VPS there are in total 12 different plans which range from $8.00/mo to $74.00/mo. The dedicated hosting offers two plans with different features but is priced the same at $240.00/mo.
Important Note : Web Hosting prices are updated frequently. So, I request you to verify the pricing by visiting the respective websites.
Types of Hosting and Services Offered by Hosthavoc?
HostHavoc has three different types of hosting you can choose from. This includes web hosting. Web hosting is built to meet managed community forums or online stores. Most blogs are managed by Web hosting.
VPS is another hosting provider which is needed for those with processing power keeping in mind different virtualized instances. Also, the dedicated server comes with both managed and unmanaged hosting services which depend on the number of resources demanded by your projects.
Why Choose Hosthavoc?
There is no reason to not choose HostHavoc. They are some of the finest web hosting providers and provide you with a lot of features at such low prices. You can take any plan you want and they will take care of most of the issues following it.
HostHavoc is the best web hosting platform in business now and you should really try it out, considering how well designed everything is and also such an easy-to-use interface.
FAQ's – Hosthavoc Review
Who Owns Host Havoc?
Host Havoc was launched by Clay Berndt in 2013. She is the founder and president of Host Havoc.
Where is Hosthavoc based?
Host Havoc was based out of Canada, with a Head office in Ottawa, Ontario. However, now, Host Havoc has centers in Seattle, Washington, Los Angeles, California, Dallas, Texas, Chicago, Illinois, Atlanta, Georgia, New York City, New York, Montreal, Canada, London, United Kingdom, and more.
Is Host Havoc good for Minecraft?
Yes HostHavoc is great for Minecraft hosting and the higher performance SSD hosting starts at only $5.00/GB. It is however Fully DDOs protected and also backed up by their 24/7 customer service as well.
How do I cancel Hosthavoc Hosting?
To cancel your HostHavoc account you need to login to the billing area and then click on service. There you will find an option called request cancellation on the left-hand side of the page.
Is there any coupon code for Hosthavoc?
Yes, there are coupon codes for HostHavoc, and most of them give you a discount of around 10%. You can get them or buy them online. While some are monthly-based, some offer you a lifetime of advantages.
Conclusion – Hosthavoc Review
Hence you see, HostHavoc is the best there is. You should really try using this hosting service provider, and you will not want to transfer once you see how great it really is.
HostHavoc is known for its exceptional game servers and there are hardly any you will find that are reliable enough. As we did multiple tests and analyses above, we could surely say about its speed and the interface that is top-notch.