Google My Business features is a blessing from the search engine giant, and it allows you to register your business on Google.
In the online marketing business, it is extremely important that you make good use of the Google business listing.
The listing increases the visibility of your business in the local area, and it can increase traffic + leads.
There are ten powerful Google my business features that every small business owner & start-up company should use it effectively. Remember, we are going to tell you about it so that you can do it at the PRO level.
Google My Business features Posts
Google Posts is a new feature, and you can add a post maximum of 300 words with an image to support it.
The original purpose of the posts is that you can add a post with an Image along with Call To Action (CTA) with a URL.
You can lead the Call To Action (CTA) to the landing page of your website to increase the conversion rate.
Keep in mind that only 100 words of the post appear on the listing, and then you have a CTA button with URL to lead to the original post.
Question And Answers
The Google business listing comes with a new feature that allows you to connect with your audience or customers.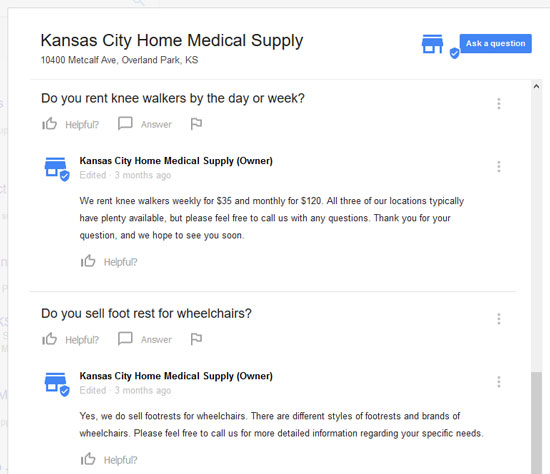 Anyone who has seen your company listing can ask you a question by logging into the Google account. You can use your account to answer every question asked by the visitor.
It will help the business owner to remove doubts and add clarity to the customer's questions. It solves a lot of problems & work as reviews for soon to be customers.
Business Description
In the past, Google business listing had your company name, address, website, and phone number.
Nevertheless, they never offered a chance to explain your company, services, and a personal touch to the business in a few words.
They have eliminated the distance between you & the customer by allowing you to add a description of up to 180 characters.
Google Review
Reviews play a major role in online marketing because it converts into a deciding factor for the customers.
We have word of mouth online marketing strategy, but in the digital world, reviews replace word of mouth.
In Google Business, you have an opportunity to serve the customer & ask them to write a helpful review in a paragraph.
Remember, if you do a good job, then +1 is guaranteed, but if you upset your customers, then – 1 is coming.
Also, I would like to add that you cannot delete a positive review or a negative review, but you can respond to the review.
Service Menu
Google Inc is expanding the reach in multiple ways, and they have added "service menu" feature to help you explain the number of services to the soon to be customers.
It eliminates the confusion & phone calls as well, and conversion rate improves.
Also, I would like to add that you might see drops in traffic because the soon to be customers may not enter the website to check the services list.
Adding Videos to Your Listing
A video can explain more things about your business than a few words.
You can add a personal feel & touch to the video and explain your product or services in the best way possible.
Google my business features has a video option, and you can upload a video on YouTube channel & embed it to the listing.
An opportunity to increase leads & sales using Google search engine.
Add a Booking Button
We have already told you about the CTA (call-to-action) that improves traffic and leads.
If you offer a service or have a restaurant, then you can add a booking button so that anyone can book a table, service, car test drive,
or anything from the booking button. If you are a service provider, then you should use it immediately to increase leads.
Direct Messages With Customers
You are using Google account, and the visitors are using Google account to book, add a review, rate, and more.
You can use the Google account to communicate directly within the app, and it eliminates long phone calls and buys you time to answer the questions in the best way possible.
Yes, you can maintain your privacy and provide support via direct message between the visitor & business owner.
Website Builder
In case, if you want to build a website without the help of the professional designer, and maintain your requirements,
then a website builder is ideal for you. I have used the website builder, and developers designed to help the newbies & non-developers to create a website from scratch.
However, you have to spend minimum a week playing around with the options & functions to master it.
Yes, you cannot build a website in a day, so you have to play around with it for a while. It took me a lot of time to learn,
but once you master it, then you can build any website from scratch.
Insights For Google My Business Photos
Google is a master when it to the analytics of website traffic, and other types of statistics. In this case, Google allows you to take an in-depth look at the business photos analytics.
You get the ability to view the insights on what people are viewing the most. You can learn more about the insights from your Google My Business Photos account.
Conclusion
Google my business features is a next step towards making the "Google app" better.
You might be seeing a lot of advertisements lately regarding the Google App, and they aimed at a new generation to use Google App.
Let us know what you think about the Google My Business features in the comment section.