When it comes to Virtual private servers, one name that always comes first in mind is Cloudzy. It is one of the most popular service providers that offer both Linux and Windows VPS services with the same quality and reliability.
We landed on its website when we were looking for a VPS service provider that offers both Operating systems with robust servers and premium support to launch our online business.
So we decided to give it a try and explain to you our experience with its services here in this Cloudzy review — where we have discussed all its features, customer support, pros and cons to provide you with a complete picture of it.
So without any further delay, let's get started.
About Cloudzy
Whether you want VPS or RDP servers, Cloudzy has bundled everything for you so that you don't need to roam on multiple service providers to get your exact desired services.
| | |
| --- | --- |
| 🏆Global Performance Grade | A |
| ⏱️Uptime Guarantee | Yes |
| 🔒Free SSL | No |
| 🔧Hosting Types | Cloud, VPS,RDP |
| 💡Basic Plan Features | 1vCPU, 1GB RAM, 12GB Nvme SSD |
| 💲Starting Price | $4.95/month |
Established in 2008, Cloudzy (formerly known as Routerhosting) has grown at a pretty impressive rate — we can infer that the reason might be their consistent quality services, without which it is probably not possible to grow at such a remarkable rate.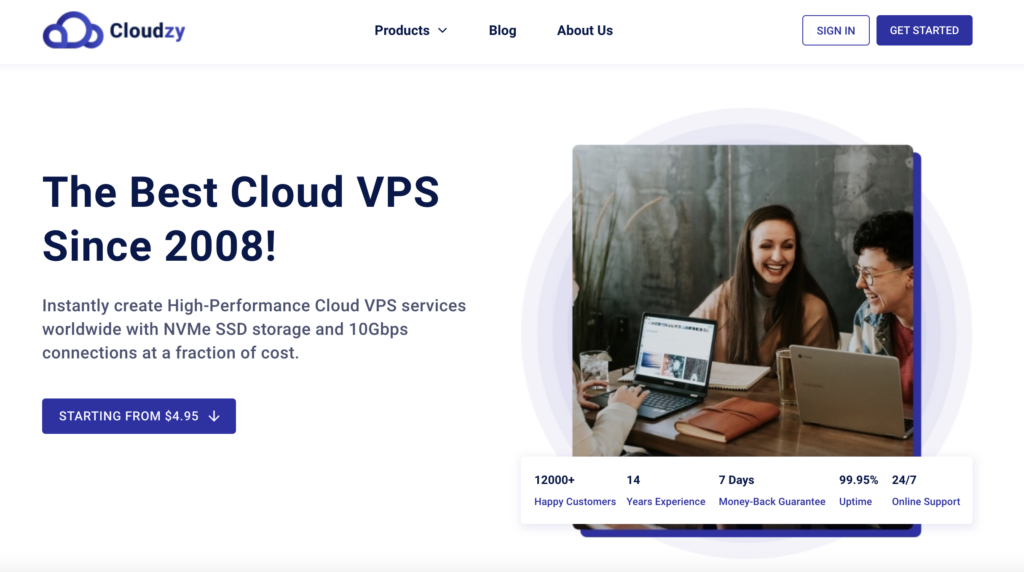 Its services include Linux, Windows, Forex VPS, RDP servers and much more — but here in this Cloudzy review, we will only talk about their Linux and Windows VPS servers.
Our focus will be to determine its performance and reliability based on some tests and analysis.
Test and Analysis
As we told you above, we have conducted some tests and analyses to determine the performance of their server. Here in this section, we will explain to you the results we found while analysing its service's performance.
Let's start with its user interface.
User Interface & Ease of Use
When we landed on their website, the first thing that grabbed our attention was their website interface or the frontend part. We were impressed because everything was clean and well labelled, making navigation to the desired services section easy and smooth.
So in terms of the user interface, we can say that Cloudzy has built an exquisite and well-labelled website, ensuring that everything is easily understandable to both beginners and experienced customers.
Cloudzy Customer Support
Next, we looked at its customer support, which we expected to be not very excellent as it usually is in unmanaged services. But we were astonished when we found that Cloudzy provides 24*7 customer support via the below-mentioned modes:
They have also created an extensive knowledge base where they have provided precise solutions to every possible problem that can occur while you are using the services.
Security Analysis
For security, we deeply analysed the features that they have included in their services, and we found the mentioned features that are responsible for strengthening the security of your website or application.
It also provides a manual data backup option to safeguard your data from any kind of data loss or other misfortune.
Key Features of Cloudzy
Cloudzy claims to be one of the best VPS hosting service providers based on their services' key features.
Hence we analysed its services carefully and found some key features which were really unique, so we mentioned them below for your convenience.
Cloudzy Data Center Locations
Cloudzy has chosen a total of 15 Data Center locations at the best place possible to provide you with robust and best-in-class servers with onsite expert technical staff making them easier to manage. 
Here are all of their data centre locations mentioned below.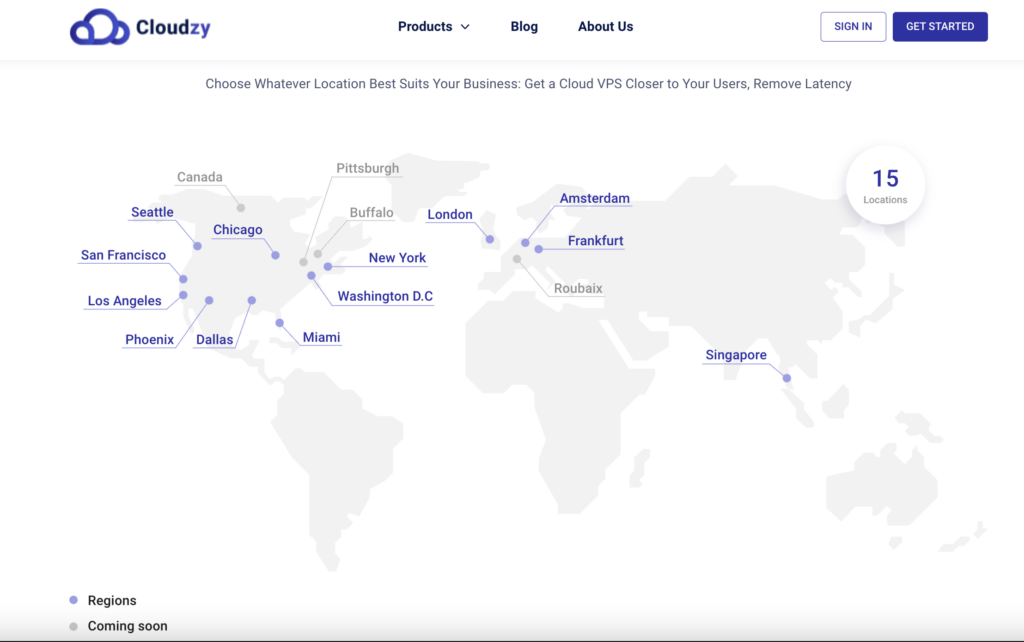 Types of Web Hosting Does Cloudzy offer
Cloudzy offers multiple hosting services, but they are especially popular for their VPS services that you can avail of any time for various purposes like Gaming, business, e-commerce and much more.
Below is the list of all the services they offer.
Cloudzy Pros & Cons
Here in this section of our Cloudzy review, we will discuss the pros and cons to understand the complete picture of its services.
Pros
99.95% Uptime guaranteed 
Excellent customer support 
Lastest and fast hardware-equipped servers
7 Day money-back guarantee 
Easily upgradable plans. 
Cons
Slightly tough for the beginners ( Unmanaged services )
No control panel is included, you will buy it separately. 
FAQ's – Cloudzy Review
Is Cloudzy accept Bitcoin Payments?
Yes…!
Cloudzy accepts multiple payment methods that include Credit cards, debit card, PayPal, Bitcoin and much more payment options.
Does Cloudzy offer Money Back Guarantee?
Yes, Cloudzy offers a money-back guarantee, which means you can cancel their services and get a refund anytime within 7 days of your purchase.
Does Cloudzy offer a Residential IP address in VPS Hosting?
No, Cloudzy does not provide you with residential IP addresses with their VPS servers, but if you want a residential IP, you can contact them and figure out the possible solutions.
Conclusion – Cloudzy Review
After precisely testing and analysing its services on many different scales, we found that Cloudzy takes customer satisfaction at the top of its priority by providing amazing services.
But if you still do not get a satisfactory experience or face any kind of server-related issue, then you can cancel their services anytime within 30-Days and get a full refund, and no questions will be asked.
We hope this Cloudzy review has helped you to decide on its services. If you have any queries or doubts, you can comment below — we will try to respond as soon as possible.