Buy RDP with Bitcoin is an excellent way to use your Bitcoins; You can easily buy a server using it.
But before moving further, we would like to explain RDP servers.
It is a proprietary network developed by Microsoft, which is generally used to perform heavy tasks like gaming, streaming, video editing, etc., on a remote desktop.
For your convenience, we have done deep research and analysis and found the service providers from which you can buy RDP using Bitcoins.
This article will explain everything about the companies, their features, and the steps to buy their plans with Bitcoin.
So read the article till the end.
What is the RDP Bitcoin server?
RDP Bitcoin server means buying an RDP server using Bitcoin as a payment method. To explain better, first, you must understand why Bitcoin is a good option for buying RDP servers.
Choosing Bitcoin as your payment is an excellent option because it is not very easy to convert it into real currency if you have some cryptocurrency.
But if you buy any service that accepts Bitcoin, you can quickly purchase something without converting it into real currency.
Best RDP Provider Who Accepts Bitcoin.
Finding the best service providers that accept Bitcoins is very tough, and to minimize your efforts, we have listed down the best RDP server providers that accept Bitcoin, which are as follows.
1. UltaHost
Ultahost is a hosting provider that offers RDP (Remote Desktop Protocol) services and accepts Bitcoin as a payment method. RDP is a protocol that allows users to connect to a remote computer and control it from their computer. Ultahost's RDP services are designed for businesses that require a reliable and secure way to access their servers remotely.
One of the unique features of Ultahost is that it accepts Bitcoin as a payment method. This provides clients a secure and anonymous way to pay for their RDP services. Bitcoin is a digital currency that operates independently of central banks, making it a decentralized and secure payment option.
Ultahost offers a wide range of RDP plans to cater to the needs of different clients. The plans have different configurations, including CPU cores, RAM, disk space, and bandwidth. UltaHost ensures clients find an RDP plan that suits their requirements and budget.
Features
Pricing and Plans
Here I attached the screenshot of UltaHost RDP Server's pricing and plans are: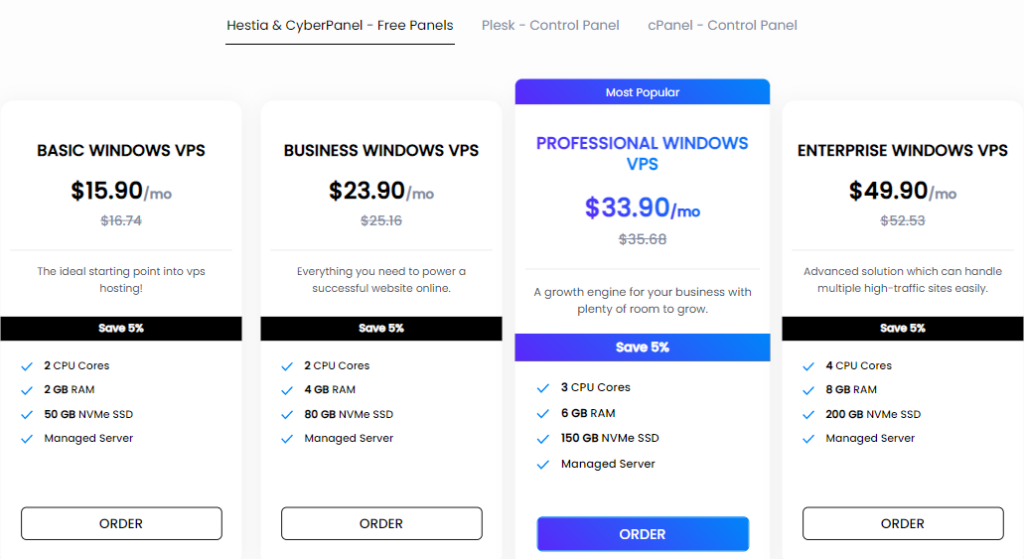 Why Choose?
For several reasons, it would help if you chose Ultahost to buy RDP with Bitcoin.
Firstly, Ultahost is a reliable hosting provider with years of experience in the industry. This means that you can trust Ultahost to provide you with high-quality RDP services that are both secure and stable.
Secondly, Ultahost offers a wide range of RDP plans to cater to the needs of different clients. Whether a small business owner or a large corporation, you can find an RDP plan that suits your requirements and budget.
Thirdly, Ultahost's RDP plans have high-performance resources, ensuring your server runs smoothly and efficiently.
Fourthly, Ultahost accepts Bitcoin as a payment method, providing clients a secure and anonymous way to pay for their services.
Finally, Ultahost's 24/7 customer support ensures clients receive assistance whenever needed, ensuring a seamless experience. Whether you have a technical issue or a billing inquiry, Ultahost's support team is always available to help you out.
2. Cloudzy
We got the first and most fantastic service provider Cloudzy, established in 2008 Cloudzy aims to make VPS hosting and RDP services easy and affordable.
It has more than 13 years of expertise in providing VPS and RDP services, and currently, they provide its services in more than 17 countries across three continents.
Cloudzy is the successor company of RouterHositng, which rebranded itself in 2021 and came with completely new and expanded services.
If we try to find out the reason for their excellent service, then they will their Data centres and high-quality servers.
It has 15 data centres through which they provide smooth and uninterrupted service to more than 12000 customers across the globe. 
Features
Cloudzy is primarily known for Excellent service because of the unique features they are able to gain the customers' trust, their features are as follows:
For example, the last Memory they offer in their plans is 64 GB, but they can also provide more memory if you ask for custom options.
These are the features that Cloudzy provides to its customers. In the next section, we will explain their price and plans.
Pricing
Cloudzy provides you with two different plans based on the features you choose. Their first plan is a Lightweight RDP server plan, and the second is their Premium RDP VPS plan.
In the above section, we have already explained to you the features of both plans and in this, we will check out their plans.
Why Choose
The best part about cloudzy is that they also provide custom-designed resources like upgraded RAM, bandwidth, storage and CPU cores. Which makes them different from the other service provider in the market.
3. AmazingRDP
Coming to the second company on our list, Amazing RDP, has been providing service for the last seven years.
AmazingRDP was established to provide a better user experience at an affordable price.
It is primarily known for its affordability and excellent customer support; they have a dedicated team that works 24*7 to provide smooth services and solve your queries.
To help you make a wise decision while choosing AmazingRDP's services, we would like to explain their features and their plans in detail in the further sections.
Features
For your convenience, we have mentioned their features so that you don't need to do your own research. Their features are as follows:
These are the features that AmazingRDP provides; in the next section, we will explain to you their plans.
Pricing
They provide various plans based on configuration, types of resources etc.
Why Choose
The best part about AmazingRDP is their affordability and customer support, they provide you 24*7 customer support.
But what differentiates them from the market is that they provide you with every type of RDP server, which you can choose from their website.
4. AMINSERVE
AMINSERVE was established in 2010 to provide high-quality VPS and RDP services at affordable prices.
It has the expertise of more than 12 years of VPS and the other services which they provide.
People choose AMINSERVE because of the feature they provide in their services, and they have satisfied every customer with their services. 
The best part about AMINSERVE is that they provide their services fully based on dedicated servers.
Features
AMINSERVER provides you with the unique features in the market, and they are as follows:
Pricing
AMINSERVE provides a very simple and affordable plan which you can avail of, based on the server you want.
Why Choose
AMINSERVE is an excellent option if you are looking for extra features. Their features are fantastic and unique in the market.
It provides servers located in various countries like USA, Canada, UK and much more.
5. MonoVM – Buy RDP With Bitcoin
Coming to the second last company MonoVM, established in 2012, aims to provide high-quality services with complete flexibility.
And MonoVM has always committed to providing the service without being distracted from its original vision.
That is why, within the 4 months of its establishment, it acquired more than a thousand loyal customers and satisfied them with its excellent services.
MonoVM has an average rating of 4.5 stars which makes it more trustable among its customers.
Features
MonoVM offers many features like a Fast setup, 7 days money back guarantee, and many more, which are discussed in detail below:
Pricing
MonoVM offers you two different plans, which are explained in detail below:
Why Choose
The best part about MonoVM is that their customer review is excellent because of their customer support and easy services. And also they provide you a 7-day money-back guarantee, which makes it a very good option to choose.
6. QHoster
Our last service provider is QHoster which was established in 2004. And since the day of its establishment, fast and affordable servers.
Currently, they provide many services like VPS, Dedicated servers, RDP servers,s and many more. QHoster has expanded from zero to thousands of customers by improving its service and better features.
We will discuss their features in detail in the next section.
Features
QHoster is primarily known for its amazing feature; we have mentioned them in detail down below:
Note: This is provided in all of their plans.
Pricing
QHoster provides you with Four different plans, which are mentioned below.
Why Choose?
The best part about QHoster is that they have more than 18 years of service in this industry and are the best customer review on the list.
QHoster provides you latest technologies like the latest IPv6, NVMe SSD storage, etc. which makes it different from the market.
Features Of Best RDP Hosting Provider
To figure out the best RDP service provider, we listed down the parameters through which you can judge the companies whether it is the best or not.
High-Speed Internet: If your server's Internet is slow, you will face a lot of issues like lagging, slow performance etc., so make sure you get High-speed server Internet.
How to Buy RDP at QHoster through Bitcoin?
Buying an RDP server with Bitcoin is a very simple process; just do as it is mentioned.
And after following these steps, your selected plan will be activated without any issues.
FAQ's – Buy RDP With Bitcoin
How much does it cost to buy RDP?
You can also get RDP for free, but they will offer you very few features, but if you buy a Paid plan in 14 to 16 USD.
Which RDP is best for beginners?
For beginners, Shared RDP is an excellent option because they are generally fully managed and easy to use.
How Can I buy Windows RDP VPS with bitcoin?
Many service providers give Windows RDP as default, which means you will not get any option to change it.
But you can also choose it while doing the VPS configurations.
Final Words – Buy RDP With Bitcoin
RDP is an amazing technology that can help you perform various tasks, and if you are planning to buy an RDP plan, then we recommend you choose one of the mentioned service providers.
To provide you with this information, we conducted deep research and analysis and concluded that these are the best service providers in the market.
If you want our recommendation, then we will suggest you choose QHoster because it provides you with the latest technologies like IPv6 and more features than any other service provider on the list. I hope we have cleared all your doubts, but if you still have some queries, then you can comment it below; we will try to respond to you as soon as possible.