Have you been looking for an affordable hosting service provider? Have you been paying for services that you do not even need? We could offer you a solution for your hosting problems, especially if your customers reside around south Asia.
CloudOYE is a hosting service provider with a wide range of hostings that come at economical prices. This hosting platform has scalable resources and many more features to keep you interested and wanting more.
Let us dive into this CloudOYE review to learn more.
About CloudOYE
Working and growing in the hosting industry since 2000, CloudOYE is an India-based hosting service provider. This hosting platform has a wide range of hosting plans to satisfy most of your hosting needs.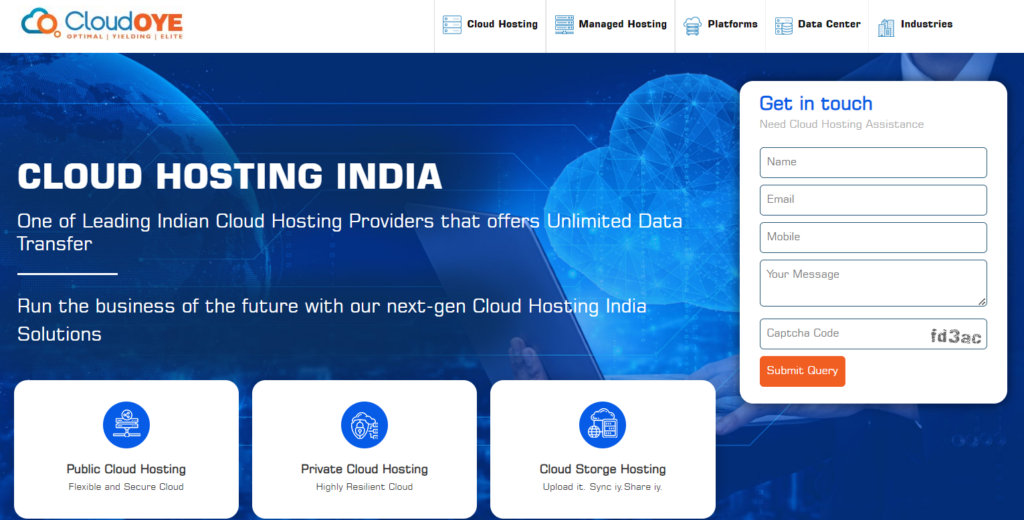 The data centers of this hosting platform are Noida, Jaipur, and Raipur providing the best speed to its customers. The plans are pretty affordable and scalable. So let us learn more about its services as we go through this CloudOYE review.
Test and Analysis
Analyzing a company is a must before you start your journey with them. Hence, we did the same so that our readers won't face any problem or trust some wrong claims:
User Interface & Ease of Use
This hosting platform offers its services to beginners and experts in the hosting field. Therefore CloudOYE has built its user interface keeping in mind both groups of users. The dashboard is pretty easy to operate, so you will have to do a lot of head-scratching.
CloudOYE Customer Support
One of the things that we do not usually think of while buying a product but always wish for once the product is ours is the manufacturer's customer support. Having reliable customer support is necessary to get you through difficult hosting situations. Therefore, CloudOYE offers 24/7 operational customer support that you can reach out to through live chat, calls, and tickets.
Security Analysis
The factor we most emphasize in buying a hosting plan other than the seed it offers is our data security. With CloudOYE, you can ensure that your data is in safe hands. This hosting platform provides monitoring, regular backups, and the best quality hardware.
Types of Web Hosting CloudOYE offers
Some of the hostings of this platform are listed below in this CloudOYE review.
CloudOYE Data Centre
CloudOYE's data center is located in India:

Key Features Of CloudOYE
Let us list out the key features of this platform in this CloudOYE review.
Hassle-Free Site Migration
Are you not satisfied with your current hosting service provider? Do you wish to shift to a better hosting service provider such as CloudOYE but fear the migration process? You do not have to be scared anymore as CloudOYE offers risk-free and hassle-free website migrations.
Regular Backups
So you took complete care of the security of your data, yet it got attacked? So what do you plan to do now? Will you build everything again from scratch?
Why go through all that trouble when CloudOYE offers regular backups that you can recover with just a few clicks.
Scalability
As we said earlier, we could help you find a hosting service provider that will offer you services per your needs, and you will not have to pay for anything extra. CloudOYE offers scalability with its plans so that you get to increase or decrease any resource anytime you want.
CloudOYE Refund Policy
Unfortunately, CloudOYE does not offer a refund on any of its plans. However, the plans provided by this hosting platform are pretty impressive, which could be the reason for the exclusion of a refund policy.

CloudOYE Pros & Cons
What are the pros and cons of CloudOYE? Let us list them out in this CloudOYE review.
Pros
Scalability
Hassle-free website migrations
FAQs
What is the uptime guarantee of CloudOYE?
This hosting platform maintains an excellent uptime as per our test results. However, as the uptime guarantee that CloudOYE provides, it offers 99.99% uptime.
Where is the Base company located for CloudOYE?
Founded decades ago, CloudOYE was an India-based hosting service provider with data centers located in its home country.
Does CloudOYE provide DDoS protection?
CloudOYE provides several security factors to your hosting plans, but it is not very clear about any DDoS protection service.
Which control panel does CloudOYE offer?
CloudOYE does its best to offer you the easiest hosting experience possible; therefore, this hosting platform provides you with one of the most trusted control panels, Plesk.
Conclusion
Now it's time to list out the good and bad of this hosting platform in this CloudOYE review. The features this hosting platform offers, such as scalability, instantly set up, hassle-free migrations, etc., are some of the good points.
On the other hand, this hosting platform mainly focuses on the south Asian part of the globe, which might affect the speed on the other side of the planet. Also, an addition of a refund policy would be great.