Knowing the best websites to create videos is essential if you want to launch video marketing actions.
Today, video marketing has established itself as a strategy in the world of digital marketing that is used by the vast majority of companies, brands, local businesses, and entrepreneurs, thanks to the constant and high consumption of Internet users, and of course, by the effectiveness of the benefits, it offers.
Its rise and growth are also due to the Internet and the massive use of Facebook, Instagram, YouTube, and other social networks. But what is video marketing? Find out what this practice is about, its benefits, and, of course, the best tools for video marketing.
What is Video Marketing?
As its name refers, video marketing uses audiovisual content (videos) to achieve different objectives. The most common is to promote a brand, product, or service or sell.
That is to say. It is used fundamentally with the marketing objectives of branding (publicizing a brand or product) or sales (increasing the sales of a product or service).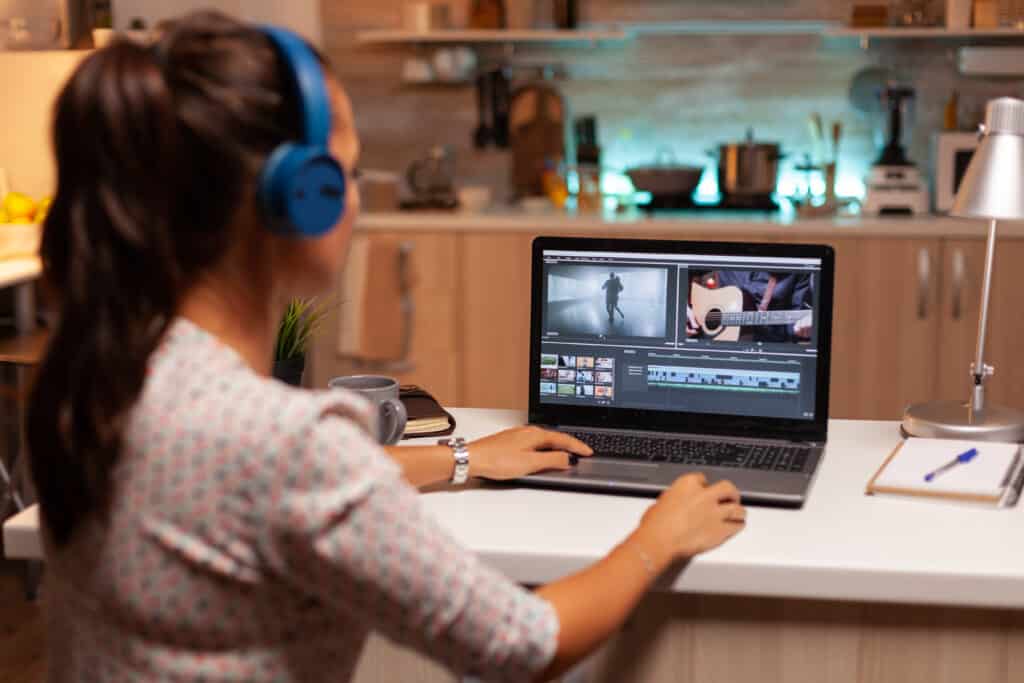 Advantages of Video Marketing
Generating content to capture a user's attention (where they do not have to try too hard to understand it) and achieve a greater presence in the market is a task that any brand, company, or business must carry out. In this way, you will achieve effective dynamism in your social networks and website, and the followers will be able to become new customers.
There are many ways to achieve your business's social media marketing goals, but video marketing is one of the most essential. Video marketing will provide the following benefits for your business or brand:
Optimize SEO
A video on YouTube, for example, tends to position itself more easily in the first search results on Google. However, the greatest benefit of video marketing in terms of SEO optimization is that a website with audiovisual material will increase the duration of a user on the site.
In addition, by adding a CTA button, which can also be a QR code easily created using free online tools, to your YouTube videos, you can effectively direct viewers to your site, drive traffic and engagement, ultimately improving your SEO.
And, best of all, if the video is shared, the web link will spread organically (that is, without spending a single dollar).
Generates higher consumption
There is greater interaction between users and brands through audiovisual content since its consumption is easier and more entertaining. This is so because the user unconsciously associates the action of watching videos with leisure and entertainment. Therefore, the user has a positive predisposition to see it.
In short, getting a user interested in a video is easier than just text or an image. As proof of this, the main social networks of the moment, such as Facebook, Instagram, YouTube, or TikTok, have tools to create audiovisual content.
Improve engagement
Trying to move the emotional fiber of consumers is a goal that brands want to achieve, that is, to ensure that their strategies cause emotions in the user.
One of the most effective techniques to get a user's affection or commitment to a brand is storytelling; without a doubt, the best format is video. Audiovisual content generates a pleasant and trusting relationship, in addition to allowing the message to arrive in a very peculiar way.
Increase virality
There are greater possibilities for audiovisual content to be broadcast on the Internet in a short period, achieving a greater reach than with any other format.
The virality of audiovisual content (that is, that users share it) is directly related to engagement since audiovisual content that reaches the emotions or interest of the user will achieve a special connection that will lead them to share the video with others. Users are making said content go viral on the network.
Encourage conversion
Audiovisual content has also been proven to positively influence users when making a purchase. Thanks to a video, users have a broader view of the promoted product or service, allowing them to have a better view of it.
In addition, video marketing positively influences the purchase of a product or service, and audiovisual content is highly recommended for any other conversion action: downloading a program, registering for an event or webinar, views, or subscriptions to the newsletter.
Increases the effectiveness of the message
There are multiple ways to ensure that a brand's message reaches users and generates an impact on them. Without a doubt, through a video, the message is more effective.
The video allows the introduction of resources such as music, voiceover, text, and image. Therefore, it enables your transmitted message to be perceived by the user through two senses at the same time: hearing and sight, which promotes the possibility of not forgetting it so easily but rather remembering it.
Remember that editing a video is not an easy task. It takes time, dedication, and a lot of creativity. Plus, it is essential to have the basic knowledge to manage the programs. However, you do not have to be a professional in this matter since there are various websites on the Internet and applications to create videos.
Also Read: Best Camtasia Alternatives for Mac and Windows
Websites to create videos to do Video-Marketing
FlexClip
Suppose you don't have experience making videos, FlexClip is perfect for you because, thanks to its simple interface and the diversity of personalized templates that it has, it will make your work easier and more quality.
Each template has resources to make different types of videos, such as tutorials, ads, sales videos, animated videos, etc.
Of all these, many consider this online editing tool ideal for making animated videos to present a product because it allows you to create videos where you can join images, texts, music, video clips, and stock videos.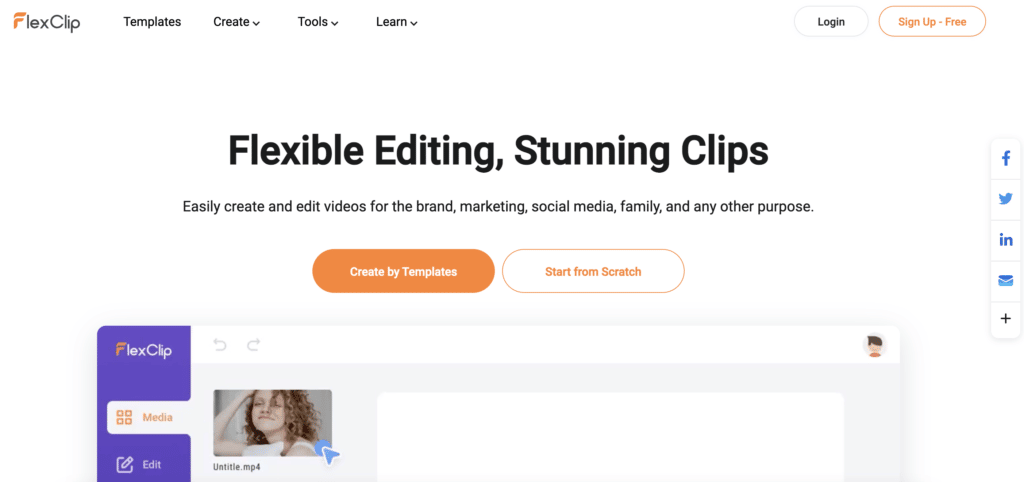 Depending on the template you choose, you can add your own videos, font, text, and colours as you like. You can also add or delete sections and share the final result directly on some social networks.
Animaker
Animaker is an online editing tool specialized in creating animated videos. This website to make videos has a series of templates with a wide variety of categories, such as sports, business, or health.
After choosing a predesigned template, you will be able to recreate different scenes in a way as simple as dragging and dropping characters.
It is also possible to start editing without a template but from a blank presentation.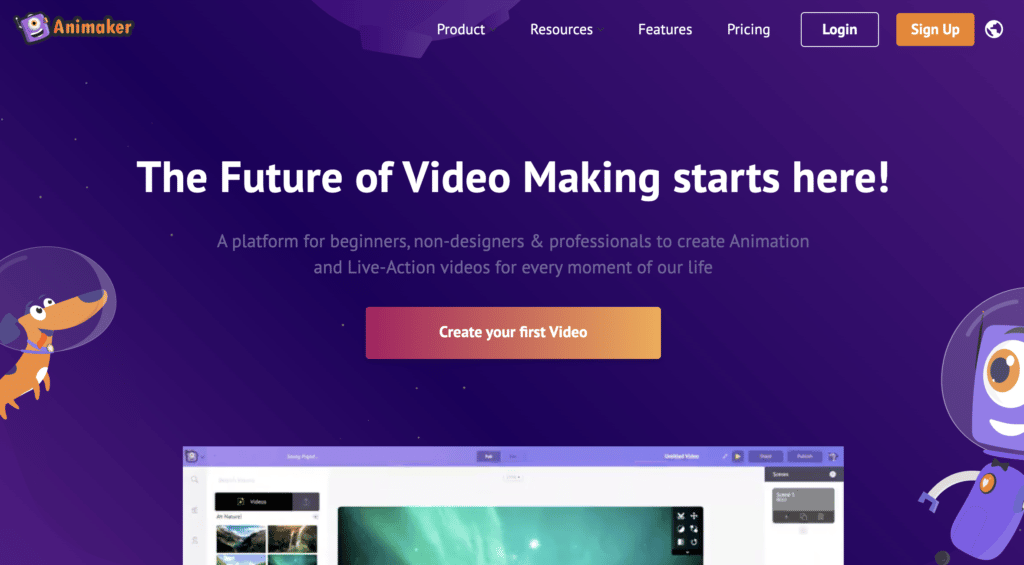 Animaker has a free version and three paid versions: Personal, Startup, and Company, each with different plans and prices. The functions and their scope determine the difference. The free version allows you to make five videos per month and, beware, without a watermark, that is, without the Animaker logo on each of your videos.
Magisto
You can upload approximately ten videos; It is designed to create short videos and five photos that do not exceed 500 MB or 25 minutes in length.
And to use the online version, you just have to create an account and work from your computer, publishing your videos on that same page and being able to promote your products on that platform.
Magisto does not have a free version, and its three plans are paid: Premium, Professional, and Business.
Kapwing
It is a video editor specially designed for marketing professionals and used by artists and advertising agencies who want to create creative videos that connect and entertain their followers. However, it is tremendously easy to use by any user.
You can use Kapwing online through its website to publish your work on its platform and obtain the link to share it on your social networks,
although you can also download the video and upload it directly to your networks.
Kapwing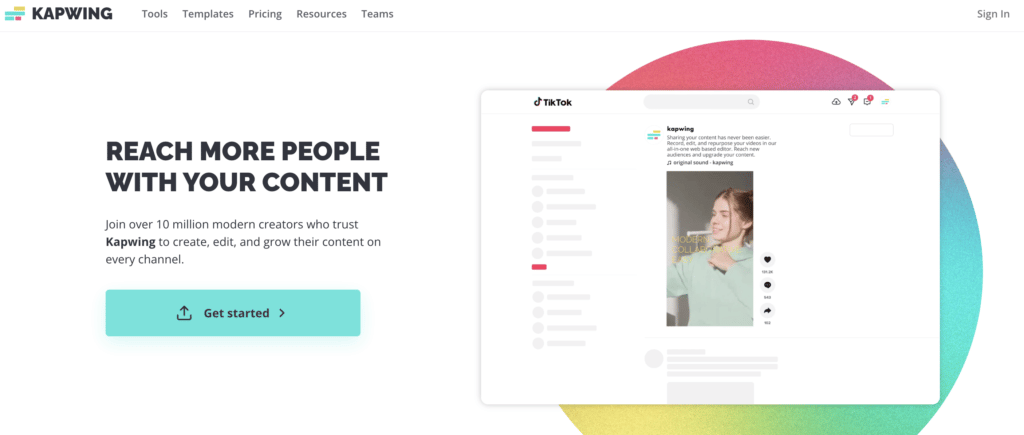 Kapwing has a free version, and it offers you several options to create good content. The free version of this website to make videos is very interesting because it frees the videos from the platform's watermark.
Adobe Premiere Rush
To speak of Adobe is, without a doubt, to refer to one of the most important and respected graphic content creation platforms worldwide. Even Adobe platforms are associated with high quality and professional use.
In this way, it breaks through to the market with Adobe Premiere Rush, a powerful and solid video editor available in a web version for Windows and Mac and a mobile version for Android and iOS.
Its most outstanding feature is that it allows multitrack editing, giving, for example, the possibility of working with four videos at the same time and three audio tracks.
Depending on the version you use, the functions will vary but still maintain the same quality.
It has a free version with the limitations of any free plan, and there is a paid version for $9.99/month.
Filmora Go
If your knowledge in video editing is basic or even null, you have the incredible option of joining the FilmoraGo users. If you are going to work from the computer, you will have to download a program. You can also edit the video from your smartphone with the app of this brand: iOS and Android.
One of the most significant aspects of FilmoraGo is its incredible transitions that will not radically change the video's design and that you can place and edit with multiple options.
It also highlights the possibility of adding the music that the app itself has available at no cost and thus gives the video a fresher touch.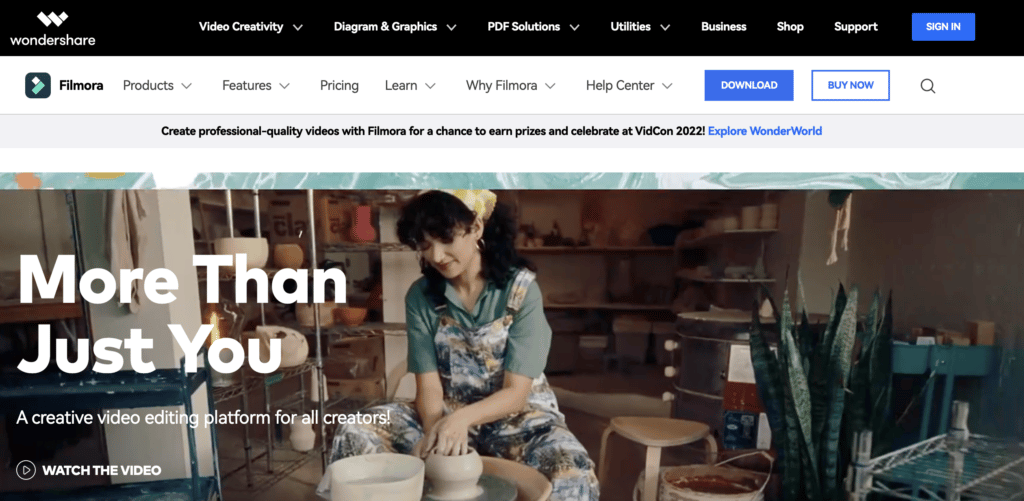 Movie Maker Online
I wouldn't give it the award for the best interface, but this website to make videos is totally free and offers you multiple functions to edit your videos, as well as a selection of royalty-free images, just like free image banks offer.
It is not necessary to download any program or even subscribe to be able to start editing your videos.
More Websites to make Videos for your Marketing actions
Kizoa
Web platform to make videos with the free and paid version. With Kizoa, you can create fun videos that include other videos, images, GIFs, etc.
Powtoon
It has a free version but with a watermark and a paid version. In free mode, you can edit videos up to 3 minutes long.
OBS-Studio
OBS stands for Open Broadcaster Software, and being an open source application, it is totally free. You will have to download the application on your computer, whether your operating system is Windows, Apple, or Linux.
In addition, this platform for editing videos is well known because it is also used for live streaming and video recordings.
Online Video Cutter
It is a completely free tool of great simplicity, which is fundamentally used to cut videos and rotate them. Easy to use, but with very limited features.
Clipchamp
It has a free version and other paid versions at very affordable prices, starting at $9 per month.
It is a complete website that will allow you to create videos, create presentations and ads for Facebook and Instagram and edit your videos for YouTube. In addition, it has a screen and webcam recorder.
In addition, it has a desktop application that will allow you to make stories for Instagram and a mobile application to edit your videos from your iPhone.
VideoScribe
It is a platform specialized in animated videos. Despite not having a free version, it is one of the most popular. It has several paid programs and a free trial period of one week.
Rocketium
Its free version allows you to edit three videos per month with a watermark and several paid ones that start at $49/month. It offers a platform with a simple interface and multiple tools available, such as a library of royalty-free videos and images.
Looster
It is a web platform with mobile applications on iOS and Android, allowing you to make videos, add sound effects, texts, slow motion, and even record sounds and videos.
Hippo Video
It has a free version and several paid versions, starting at $9 per month. It is also available on iOS and Android.
It is a platform specifically designed to do video marketing, so, in addition to editing videos, you can make videos for emails, personalized videos, focus on conversion, create GIFs, etc.
Likewise, it allows you to record the webcam and the screen of your computer, as well as audio and voiceover.
Biteable
It has free and several paid plans; the cheapest payment plan is $29 per month. It is a very practical platform that allows you to create videos, even for those without experience.
DaVinci Resolve
It offers one of the most professional programs on the market today. Despite this, it offers, in addition to the paid version, available for €269, a completely free version.
To work with this brand, you need to download a program available on all major operating systems.
It has multiple tools and compatibility with 4K and 8K formats and image frequencies of up to 120 f/s. In short, a luxury for those who want to make professional videos for your company.
VSDC Video Editor
It is a totally free program for the main operating systems, although if you need attention from the support team, you will have to take advantage of a payment plan.
It offers an intuitive and functional interface that will allow you to edit and create videos and add audio and visual effects, such as the application of filters.