Do you have an eCommerce business that has just started to develop or have a perfect plan for your awesome website?
It's understandable that a technical person like who prefers Magento eCommerce Hosting analyses best Magento Hosting providers in 2022
Are you still confused about which web hosting plan and software you should choose?
Congratulations!
You are in the right place!
All you need is Magento hosting.
For every business, you need a website, and you need a professionally designed and managed website especially for an eCommerce business.
Usually, people go on for some other plans but don't find it satisfying. Business developers have some great, creative ideas for their website, but do not find a way to execute it.
That's where they need proper eCommerce software and a web hosting plan that can manage and provide everything
This is exactly where Magento Hosting comes to your rescue.
What is Magento hosting?
You might be thinking what exactly Magento Hosting is?
It is the world's 3rd leading eCommerce software.
The hosting plan that provides you with Magento software and helps you manage your website with it is called Magento Hosting.
Why Choose Magento Hosting?
Now, when you know that Magento is an eCommerce software, let me tell you why you should choose Magento Hosting.
Magento Hosting is an eCommerce software that helps you by providing basic elements needed in an eCommerce business.
These might be a shopping cart, checkout function, payment modes, power to track products and many more.
All these elements are a need for any eCommerce website. These needs are fulfilled by Magento Hosting.
Best Magento Hosting Providers 2022
Now that you know what Magento Hosting is, let me help you out with choosing the best Cheap Magento Hosting Providers.
I have listed them below in a chronological order.
#1 A2 Hosting – For Great Server Speed
#2 Hostpapa – Preferable for small businesses
#3 GreenGeeks – For faster eco-green hosting
#4 BlueHost – Preferable for start-ups
#5 FastComet – Recommended for fast and secure cloud servers
---
A2 Hosting
A2 Hosting is one of the most popular web hosting companies with 16x turbo servers with worldwide location facilities.
It is known to provide plans like shared, VPS, Dedicated, WordPress, Magento Hosting and amazing features at pocket-friendly prices.
A2 has won numerous awards in hosting, which makes it one of the best Magento hosting providers.
Plans and Pricing
Let me introduce you to cheap Magento hosting plans provided by A2:
Key Features
The key features of A2 hosting are as follows:
Server Speed
The server speed A2 hosting is reliable and it provides 6x faster toppers services that make A2 distinct from other web hosting companies.
Our Thoughts
If you want reliable fast servers, then I recommend you using the A2 service among the best cheap Magento Hosting providers.
A2 is a reliable web hosting company that provides speed, uptime, bandwidth, and has great customer service.
Hostpapa
For small businesses stepping and looking for the best Magento Hosting providers, I would prefer HostPapa.

In its wide range of plans, it provides shared, VPS, dedicated, reseller, and WordPress hosting.
Plans and Pricing
Hostpapa has crafted some amazing plans by compiling all-round features.
Starter – $2.72/month
Business – $2.72/month
Business Pro – $9.56/month
Key Features
The key features of HostPapa are:
Speed, Uptime, free domain registration, SSD Storage, Unlimited Bandwidth, cPanel, Cloud Linux, and 24/7 support.
All these features are a necessity in a website. These features are provided by HostPapa at really affordable prices that make HostPapa an ideal website hosting company for beginners.
Server Speed
The server speed of HostPapa is remarkable. But it is nothing compared to A2. But if you are a beginner and your business is starting to develop now, Hostpapa is a preferable option.
My Thoughts
HostPapa is an excellent option for beginners. But for already progressed and vast business, the server speed of Bluehost is comparatively low.
GreenGeeks
GreenGeeks is the world's leading eco-friendly web hosting provider.
It provides shared VPS, reseller, and WordPress hosting.

They use 3 times the power they consume in the grid in the form of renewable energy.
If you ask me why I'm fond of them, then I must admit that people nowadays need green and best Magento Hosting providers like GreenGeeks.
Plans and Pricing
Now I am about to tell you about the plans offered by GreenGeeks.
Lite – $2.45/month
Pro – $4.95/month
Premium – $8.95/month
Key Features
The key features of GreenGeeks are:
They do not have any hidden charges, free domain for 1 year, unlimited Bandwidth and 99.9% Uptime, eco-friendly hosting, 30-day money-back guarantee, and many more.
You get all these features at really affordable prices and these plans are suitable for both beginners and professionals.
Also by buying a plan from GreenGeeks you contribute to nature.
Buying a Magento Hosting plan from GreenGeeks would help you contribute to nature also.
Server Speed
With the enhanced Green Hosting greengeeks promises and provide better Server speed then BlueHost,
If you are a beginner Looking for Green Hosting, then I would prefer Greengeeks.
My Thoughts
If you are searching for an eco-friendly web hosting that can provide you with interesting services at cheap prices, GreenGeeks is an ideal option.
BlueHost
The plans offered by Bluehost are with heaps of facilities and features.
It claims itself to be the best WordPress hosting provider.
Magento Hosting becomes easy with Bluehost because of its speed and security.
Plans and Pricing
Now you are about to see some plans by Bluehost.
Basic – $3.94/month
Plus – $5.94/month
Choice Plus – $5.94/month
Pro – $13.9/month
Key Features
The key features of Bluehost are as follows:
BlueHost is a reliable web hosting company. This is because it provides unlimited Bandwidth, SSD Storage, easy to use cPanel, custom themes and many more.
The special custom theme feature makes it easy for users to change and develop websites as per their comfort.
Server Speed
The server speed of Bluehost is not so appealing to consumers. In 2020 many complaints were raised about slow websites.
In 2021 this problem might be solved by the company.
My Thoughts
We recommend BlueHost to beginners looking for the best Magento Hosting provider.
WHY?
Over the years, Bluehost has hosted beginners easily by optimising both Magento and WordPress according to their needs.
Isn't Bluehost's 18 years experience in the hosting industry worth?
But, what it lacks is the speed. When you think that you have enough with BlueHost, they tackle you with this issue.
If you are a beginner, then you certainly do not need high speed; Hence, Bluehost will serve your Best Magento Hosting providers.
FastComet
If you are looking for a faster and secure Magento Cloud Hosting solution, then I prefer FastComet.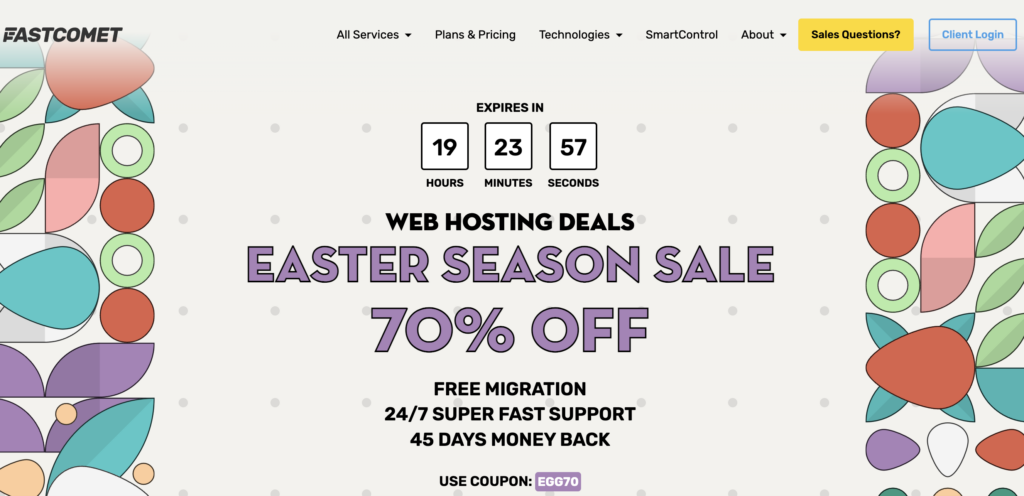 They started in 2013, and now have indeed become one of the best Magento hosting providers.
It provides free domain transfer, cPanel, easy daily backups, free managed site migration, 45 days money-back guarantee and many more.
Plans and Pricing
Now let us see some Magento Hosting plans provided by FastComet.
FastCloud- $2.95/month
FastCloud Plus- $4.45/month
FastCloud Extra- $5.95/month
Key Features
Magento Hosting is the major key feature of FastComet.
Apart from this SSD Storage, speed, bandwidth, free website transfer, free domain transfer are some of the services provided by FastComet.
Server Speed
After speed testing my website, which I hosted using FastComet, the results impressed me.
Using GT Metrix, I got A Grade, and using Google PageSpeed Insights, I got 85+. Amazing, right?
My Thoughts
If you are searching for a website provider that would provide you with the best Magento Hosting, FastComet is my preferred suggestion.
It is its speciality to host the best Magento Hosting.
Key features of Magento Hosting 2022
FAQ's
Is Magento free or open-source?
Yes, Magento is a free and open-source eCommerce solution. At present, Adobe Ltd. acquired it in 2018, and it still remains an open-source solution.

You can expand and configure your eCommerce needs as you wish.
Can Magento run on Shared Hosting?
Yes, why not!

You can install Magento eCommerce platform on any type of shared Hosting.
Which type of Magento Hosting is best?
The Magento Hosting by the companies listed above is best.

These are the top 5 best Magento hosting providers that I have researched.

But for the professional touch, I would recommend you A2 Hosting, as Magento Hosting is its speciality.
What is the best hosting for Magento?
If you want to take full advantage of the Magento Hosting, then I would prefer opting for a VPS solution.
What are the Requirements of Magento hosting?
The following are the requirements:

Operating Systems: Only Linux distributions like RedHat Enterprise Linux (RHEL), Ubuntu, Debian, CentOS, and similar.
At present, Magento does not support MacOS and Microsoft Windows.

How much memory? 2 GB RAM or more. For systems less than 2 GB RAM, use Swap memory.

Web servers: Apache 2.4 and NGINX 1.x (and above)
Conclusion
Yes, managing an eCommerce website is a difficult task. It is not everyone's piece of cake.
But with the best Magento Hosting providers, everything is easily served on a platter, all you need is professional help.
In this article, I listed out some companies that provide this professional help.
For other informative articles, you can head to GoogieHost Blog section.
For ranking on Google, you can power articles on GoogieHost SEO section.
If you liked this post or if you have any suggestions do let us know in the comments below; And stay tuned for more such articles.❤️