Finding a hosting solution that can cater to end-to-end business needs and requirements is quite a daunting task. You could spend months on a hosting solution and realise that it's not working out for you.
Now, you definitely don't want this to happen. So, it's wise to look into all aspects of a hosting solution before finally putting your money into it. For the same reason, we have come up with a detailed AsuraHosting Review to help you know all about this decade old hosting solution that has taken our hearts.
Overview of AsuraHosting
With an experience of almost a decade, AsuraHosting is a web hosting company founded in 2012 that meets end-to-end needs and requirements for hosting by offering web hosting and dedicated hosting plans to clients around the world.

The company has partnerships with Cloudflare, LiteSpeed, and cPanel through which they offer promising features in their hosting along with access to software worth $200 for free.
With these partnerships, AsuraHosting aims to offer a full-fledged hosting solution to its clients and customers at affordable prices.
Test and Analysis
For any hosting, its interface, support, and security form its backbone. So, it was natural to test AsuraHosting for these things and herein below are the results of our tests and analysis.
User Interface & Ease of Use
AsuraHosting has a collaboration with cPanel. So, you get easy-to-use, easy-to-understand cPanel support for managing your website operations and functionalities.
Moreover, there's Softaculous support that allows you to download applications and tools within a click thereby offering more ease to extend the functionalities on your website.
AsuraHosting Customer Support
The hosting company talks about 24/7 customer support that is available through the support ticket system. It can be quite a hassle to fill the entire support ticket, but it's convenient to get support even when you have a complex query.
They mention a response time of 20 minutes on the tickets. However, we tried reaching support with a pre-sales query and the response was not received. So, the support is quite dicey and you may have to wait for a reply.
Security Analysis
Security remains to be the most important aspect on a website. You want your website and its data protected at all times and ensure that you're working in a safe environment.
AsuraHosting offers that by providing free SSL certificates and DDoS protection for the websites to ensure that the website is working in a safe environment while being accessible for service to only authenticated users.
AsuraHosting Data Center Location
AsuraHosting has four data centers in the following locations-
Key Features of AsuraHosting
For any hosting solution, having a look at its key features shows you its efficacy. So, here are all the details about the features of AsuraHosting.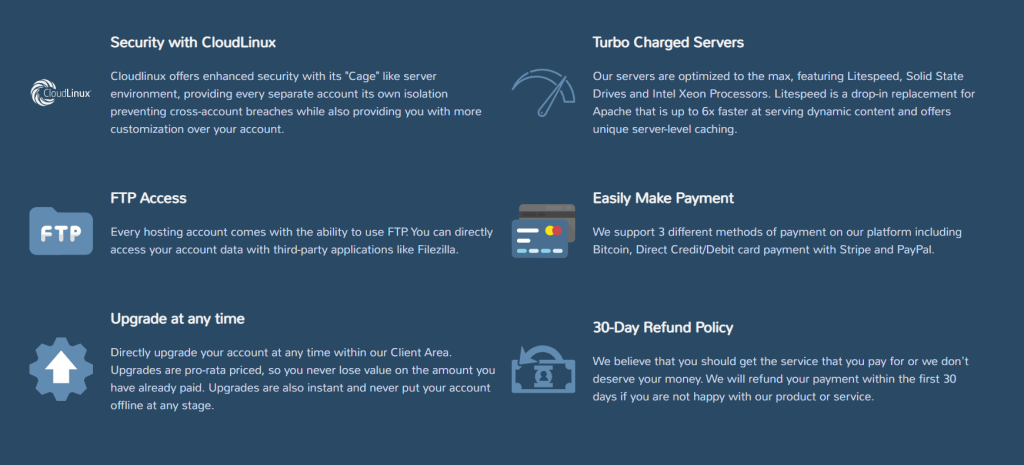 NVMe SSD Storage
High-speed storage is important for a stellar hosting performance. AsuraHosting offers high-speed NVMe SSD storage with Litespeed servers for all its hosting plans to ensure the excellent speed of your website.
Softaculous 1-Click App Installer
AsuraHosting offers a multiplicity of applications to extend the functionalities of your website and it's easy to install all these apps given that there's Softaculous support that allows app downloads and installations in just a few clicks.
CloudLinux Security
The security of the hosting is already tight with SSL certificates and DDoS protection. It's further strengthened with CloudLinux support that offers isolated accounts and server environments to prevent other accounts from entering your servers. Additionally, you can have more customization on your servers.
99.9% Uptime
The hosting solution has high-speed servers with data centers around the world and other features and functionalities for performance and speed optimization. With all of that, it provides availability at all times thereby offering a 99.9% uptime guarantee.
Free Domain
The hosting comes with a free domain for one year and you can also migrate your existing website and domain for free with your subscription to AsuraHosting.
Types of Web Hosting That AsuraHosting Offers
AsuraHosting is an all-in-one hosting company that provides multiple types of hosting solutions and services. Here's the list of all the hostings you can get at AsuraHosting along with the plan details-
AsuraHosting Hosting Pros & Cons
With every hosting there are positive sides and negative sides. Here are the pros and cons for AsuraHosting.
Pros
99.9% uptime guarantee.
Softaculous support.
Collaboration and partnership with Cloudflare, Litespeed, and cPanel.
CloudLinux security along with other security features.
High-speed servers and storage.
Cons
The support is not very good and you need to wait for their response on the support tickets.
FAQ – AsuraHosting Review
Where is AsuraHosting company located?
AsuraHosting has its headquarters located in Wyoming, United States. However, it has data centres located in other continents as well. You can refer the data center locations in the section above in this article.
What kind of Plans does AsuraHosting offer?
AsuraHosting offers plans for web hosting, reseller hosting, VPS, and radio hosting. All the plans start at cheap rates and are pretty affordable.
Does AsuraHosting offer Reseller Hosting?
Yes, you can get plans for reseller hosting at very affordable rates with the most advanced features and functionalities on AsuraHosting.
Does AsuraHosting Offer Free Domain name?
Yes, AsuraHosting offers a free domain name for a period of 1 year with the purchase of any of its hosting plans.
Conclusion – AsuraHosting Review
So, this was all there was to cover about AsuraHosting. After the entire AsuraHosting Review, we can say that it's a reliable hosting solution that can meet your end-to-end business needs and requirements. It has all kinds of plans needed for hosting and you get the plans at affordable prices.
The data centers and multiple collaborations are also promising for the speed and performance of the hosting. The only possible problem seems to be with support. However, if you come up with a high-priority support query, you may get a quicker response.
Overall, it seems like a great platform that seems worth a try. So, take up a plan, try the hosting for yourself and see how it works out for your business.