If you are looking for a Service Provider that provides Hosting Services like Cloud, VPS, and Web, you have come to the right place. We came across a Service called ASmallOrange that provides exactly what you generally look out for in your web hosting needs.
The hosting comes with a good user interface, amazing security features, and claims 99.9% uptime. That's on the surface. And since it seemed so good on its surface, we decided to take a deeper dive and here is a detailed ASmallOrange Review for you to understand and decide if this is the hosting company for your needs or not.
About ASmallOrange 
ASmallOrange is a relatively old and experienced company in the hosting space. The company was founded in 2003 in Atlanta with the vision and mission to offer reliable and powerful web hosting solutions that are affordable as well. 
The company doesn't believe in delivering unlimited services that only spike customer costs . Instead, it operates on a pay-as-you-go model where the customers have to pay only for what they use.
With US-based data centers, highly trained staff, and deep core values that are well associated with people and serving them to the best capabilities.
ASmallOrange has stayed true to its mission of always being available to deliver true, reliable, and high-performing services in the hosting space.
Test and Analysis – ASmallOrange Review
We have tested ASmallOrange on multiple parameters, and it has come through with each of them, be it ease of use, support, security, or features.
Here in below are the results of some of the major tests and analysis we performed for ASmallOrange.
User Interface & Ease of Use
Easy to use and a good user interface is always appreciated with any service. It looks like you won't be disappointed with ASmallOrange, in this case.
ASmallOrange offers cPanel, the industry leader in hosting management. It is intuitive and easy to configure, and you can easily find your way through it.
This hosting service provider also uses Weebly Website builder, which is an effortless and time-saving way to build a stunning website.
ASmallOrange Customer Support 
ASmallOrange claims to offer 24/7 support via email and live chat. Their live chat feature seemed quite good as per our experience and the response time was decent for us. Their first response was within a minute.
Security Analysis
ASmallOrange offers a slew of security features even on the basic plans. Users get password-protected directories, IP-blocking, and leech protection with the most basic plan. 
For a small fee of $39.95 per year, you can purchase a standalone SSL certificate on par with market rates for SSL certificates.
However, ASmallOrange's MailChannels email service does not provide DomainKeys Identification technology for added protection, but it does support Sender Policy Framework. 
So, overall, the platform's security features are good, and you can trust that your website will be well protected when you host it on ASmallOrange.
Core Features of ASmallOrange 
Hereinbelow are some of the core features that make ASmallOrange such an amazing web hosting service.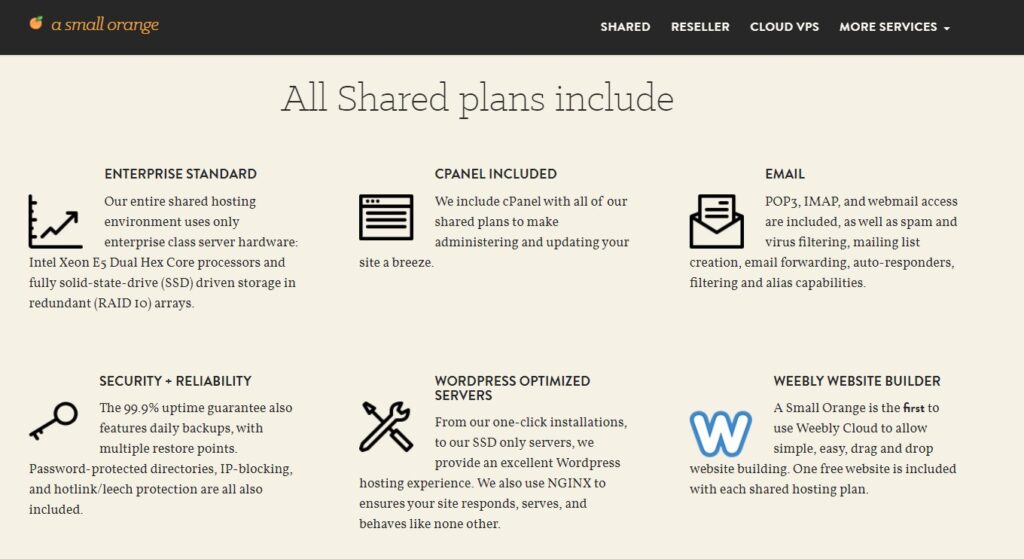 ASmallOrange offers 99.9% Server uptime, meaning that your website will always remain available and functional and you won't have to worry about suffering any losses due to website downtime.
cPanel is the industry leader when it comes to website management. It is intuitive and suitable for beginners, and you can find good support online. So, there is amazing ease of use and understandability, and you can easily operate your website without any hassles with ASmallOrange hosting.
Their servers are up to the industry standard. They are of enterprise-grade. Depending on your plan, the specs might vary, but they would be able to handle the task pretty well.
The hosting comes with a website builder feature, making it extremely easy to build your website with minimal coding and programming. So, you can get started with your website pretty quickly when you take hosting with ASmallOrange.
Types Hosting ASmallOrange Offers 
ASmallOrange offers these Services-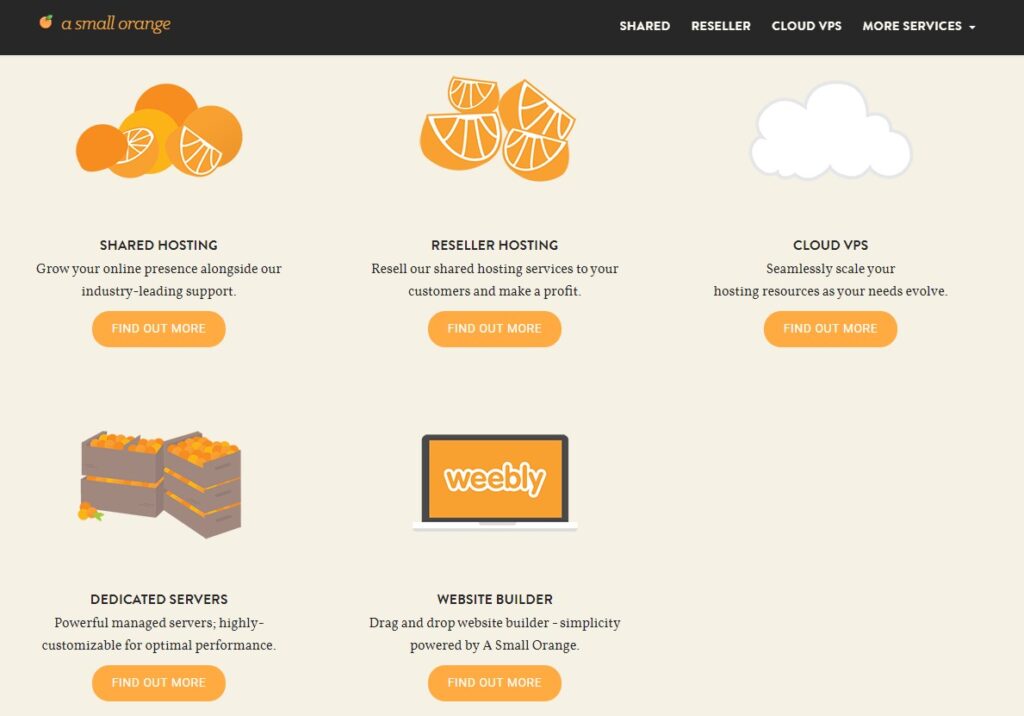 ASmallOrange Domain
ASmallOrange provides a free domain name with some Shared Hosting Plans.
Register Domain
Domain registration is effortless, easy, and quick with ASmallOrange. You can register your new domain with them if your desired name is available.
Transfer Domain
They don't mention any option of transferring your domain. However, you can check it out with them, and they are highly likely to transfer your domain from any other hosting or domain services if you wish to register with them.
Pros & Cons – ASmallOrange Review 
With every hosting, you need to look into its advantages and disadvantages. Here are some major pros and cons of ASmallOrange hosting.
Pros
Strong server uptime.
Cheap rates compared to its competitors.
Comprehensive list of hosting plans.
Weebly website builder for enhanced ease of use
99.99% uptime guarantee.
Cons
No telephone-based customer support
No Windows-based servers
High-end servers can't compete with their competitors.
FAQs – ASmallOrange Review
Does ASmallOrange Offer Free Domain and SSL?
ASmallOrange offers a free domain with some of its services. You can get a standalone SSL certificate from ASmallOrange at around $39.95, similar to market rates.
Does ASmallOrange create a custom plan?
ASmallOrange does not create custom plans. However, it has a questionnaire that shows you the best plan according to your needs after being answered.
Why Choose ASmallOrange Hosting?
ASmallOrange has an excellent user interface. It is easy to use and implements enterprise-grade hardware. 
There are some more amazing things to look out for in it, such as a 99.9% uptime guarantee, pay-as-you-go payment model, high reliability and performance. The security features are also excellent. You have every reason to choose ASmallOrange with all these things.
Conclusion – ASmallOrange Review
It's indeed great to have a platform where you need to pay only for what you use. ASmallOrange is affordable, reliable, and has decent security features. For its inexpensive rates, ASmallOrange can be an excellent choice.
Moreover, there are also some amazing features such as cPanel support, Weebly website builder, high security, etc. You can also expect a good uptime guarantee.
So, overall, based on this ASmallOrange review, we can say that it's a good platform, definitely worth a try.