Finding a platform that can meet your web designing, development, hosting, and maintenance needs is quite daunting. However, you can overcome the challenges when you look into the right places.
We're here to clarify your doubts and queries as regards hosting solutions. On that note, today, we have come up with a detailed WebSavers Review detailing everything about this Canadian hosting and web services provider to help you understand if it is the hosting you need for your business or not.
About WebSavers
With solution-based web services, WebSavers is a Canada-based hosting company with its headquarters in Halifax. The company strongly focuses on delivering effective solutions to web development, designing, and hosting needs of its customers, due to which it calls itself WebSavers.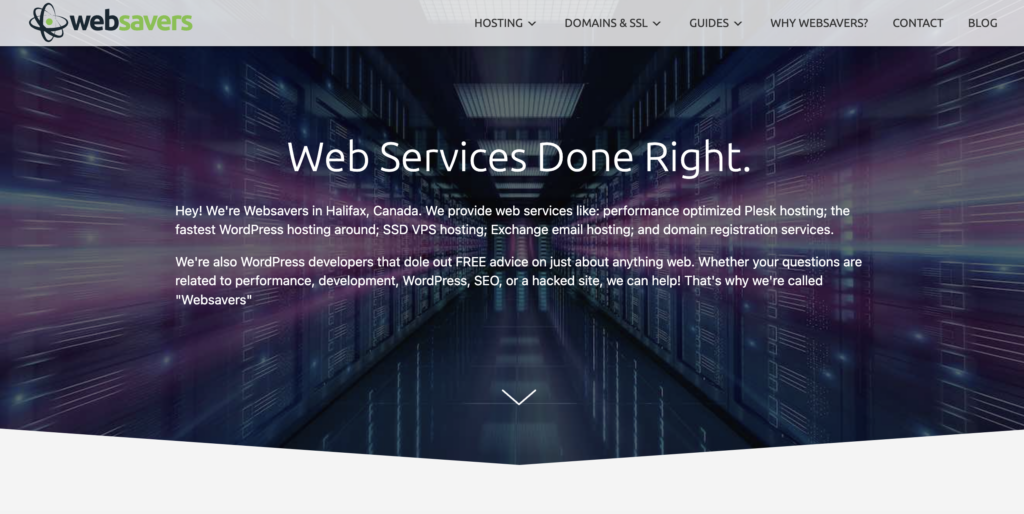 With a strong service base, the company is engaged in a multitude of hosting services, including Plesk Hosting, WordPress Hosting, Shared Hosting, and SSD hosting. The company also offers web development and domain registration services.
Test and Analysis
The major testing parameters for any hosting solution are speed, performance, ease of use, support, and security. Hereinbelow are the results of our tests and analysis based on all these factors.
User Interface & Ease of Use
The user interface and ease of use of the WebSavers hosting are phenomenal.
Unlike other hosting services that often lock or limit the controls that users have over the control panel, WebSavers offer a free hand to the users with significant ease and convenience in controlling the website and other hosting functionalities without any help from technical people or WebSavers experts.
WebSavers Customer Support
Customer support is an essential element of hosting service and ought to be quick and responsive. WebSavers offer its support through emails, phone calls, support tickets, and live chat options, which are all very responsive.
You can instantly connect with an expert through the live chat option and get answers to all your questions, doubts, and queries.
However, once you take the plan, the technical support depends on the plan you've taken and is unavailable with the lower plans. In such cases, their information and knowledge base is the only support that you've got.
Security Analysis
Security is the core expertise of WebSavers in the sense that they save your websites from getting hacked and fix multiple problems that can come from hacked websites.
They also offer Free SSL certificates and encryption with their hosting and install other security patches to ensure 100% safety of your website from attacks and hacking by hackers.
WebSavers Data Center Location
WebSavers is a Canada-based company with its headquarters in Halifax with the physical servers and data centers located in Montreal and Canada.
They are also open to providing alternative data centers as per customer preferences. However, they suggest that the customers go for their Canadian-based servers as they offer the fastest response time due to their private network connected to Europe and US with high-speed fibre bundles.
Core Features of WebSavers
With a multitude of hosting services, you get a variety of features. Here are the core features of WebSavers Hosting that make it a feasible solution to host your website.
SSD Storage for Servers
All the servers of WebSavers hosting have SSD storage which offers high speed and performance. So, no matter what, your website will always load quickly and provide a fast response time.
Multiple Security Patches
The web hosting security is not limited to Free SSL certificates and encryption. Additionally, WebSavers offer Immunify 350 firewall protection for all the servers. Moreover, the servers have a triple layer of bot security protection to ensure your website's 360degree safety and security.
One-Click Installer
You need multiple apps and functionalities when running a website and don't want to get into the long-driven procedures of downloads and installations. To save you all the trouble and time, WebSavers offer one-click installation features with their hosting, allowing you to download and install apps in just a few clicks.
Automatic Updates
Updates are important to keep your website performing at its best capabilities. With WebSavers, all the updates are configured to be installed and applied automatically. So, you never fall behind the updates regarding themes, plugins, and other website functionalities, and your website offers fast performance at all times.
Automatic Backups
You always want your website data to be secured, which also makes backups necessary in the event of data loss. Backups make it possible to recover the lost data quickly. As such, WebSavers offer automatic backup and configuration options with their hosting plans to ensure that all your data can be restored in case of accidental loss or deletion of files.
Types of Web Hosting WebSavers Offers
WebSavers take many hosting solutions under their umbrella, and every hosting solution has different features and functionalities. What suits you will depend on your specific needs. You can choose from the following types of web hosting-
Important Note: Web Hosting prices are updated frequently. So, I request you to verify the pricing by visiting the respective websites.
You can also choose the free plan for shared hosting and WordPress hosting. However, the features are very limited in that case.
WebSavers Domain
A domain is an essential element of your website, and it can cost a lot to get a new domain or transfer an existing one. However, that will not be the case with WebSavers. WebSavers have both domain registration and domain transfer services.
Register a New Domain
You can easily register your desired domain with all features for domain management. The domain services also offer a self-service domain management feature which makes domain registration easier.
The domain registration is also quick and affordable to save you time and money and have your website up and running in no time at all.
Transfer a Domain
If your domain is registered with another hosting or domain service provider, you can easily transfer it to WebSavers.
The domain transfer will also extend your domain by 1 year. The entire process is quick and easy, and you can complete it at a very affordable cost. Their website also has a guide to help you with the whole domain transfer process.
WebSavers Hosting Pros & Cons
Every hosting has its benefits and disadvantages. With WebSavers, the benefits are visible, but you cannot overlook the downsides either. Here are the pros and cons to address and consider.
Pros
High-speed servers.
Data center availability in alternative locations as per choice.
Automatic updates and backups features.
Excellent security with SSL encryption, firewall, and triple-layer bot protection.
Domain registration and transfer services.
One-click app installation features.
Affordable hosting with Free plans and trials.
30-day money-back guarantee. 
Cons
The terms and conditions as regards support are tricky. Support is not available with all plans and is limited only to the knowledge base with the lower plans.
FAQ's – WebSavers Review
Is the hosting on SSDs (Solid State Disks)?
Yes, all the servers are hosted on SSDs, making the hosting faster and keeping the page loading time to a minimum.
Why Choose Plesk Reseller Hosting?
Plesk Reseller Hosting is fast, high-performing, and secure. Moreover, with WebSaver, you get Plesk Hosting at affordable prices with end-to-end support and features like automatic backups and updates. All these reasons make it a good option for your web hosting.
I'm not Canadian; should I use Canadian WordPress Hosting?
Even though you're not a Canadian, the availability of Canadian-based servers in other locations is phenomenal due to private connections and networking through high-speed fiber bundles.
So, yes, you can use Canadian WordPress Hosting for the speed and performance of your website.
Why Choose WebSavers Hosting?
From the foregoing review, we can conclude that WebSavers Hosting has all the necessary features of a good hosting solution. Your business website can benefit from a high speed, high-performance, and secure web hosting by choosing WebSavers Hosting.
Conclusion – WebSavers Review
So, that was all there was to cover about the WebSavers Hosting. Throughout the review, we've seen that the hosting offers high speed, performance, and security.
There are some discrepancies with the support in that a high level of constant technical support is available only with higher plans. 
However, support through a knowledge base is always available, and the ease of use makes technical support less important.
Overall, hosting has some promising features, and the downsides can be overlooked. So, you must give it a try and see for yourself if this is the hosting solution that suits your business.