Getting access to plenty of hosting, servers, cloud, and more such services on one platform could be challenging.
Also, if you want to fit all of these services into your budget, you would have to go through a hell lot of research.
But to make that process more accessible, we are here with a hosting platform review.
ResellerClub is a hosting service provider with plenty of hosting services such as reseller hosting, cloud hosting, VPS hosting, dedicated servers, etc. We will explore the details of its usefulness as we continue this ResellerClub review. 
So let us get into the details but first, get an idea of this platform in this ResellerClub review.
About ResellerClub
ResellerClub has been in business for about 15 years and has used its experience and expertise to build servers and offer its services to the globe. This hosting platform is based in India and has multiple data centers. 
This hosting platform offers services such as reseller hosting, cloud hosting, dedicated servers, VPS servers, etc. The features on this platform keep your data secure and help you work efficiently. 
Test and Analysis
Let us now test the quality of services offered by ResellerClub hosting.
User Interface & Ease of Use
Ease of using a hosting is crucial as if you do not understand your hosting, how will you work with it, and how will you reap what you paid for?
With ResellerClub, you get a good quantity of ease due to the employment of cPanel and many other features.
ResellerClub Customer Support
You might not always consider customer support a feature that needs to be tested but trust us, it is.
With ResellerClub, you can reach out to the customer support team through live chat, fax, calling, and emails. The support is available 24/7, so do not hesitate to reach out for help.
Security Analysis
Now comes the security analysis of ResellerClub hosting services. This hosting platform has considered the security of your data the top tier and included features to keep your information absolutely secure such as SSL, Cloudflare protection, SSH access, etc. 
Key Features of ResellerClub
Let us now list the key features of this platform in this ResellerClub review.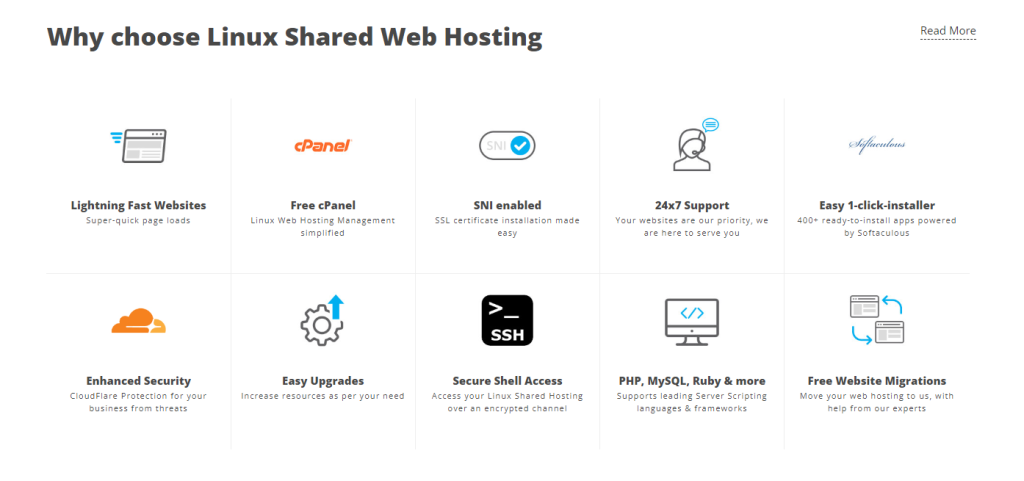 cPanel
For your benefit, ResellerClub hosting has included one of the best and most preferred control panels with its hosting plans.
With the availability of the cPanel control panel, your hosting experience will be as smooth as butter.
Softaculous
To make your hosting experience even easier, you could install applications. How do I do that?
It involves a lengthy process with other hostings but not with ResellerClub. This hosting platform offers you Softaculous, enabling you to install applications with just a click.
Free Website Migration
You start a website with ResellerClub as its hosting, or you can also move to this hosting platform with an existing website.
This process is not at all problematic and costly due to the phenomenal support and free website migration service provided by ResellerClub.
Types of Web Hosting ResellerClub offers
ResellerClub offers hosting services that include:
ResellerClub Domain
Let us now review the domain-related services offered by this platform in this ResellerClub review.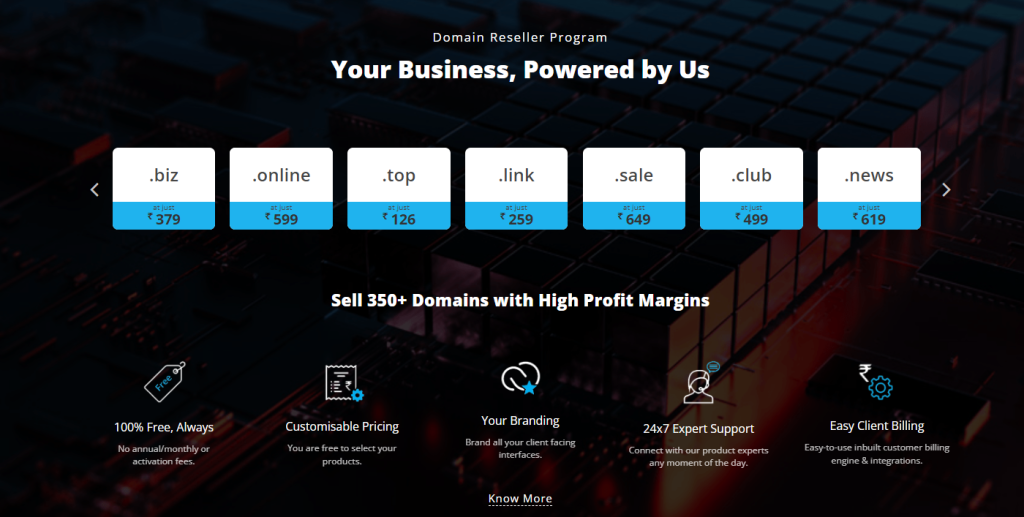 Register
ResellerClub is a verified domain name registrar, so you can trust it with your domain name and register one. 
On this hosting platform, you can choose from a wide variety of domain names at affordable prices.
Transfer
You can also transfer your existing domain name to ResellerClub with minimal effort. On this hosting platform, the process of moving your domain name is pretty simple, with the added benefit of reliable customer support.
ResellerClub Hosting Pros & Cons
We will now list out the pros and cons of ResellerClub hosting.
Pros
Plenty of choices
Multiple data centers
Free Varnish caching
Cons
Not much information about backups
FAQs – ResellerClub Review
What is the payment gateway of ResellerClub?
On ResellerClub, you can use a variety of payment gateways such as PayPal, Web money, and Pay.PW, PayU, MasterCard, AliPay, Wiretransfer, American Express, Visa, and CCAvenue.
How is the support of ResellerClub?
The customer support offered by ResellerClub is pretty quick and reliable. The services are available 24/7 on multiple channels. And you can choose between the phone numbers of India and the USA.
Does ResellerClub offer Lifetime Free SSL?
With ResellerClub, you get an SSL certificate that lasts for the lifetime duration of your hosting plan. 
Is ResellerClub hosting good?
Yes, this hosting platform has taken good care of its customers for over a decade and continues to do so with its marvellous hosting plans. The customer support, speed, and security here are good.
Conclusion- ResellerClub Review
We may conclude this ResellerClub review as we have reviewed its services and the quality you get with it. This hosting platform does not say much about its backups which we did find bothersome.
However, you get access to two data centers suitable for your network and speed. Also, the features included with its plans are outstanding such as free SSL Certificate, unmetered bandwidth, free website transfers, etc.