"We are the perfect hosting company for your website."
That's a bold claim to make and every hosting company says so. But is it true?
When you're looking for a hosting solution, you need to look into many parameters and factors before making a final purchase decision. We're here to help you with all such considerations by bringing a hosting solution that can fit your business needs perfectly.
After much research, we came across LightYearHosting and its claim to be perfect for any website. Needless to mention, we went on with a full LightYearHosting Review and this article is to share our opinion with you.
So, go on, have a read and see if this is the hosting solution that you've been seeking for your business or not.
Overview of LightYearHosting
Founded in late 2019 by James Parker, a visionary and ambitious web developer, LightYearHosting is a UK-based web hosting company that started from the ground up.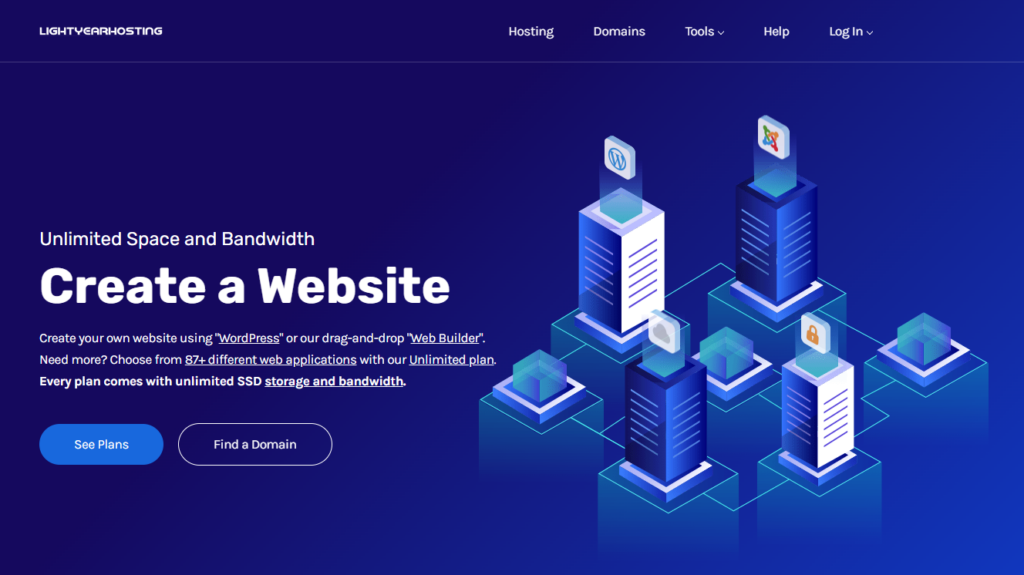 From beginning the operations for personal hosting to making the hosting solutions public at a cheap price and with brilliant features, James has come a long way in making a name within the hosting industry in this short span of 2 years.
With constant dedication, James has garnered a great company that constantly works on its hosting features and plans to offer its clients and customers hosting solutions that scale their business to the next level.
Test and Analysis
When checking out a hosting solution, it's essential to test it for support, functionality, and security. Well, here are the results of all our reviews, tests, and analysis on these important parameters.
User Interface & Ease of Use
The user interface is made keeping in mind the needs of the users and you can get easy functionalities for creating a website on different CMS platforms like WordPress, Drupal, Joomla, and more.
You also get a website builder to maintain the ease of use in developing and managing your website with the hosting.
LightYearHosting Customer Support
The support at LightYearHosting doesn't seem very promising as there are not many options to reach out to their team. You can fill out a support form to get in touch with support. Alternatively, you can give their team a call if your queries are urgent.
The best support is available through the guides, resources, and knowledge base which has much information to answer the queries in your mind.
Security Analysis
LightYearHosting provides free SSL certificates with all its web hosting plans which means your websites are safe and protected from hackers.
In addition to the SSL certificates, you can also download multiple security patches and plugins for your website based on the CMS you're using to further enhance the security of your website.
LightYearHosting Data Center Location
LightYearHosting is a UK-based company with all its servers located in its UK data centers.
Key Features of LightYearHosting
When you're reviewing a hosting solution, looking at its features is necessary to determine its effectiveness. So, let's have a quick and brief overview of all the features that you get with LightYearHosting.
Superfast Servers with SSD Storage
LightYearHosting provides its users with high-speed servers that run on SSD storage delivering 17x higher speed and performance. Additionally, the servers are optimized for WordPress which also makes WordPress speed optimized and more effective.
Website Builder
Building and customising your website is easy when you host it on LightYearHosting. The hosting plans come with a free website builder within which you can use the drag-and-drop functionality to easily pick elements and customise your website as per your needs and preferences.
Unlimited Storage and Bandwidth
The storage on your website matters a lot over the years. When your website scales over time, you've got more data to store which will require more bandwidth to maintain the same high-speed website performance.
LightYearHosting takes care of this need for increased storage and bandwidth by providing unlimited storage and unmetered bandwidth thereby never restricting the users.
Domain Services
In addition to hosting services, LightYearHosting is also great with domain services and you can register, transfer, or renew a new domain at very cheap rates on LightYearHosting.
Types of Hosting That LightYearHosting Offers
LightYearHosting offers many different kinds of web hosting for multiple CMS platforms. You can get your choice of web builder with the hosting and every plan has something more advanced to offer. There are basically three plans to choose from for the web hosting–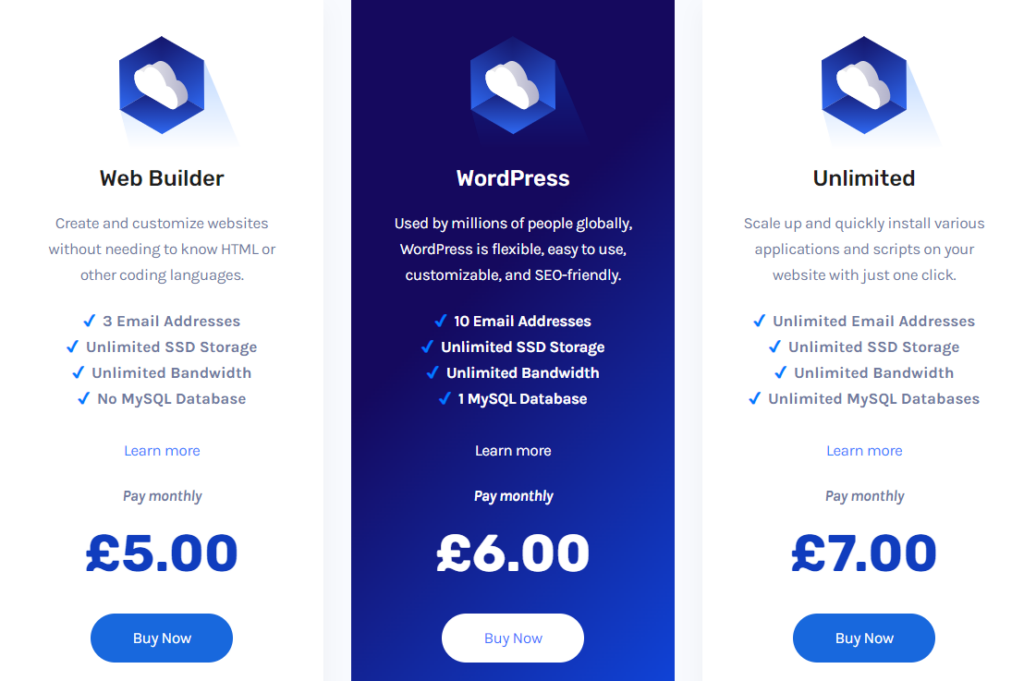 LightYearHosting Domain
As already mentioned before, you can even get domain services on LightYearHosting. Herein below are more details of the domain services.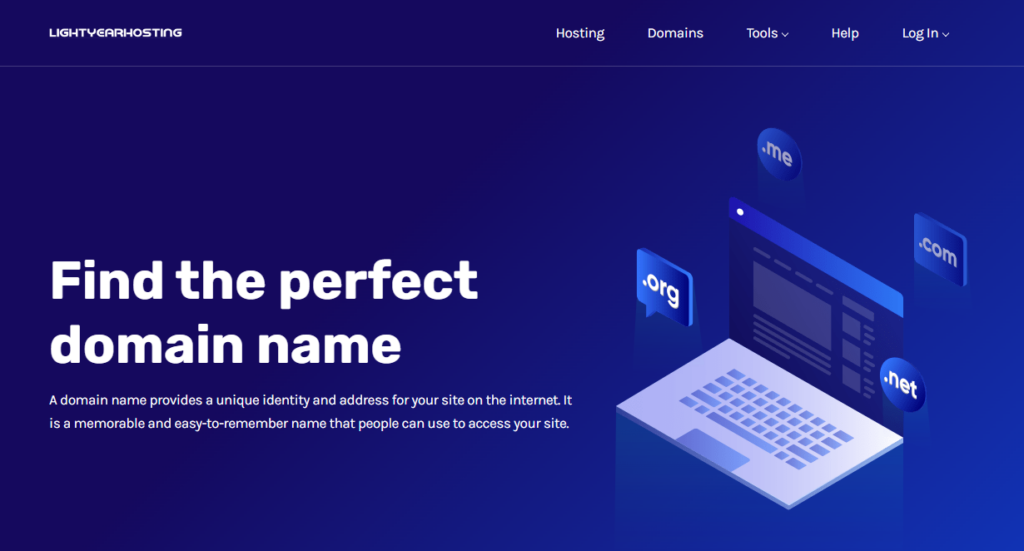 Register a New Domain
You can easily get a domain name of your choice at cheap prices on LightYearHosting. The platform has a full-fledged domain service and a detailed knowledge base answering all queries and doubts you may have about registering or renewing a new domain.
Whether it's a premium domain or some general extension, you can buy the same with your hosting on LightYearHosting.
Transfer a Domain
If you have your domain registered on some other platform and you wish to transfer it to LightYearHosting, you can easily do so with the expert and professional team at the hosting company that assists you in the end-to-end process of the domain transfer.
LightYearHosting Hosting Pros & Cons
Pros
Unlimited storage and bandwidth
Free SSL certificates and other security patches
Multiple website builders based on the CMS platform
High-speed servers with SSD storage
Support for PHP, Javascript, and other languages
Cons
The support is quite tricky to reach, there's no live chat option and you can only contact through a call or a support message from website.
FAQ – LightYearHosting Review
Is LightYearHosting Reliable Hosting Provider?
What kind of Plans does LightYearHosting offer?
Does LightYearHosting offer a Website Builder?
Yes, LightYearHosting offers 70 plus website builders and you can choose from CMS like WordPress, Magento, Drupal, Joomla, and more.
Where are LightYearHosting servers located?
LightYearHosting servers are located in the UK.
Conclusion – LightYearHosting Review
LightYearHosting is a great platform to get quality web hosting services that are easily understandable and manageable. With a tricky way to contact them, customer support does get challenging.
Nonetheless, the features this platform offers are the ones that you'd look for in a good hosting solution which makes LightYearHosting a must-try option.
We hope you understood the usability of the hosting from this LightYearHosting Review and are closer to deciding whether this is the hosting solution for you or not.