If you are looking for a hosting service provider that offers you all the services you need for building, hosting, and running a business online, you are on the right page as we have a suggestion for you.
JustHost is not really what its name says, and it's much more than just hosting. This hosting platform offers plenty of other services required to run and build a website. So you get an all-in-one platform under your budget.
Let us now get into this JustHost Review.
About JustHost
JustHost is an America-based hosting service provider offering its service worldwide through its various server locations. This hosting platform is great if you are looking for an all-in-one hosting solution.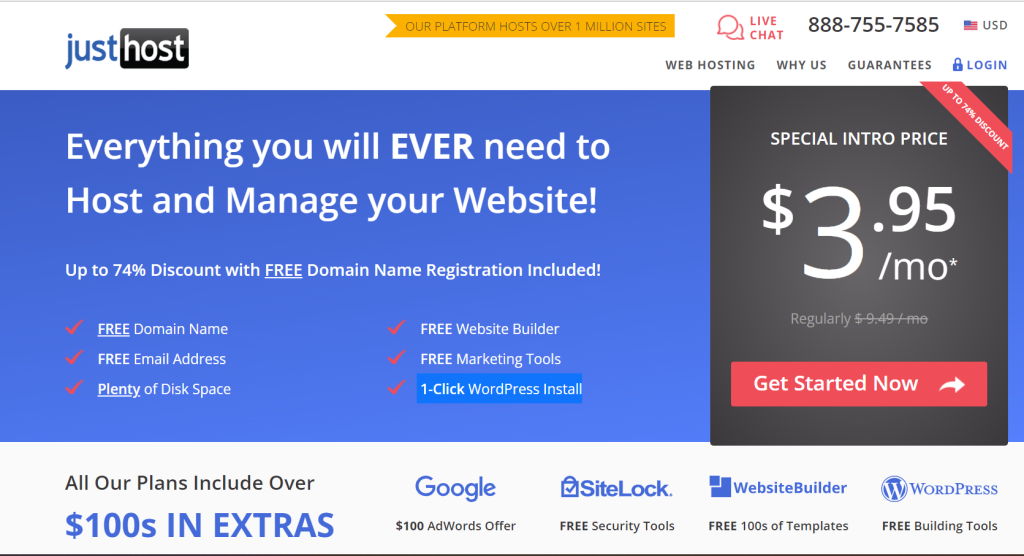 Here you get services such as website builder, marketing tools, SSL certificates, etc., for free. Also, a domain name is offered for free, but terms and conditions are applied. This hosting platform provides various hosting plans, which we will look into as we continue this JustHost Review.
Test and Analysis
Let us now look into the quality of services offered by JustHost.
User Interface & Ease of Use
If you are a beginner, you do not have to worry about the hard-to-understand interface because there is no hard-to-understand user interface with JustHost. This hosting platform offers you cPanel, which improves your user experience.
JustHost Customer Support
JustHost offers customer support through three channels. You can start with the knowledge base and then move on with the live chat and phone call options available 24/7.
The service is not fast and will take a few minutes to respond; however, the answers and solutions are pretty reliable.
Security Analysis
With JustHost, you get to keep your data safe from plenty of threats it could encounter while on the internet. Here you get security features such as Spam Assassin Protection, Hotlink Protection, SSL Secure Server, etc.
Key Features of JustHost
Let us now list the key features of this platform in this JustHost Review.
Free Site Migration
Moving to a better hosting platform is always better than wasting your money on hosting that is not doing what you asked for. That is why with JustHost, you get to migrate your website free of cost.
Website Builder
Every online business owner has different needs, and the website developer you hire might not understand this. Therefore with JustHost, you get to build your website with the least effort and experience required.
cPanel
To make your hosting experience even easier, JustHost offers cPanel as your control panel. It is one of the easiest and most preferred control panels as it is beginner-friendly and works perfectly well.
Types of Web Hosting JustHost offers
JustHost offers the following hosting plans :
JustHost Domain
Besides web hosting, JustHost also offers domain name services such as registration. You get a free domain name for a year with terms and conditions.
You will be charged about $15 if you cancel your account as the domain name was free with the hosting plan. 
JustHost Hosting Pros & Cons
We will now consider the pros and cons of this platform as we continue this JustHost Review.
Pros
Free domain name
Free site builder
Free site migration 
Cons
Charges on the domain name if you cancel the hosting plan
Not many hosting options
FAQs – JustHost Review
Which JustHost plan should I get?
JustHost only offers multiple hosting plans, such as web hosting, VPS hosting, and dedicated hosting. Based on your business and the type of website you are currently running, you can select among these.
How can I access my database online?
You can ask for help from the customer support of JustHost, and they will help you through the process.
How can I create an email account?
You can ask for help from the customer support of JustHost, and they will help you through the process of creating an email account.
What payment methods does JustHost accept?
JustHost offers Credit Card such as Discover, Master Card, and Visa along with PayPal as their mode of payment for their services.
Conclusion – JustHost Review
Let us now conclude this JustHost Review by looking back at its features and how they might affect your hosting experience. This hosting service has only limited payment options available. Similarly, they do have their physical servers only in the USA, but they have CDN all across the world with the best performance and speed.
Also, the choices for hosting plans are few. However, this hosting platform offers plenty of free website builders and migration services. Along with affordability, the plans could be considered a good buy.