With the rise in web hosting providers, it has become increasingly difficult to choose a web hosting provider these days. You need a promising web hosting provider that can meet the expanding needs of your website as the traffic on it grows.
HeroClouds is one such web hosting provider that can help meet your requirements for a decent web hosting provider. It has essential web hosting features, and the plans are available at affordable prices.
Let us delve deeper into the subject by performing a detailed HeroClouds Review for you. In this review, we have taken into consideration all the essential review parameters, including HeroClouds features, price, and other details.
Have a read further to learn all about HeroClouds and analyze if it's the right platform for your business website.
About HeroClouds
HeroClouds is a web hosting provider based in Noida, engaged in providing web solutions and services to clients based on their specific requirements. The hosting comes with cPanel, LiteSpeed servers, and excellent security features that make their hosting fast, secure, and reliable.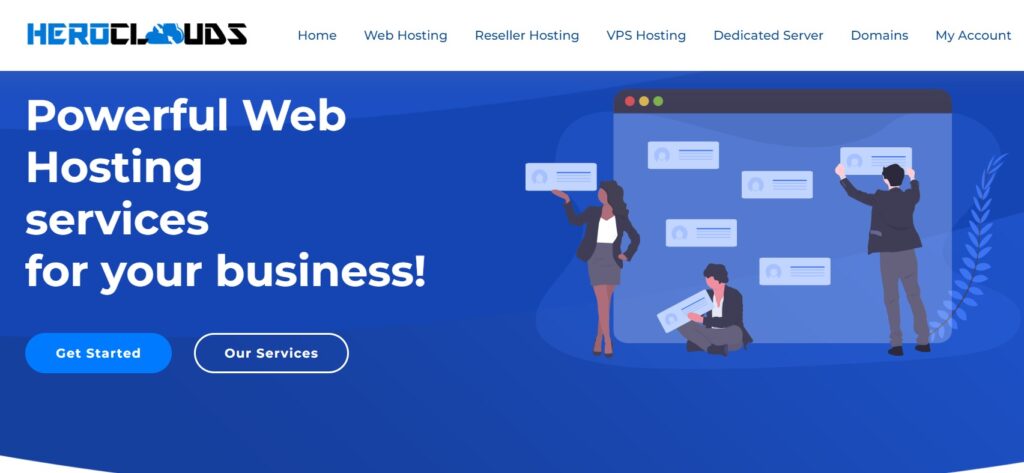 In addition to fast hosting, the company is also popular for its excellent uptime guarantee and support.
On that note, it can be said that HeroClouds is an excellent hosting provider that makes an effort to deliver the best to its customers. Let's explore more in the further sections of this HeroClouds Review.
Test and Analysis for HeroClouds Review
We have performed detailed tests and analysis to examine HeroClouds on multiple factors and parameters. Herein below are the results of our different tests and analysis.
HeroClouds User Interface
The user interface of a hosting platform is essential to its functioning and performance. HeroClouds has a cPanel control panel that is extremely easy to use and understand. 
The users can easily skim through the interface and user panel and work on the website hosting smoothly as per their needs.
Security Analysis
Security is the most essential aspect of your website. You need to keep your website safe from virus, malware, and other attacks from hackers.
Most of this lies in the quality of the hosting you're taking. HeroClouds provides SSL certificates with all their hosting plans and give a secure status to your website.
The hosting also provides DDoS protection to all your servers, ensuring that only authorised users access your website.
So, your website always remains safe and secure, and the users can use it without any worries.
HeroClouds Customer Support
Customer support is essential on a web hosting platform as you don't want to be stuck with technical issues. HeroClouds is good with customer support and offers options like live chat, email, messenger, and calls to help customers with their queries and concerns.
The best way to reach them out is through live chat support options. Although they take quite some time to reply to queries, they answer in the best possible manner. They even have options to play games while waiting for live chat support answers.
HeroClouds Data Centers
HeroClouds has data centers that keep the servers performing fast. Currently, they have two data center locations –
Besides these data centers, they also offer five different locations from YourLastHost. So, you can find a data center near you irrespective of wherever you are.
Key Features of HeroClouds
When you are looking for a hosting solution, you need to take a complete overview of its features. Hereinbelow are the key features of HeroClouds-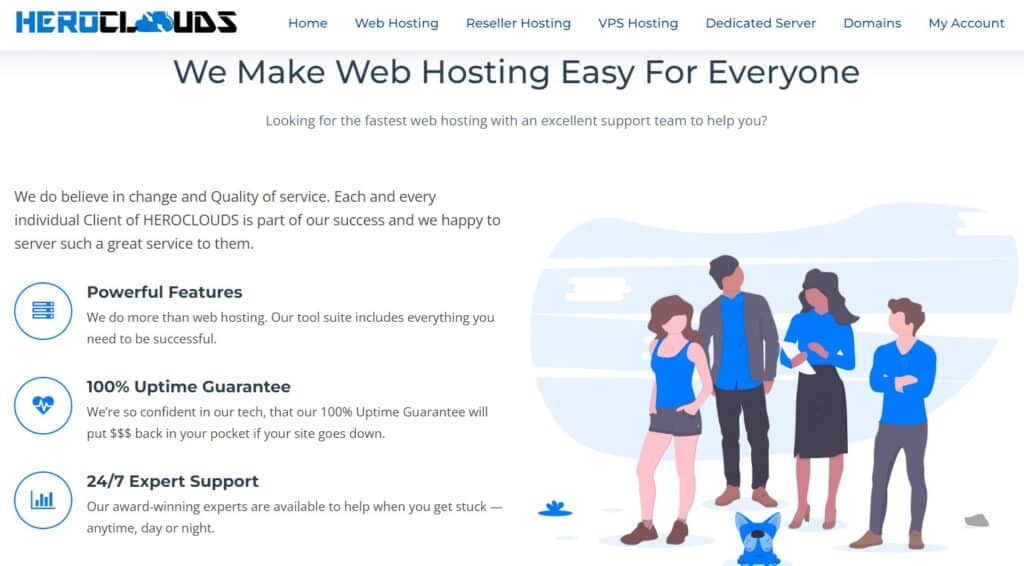 The servers come with NVMe SSD storage, a superfast storage disk that makes the servers run at high speed to offer excellent performance while ensuring that all data is securely stored on your servers.
Speed is the most essential aspect of your website. If your website takes too long to load, the visitors will leave it. To prevent that from happening, HeroClouds deploys LiteSpeed Web Servers that run at amazing speed and ensure that your website data loads speedily without making the visitors wait.
Uptime is an essential feature of a hosting solution. While other hostings provide a 95-99% uptime guarantee, HeroClouds go a step ahead and offer a 100% uptime SLA guarantee. This means that your servers will always keep running without any service interruptions.
Web hosting comes with unlimited and unmetered bandwidth through which you can easily transfer web hosting data between users without any restrictions.
HeroClouds Refund Policy
HeroClouds is confident about its services and thus comes with a money-back guarantee. It offers a 30-day money-back guarantee to its users. However, there are terms and conditions for the refunds.
To be eligible for a refund, you must have been a HeroClouds customer for at least 20 days, but the period must not exceed 30 days either.
You must also not violate any terms and conditions of HeroClouds to be eligible for a refund.
Also, all the refunds are subject to the sole discretion of HeroClouds.
Pros and Cons – HeroClouds Review
Pros
Various plans and variety to choose
Competitive Pricing
NVMe SSDs and cPanel
LiteSpeed servers
Excellent bandwidth
Cons
Live chat support takes time to answer.
Multiple terms and conditions for refund.
FAQs – HeroClouds Review
What types of web hosting are offered by HeroClouds?
HeroClouds offers the following web hosting services-
Web Hosting (Shared)
VPS Hosting
What Payment Methods do they accept?
HeroClouds accepts the following payment methods-
PayPal
Credit/Debit Card
UPI/Net Banking
Cryptocurrency
Conclusion – HeroClouds Review
So, this was a detailed HeroClouds Review to help you analyse the platform. The platform has great features such as NVMe SSD storage, LiteSpeed servers, unlimited bandwidth, etc., to help with high-speed performance.
The 100% uptime guarantee ensures uninterrupted service. Moreover, the variety of plans keeps you open to options. Furthermore, you can pay through multiple payment options.
With all of these factors, HeroClouds looks like a decent platform that you can surely give a try. You need not worry about the money, as they have a money-back guarantee. So, go ahead and try the platform for yourself to see how it works for you.