SmarterASP Review: Your website must run quickly in today's competitive world. One of the best ways to ensure that is to take SmarterASP web hosting for your website.
SmarterASP servers load your data on the servers before sending them to the visitor's pages. So, the data becomes readily visible to the visitors, and they experience faster website speed and performance.
As we talk about that, one brilliant platform that we have come across for ASP web hosting is SmarterASP.
SmarterASP.net is a brilliant platform to get advanced, reliable, and secure ASP web hosting for your website, and we can say that after months of using it. In today's SmarterASP Review guide, we are all set to explore the platform in more detail and help you understand why supporting your hosting requirements is great.
So, let's get started.
About SmarterASP
SmarterASP.net is a web hosting company with data centers in the US and Europe. Unlike other hosting companies that are engaged in providing multiple types of hosting solutions, SmarterASP has kept itself limited to providing dedicated and robust ASP web hosting services.
Their inclination and dedication towards working on a single type of hosting service have made them the most popular and superior ASP web hosting service.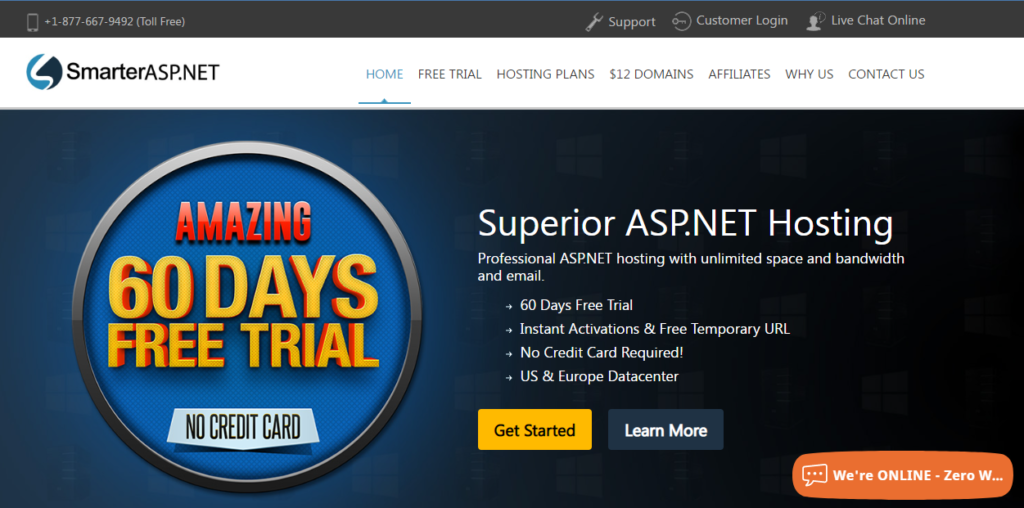 They have an experienced team of experts who support your website 24/7 and ensure that you get the most fruitful experiences with their ASP hosting support.
Moreover, their hosting features make their services one of the fastest and most reliable hosting solutions you can find.
In addition to offering superior ASP web hosting solutions, SmarterASP is also engaged in offering domain registration at a cost as low as $12.
Key Features of Using SmarterASP Hosting
SmarterASP Hosting is thriving because of its phenomenal features and functionalities with its advanced and fast hosting solutions. Here is a quick overview of all the features that you get with SmarterASP-
1-Click Application Installer
Your website becomes more feature-rich with different applications and functionalities. SmarterASP has a 1-click application installer that allows you to install various applications on your website with a single click.
This saves you a lot of time and the hassles of going through multiple installation steps, and you can use different applications for added functionalities on your website almost instantly.
Advanced, Secure, and Reliable SAN Storage Technology
Your website performance and security are determined by how your data is stored. SmarterASP offers SAN storage technology for storing your data. So, you can be assured that your data is always protected and secure.
The storage technology will also help process the data faster and ensure excellent website speed and performance.
CloudFlare CDN
CloudFlare CDN is one of the fastest content delivery networks you can find, and the significant part about SmarterASP is that it is integrated with the same. With CloudFlare CDN support, SmarterASP helps enhance website speed by 4 times.
99.9% Uptime Guarantee
SmarterASP offers a 99.9% uptime guarantee to ensure that you get uninterrupted services and that your website never goes downtime.
Backing this guarantee, they also claim to credit one month's service to your account free of cost for every hour of interrupted service or downtime on your website.
Round the Clock Support
Their support team remains available 24/7 to attend to and resolve your queries and questions. You can reach them via live chat, emails, calls, and support tickets.
Pros and Cons of SmarterASP
When it comes to hosting services, no platform comes with zero downsides. While there are advantages, you must also look into the disadvantages.
So, here are some pros and cons of SmarterASP-
Pros
Dedicated and high-speed ASP hosting
99.9% uptime guarantee
Cloudflare CDN supported
High-speed and secure storage technology
Highly affordable services
Constant support from their team
Cons
Quite a technical platform
Lacks features like free domain and free SSL certificates
SmarterASP Datacenter Location
SmarterASP has an excellent network and allows you to choose a location for hosting between its two data center locations. The data centers are located in the USA and Europe.

Even though it has only two data centers, its networks are robust. You'll always experience excellent speed and performance on your website with excellent load handling and data delivery.
SmarterASP Hosting Refund Policy
SmarterASP offers all kinds of benefits to its customers and doesn't lock them up with itself. They have a flexible refund policy with a 60-day money-back guarantee.
As such, if you're not satisfied with their hosting (which will hardly ever happen), you can make a refund request within 60 days of subscribing to their plans.
Why Should You Choose SmarterASP.net Hosting?
SmarterASP.net hosting is one of the best and most superior hosting services you can find for ASP web hosting. They have been in the industry for over two decades and come with the promise of secure and reliable ASP hosting with excellent features.
SmarterASP provides high-speed storage, fast CDN, flexible installation, and constant support. Moreover, they offer a 99.9% uptime guarantee and even back it by offering a month's free service for every hour of interruption. Besides that, they even have a 60-day money-back guarantee.
Given all these benefits, the reasons for choosing SmarterASP.net hosting seem straightforward.
FAQs: SmarterASP Review
Is SmarterASP Net Safe?
SmarterASP.net is a safe hosting solution with reliable storage technology and other security features.
Where can I host my ASP.NET website for free?
There are many options to host your ASP.NET website for free. You obviously will have to pay eventually. However, you can avail yourself of the free trial options. One of the best options is SmarterASP, where you get a free trial period of 60 days.
Conclusion – SmarterASP Review
That's all for this SmarterASP Review. After our testing and analysis, we can conclude that it's a great platform with unique features and perks that will support your ASP.NET website excellently.
We hope that this review helped provide you with the necessary knowledge and information about SmarterASP, and you're all set to explore its hosting plans and services for your website.