You will not find a lot of hosting providers that use Green energy to power their systems. Well, we did our research and came across something just like that.
Not only does it work on Carbon offset planting but also is highly secure in every manner. Yes, we are talking about EcoWebHosting.
EcoWebHosting is a clean and fast eco-friendly web hosting platform. If you care about nature and want to help the state of nature around you, you can use the EcoWebHosting platform.
It is powered by Green energy and also with every package you buy, trees will get planted around the world. They offer superfast Web Hosting and also Virtual Private Servers as well, which are both secure and customizable as well.
So, you will learn more about this incredible platform in this EcoWebHosting review curated only for you.
EcoWebHosting About
EcoWebHosting is a UK-based hosting platform. It provides its users with incredible speed and also is equipped with one-click installations.
This Hosting service provider works with Carbon offset planting and also organizes planting trees and also other gold standard-certified projects as well.
EcoWebHosting staff makes sure to run an eco-friendly business and also include green energy as well while reducing the amount of travel and working remotely.
Their eco-friendly technology helps websites hosted to run in energy-efficient ways and is improving day by day.
EcoWebHosting Data Center Location
They have their state-of-the-art data centre which is located in Derby and the platform is also built to be powerful and efficient.
Key Features of EcoWebHosting
There are a lot of features you can choose to avail of by using the EcoWebHosting site.
With every package you get, they plant 4 to 10 plants every month. There are a lot of plans and prices you can choose from.
The wide range provides you with a whole range of features you can choose from.
Types of EcoWebHosting Hosting Plans offer
There are 3 different types of Web hosting available with different prices and features.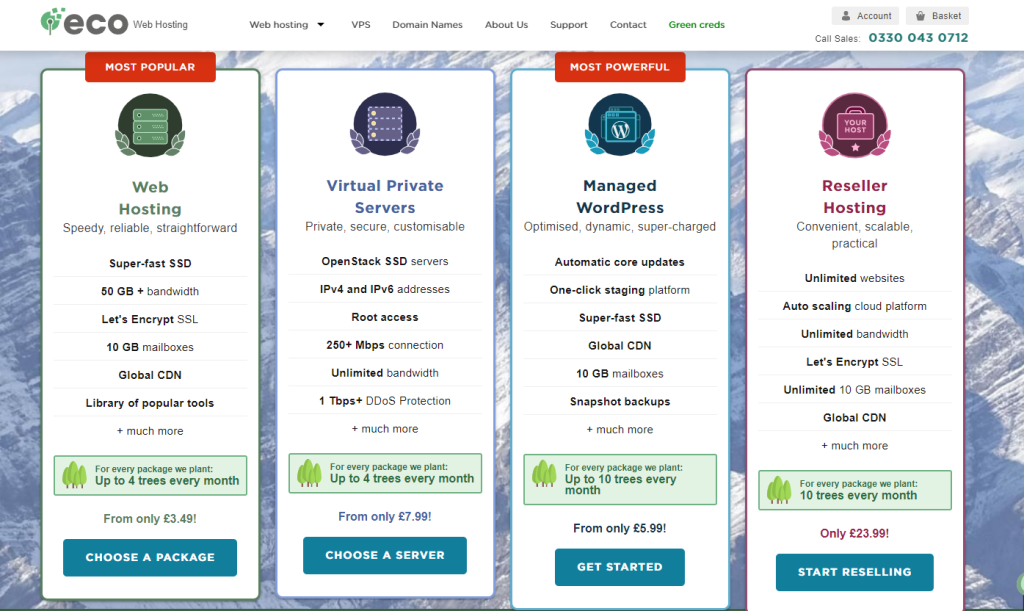 What Makes EcoWebHosting Different from Other Hosting
EcoWebHosting is firstly eco-friendly which is itself such a big step. Their Green power energy-efficient techniques make sure to offset the carbon footprint throughout all of their projects by planting trees around the world.
For all packages or extra features you might buy, they will plant trees in respect to that.
They offer one-click installations which include convenient installers for WordPress, Joomla, Drupal, and more.
EcoWebhosting provides you with a 45-day money-back guarantee, which means you can try their hosting platform risk-free and also get a full refund as well if this is not to your liking by applying within the first 45 days of the website.
The fast and friendly support team will be with you all along the way, and if anything is not working out or you are stuck, they will make sure to help you as soon as possible.
Conclusion – EcoWebHosting Review
You should really consider getting EcoWebHosting for your website, first of all, it is environment friendly, and also if you have hosted somewhere before you can get it migrated without any extra cost.
This is a big factor and also the features they provide with their plans for such a small amount of charge are really extraordinary.
Here, the team contains some hosting veterans who have been in the field for a long time now that ensure you get the best service for any plans you choose to go with.