With the world shifting a major chunk of its businesses and functions online, web hosting services are a major demand to many. DialWebHosting is one such option to consider.
DialWebHosting offers one of the best web hosting services to its users. It is the fastest-growing green energy web hosting with immense popularity on the internet. Its works are based on three fundamentals: Dependability, Security, and Speed.
The web hosting services are based on the best solutions and handled by a hardworking team that is 24*7 present on the scene to help the users with their queries.
Considering these points, we decided to test DialWebHosting on all the mentioned factors along with its support and security and we have compiled the results in this DialWebHosting Review. So, go on, have a read.
About DialWebHosting
DialWebHosting is a company based in Texas, United States, offering its users resilience, security, and performance-driven solutions at affordable prices.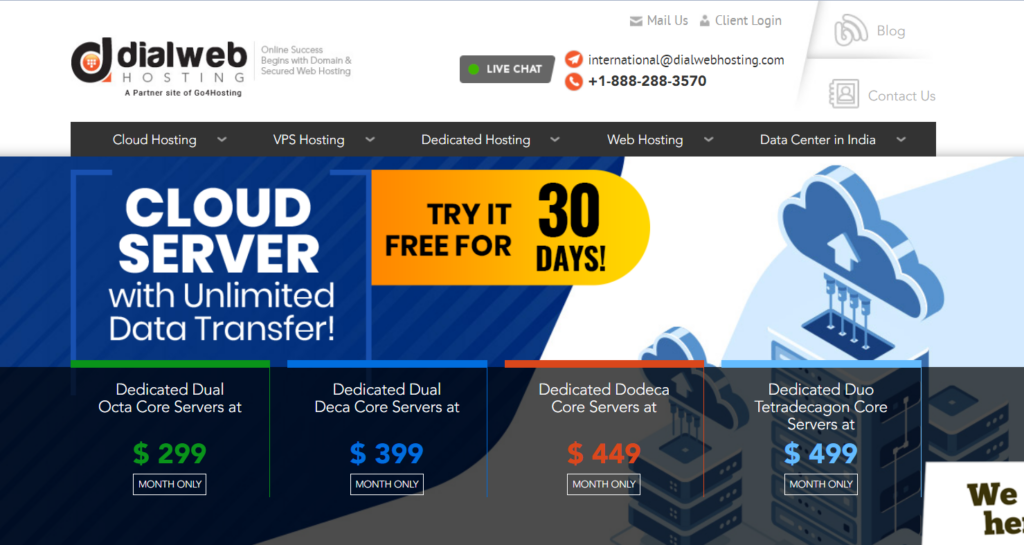 The most important aspect of DialWebHosting is that it provides a friendly web hosting environment to the user. The company is committed to providing best-in-class web hosting services with customized solutions and believes in providing IT capabilities and stringent security to all its users. They work round the clock to cater to the needs of the users.
Test and Analysis
The overall performance of any web hosting service provider is looked upon by analyzing it based on some conditions. Here we have four parameters upon which a web hosting service provider's credibility is based.
User Interface & Ease of Use
The User Interface that DialWebHosting provides is very user-friendly, intuitive, and at the same time, well-groomed by all the essential information that a user expects from the company during their visit. The overall look and design of the website are well up to the mark.
DialWebHosting Customer Support
The customer care support feature is amazing when we come to DialWebHosting. It has the live chat option available on its screen to give the users a chance to interact with the audience and respond to queries as soon as possible.
Security Analysis
The security measures that DialWebHosting provides are very simple yet well-updated. It has the firewall option present on its system and is accompanied by a two-factor authentication too.
If you're ready to spend a little more money, you can obtain a dedicated IP address or a secure SSL certificate on your website.
DialWebHosting Data Center
You can be confident that when you use DialWebHosting, you will have access to the most cutting-edge technology because of its strong infrastructure, which includes multiple servers and modernised data centres.

Additionally, their web hosting plans provide free advanced email hosting options.
Key Features of DialWebHosting
Here are some unique features that make DialWebHosting the best hosting service other competitors-
The infrastructure that is built in the data centres of DialWebHosting is simple and helps you to figure out the growth in your business or website development. The server is efficient and powerful too.
The data stored in the database is stored and retrieved as the user enters it. No random changes are made to it. Thus, the company is well-versed in the matter of data integrity and safety.
The hosting comes with a cPanel control panel that is easy and convenient to use and offers an excellent user interface through which the users can navigate without any difficulty. This makes the platform extremely convenient and easy to use for users.
The hosting comes with a 99.9% uptime guarantee which means that it will always provide you with uninterrupted services and you will not have to suffer any losses due to your website being unavailable to users at any point in time.
Types of web hosting offer DialWebHosting
DialWebHosting provides the following hosting services
DialWebHosting Pros & Cons
Just like any other service, DialWebHosting also has some pros and cons, which are discussed in brief below-
Pros
The website is fully green and uses clean energy to provide services to its users.
It is well-organized and immensely reliable.
It ensures data integrity and scalability.
Cons
The official website of the hosting doesn't clearly mention the hosting plans and services.
FAQs – DialWebHosting Review
Do I get a dedicated IP and Mailing Server with VPS hosting package?
Yes, you definitely get an IP and mailing server facility with the VPS hosting package. This service is available at a very cheap rate of $24.16 per month to give its user the best and most affordable rate.
Can I upgrade from shared hosting to Cloud Server?
Yes, the company provides you with the facility to shift your hosting package from one server to another.
What payment methods does DialWebHosting accept?
DialWebHosting accepts Visa, cheques NEFT RTGS and all other Internet banking payment methods.
Does DialWebHosting Offer Backup Service?
Yes, it offers a backup service in case of any mishap or data loss of the user.
Conclusion – DialWebHosting Review
The web hosting services that DialWebHosting has are truly reliable and up to the mark of the user's satisfaction. It has immense scope for developing your website, giving it an edge over other service providers on the internet.
A variety of shared hosting plans from DialWebHosting are affordably priced and offer limitless storage, connectivity, and support. People and small-business owners can feel secure knowing they can stick with the seasoned hosting company for the long run thanks to their scalable strategic planning and management.
This makes DialWebHosting a strong choice for users.