Are you looking for a hosting service provider that provides you with an easy-to-use interface and 24/7 customer support? Do you want a hosting service provider that is best suitable for blogging and small business? Well, you have clicked on the right page.
CloudCone is the hosting we are talking about. Whether you are a beginner or an expert, this hosting platform helps you through the hosting process through its 24/7 active customer support. You get access to multiple hosting and server plans on this platform, with many benefits.
So why wait? Let us get into this CloudCone review.
About CloudCone
Founded in 2017, CloudCone was built after the success of one of its older brands QuadCone. This hosting platform aims to offer its services optimally throughout the globe and has already succeeded by deploying over 150,000 cloud instances worldwide.
CloudCone has a data center in the United States and operates worldwide. On this hosting platform, you can choose plans such as VPS, dedicated servers, private clouds, hosted emails, etc. So let us check it out in this CloudCone review.
CloudCone Data Center Location
CloudCone's data center is located in:
User Interface
Since CloudCone is a well-established hosting service provider, you must have expected it to be built for experts. But that is partially wrong.
This platform is created for experts and beginners to satisfy their hosting needs. On the other hand, the interface is built to suit all users. This platform also has a partnership with cPanel, and you get a user-friendly interface.
CloudCone Customer Support
You might have some necessary queries and issues to be resolved while using their hosting services but do not worry about staying stuck on it.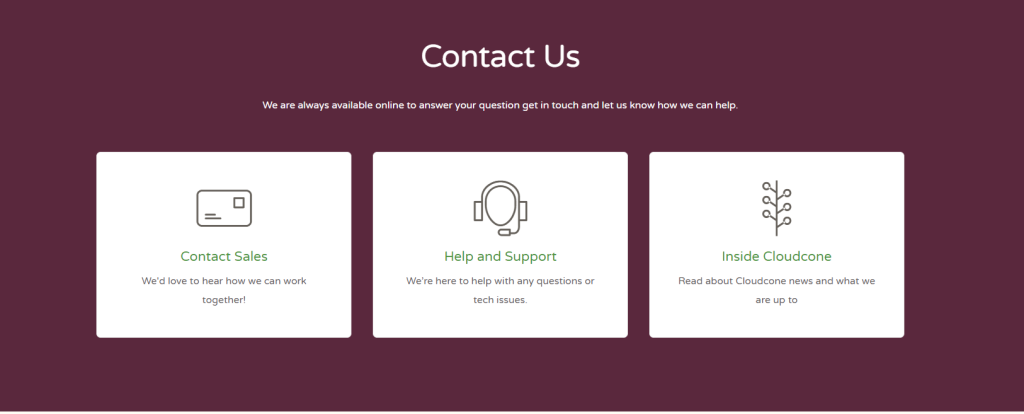 This hosting platform offers 24/7 active customer support through chat, calls, and emails.
Key Features of CloudCone
Let us now list out the key features of CloudCone.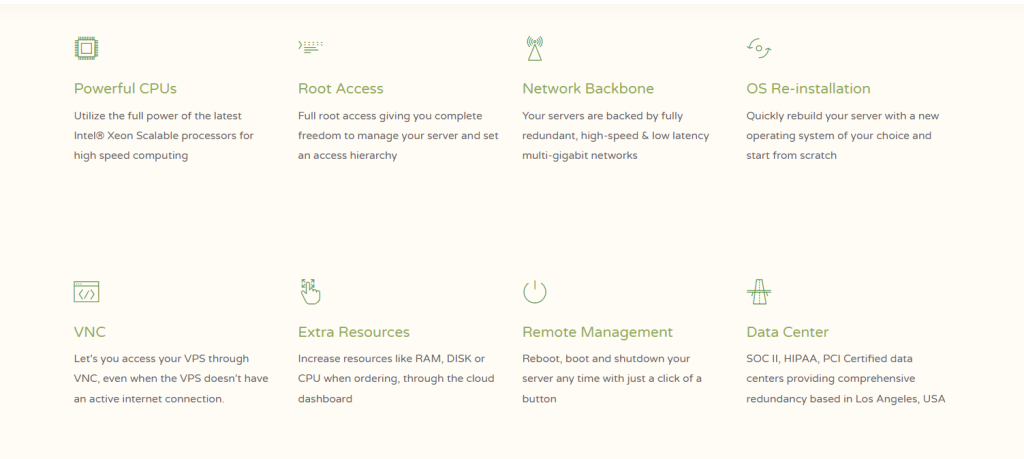 OS Reinstallation
If you want to rebuild your server, do not stress about going through all the hard work. With CloudCone, you can enjoy your creations without repeating the process. This hosting platform helps you install your server right through your dashboard.
Root Access
With CloudCone, you do not have to worry about someone else making changes on your server and not knowing it. You get to have complete access to your server and make changes on this hosting platform.
SSD Storage
If you like speed, get SSD storage for your servers. The SSD storage system works fast through your data and obtains the smallest piece of information you ask for within seconds so that you do not have to stay waiting.
Types of Web Hosting CloudCone offers
The hosting plans that CloudCone offers are:
CloudCone Hosting Pros & Cons
What are the pros and cons of CloudCone hosting?
Pros
DDoS protection
Automatic Backups
IPMI Console Included
Uptime SLA Guarantee
24/7 Support
Cons
Shared hosting plans are unavailable
Money-Back Guarantee Only For 7 Days
FAQs – CloudCone Review
Conclusion – CloudCone Review
Let us now sum up this CloudCone review and list out what we liked and the thing that did not impress us that much. The facility of SSL certificates, security system, backups, refund policy, etc., are some of the things that seem to be beneficial.
On the other hand, this hosting service provider would be more pleasing if it offered multiple data center locations and an extended refund period. Other than these, you can expect phenomenal hosting from CloudCone.