Choosing a reliable hosting solution is crucial for the growth of your website and business. However, it can be very confusing and overwhelming to choose the hosting solution that perfectly meets all your business needs and requirements when you have so many options.
Well, one of the good options is WebDock and to determine how good it is, we tested it on multiple parameters.
In this WebDock Review, we will provide you with everything you need to know before you purchase a WebDock plan.
About WebDock
If you are looking for a website hosting solution, WebDock could be one of the best choices for you. WebDock is a world-class hosting service provider, mainly, with a Cloud VPS hosting environment.
WebDock makes work easier for developers with its Linux-charged containers, speedy hardware, and blazing-fast SSD disks running ZFS. Additionally, it provides you with unique and valuable features and functionalities.
For instance, it takes regular backups of your website so that you never lose important data and information. Besides that WebDock is equipped with features like free email forwarding, transactional emailing, SSL Certificates, and more.
Developers, as well as laymen, can easily use WebDock. With WebDock, you will be provided with your IPV4 address and get full root access to your server, so that you have complete control over it.
Further, we will discuss all the features and facilities provided by WebDock in this Hosting Review, so keep on reading.
Speed Test and Analysis for WebDock
Speed is something that can affect your business to a great extent. You might have good service, content, products, and everything else, but if your website will run slow, you might lose it all. To determine if you can rely upon and buy WebDock, we ran numerous tests on WebDock, and here are the results we found in each category.
WebDock Server Response Time
The server response time is crucial for your website, cause if it doesn't show results within seconds, you may lose a lot of customers, who were or could be beneficial for the business. The less the server response time, the more the possibility of your website growing.
The results we got by testing WebDock were fantastic and one can completely rely on its server response time.
WebDock Speed Test
Every penny you spend on any purchase is hard-earned, and you would not want it to go down the drain by using solutions and services that don't align with your requirements. So, to ensure that WebDock offers the expected speed score and page loading time, we ran several speed tests on GTMetrics.
We were surprised by how well the results came out. WebDock provides pretty fast service with a low page loading time.
WebDock Uptime Test
In the description of many hosting solutions, you must have read that they provide 99.9% server uptime, but WebDock has a different approach to uptime.
WebDock says 0.1% of downtime can cause you about 9 hours of downtime per year that could be used beneficially. WebDock generally provides a 'no downtime' guarantee but also has a few exceptions in it.
If you ever face downtime on WebDock, you can inform the authorities, and they will immediately start working on it. WebDock might sometimes plan a downtime, and in this scenario, they will inform you about it before time.
WebDock almost perfectly stands up to its claims, as monitored in this long duration of testing, we did not experience any moment of downtime.
WebDock Load Handling
When you test a website for its speed with zero or very meager traffic, it is evident that the page speed will be excellent. But how a website performs in high-traffic conditions determines if the website is fast enough or not.
To check the load handling of WebDock, we sent some high traffic to WebDock servers. After all the hurdles we placed in the way of WebDock, it came up with an excellent performance in load handling. However, you can also take a look at Kamatera, Cloudways, and ChemiCloud, for better load management capacities!
WebDock Cache
Caching your data is extremely important to save time. Not having a cache can take a lot of time for the data to load and provide you with the required information.
Caching your data helps you save a copy of your data or website when you visit it. So, when you revisit the site and ask for the same data since it has already saved a copy, it doesn't seek information from the source, instead, it collects your data from the cache.
WebDock allows you to make all such cache settings which helps it to add the speed and performance of your website.
Security Analysis
With WebDock, you can stay assured of your data privacy as it accepts GDPR and respects your privacy.
WebDock does store some of your personal data, but this is done to only provide WebDock's contractual service. The personal data saved by WebDock may include your full name, company name and VAT ID, billing address, email address, and source IP address. A third party will hold your credit card details, and WebDock has no access to them.
Ant retrieval of your data by WebDock will be informed to you by mail from [email protected]. WebDock provides you with encrypted connections and follows standard safeguard measures.
WebDock Data Centres Location
WebDock was founded and registered in Denmark, so it has been planning to build an on-location Data center in Denmark. WebDock's other data center locations include Finland and Montreal.
WebDock proudly announced that their data center in Finland is 100% eco-friendly. It makes use of CO2-free as well as environment-friendly wind and hydro energy. The hardware components in the data center located in Finland are deliberately selected for optimum energy efficiency.
The data center in Montreal is powered by hydro-Quebec. This data center offers a low carbon footprint and imparts us with an almost completely clean energy source.
Price and Plans – WebDock Review
WebDock offers one of the cheapest plans out there in the market. You can start as cheap as $3.17. The plans include instant provisioning and guaranteed performance. You can buy additional IPv4 addresses for about $2.14 per month.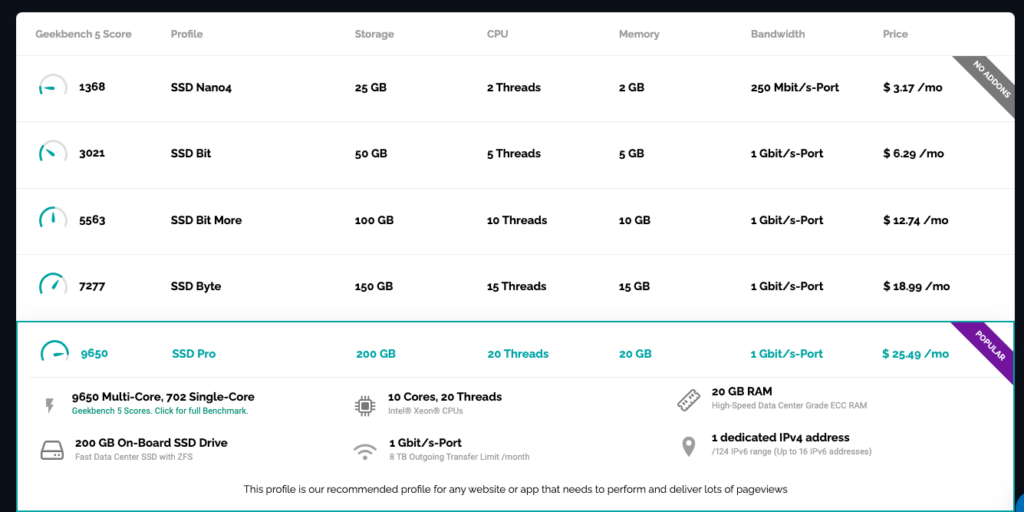 The list of plans for the VPS server is quite long. The pricing starts from $3.17 and goes up to $50.99 or more. These plans may or may not include add-ons. WebDock does not charge any additional fees for traffic on their Unlimited Traffic profile. All the VPS servers have free snapshots included.
Key Features of WebDock
Now let us look at some of the best key features that we found the most useful, and they make WebDock one of the best and cheapest web hosting solutions in the world.
Loads of backups
Snapshots are taken twice or thrice weekly and the customer is provided with their own three snapshot slots. This way you will have a lot of history to look for in your backup. This backup will help you not to lose data in the future, which may occur by mistake, get deleted, or if someone else does it.
Instant Scaling
WebDock scales or, in simple words, checks your server about eight times in 24 hours. No customer can use more than 30% of the available capacity. During the scaling process, if the customer seems to be exceeding 30%, new nodes are made available with more space. This way, your server will not get overloaded or slow.
Latest software
WebDock is always up to date with the software used in their solutions. The main goal is to give the best performance possible, so to do this, they keep updating the software so that you do not miss out on anything.
Server babysitting
You are given complete privacy, but your server is monitored continuously. Monitoring is essential to keep your data away from any malicious activity by a third party.
Security
WebDock provides high-class protection to your server. It offers you options to switch the tools such as FTP using scripts in the WebDock control panel.
They monitor your server for any anomalous activity and have multiple layers of DDOS protection.
Also, it provides free SSL certificates so even visitors have confidence that they're accessing a secure website and server.
Green energy
Saving the planet is something fundamental, especially in today's situation. WebDock follows the rule of 'green-energy only' for its data centers and donates 1% of its turnover to CO2 reduction initiatives.
Root Access
WebDock provides you with root access, which means you have complete control over your server and what can be done to it.
WebDock Support
Apart from all the tools and options WebDock provides, it has an excellent support system. If you ever feel stuck anywhere and have a query, you can directly contact them or if you need some technical support, they are still there to help you out with it.
As told earlier, WebDock constantly babysits your servers. In this context, babysitting means monitoring your website for any strange activities, checking for overload, and providing nodes to provide extra capacity to your server, suggesting any upgrades if needed. This list is never-ending.
WebDock Refund Policy
The refund policy of WebDock is a little different than the others. WebDock offers to refund your unused amount of money if you cancel your plan if any other issue occurs, or when the plan goes out of your ownership.
WebDock Coupons
People have been using coupons and promo codes to get a discount on almost anything they buy, nowadays. With WebDock too, you have this perk of coupons. You can find plenty of coupons offered by people online.

The discount can differ, but yes, you could get the WebDock plans at cheaper rates if you managed to get an authentic coupon or promo code. If you wish to enjoy a 30 Days Free Cloud VPS Hosting Solution, check out Kamatera hosting!
Pros & Cons – WebDock Review
Now let us look at both sides of the coin by comparing the pros and cons of WebDock in this WebDock Review.
Pros
Cons
Reasons to Choose WebDock
The first and foremost reason we would like to give that you choose WebDock is its affordability.
When starting a business online, you will not be having massive money to invest in costly server providers, here WebDock is pretty affordable for all the tools and options it is providing.
Additionally, WebDock monitors your server constantly to save it from any harm or loss of your data or business.
Whenever WebDock feels that the load on a server is getting heavy, it provides a node with extra capacity to prevent the server from slowing down.
Besides that, there are more excellent features and functionalities. Moreover, it supports the green initiative with environment-friendly servers.
With all these things, WebDock will prove to be great for hosting your website.
How to Create a Server with WebDock?
It is pretty simple to create a server with WebDock. You just have to follow a few steps explained hereinbelow-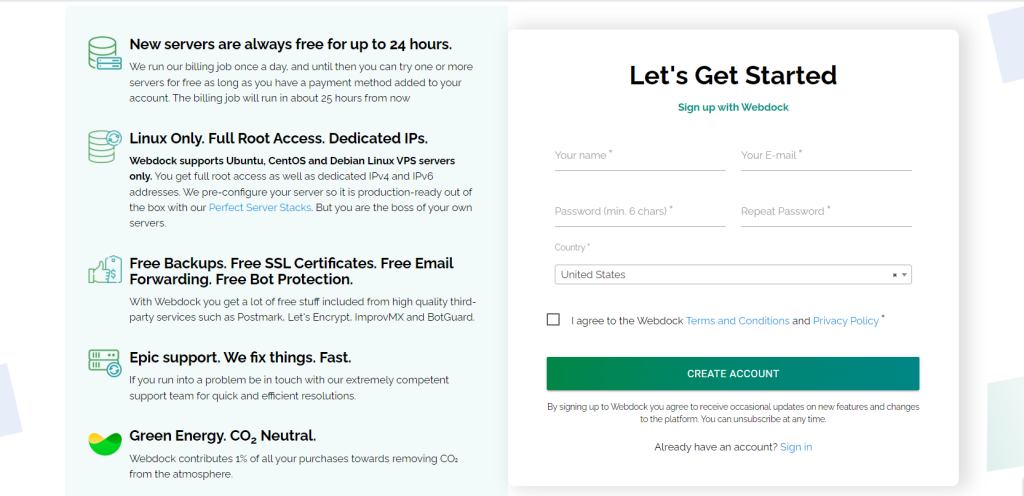 Read the terms and conditions of WebDock carefully and agree to them. After that click on create an account if you are new or sign in if you already have an account.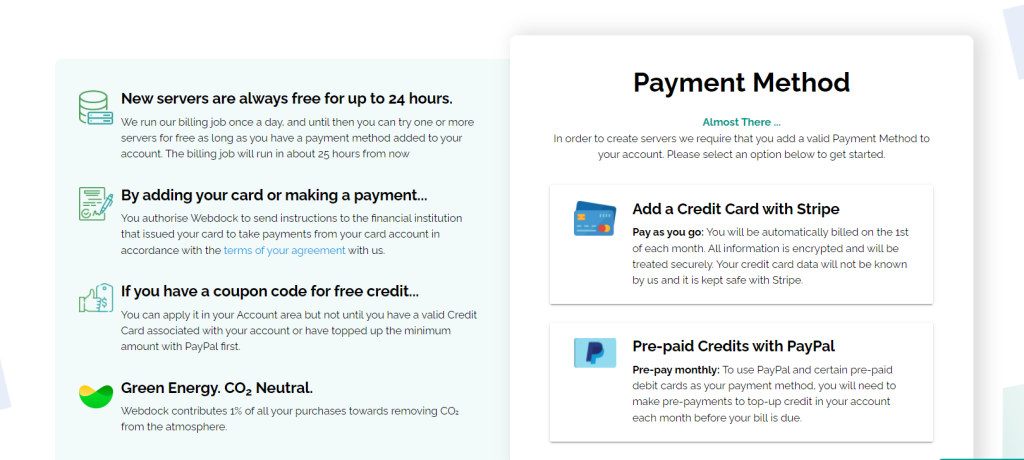 There are several options for you to choose from. You can add a credit card with Stripe or opt for pre-paid credits with Paypal. If you want Indian Payment options like UPI, you can go with Hostinger or Bluehost.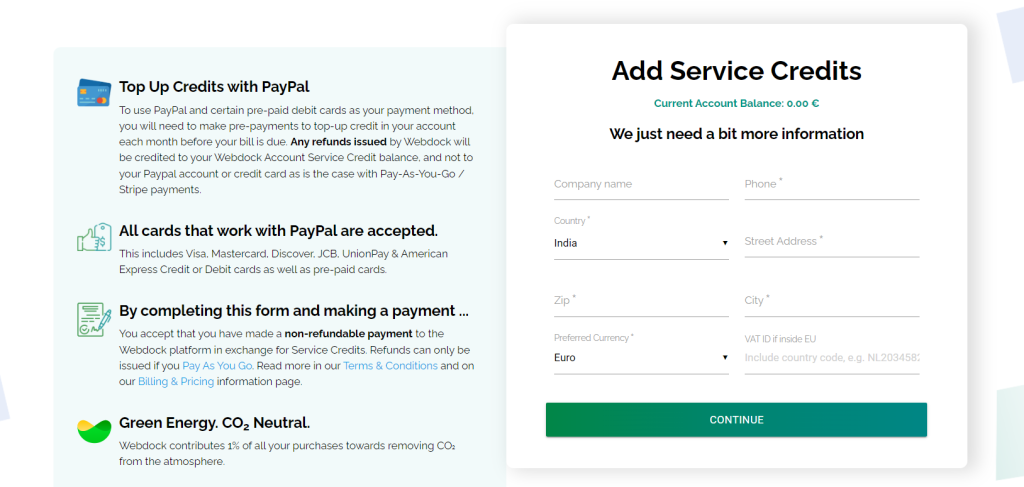 This step will ask for basic information about your company and how they may contact you.
How We Test and Recommend WebDock?
It is our primary objective to present you with authentic and tested information about WebDock so that you do not end up wasting your money, energy, and time. For this WebDock Review.
We tested WebDock on several parameters with the help of different tools. These tools include GTMetrics for speed tests, virtual servers, intentionally made-up high traffic, and a lot more of them.
From all our tests we've found amazing results. Moreover, the platform is highly feature-rich and affordable. Also, if you choose WebDock as your web hosting solution, you'll be supporting the green initiative given that the servers are environment-friendly.
With that said, the conclusion remains that we have done enough analysis and testing to announce that we recommend WebDock as your service provider.
FAQs – WebDock Review
What is WebDock?
WebDock is a user-friendly VPS server provider/hosting solution. The user can be both developer and a layman, and it is programmed to be easily used by both.
Is WebDock hosting secure?
Yes, WebDock hosting is secure for your data and business.
If my WebDock server is powered off, will I still be charged?
No, if your WebDock server is powered off, you will be given extra duration with the amount charged in the 'powered off' situation.
Is there a way for me to not get charged when I am not using my WebDock server?
You can choose to opt out of WebDock, and you will be refunded the unused amount.
How good is WebDock's customer support?
WebDock's customer support is really frank and ready to help you whenever you need it.
Conclusion – WebDock Review
WebDock is a VPS server provider/web hosting solution that can be used by an expert as well as an amateur. It is equipped with Linux-charged containers, speedy hardware, and blazing-fast SSD disks running ZFS.
WebDock also monitors your website constantly, provides extra space when needed, and includes many other benefits.
So if you are looking for a best cloud vps hosting provider/hosting collusion, WebDock is one of the best choices you can make.