With cryptocurrencies gaining mainstream popularity, their complexities have made it difficult for many potential investors to enter the market. Often during the transfer of cryptocurrencies, people have difficulty verifying the correct address due to the complex series of numbers and letters present in a crypto wallet address. This is the problem that UnstoppableDomains set out to solve with its crypto domains.
What Are Crypto Domains?
Crypto Domains or Blockchain Domain is an innovative approach to the traditional name resolution system or domains on the traditional web. Crypto Domains work on the same principles as a blockchain, where the ownership of a domain is stored as entries on a ledger distributed across different servers.
While traditional domains have a central authority (ICANN registry) managing all domain names, Crypto Domains are based on the decentralized blockchain system. They cannot be controlled by any central authority. When a browser searches a Crypto Domain, it can search the ledger for all the services associated with the domain instead of calling up a central authority.
Effectively, Crypto Domains are Non-Fungible Tokens representing a unique asset, in this case, a domain. Crypto Domains can be used as websites, crypto wallets, trading(as NFTs), and blockchain apps.
What Are UnstoppableDomains?
UnstoppableDomains is a platform that allows anyone to buy a crypto domain name and set understandable wallet addresses as opposed to the current complex wallet addresses. As with any crypto domain, you will be able to build websites and apps in addition to using them as a crypto wallet. With the increasing complexity of crypto addresses, UnstoppableDomains aims to be the domain addresses of the future.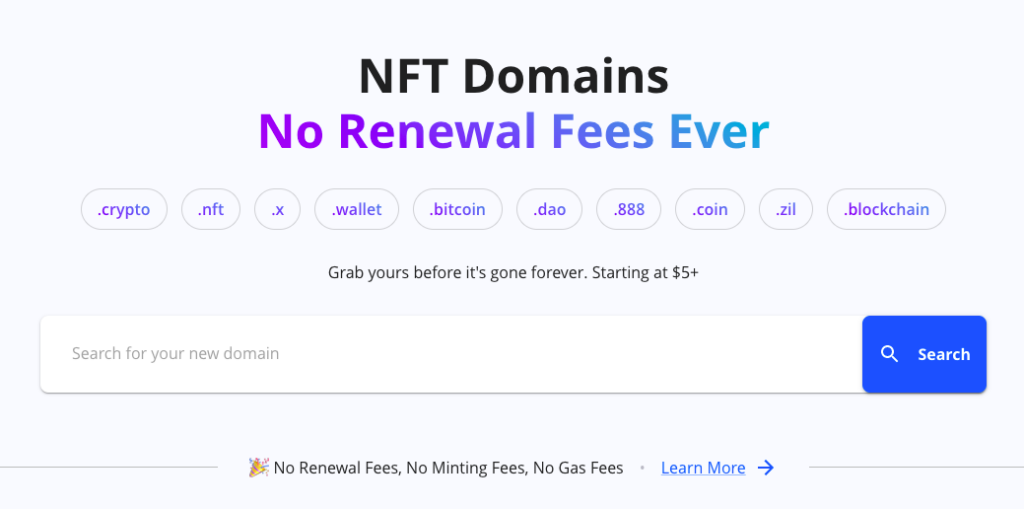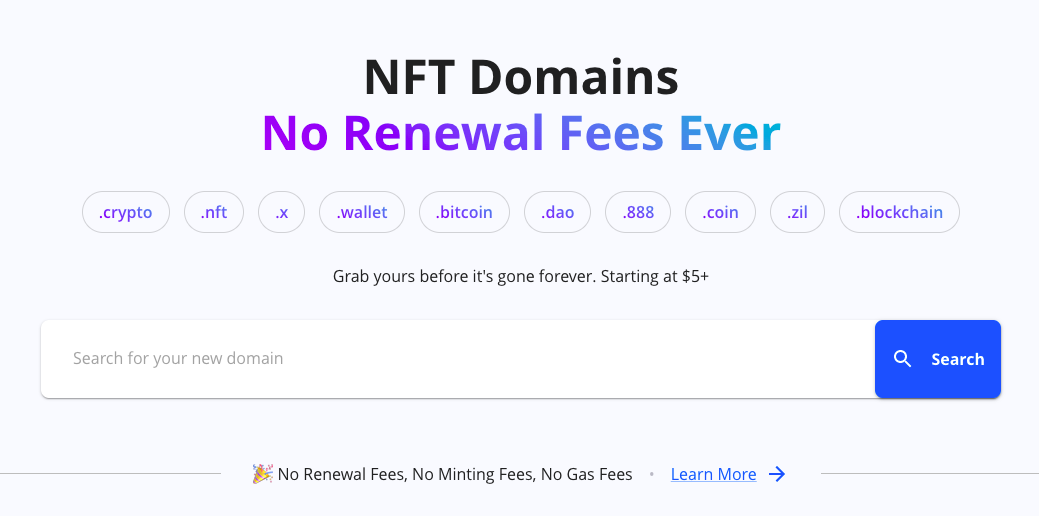 The main reason for buying unstoppabledomains is to send and receive various cryptocurrencies using a simple address rather than a complex string of numbers and alphabets.
How Do UnstoppableDomains Work?
UnstoppableDomains work the same way as an NFT domain. It is a domain represented by a particular crypto address stored on different servers, making it a decentralized system that cannot be controlled by a single central authority. UnstoppableDomains has its own take on NFT domains by providing its users with easy-to-read crypto addresses which can be memorized and used frequently without much difficulty.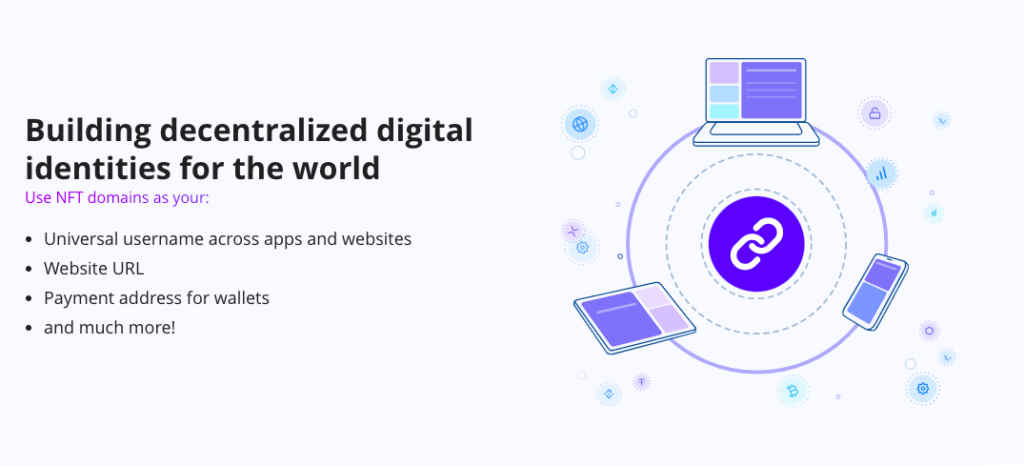 UnstoppableDomains differ from traditional domains in terms of ownership. A traditional domain can be rented for a year and needs to be renewed every year. An NFT Domain from UnstoppableDomains doesn't need to be renewed as you will own it indefinitely. Domains bought from UnstoppableDomains cannot be blocked or censored by authorities since they are stored on the IPFS(a decentralized alternative to the World Wide Web).
How Much Are UnstoppableDomains?
The cost of buying an UnstoppableDomain depends on two factors:
1. Cost Of The Domain:
The first factor is pretty straightforward as you have to buy a domain with prices starting at 20$ to over 1000$ depending on the domain type( for example, a .wallet domain costs less than a .crypto). After this, the name of the domain affects its cost with longer names costing less. However, there are premium domains that cost over 10000$.
2. Gas Fees:
As a crypto domain based on blockchain, the gas fee is an important factor in your total cost for the domain. Since the domains are stored on the Ethereum blockchain, you will have to pay gas fees in ETH. In overall cost, you can get a cheap NFT domain from UnstoppableDomains for under 50$.
Best Crypto Domain Extension List
Some of the best Crypto Domain extensions are:
.crypto
.nft
.x
.wallet
.bitcoin
.dao
.888
.coin
.zil
.blockchain, etc.
Crypto Domain Extension Price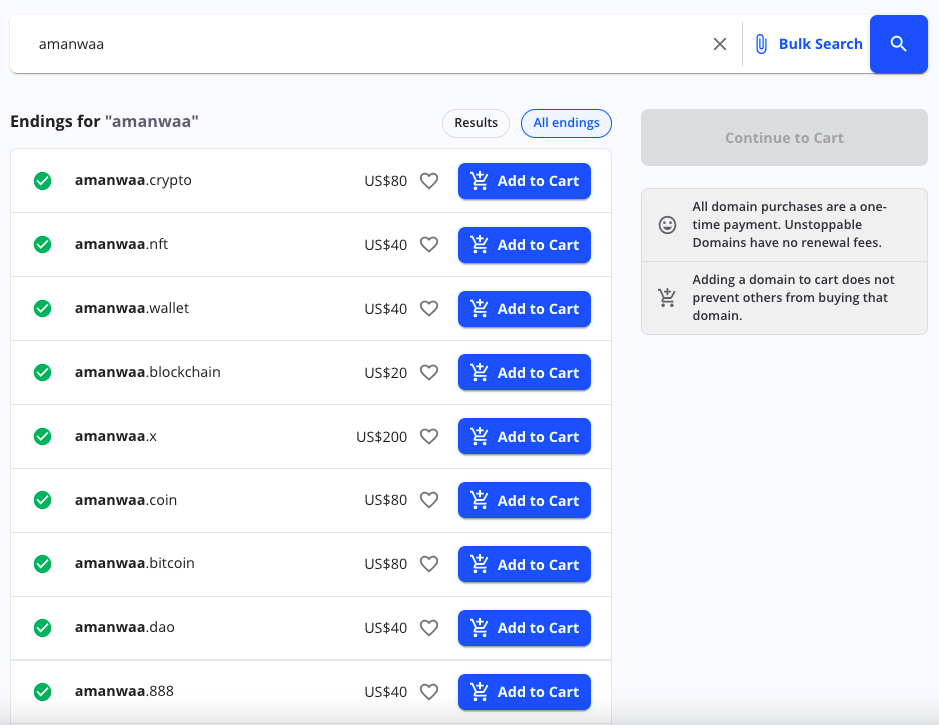 Is UnstoppableDomains Safe?
Yes, UnstoppableDomains is hosted on blockchains and share their level of security( for example Ethereum and Zilliqa). Also, they are not under the control of the ICANN registry, hence they cannot be censored or deleted by a central authority.