Whether you run a business, are a freelancer, or post content for fun and want to grow on the internet, you will have to take several steps to reach there. You must understand how a website works and what all you need to do to give it the growth it is capable of.
It will help if you get started from the basics, such as building a website, registering its domain name by which people will know your business, taking care of the SEO of your Website, to the most crucial part, hosting your website.
Without a hosting service provider, your website cannot be put up on the internet, making it essential. But an excellent hosting service comes with a hefty price tag. But it does not always have to be like that.
We have saved you from all the hassle and found a hosting service provider that can do most of the things on the list to run a successful website. Let us look at one of the best hosting providers in this SiteCountry Review.
About SiteCountry
In November 2020, when the world was going through a deadly pandemic, a few people from India made the best out of their time and launched SiteCountry. This web hosting platform is new to the hosting industry but has seven data centers across the globe already, which works 24 hours a day and, 7 days a week to cater to users worldwide.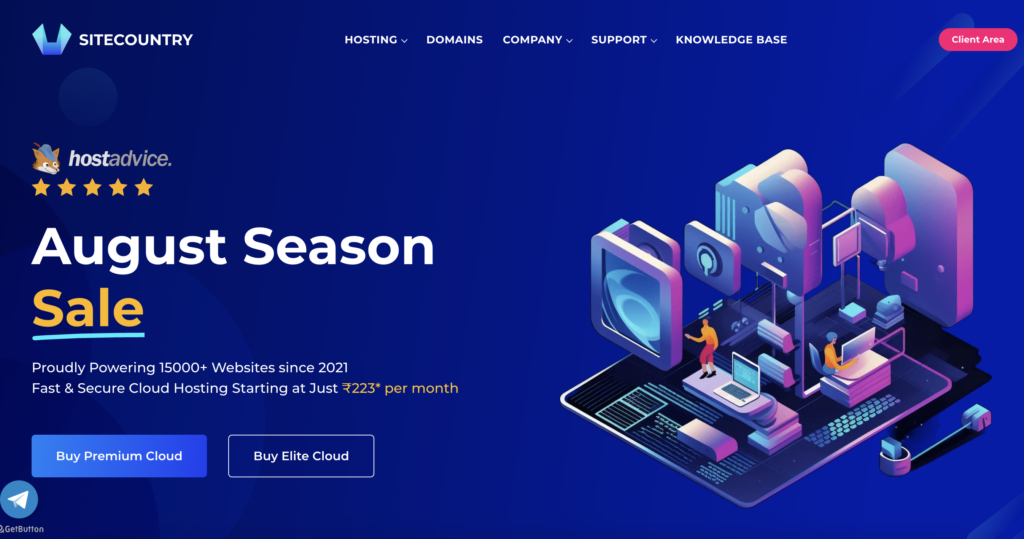 It is a company/startup and is moving ahead to provide affordable hosting services worldwide. Their servers infrastructure is reliable, and they offer 24/7 human technical support. This hosting ensures scalability and offers Managed Hosting to save your energy to run a successful business.
Apart from hostings, SiteCountry offers several other services such as domain registration and transfer with various benefits. So let us move further in this SiteCountry review to know more about it.
Speed Test and Analysis for BlueHost
When we want to get something done, we do not like waiting. The same applies to websites. Speed is an essential factor, but this speed must come with stability, security, and support to get the best experience.
So that you know what to expect from SiteCountry as your hosting, we ran several tests on SiteCountry, and here are the results.
SiteCountry user Interface
You do not always have to be an expert in everything, including running and hosting a website. Today's technological advancements have made everything more straightforward and accessible for people from all grounds. Since SiteCountry is new, they have made the best effort to use technology to give you the most effortless experience.
They have an easy-to-use interface that lets you make all your settings for each plan separately so that you can host websites at different levels. It has introduced its personal control panel similar to a cPanel since it has become costlier. Hence, they have helped by cutting its cost and providing all the services that a cPanel offers.
SiteCountry Speed Test
We saw earlier how vital speed is and why all of us prefer it. While your website takes time to load, your customer keeps waiting and eventually loses interest in your website and moves on with another website that might not even have as good quality content or product as yours.
To avoid this situation, SiteCountry offers several tools to ensure your Website's best speed. This platform is equipped with CloudLinux and LiteSpeed servers, which help maintain a good speed even with high traffic.
Though SiteCountry tells us how it provides unmatched speed, we still had to test it to give you authentic information in this SiteCountry review. As per our test results, the speed at and around data centers, especially Indian data centers, is excellent, but the downside is that the speed will reduce as far away you go from the data centers.
SiteCountry Uptime Test
Now that we have looked at the speed results, there is another factor that could affect the growth of your website. The availability of your website to your customers at all times is crucial since you never know at which second your website will receive a customer who gives an excellent business to you.
So your website's uptime is crucial to make the best out of every second. SiteCountry offers 99.99% uptime as per its claims.
We tested our website hosted on SiteCountry for months together to check its uptime. The results showed that the claims of this hosting platform were valid; we did experience nearly 99.99% of uptime.
Security Analysis
If you run your business on a website, your online data is as essential as your property's original documents because that's where your wealth lies, and that is what makes you money. So keeping your data safe is imperative.
SiteCountry offers tools such as SSD storage, SSL certificates, CDN, malware scanning, etc. Apart from all these tools, it also provides backups if you lose any of your data for some reason.
Customer Support
Having confusion or being curious is customary when working with a new product. So when you know that you can contact someone always ready to answer all your questions, why hesitate?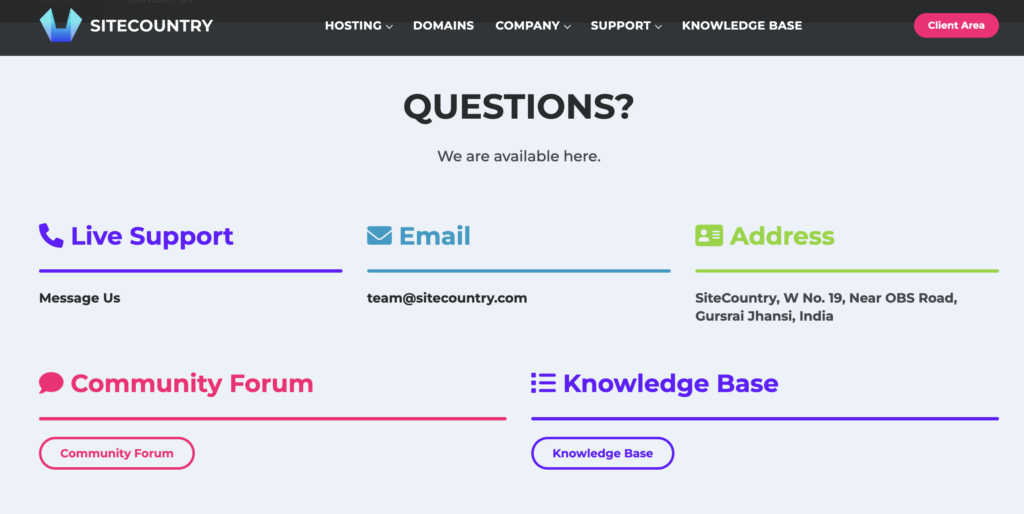 To resolve all your queries at any hour of the day, SiteCountry has an award-winning expert customer support team as many times as you want. They will offer you the information you need from your perspective.
You can either live chat, call or send an email and you will be answered within minutes.
SiteCountry Data Centers Location
SiteCountry has seven data centers in Asia, the USA, and Europe. The data center locations are as follows: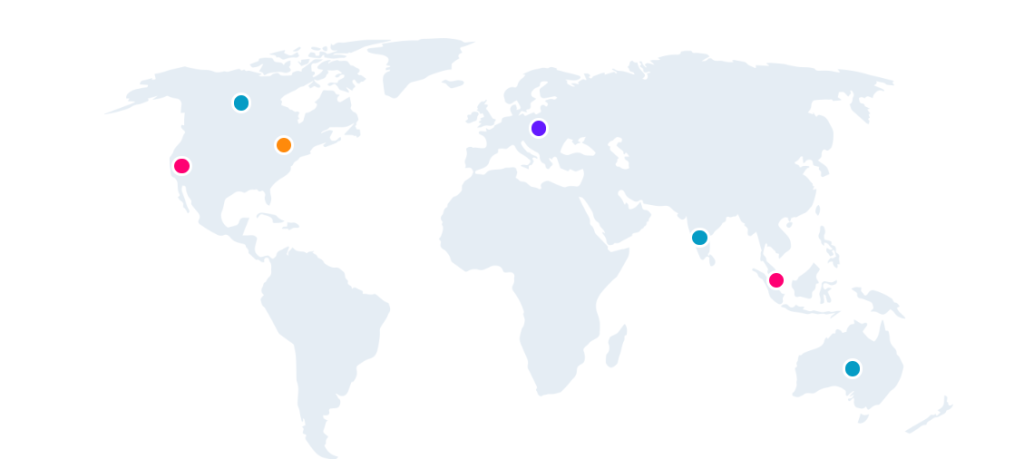 Key Features of SiteCountry
To understand the services of SiteCountry, we must look at its key features.

SSD Storage
The type of storage that your web hosting provides also determines the speed of your website. Regular storage can take, at times, minutes to load your website since it has to search through multiple files and then give you the one you want.
SSD storage reduces the searching time and gives you the output within milliseconds, so you or your customer doesn't have to wait.
Free Migration
Whenever you feel like migrating your website to a different hosting, you might have second thoughts about it due to the cost of website migration. And because of that concern, you stay stuck with an unsatisfying hosting service provider.
With SiteCountry, you will not have those second thoughts as it provides free migrations with its plans. Although, the number of free migrations per plan differs.
Free SSL Certificates
Your Website's connections must always be encrypted to ensure the safety of your connection and your data. Doing this gets easy with SSL certificates, but it might cost you sometimes.
However, this platform offers you free SSL certificates to ensure the safest of your website's connections and for no leakage of your important data.
SitePad Site Builder
We understand that you have specific needs for your websites and want several features that you might be able to code yourself if you are not a developer. And then the next thing you need to do is hire a professional to get it done that will cost you some amount.
Why not skip it all with SiteCountry since it provides SitePad Site builder, which helps you build your websites. You get over 400 website design templates, and you can create your website without any coding knowledge. So your money is now saved by this platform.
One-Click Apps Installer
Now, if you want to install apps on your hosting, you can do it with the slightest effort. SiteCountry offers a one-click apps installer that works as the name suggests within a single click.
Type of Hosting SiteCountry Offers
Hosting services offered by SiteCountry sound a little different than what we have generally known. It offers:

SiteCountry Domain
As we said earlier, SiteCountry helps you with almost every step of running a website. Apart from building and hosting your website, it also offers domain-related services.

Domain Registration
When you register your domain on SiteCountry, you pay a small price but get several free features such as WHOIS privacy and a low renewal price. It also provides you with tips for creating a perfect domain name.
Domain Transfer
Domain transferring could be one of the most straightforward tasks on SiteCountry. It guides you through the process, and it only has three steps to follow.
SiteCountry Refund Policy
After you buy a particular plan from SiteCountry and find that it does not suit your requirements, you can apply for a refund.
This refund policy is valid for 14 days while only 7 days of purchase for particular plans. So read through the refund policy of this hosting before you apply for one.
SiteCountry Pros & Cons
Let us look at the pros and cons of SiteCountry to know what and what not to expect from it.
Pros
SitePad Site Developer
Malware scanning and backups.
Affordable
7 data centers across three continents.
What makes SiteCountry Blazing fast?
To give your website the best speed, which could become why your customers favor your business, SiteCountry offers several features such as LiteSpeed servers, multiple data centers, etc.
These could be accounted as the reason for SiteCountry's blazing speed.
Do we recommend SiteCountry for your website?
Yes, after all the tests and analysis of SiteCountry, we recommend this hosting platform for your website. It will offer you appreciable speed, security, and reliability at a price starting less than a dollar. So why don't you check it out by yourself?
FAQs- SiteCountry Review
Is SiteCountry the Best Choice?
It depends on your hosting requirements. If you are a beginner, it would be best if you chose the most basic plan with the least number of features and capacities since your website is now just growing and will take some time to attract huge traffic.
What are SiteCountry nameservers?
These are responsible for keeping your domain name and IP address. Basically, this keeps the information related to your website mainly the domain name, your address, and your IP address.
Does SiteCountry Offer Free Domain Name with Hosting?
Yes, it does provide a free domain. SiteCountry offers domain-related services such as registration and transfer for which you have to pay a small amount. Besides, it also offers free domain names with some of its plans.
How much bandwidth does SiteCountry offer?
It differs from plan to plan. When you choose a bigger plan to cater to more visitors, you also get a bigger bandwidth allowance. Crossing the bandwidth limit could cost you.
Does SiteCountry offer a free trial?
Yes, it does. But it is a little different, instead of a free trial you get two types of refund policy. These two refund policies last for 14 and 7 days as per the plan you choose and are also applicable to different services.
Conclusion – SiteCountry Review
SiteCountry is an India-based company/startup. It is comparatively new to the market but has still worked well to establish seven data centers worldwide. Its users are widespread and are in good numbers.
And in the review, we saw that it offers several services such as free migrations, domain names and transfers, email accounts, a Lightweight control panel, and more without feeling your pockets empty. Its LiteSpeed servers offer three times faster speed, so work as fast as possible and look if SiteCountry is your hosting choice or not.