With more people tuning in to online games every passing day, the demand for stable web host service providers who cater to the needs of these online gamers is increasing steadily.
Gamers look for their own servers to enjoy a smooth gaming experience and they usually look to connect with other players so that they can either progress in the game, collaborate with others, or both.
A gaming server host is a physical or virtual server that hosts the server-side of a game so that players across various locations while using their servers, can connect to the host server to enter the virtual gaming space to play together.
A good gaming server host will provide you with a faster response time, the ability to make modifications, proper access to the game, etc.
There are a number of web host providers with various features that cater to the entire gaming community.
It is important for people seeking to use these services to look into those features properly before making a choice because a proper host will not only make your gaming experience enjoyable,
It will also help you connect to a lot more gamers across the world and it will make the whole process easier for the device you would be using.
ScalaCube is one such gaming server host which is becoming increasingly popular and it is mainly a Minecraft server. Coming forth is a detailed ScalaCube Review providing an analysis of the services, features, and functionalities provided by it.
About ScalaCube
ScalaCube is a gaming server specialist that is based out of Vesivarava, Estonia and it particularly focuses on Minecraft hosting but it also caters to Rust, ARK, Hytale, etc. It was founded by Kostiantyn Rohatkin in January 2019.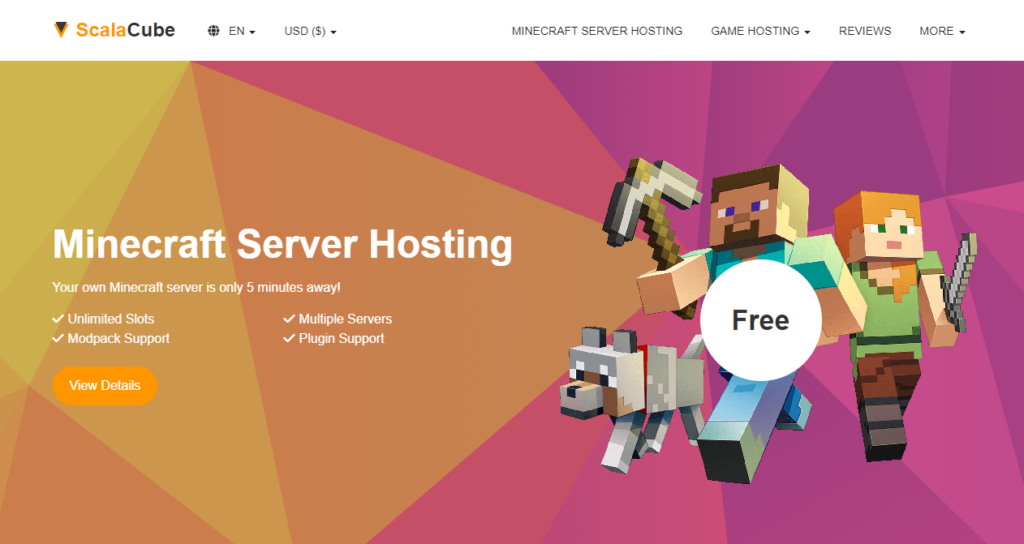 Although they are relatively new in the scene, they provide good services and their services should definitely be availed by novices who are looking to explore the gaming world a little more.
Speed Test and Hosting Analysis for ScalaCube
Speed is an important aspect for bandwidth-heavy processes that include streaming and gaming so for a web host service provider that works on online gaming, it has to provide good speed.
Speed for online gamers is related to download time, upload time, ping or latency, and data caps. ScalaCube provides decent speed and it reflects through the tests that were conducted while working on this review.
Ease of use
Easy navigation enhances the user experience and hence it is important to have an easy user interface.
ScalaCube has done a good job at making the website simple and easy to work with which works well for beginners and also allows customizations for experienced gamers.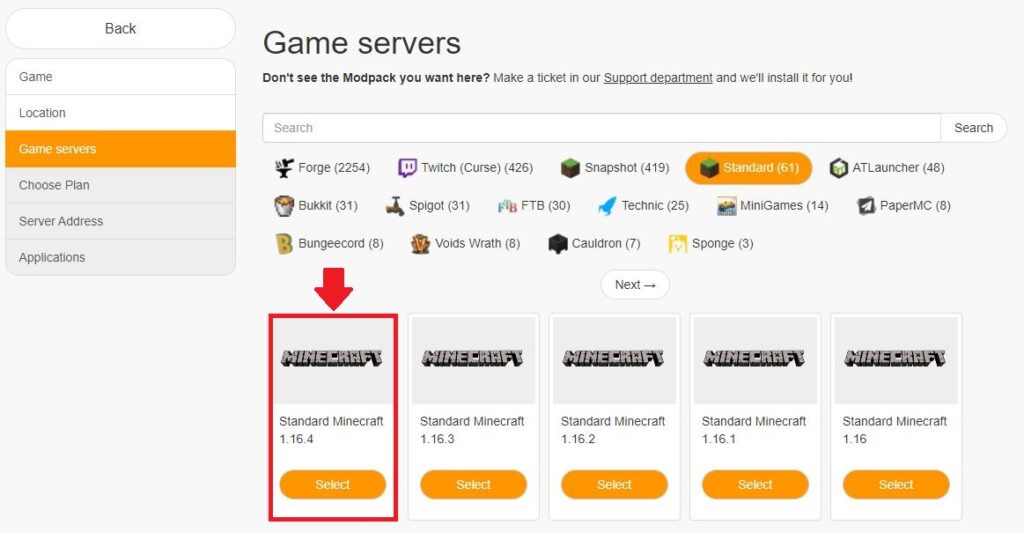 The web hosting plans give all the features available in traditional hosting services, including an easy-to-use control panel tool, root access, FTP, MySQL phpMyAdmin, PHP, as well as Apache server.
Server Response Time
The server response time needs to be lower in order for the players to respond to the requests or commands of the game.
ScalaCube provides a decent response time although it can go slow sometimes as well. The premium plans ensure that the servers work efficiently even with an unlimited number of players.
Speed Test
It is very important for gaming platforms to keep up with proper speed demands because gamers usually need low uptime, downtime, quick pings, etc.
ScalaCube does a good job with maintaining speed and displays steady speed even with increasing traffic which sounds like a good deal for players gradually improving in their game.
It ensures limitless traffic without throttling and guarantees 99% availability which means your game runs smoothly. It provides maximum bandwidth to enhance the whole experience.
Customer Support Analysis
ScalaCube has a team of efficient customer care service that works round the clock, i.e., for all days of the week, throughout the year.
You can raise any query or question in the Support section of your Scalacube account and their team will process the support request and respond to the queries in a quick time. However, that's the only way you can get ScalaCube support.
Security Analysis
Gamers usually expect their Minecraft servers to be available all the time and it makes their servers prone to DDoS attacks.
ScalaCube constantly monitors even the smallest of those attacks which prevent the servers from being forced shut by some random person on the internet. It thus provides DDoS security to all its users.
ScalaCube DataCenter Location
ScalaCube is based out of Estonia but has centers in-

These countries display better speed and more efficient services and these serve as the foundation of their servers. Users can reach out to these servers to check the latency of their own country. However, for more Data Center locations, you can check out ScalaHosting, Kamatera, Chemicloud, HostArmada, and CloudWays.
Key Features of Using ScalaCube Hosting
Some of the important features of ScalaCube are:
Easy Navigation
ScalaCube has done a wonderful job of making its control panel easy to navigate and very simple to understand.
It helps new users especially and encourages them to explore more of the gaming world and learn new things in the process. It maintains transparency throughout.
Provides Complete Access to All Files
ScalaCube Minecraft hosting features Ubuntu 18.04 which is a very stable and strong Linux distributor and the users get to monitor the servers thoroughly through the command line.
Users can also use FTP which facilitates easy transfer of files and they can also use MySQL.
Plugin Support
ScalaCube accommodates the usage of mod packs like StoneBlock, FTB Infinity, SkyFactory, and several others and they also encourage the usage of different types of plugins which are available like Sponge, Paper, Spigot, etc.
It helps in optimum customizations for every user and helps in improving their gaming experience.
Low Pinning Time
Ping time is a very important aspect of online gaming. ScalaCube provides its users with a plethora of options regarding various locations where servers are available and they can choose the option closest to their own country.
It improves their entire gaming experience significantly.
Storage
A user has the choice of using the standard HDD storage or SSD storage depending on how frequently they might want access to the data on their server.
Unlimited Traffic
ScalaCube provides unlimited traffic without any hindrance which is accompanied by unlimited bandwidth that accommodates an unlimited number of users.
ScalaCube Refund Policy
ScalaCube does not have a refund policy as such. All transactions are made on a permanent basis. However, in the case of auto-renewals, a 100% refund is possible.
ScalaCube Pros & Cons
Like every other platform, ScalaCube has its pros and cons. Here is a quick view of them-
Pros
It provides plans at a very reasonable price which is very suitable for beginners.
DDoS protection prevents the servers from being forced down by unknown users.
There are various server locations throughout the world. 
It allows you access to a wide range of applications for free.
Payments are taken in multiple different currencies.
Cons
They do not provide options for any refund so there is no scope to get your money back if you decide that it is not working out for you.
They can work on improving their uptime more. 
What Makes ScalaCube Minecraft Server Different from Other Hosting?
The various factors that set ScalaCube apart from other Hosting providers are:
Why Should You Choose ScalaCube for Your Minecraft Server in 2023?
ScalaCube is an efficient web host provider for gamers that comes with a number of different exciting features-
All these features surely seem like reasons enough to choose ScalaCube for your Minecraft Server in 2023.
Do we Recommend ScalaCube Hosting for Minecraft Server?
ScalaCube provides really quick servers and since lagging is an important area of concern for gamers in which ScalaCube excels, you can totally go for it.
It also comes with exciting plans for different prices and has very helpful customer care. If you are new to the world of online gaming, you should definitely go for it.
FAQs: ScalaCube Review
Can I Upload a Custom Minecraft World?
You can use ScalaCube to upload a custom Minecraft world. After taking all the necessary steps to prepare the Minecraft world, use FTP and upload the files. There are tutorials available for the same which you can definitely check out.
How much does ScalaCube cost?
ScalaCube does not have one unique pricing. It provides a list of different plans that charge different amounts from the customers based on the type of plan they opt for. One can choose a plan depending on the number of players they would want to play with.
How good is ScalaCube's customer support?
ScalaCube has round-the-clock customer care service provided by a dedicated team of technicians who are well-versed in the whole prospect of online games.
How to cancel a ScalaCube subscription?
You can log into your ScalaCube account and access your server where you get an option for your server name. Click on it and you will find an option for "cancel subscription".
How to check Scalacube Server Status?
Log into your ScalaCube control panel and then click on "manage server" and then click on "monitoring". You will be able to monitor the resource usage and plans accordingly.
What other game hosting services does Scalacube provide?
ScalaCube also provides hosting services for Rust, ARK, Hytale, etc. but it primarily provides for Minecraft.
How do I become an Admin on my server through ScalaCube?
After logging into your ScalaCube account, click on "server" and then click on "manage server" followed by the "become admin" tab on the left.
Is ScalaCube Best for Minecraft Server Hosting?
Since it is a relatively new option in the gaming market, it is yet to become massively popular but it provides good services which can potentially propel its popularity and user base and make it better than all its counterparts.
How Do We Check the Speed of ScalaCube?
There are many different speed test tools that you can use. For the purpose of this review, we used GTMetrics to test the speed and we were impressed by the speed score and significantly low page loading time.
Conclusion: ScalaCube Review
ScalaCube is a wonderful web-host provider for gamers. It utilizes the latest technology to leverage its servers.
You have benefits such as unlimited plugins and traffic, unmetered bandwidth, and the platform offers phenomenal access to all files. With ScalaCube, it's possible to take your gaming experience to the next level in no time at all and at a very affordable cost.
With that said, it's the perfect solution for beginners and pros alike and you can go ahead with it without a second thought.