Hostmonster Review: A feature-rich website is the need of the hour for businesses in today's digital era. However, finding the perfect hosting solution to host a great-performing website can be challenging, especially on a budget.
But the hosting industry has come up with affordable solutions for small businesses to flourish. One such solution is Hostmonster. The hosting service has been around for over two decades and is famous for its budget hosting solution.
However, is it really the hosting solution that'll help you meet your business needs and requirements? Well, let's find out within this Hostmonster Review.
About Hostmonster
Hostmonster is one of the oldest and most affordable web hosting solutions trusted by small businesses and personal Bloggers to host their websites and blogs.
The company was launched in 1996 with high-class equipment and cutting-edge technology to offer High-performing hosting services for affordable prices and with 24/7 customer support and assistance.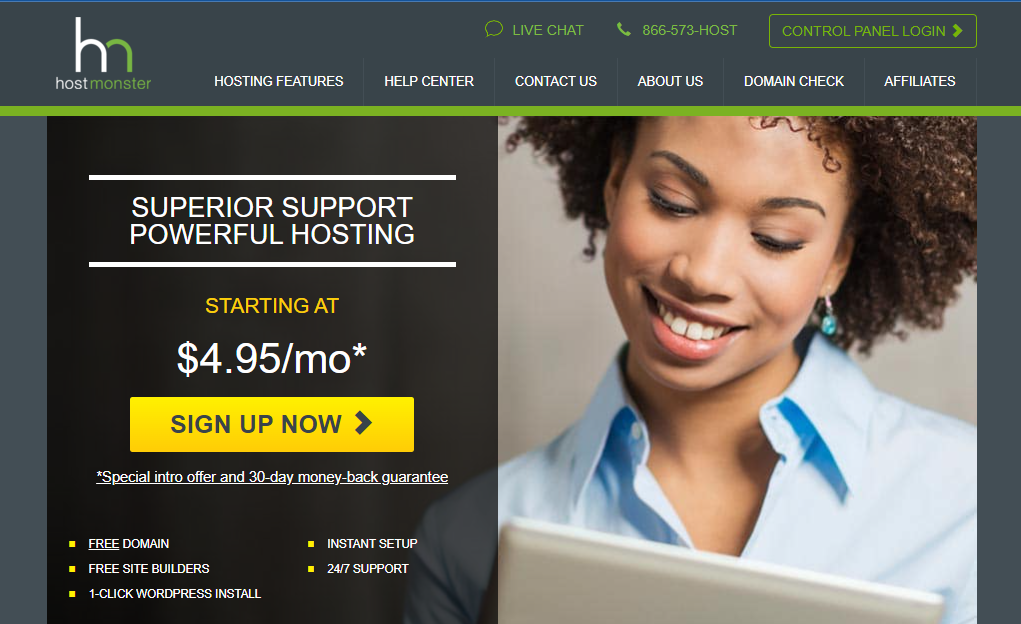 The company is majorly engaged in providing VPS and dedicated hosting services. Additionally, you can check domain status and availability on this platform. Furthermore, the solution comes with a diversity of features and functionalities that provide excellent user experiences.
Key Features of Hostmonster
As already mentioned, Hostmonster is popular for its phenomenal features for a budget-friendly price. So, here's a look at all the main features you get with Hostmonster Hosting.
Unlimited Disk Storage
The disk storage you receive for your website is essential for storing your important files, media, and database. Generally, hosting solutions provide you with limited disk storage.
However, with Hostmonster, there is no limit on the storage you get. Of course, it depends on your plan, but the ample disk storage is nearly unlimited.
Unlimited Domain Hosting with Free Domain for a Year
Hostmonster allows you to host as many domains as you like depending on your package. You also get a free domain from Hostmonster, valid for a year. So, you need not bear any extra expenses, and the solution will be great if you're looking forward to hosting multiple websites.
Drag and Drop Site Builder
It can get extremely difficult to create a site from scratch, especially when you are a novice and know nothing about coding or programming.
Hostmonster makes it easy for you with its drag and drops site builder, using which you can create a feature-rich website within minutes. You only need to pick the elements and drop them in your template.
Email Support and Features
The platform is well-equipped with email support and functionalities such as auto-responders, webmail solutions, etc. This helps you manage your leads and customers better on your website by continuously following up with them and maintaining a good customer relationship.
ECommerce Support and Features
Hostmonster is good for you even if you're launching an eCommerce website with its fantastic eCommerce support features. You can easily integrate shopping carts from different platforms on HostMonster and even have encryption and other security features for your eCommerce store. Additional features further support all the eCommerce functionalities.
Regular Backups
The platform has features and functionalities for automatic power backups at regular intervals so that you may not lose your data at any point in time.
24/7 Monitoring and Support
The platform always remains at its toes for its users. Their team remains available to attend to any customer query or question. Additionally, they keep up with 24/7 monitoring for your website to ensure consistent performance.
Price and Plans
HostMonster is one of the most affordable hosting solutions you can find, and it has been helping small businesses and personal bloggers for years.
The platform is equipped with VPS hosting and dedicated hosting and has multiple plans to choose from.
Here's a quick overview of the pricing plans of Hostmonster for both its services-
VPS Hosting
The plans start at as little as $20 per month. Here is a glance at all the available plans-

Dedicated Hosting
The dedicated hosting plans cost as little as $80 a month. Here's a quick look at all the plans-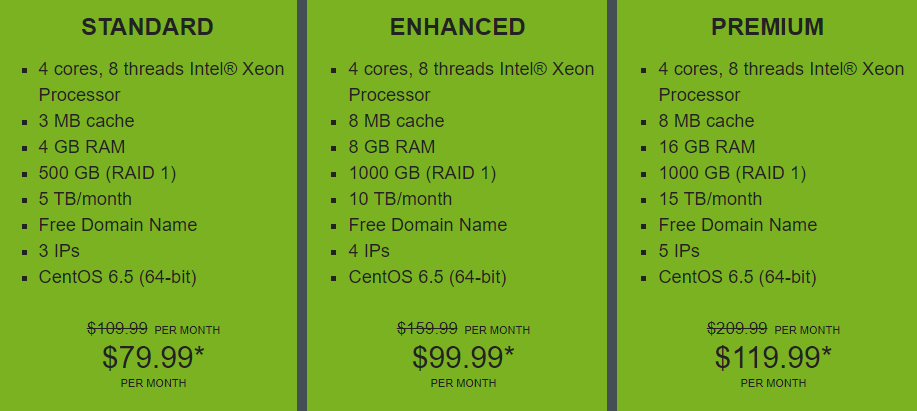 In addition to having these affordable plans, the platform also offers a 30-days money-back guarantee. So, if you're not satisfied with the platform, you can simply put in a refund request within 30days.
Types of Hosting and Services Offered by Hostmonster
Hostmonster is dedicated to making hosting easy, accessible, and affordable. As such, you can find multiple hosting and services on this platform.
Primarily, Hostmonster offers two kinds of hosting-
Additionally, Hostmonster has other services, such as domain registration and domain check.
Why Choose Hostmonster?
Hostmonster is an affordable and feature-rich hosting solution that can meet all your hosting needs and requirements if you're a small business.
Of course, there have been uptime issues, and customers have complained of some hidden charges. However, such issues are resolvable. You can get your queries cleared about hidden charges and all other things.
It's difficult to find dedicated hosting or VPS hosting with so many features at such cheap and pocket-friendly prices. Given that, it will be a great choice, especially when you're just starting and want to save money in every manner you can.
Conclusion – Hostmonster Review
So, this was all about the Hostmonster Review. It's a great platform with affordable prices and excellent features to support any business' end-to-end hosting needs and requirements regarding VPS hosting. You get secure, reliable, and high-speed servers at highly affordable costs.
Given these benefits, we can say that it will be an excellent solution for a small business or a personal blogger. So, if you're either of them, go for it. We're sure you'll not regret the choice!