We often are under the impression that plenty of features, free services, and reliability might not usually come with affordability.
However, that is not always the case. We have come across multiple hosting service providers that keep customer service and satisfaction their priority.
HostGator is a hosting service provider that offers just what you want. It has free services such as SSL certificates, unlimited bandwidth, etc.
Here you get hosting services, including shared hosting, WordPress hosting, etc.
We will complete the list of services as we continue this HostGator review.
About HostGator
HostGator has been around for about two decades since it was established in 2002 and has become one of the biggest hosting service providers worldwide.
This hosting platform is based in Texas and offers its services through its global server locations.
This hosting platform offers plenty of free services, which we will discuss in detail in this HostGator review. You can get your hands on it here: WordPress hosting, shared hosting, dedicated servers, etc. 
Speed Test and Analysis for HostGator
Let us now analyze the services offered by HostGator.
User Interface & Ease of Use
When it comes to the user interface, you usually get to know it once you start using the hosting platform. But being aware of it before you make a purchase makes better sense.
With HostGator, you get a simple and easy-to-use dashboard and control panel that will help you work efficiently even if you are a beginner.
HostGator Customer Support
HostGator is very much customer-oriented and works a lot on making its services user-friendly.
Therefore one of its best services includes its customer support.
This hosting platform offers quick support 24/7 through live chat and calls. Also, the knowledge base is excellent to start with.
Security Analysis
You must know how important the security of your data is since you own a website or are working on one. With HostGator, you get complete protection with access to security features such as SSL certificates, site lock, automated backups, and more.
Plans for HostGator Hosting
HostGator offers the following hosting plans:
HostGator Domains
Along with hosting, HostGator also offers domain-related services, which include: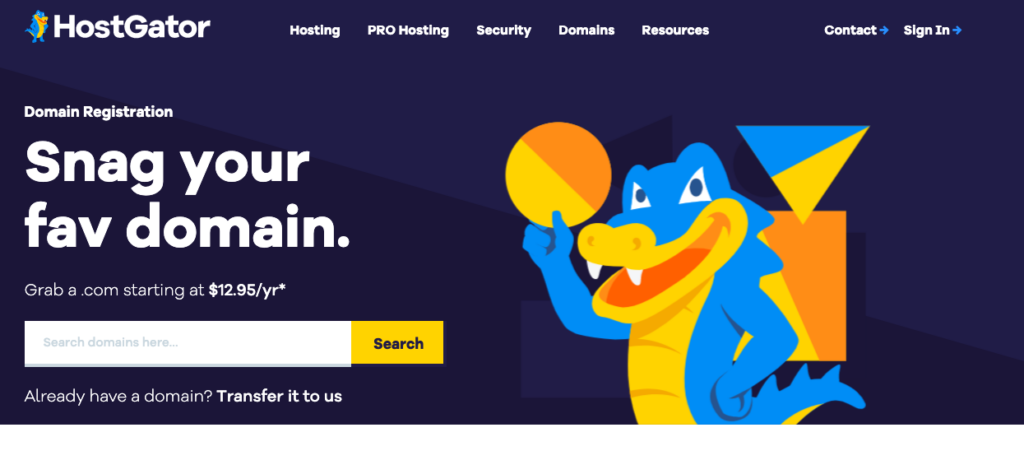 Register Domain
With HostGator, you can get your domain name safely registered as HostGator is a reliable domain name registrar. This platform offers you plenty of options to choose from and also provides a free domain name with its plans. 
Transfer Domain
Along with registering a new domain name, you can also transfer your existing domain name to HostGator. Also, you get the added advantage of a year's renewal on moving your domain name to them.
Key Features of HostGator Hosting
Let us now list the key features of this platform in this HostGator review. 
1-Click WordPress Install
Working with WordPress websites is one of the best ways to grow online, as here, you get a pretty simple environment to work in. HostGator offers you a 1-click WordPress install to make your hosting experience even smoother.
cPanel
We mentioned earlier how easy the user interface of HostGator is and how you can get your work done quickly. Here's another cherry on top. With HostGator hosting plans, you get a cPanel control panel which helps you work with your hosting efficiently.
Unmetered Bandwidth
Being charged for using services beyond the offered limit is brutal and can cost you more than what you were promised. Therefore with HostGator, you get access to unlimited bandwidth, and you do not have to pay a penny for a limit crossed because there is none.
Free SSL Certificates
When browsers signal that your website is safe to make connections with and that there will be no data breach, your website has a higher chance of growth. And to ensure this, HostGator offers you free SSL certificates which encrypt the connections made online.
HostGator Website Builder
To build your website by yourself would feel like bliss as you have precisely what you want and in the way you want. But not everyone is a coding pro, which is why HostGator offers its easy-to-use website builder for free with its hosting plans.
HostGator Refund Policy
A refund policy is a crucial safety net that you require while buying a hosting plan, as you know that you will not be at risk of losing your money even if the services don't satisfy you.
With HostGator, you get a 45-day refund policy for shared, VPS hosting, and reseller hosting services, allowing you to decide what you want to do with the hosting. 
HostGator Pros & Cons
Let us now consider the pros and cons of this platform as we move further in this HostGator
Pros
45-day refund policy
Free domain name
Website builder
Regular backups
Widespread servers
Cons
A small range of data centers
FAQs – HostGator Review
Is HostGator reliable?
Yes, HostGator has been around for about two decades, providing its services to the world with the most security, reliability, and care.
Is HostGator suitable for WordPress?
Yes, HostGator is optimized for WordPress websites and has a separate hosting plan. So it would be easier to work with this hosting platform with a WordPress website.
How do SSL certificates work?
SSL certificates are essential when your website connects with other websites on the internet as these ensure that there is no data breach and that even your website is safe to connect with.
Will my site be backed up?
Yes, HostGator takes extra care of the security of your data and offers regular backups to keep a copy of your data accessible whenever in need.
Is There a Money-Back Guarantee?
Yes, with HostGator, you get a 45-day refund policy where you can utilize that time to work with it, understand it and decide to keep it or apply for a refund.
What is the Starting Price of HostGator Plans?
HostGator offers various services, and the starting cost of its benefits is around $2.75 a month.
Conclusion – HostGator Review
As we are at the end of this HostGator review, we must brief it and list the goods and not-so-good aspects that come with it. This hosting platform has a small range of data centers but a widespread network of servers, so that is covered up.
Also, here you get access to numerous free services that are unlimited. The plans are economical and are worth every penny. The customer support is pretty quick to respond and reliable.