One is always in search of FREE things, isn't it? Or something that is on heavy discount!
Yes, when you are starting to blog or giving a try to online business, you must need something that offers your proper services but is also under your budget so that there's nothing to risk if your idea works otherwise.
Hence, we came up with a web hosting company that provides free web hosting services with basic features and premium web hosting at affordable prices and premium features. 
Yes! We are talking about FreeWebHostingArea Review, which will make you realize this company's worth or unworthy! It's all about their quality of services, right?
About FreeWebHostingArea
FreeWebHostingArea was established in 2005, and since then, have gained the trust of many people to rely on its services and invest in them to get their businesses to grow even faster.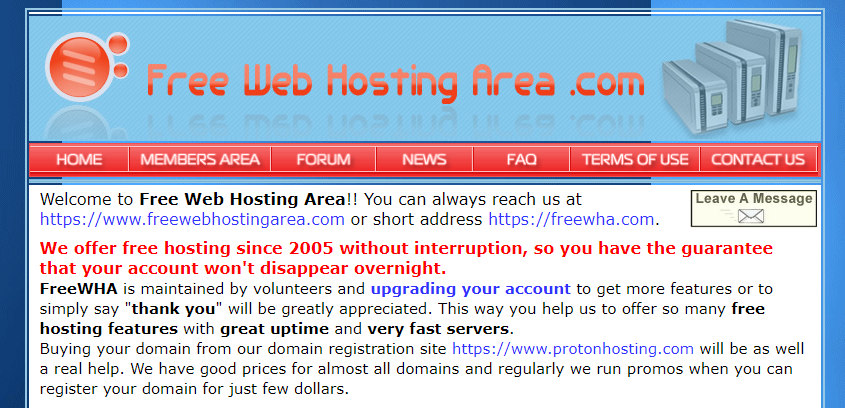 They do not have a very well-laid-out website. Instead, it's simply made as the websites were in earlier times. So, do not deviate from this fact, but focus on the things it is providing and mainly on the prices at which they offer its services.
We'll talk more about the company ahead and also talk about our experience with them!
Key Features of FreeWebHostingArea
Features define the quality of the services. Hence, FreeWebHostingArea tries to give out the main and important features of its hosting. See for yourself:
The user must set up their account in Punycode, for example, www.xn—eqrt2gyzlkkv.com
They guarantee uptime that maintains your website and doesn't let it go down at any time of the day.
The registration procedure is automatic and depending on how quickly you fill out the registration form, you will be able to access your account in minutes or seconds.
Simply try out their services for a while since they operate multi-CPU dedicated servers with ample RAM and quick SSD discs.
They are always available to address reported difficulties or any other issues relating to a specific account. They also provide technical guidance about the installation of scripts.
Price and Plans – FreeWebHostingArea Review
FreeWebHostingArea offers hostings with two types of control panels with different rating lists. We have described them for you:
Free WHA Panel
1,500 MB web space, 51,000 MB monthly traffic
Max execution time increased
5 MySQL databases per account
4,000 MB webspace, unmetered traffic
Max execution time increased
7 MySQL databases per account
cPanel
2000 MB webspace, 30,000 MB monthly traffic
1 domain + 1 add-on domain + 1 parked domain
unlimited subdomains, emails, FTP accounts
3 MySQL databases
5000 MB webspace, 100,000 MB monthly traffic
1 main domain + 10 add-on domains + 10 parked domains
unlimited subdomains, emails, FTP accounts
10 MySQL databases
Unmetered webspace (fair usage)
Unmetered traffic (fair usage)
Shell access
No limit for domains, subdomains, emails, FTP accounts, MySQL databases
Pros & Cons – FreeWebHostingArea Review
There's not much to talk about FreeWebHostingArea, but let's list their advantages and disadvantages for a better view of this service provider:
Pros
99.98% uptime guarantee
Choice of Control Panel 
Affordable Prices 
Full FTP Support 
Fast Servers 
Cons
Poor Interface 
Late replies from email 
How Does FreeWebHostingArea Stand Against the Competition?
FreeWebHostingArea works on an Apache 2.4 webserver and ensures that there are no ads on new sites.
Along with the crucial features we mentioned above, they also give out server-side support, free MySQL databases, and other tools that make free web hosting par premium ones as well. Hence, all these reasons make it stand against the competition. 
FAQs – FreeWebHostingArea Review
Is FreeWebHostingArea(FreeWHA) suitable for WordPress?
Yes, it is suitable for WordPress because it provides 1.5GB of Disk Space. But make sure you upgrade in order to get your heavy traffic-receiving website to work well.
What is the short Address of FreeWebHostingArea?
What is the upgrade amount of FreeWebHostingArea?
The upgrade amount of FreeWebHostingArea is $1/month with no set-up fees, no hidden charges, or any other trick. 
Does FreeWebHostingArea provide live chat support?
FreeWebHostingArea offers email support, and no live chat option is available.
Is FreeWebHostingArea Safe?
When it comes to data security, then they provide you with daily and weekly backup options, but that is not the case with network protocols. Also, it does not include any redundant protection against malicious activities. 
Does FreeWebHostingArea provide a Domain Name?
They provide subdomains for Free. But if you are working with FreeWebHostingArea, then taking up the domain from their own domain registration site: (ProtonHosting) will work for your benefit.
Can I get WordPress Hosting For Free ?
FreeWebHostingArea does not provide you with Free WordPress hosting services because they only focus on custom websites to launch on the internet. In addition, they offer very few resources which are not enough for WordPress websites. 
Conclusion – FreeWebHostingArea Review
We will highly recommend FreeWebHostingArea for newcomers who are starting with a website because it won't be risky for them. But if you're an established or growing website owner, you must look for a well-established web hosting provider. After all, there's no money investment as of now.
We will mention that their website has a poor and unfriendly interface that does not give out much information. As well, their customer support is not that good, but it may get better when you buy one of its premium hostings.
Consider these facts and make the best out of FreeWebHostingArea!