Are you confused about the ideal plan for your hosting requirements? CloudTechtiq has got you covered. CloudTechtiq has experts that understand and observe your requirements and objectives and help design a customized solution for your needs to meet your goals effortlessly.
They offer outstanding facilities at low prices with excellent server configuration and security, maintaining your privacy.
We have a detailed hosting review of CloudTechtiq that allows you to analyze the performance and features of the hosting platform to make a calculated decision to choose the ideal plan for your requirements.
About CloudTechtiq
CloudTechtiq is a new hosting provider with numerous services at the lowest prices delivering the best-in-class services to its customers.
It offers you a wide variety of options, including Windows and Linux VPS Servers, Windows and Linux Dedicated Servers, VPS hosting India, Cloud Hosting, Email accounts, Endpoint backup, and security packages with SSL certificate packages and malware detection facilities.
Test and Analysis Of CloudTechtiq
Before choosing a hosting provider or any other service provider, you should look into the features and benefits it offers you compared to the other alternatives available in the market. We have curated a detailed analysis of its user interface, customer support, and security for your convenience.
User Interface & Ease of Use
Furnishing you with great cloud hosting facilities, it offers different types of user interfaces according to India, the USA, and Germany, as mentioned on its official website. With multiple core processors and unlimited bandwidth, it offers massive SSD disk space and more at affordable rates as far as the VPS servers are concerned.
It comes with dedicated live support and maximum security and privacy. The robust, reliable infrastructure makes your work easy and efficient. The complex process of hosting is made more accessible with the features and advantages CloudTechtiq furnishes you with. It provides you with customized options and scalable storage with 24/7 online support for your ease.
CloudTechtiq Customer Support
Customers are who determine the success of your business, and thus, assisting them when they need you the most is a crucial role that every business shall play. CloudTechtiq furnishes you with a highly knowledgeable and skillful technical team that assists you at every point.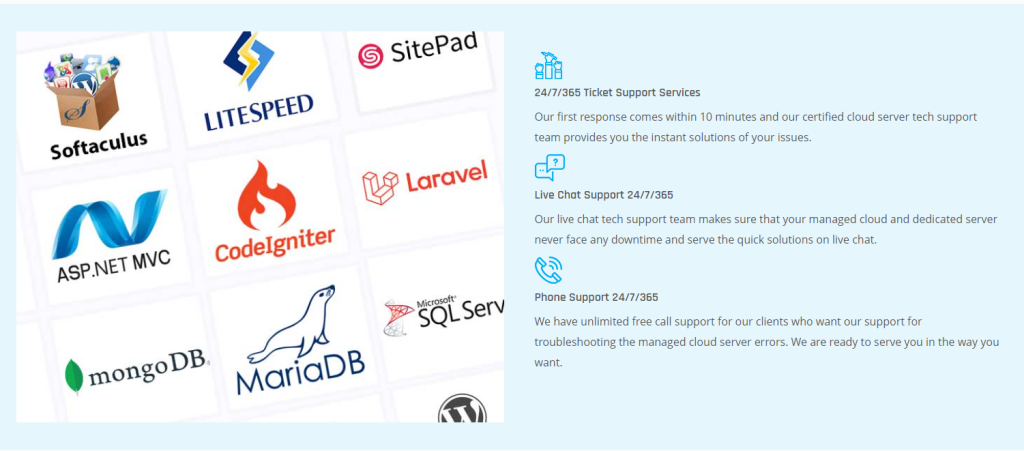 You can easily connect with CloudTechtiq via telephone or tickets by putting in your queries, and they also furnish you with an online chat facility on its official website.
If you are stuck and need help via videos, they also come with tutorials on common douts to solve all your queries in no time. They claim to respond to all your problems within 10 minutes to address your issues immediately.
Security Analysis
Security is of utmost importance when going online since numerous frauds are encountered. CloudTechtiq keeps its customer's security as the top priority providing several security measures to safeguard your data and maintain privacy. You can easily purchase SSL certificates from its backup and security tab at affordable rates for web security.
Starting from $13.49 to $121.50 annually, you can purchase SSL certificates with added features, including domains, installation support, etc. It also comes with additional malware and virus scan and removal packages supporting all devices and keeping your working virus free. You can avail of these packages from $33.75 to $67.50 annually.
For additional backup and restoration, it allows you a few Acronis Backup packages to efficiently avail yourself of the facility of online cloud backup with instant restore, blockchain notarization, hybrid cloud architecture, and more from $1.35 to $9.45 per month.
CloudTechtiq Data Centre
It offers you high-performing servers that are the best in quality and guarantees your safety and privacy at all costs.
It provides efficient services with a global network. It has a PAN India presence with two different locations and its data centers with certified resources to offer the best-in-class performance to its customers. The data centers are in:
Key Features Of CloudTechtiq
Let us now take a look at the key features offered by CloudTechtiq.
It comes with a 99.9% uptime guarantee and a 7-day refund policy.
It comes with servers that guarantee and claim to be superior to its competitors when it comes to performance. It offers a 99.9% uptime guarantee on the websites hosted by it.
CloudTechtiq offers you a 7-day refund policy that allows you to apply and avail full refund of the plans you signed up for.
24/7 constant support with numerous services
CloudTechtiq keeps its customers at the top and offers constant customer support and assistance, making your experience the best in class. You can easily connect to their tech team 24/7 every day via telephone, tickets, or online chat.
They also came up with a newsletter and tutorials for your help. CloudTechtiq comes up with numerous servers and other facilities that best fit your budget and needs.
Cheap but powerful packages and high performance
CloudTechtiq knows how complex hosting facilities can get, and many popular alternatives might appear a little too expensive for beginners.
CloudTechtiq provides you with packages at the lowest prices that deliver top-flight features and added benefits for the convenience of its customers. It provides you with high-quality servers and resources that enhance your performance.
CloudTechtiq Refund Policy
CloudTechtiq is a platform that works for its customers and provides them with all the assistance and services they require.
CloudTechtiq has a 7-day money-back guarantee for the convenience of its customers. You can easily apply for a refund for any of its packages if you are not satisfied with its services.
CloudTechtiq Pros & Cons
Pros
It comes with constant 24/7 support for all 365 days of the year with a claim to respond to your queries within ten minutes. 
It furnishes you with numerous options to choose from the wide variety of cloud-hosing services it has. 
It offers you outstanding packages and deals at the lowest prices possible with added benefits. 
It has high-performing servers with consistent performance making it one of the most potent combinations. 
It furnishes you with cheap yet power-packed packages for SSL certificates, malware detection, and backup to safeguard your data and privacy.
Cons
It does not furnish you with a free SSL certificate with all the plans, and it needs to be purchased separately for a few. 
Do We Recommend CloudTechtiq Review?
CloudTechtiq, although a new platform in the industry, is a highly trusted and reliable one. We surely recommend signing up for the packages it offers since it comes with a wide range of servers for cloud hosting.
It provides you with SSL certificates, Backup and restoration facilities, and Malware detection and removal to safeguard your data and privacy. It comes with 24/7 support for 365 days of your assistance and a 7-day refund policy. At low prices with several features and added benefits, it is one of the most reliable alternatives to the costly ones.
Conclusion – CloudTechtiq Review
We can conclude with this review that CloudTechtiq is one of the most reliable hosting service providers we have come across. With its audience worldwide, the average cost comes up very low compared to other organizations.
If you are looking to save up some money while taking your website online, you need to check out all the features and services this hosting service provider offers. The registration process is also super beginner-friendly that will take you seconds to get started.