Acquia Review: Acquia is a cloud hosting platform with Drupal at its core. It is developer-friendly and includes secure and scalable cloud hosting solutions for Drupal websites, personalization, website management, and digital asset management.
Acquia is a digital experience company that helps other businesses optimize their websites with the help of its excellent software. With this Acquia review, you will get to know everything related to its services and their effectiveness in real-world operations.
About Acquia
Acquia was founded in 2007 by Dries Buytaert and Jay Batson to provide infrastructure, support, and services to organizations using Drupal. Acquia's platform includes personalization, data management, asset management, and much more.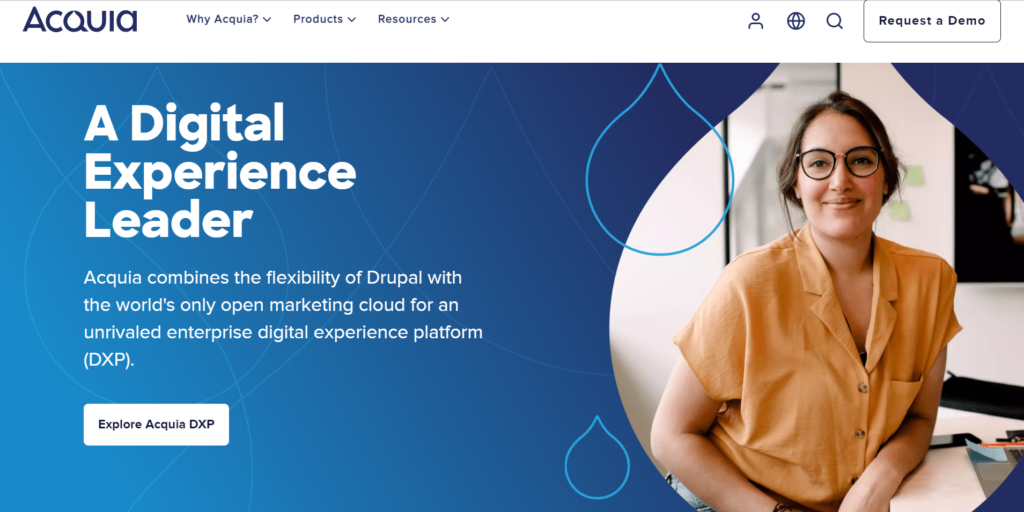 Test & Analysis
Refer to the following points for the analysis of the services provided by Acquia.
User Interface & Ease of Use
Acquia has a modern and easy-to-use user interface, with a drag and drops interface features like development, staging, and production environments all similar to the interface offered by Drupal given that it is a dedicated Drupal hosting platform.
Acquia Customer Support
Acquia offers 24/7 support and has over fifty professionals available for any issues you might face using their services. Acquia support involves assessing, diagnosing, and resolving any application faults or performance issues.
Their support includes infrastructure support and allowances for applications like Drupal core, contributed modules and themes, third-party integration modules, and Acquia search.
Security Analysis
Acquia's entire platform has been built from the ground up, keeping security in mind and providing customers with a secure environment with various authentication controls and firewall controls to protect against vulnerabilities.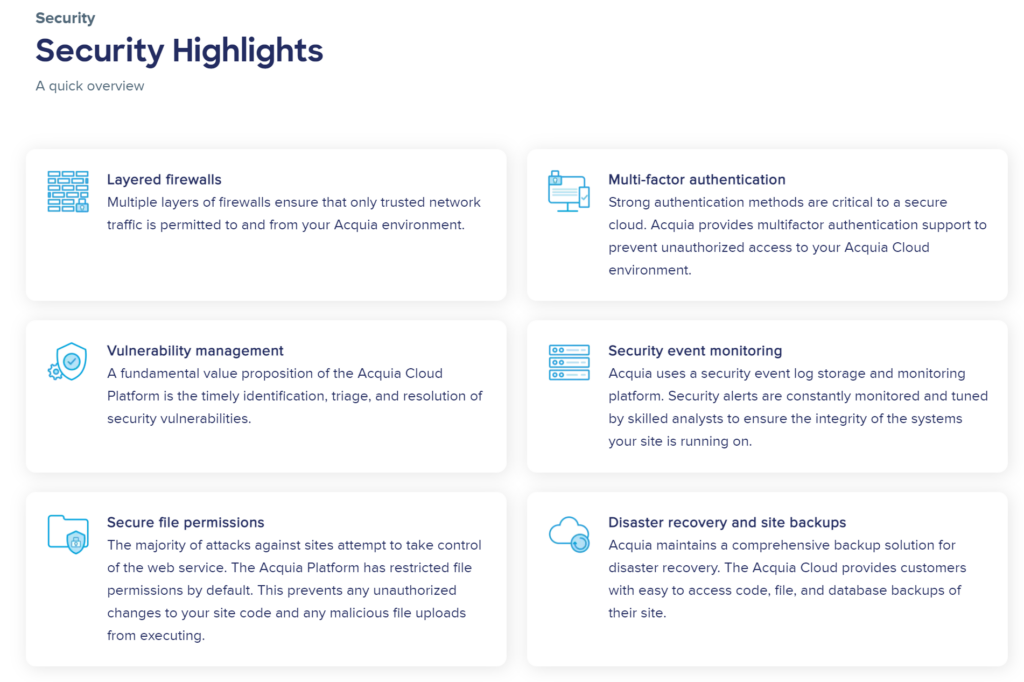 Acquia's platform features layered firewalls to ensure that only trusted network traffic is allowed through, along with multi-factor authentication to prevent unauthorized access.
Kamatera and Liquidweb, both are trusted and experienced cloud service providers.
Key Features of Acquia
Here are the main features offered by Acquia:
Types of Web Hosting Acquia Offers
Acquia offers-
Pros & Cons – Acquia Review
While testing out the services provided by Acquia, these are the pros and cons we found.
Pros
Cons
FAQs – Acquia Review
1. How much does Acquia cost?
Acquia's prices are higher and start from around $148 for one year.
2. What Kinds Of Other Services are offered by Acquia?
Acquia offers various other services like Acquia CMS, Cloud IDE, Edge, Site factors, Content hub, Acquia CDP, Campaign studio, Campaign factory, Acquia Dam, Acquia PIM, and a lot more.
3. Where are Acquia Servers located?
Acquia's servers are located in the United States.
Conclusion – Acquia Review
Acquia is an excellent hosting company, and its services are generally more suited for large enterprises looking specifically for Drupal-optimized solutions. Some prior knowledge related to Drupal is required to use all of the platform's functions.
I hope you will get some idea about this Acquia Review. If you still have any confusion about it, then you are free to comment here.