We have been running an online business for the last 3 years and realised choosing the right hosting is the most crucial aspect!! Because it determines whether your audience will be able to know, understand and purchase your products smoothly or not.
Hence, we tested multiple web hosting service providers and shared our personal experience about their service's quality via their reviews!! But recently, while researching for an offshore hosting provider, we landed on Zynoo.
Its features were really attractive, so we decided to try it and explain whether it will suit your website or not!! Hence, we will recommend you read this Zynoo review carefully to understand everything aspect of their service's quality.
So without any further delay, let's get started!
About ZYNOO
Established in 2011, Zynoo is an offshore web hosting provider offering enterprise-scale hosting services in the market. It uses high-quality industry-standard servers to ensure that you can experience optimum performance for your website!!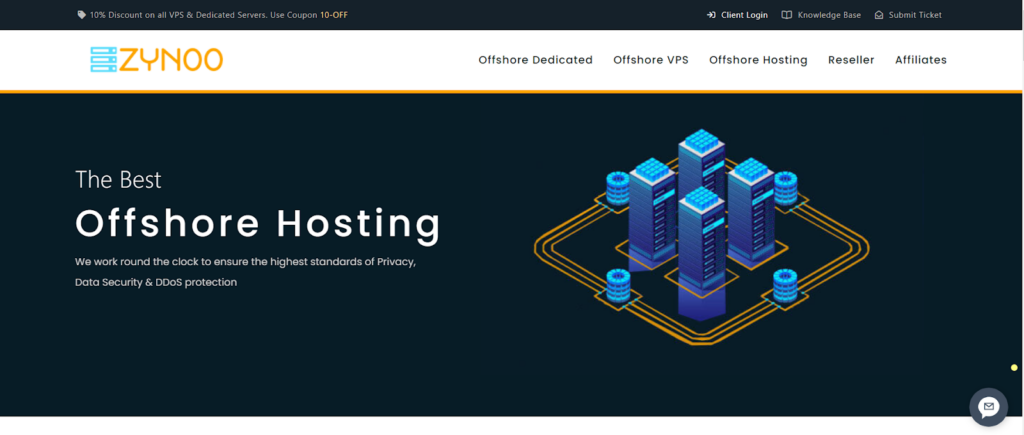 Moreover, Zynoo allows you to make your online presence without losing your privacy or anonymity!! Regardless of what type of content you are posting to your website.
Speed Test Analysis for ZYNOO
To ensure that we provide precise information backed by deep research, we conducted some tests for their servers to understand the complete picture of their server's performance level.

Ease of use and Interface
Starting with its user interface!! When we landed on its website, we were really impressed with its user interface. Everything was well-labelled with elegant colours, fonts and design making it super easy to navigate every section of their website.
In addition, they offer multiple easy-to-use control panels, such as cPanel and much more. Hence, no matter whether you're a beginner or a pro, you can easily manage, operate and even modify your resources as per your requirements!!

Load Handling Test
Now let's talk about their server's performance!! Basically, one of the most important aspects of a server is Load handling. We conducted Zynoo's server load handling capacity on K6 to understand their server's strength!!
As you can see in the image attached below! We made 3578 requests to servers and found only 4 requests as failures!! Which is quite impressive.

Server Response Time
But since uptime is not the only factor that helps to understand the quality of the servers!! So we also performed server response time tests which we conducted on GTMetrix, one of the most popular platforms, for its accuracy!!

As you can see in the image attached above!!
GTMetrix rated 96% performance for our website with A grade ranking, which is literally an amazing and satisfying result!!
Speed Test
In addition, we also conducted a speed test of their servers, as you can see in the image attached below!! But instead of talking about their server's speed, we will explain about the latency.
Because latency contains the capability to impact your website's loading speed directly, and as you can see, Zynoo's servers latency was just hanging around 0.49 to 273.83 ms, which is not a very remarkable result but definitely impressive!!
Customer Support Analysis
But honestly, server response time, and uptime test is just temporary thing because in the Zynoo's servers are also machines and facing errors will be common in their cases too!!
Hence, the most necessary aspect of any service provider becomes it customer support.
Thankfully, Zynoo provides 24*7 customer support via both live chat and ticket. But honestly! Their response time is quite slow, but apart from that, they have accumulated an extensive knowledge base which you can refer in case you are unable to contact their team of technical experts.
Security Analysis
Coming to its security features!! We have mentioned all of its server's security features here in this section below so that you can understand its server's security strength!!
ZYNOO Datacenters
Despite the fact that its test results were not very remarkable but they were still quite impressive!! Now here in this section, we will discuss their data centre's locations, quality, security etc. to ensure that its servers are reliable!
So starting with its location, which is in Sofia, Bulgaria. And for those unaware of Bulgaria, it is one of the most popular offshore locations in the industry, allowing you to bypass all the biased country-specific locations.
Moreover, talking about its data centre's quality!! Zynoo has chosen Tier 3 carrier data centre to ensure both performance and security for your website!!
Key Features of Using ZYNOO Hosting
Here in this section, we will discuss some of its key features to help you understand the performance and security you will get to experience with its services.
Latest hardware technologies:
To ensure their servers can easily handle a multi-processing environment, Zynoo has equipped their servers with the latest CPU processors, such as the Intel Xeon E5 series.
RAID-secured servers:
To ensure your data is completely protected, Zynoo has equipped its servers with RAID security. It helps to protect the servers against any kind of data loss.
Full DDoS protection:
One more interesting aspect of Zynoo is that they equipped their servers with smart features to protect your website against any kind of DDoS attacks.
LiteSpeed-based webserver:
Zynoo uses the industry's best software technologies and high-quality hardware technologies. For example, they have equipped their servers with LightSpeed, one of the fastest web servers available in the market.
Price and Plans
Here in this section, we have attached a table that will help you to understand the complete picture of their service's price and plans. But note the table contains the plans of their VPS services.
| SSD-basic | SSD-business | SSD-professional | SSD-enterprise |
| --- | --- | --- | --- |
| $10/month | $20/month | $35/month | $55/month |
| 1v CPU | 2v CPU | 4v CPU | 8v CPU |
| 1 GB RAM | 2GB RAM | 4GB RAM | 8GB RAM |
| 20GB SSD | 30GB SSD | 60GB SSD | 120GB SSD |
| 1000GB bandwidth | 2000GB bandwidth | 4000GB bandwidth | 6000GB bandwidth |
🔔 ZYNOO Offer 'December, : Need a ZYNOO coupon code? We can help you with that. Here's the 100% working ZYNOO coupon code "GoogieHost-15" and Get 15% Extra OFF on all offshore Hosting Plans.
ZYNOO Refund Policy
Yes, Zynoo doest offer you any 7 day money-back guarantee with their services. Hence, you can cancel their services anytime within 7 days, in case you didn't find is services satisfying enough.
If you are looking for the best offshore hosting provider that offers you services with more than 7 days refund then we will recommend you to go with QloudHost.
Moreover, you can also read UltaHost review and Shijiru review to understand more about offshore hosting services.
ZYNOO Pros & Cons
So overall its features look really great!! Now let's analyse some of their pros and cons to understand the complete picture of their service's quality.
Pros
Industry-standard servers
Top-notch security 
Excellent uptime 
Full root access 
Cons
Very slow customer support 
Why Should You Choose ZYNOO for Your Website in 2023?
If we talk about some specific reasons to choose Zynoo for your DMCA ignored website, then it will come out to be 3 major points that we have discussed in detail below.
📌 Note: There are multiple more reasons to choose Zynoo for your website but we have mentioned the top 3 quality of its services.
FAQ's: ZYNOO Review
Is ZYNOO really good?
It depends on your needs and requirements. For example, if you're looking for a service provider that offers your full control to the servers then Zynoo will an ideal pick for you!! But if you are a beginner then we will not recommend Zynoo for your website because their support really sucks!!
Is ZYNOO  good for Offshore hosting?
Yes, As far as we have analysed their server's quality, we didn't find any issue in their servers. Despite of a really slow customer support response, Zynoo's technical features cannot be ignored.
How much does ZYNOO Offshore shared hosting cost?
Amazingly, their cheapest plan starts with just $5.95/month which is really affordable when compared with its competitors. We have attached a table above in the plans section to help you understand everything about their service's price.
Does ZYNOO  offer free website migrations?
We didn't find anywhere written on their website that they offer free website migration. Hence, we can't confidently say that offer you to migrate your website on their servers for free!!
Do we Recommend ZYNOO Web Hosting?
Yes,If you are looking for the best offshore hosting provider that offers you full control to the servers then we will recommend you to host your website with Zynoo!! In addition, Zynoo offers you 100% DMCA ignored services. Hence, you can expect top notch security for your website.
Conclusion: ZYNOO Review 2023
In conclusion, Zynoo is an amazing web hosting service provider which offers your services with impenetrable security, high quality features and full control to their servers. Hence, if it meets with your needs then we can confidently say that Zynoo is an ideal pick for you!!
But before making an instant decision, we will recommend you to analyse it features along with your budget so that you don't need to regret it later.