Web Eye Soft Review: So, are you looking for a hosting service to put your website online but have a tight budget? Well, it is pretty evident that good hosting features come costly, but it does not always have to be like that.
Many hosting service providers care for your pockets and your customer experience.
Web Eye Soft is a hosting service provider that provides fantastic features at a pretty affordable price. You will require more information about Web Eye Soft to understand it.
So in this article, we will go through a detailed Web Eye Soft Review.
About Web Eye Soft
Web Eye Soft is a product of Manage Server, which provides fast web hosting at a very affordable price. They can be found under the legal name of Manage Server. They provide multiple types of hosting services for your websites.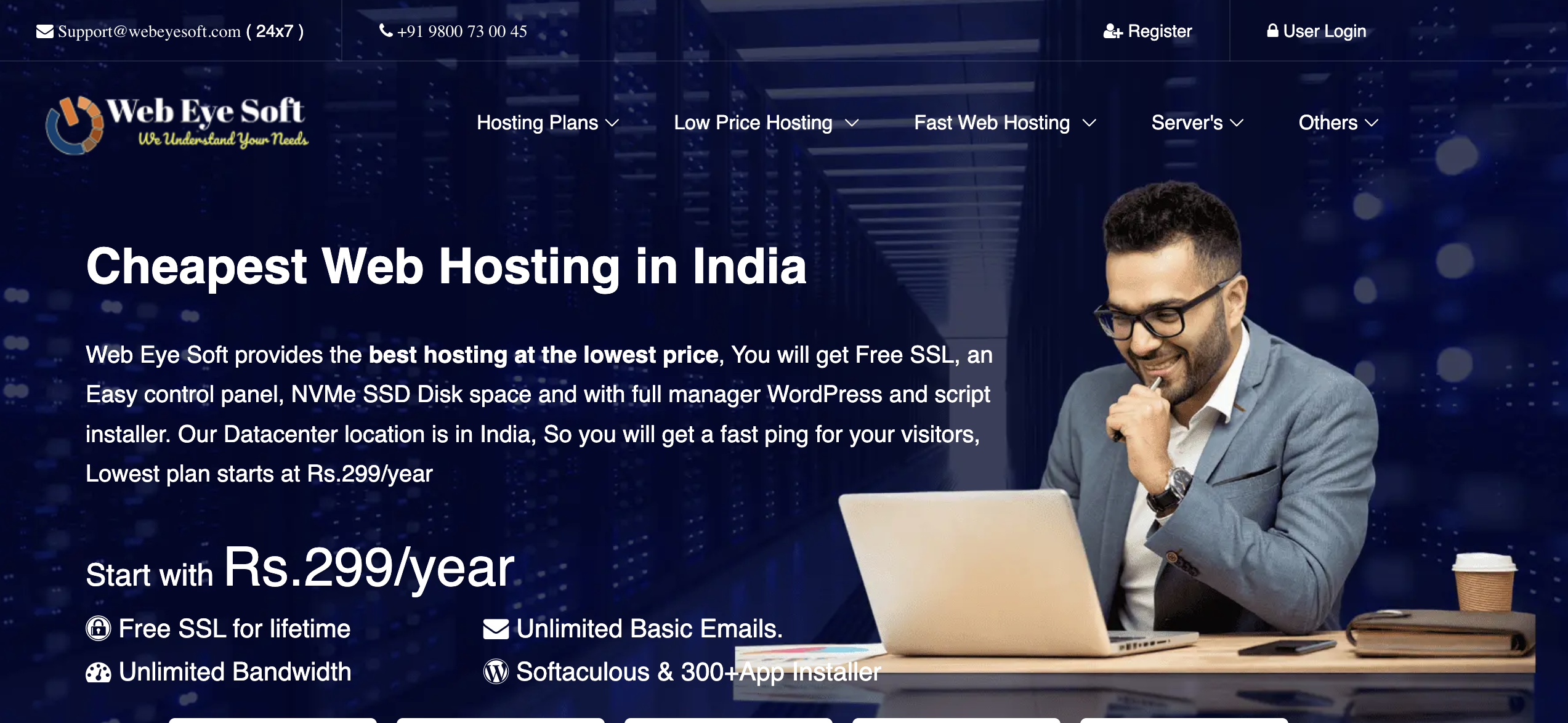 These hosting services can cater to all your hosting needs at a low cost. With a 4.7 rating from Google, Web Eye Soft is doing a good job. The plans and features offered by Webeyesofy are pretty impressive; we will learn about that as we go further with this Web Eye Soft review.
Key Features of Web Eye Soft
Let us now take a look at why Webeyssoft could be so efficient for your websites.
File Exchange FTP
Web Eye Soft makes it easier to upload your data into your hosting accounts. This is done by including FTP and online file manager with cPanel.
SSL Certificatesftp
SSL certificates are extremely important to have with your servers to establish basic security. Web Eye Soft includes with its plan the facility of free SSL certificates.
99.99% Uptime
Your website hosted by Web Eye Soft will be available on the internet for your customers 99.99% of the time. Why? Because Web Eye Soft provides you with a 99.99% uptime.
Instant Setup
As we do not like wasting time, Web Eye Soft cares for our concerns and starts working on our hosting set-up as soon as we purchase a plan.
cPanel
Web Eye Soft includes the facility of cPanel with all your plans. The cPanel is an online Linux-based web hosting control panel that provides a graphical and easy-to-use interface and automation tools.
Unlimited Bandwidth
Suppose you have high bandwidth and worry that you will end up spending your money because of it. Do not worry. Web Eye Soft offers unlimited bandwidth, so you save a lot on that.
Price and Plans
Web Eye Soft has eight types of hosting plans to offer you. Each is different and has several other plans under it. So let us go through a simple list of them and how much they cost.
The eight categories and their prices would be:
The last type is the Best Web Hosting with cPanel with the same price range as the first plan.
Other than these, Web Eye Soft provides two other cheap hosting services for single and multi-web hosting.
Types of Hosting and Services Offered by Web Eye Soft
The several hosting and services that Web Eye Soft provides include the eight types of hosting, namely, Cheap Hosting with cPanel hosting, Powerful WordPress Hosting, Unlimited cPanel hosting, VPS Hosting, Best Web Hosting with cPanel, single and multi-web hosting.
Well, this was just about hosting services that Web Eye Soft provides. Let us look at its other services. Web Eye Soft gives you free SSL certificates, unlimited bandwidth, and unlimited basic emails on its plans.
Why Choose Web Eye Soft?
The main reason we could give you to choose Web Eye Soft for hosting your website would be its affordable prices.
If you like to buy Web Eye Soft Cheapest web hosting – Choose long term plan To Save upto 80%
These perks give you all the reasons to choose Web Eye Soft as your hosting services provider.
Conclusion – Web Eye Soft Review
Now that you have gone through the Web Eye Soft review thoroughly, we assume that you have a basic understanding of it by now.
The easiest way Web Eye Soft could be described would be the cheap and fast hosting service provider.
You get numerous hosting features at a low price, which most hosting providers might offer at a pretty high price. So even if you are starting with web hosting and do not want to take risks, just spend as much as you would spend on a good coffee and buy a hosting plan from Web Eye Soft and give it a try!