Email marketing is one of the best tools to increase ROI and drive engagement as these campaigns offer better ROI as compared to other marketing strategies. If you set up your emails properly then it can be quite profitable.
However, you will need an effective email marketing strategy which can be done through the best email marketing services. With this, you can manage your campaign, content, and subscribers. Most email marketing tools provide similar features so finding the best email marketing software can be a difficult job.
If you are looking for the best email marketing software 2020 or are looking to change your bulk email marketing services provider then we will guide you about it right here as we will compare email marketing services.
Is Email Marketing Still Effective in 2021?
Yes, we think Email Marketing still effective in 2021 as this tool can make our lives easier with its functionality. It helps the marketers send out email newsletters and use this effective marketing strategy to increase ROI.
There are billions of people around the world using email marketing and getting amazing returns. Visitors return to your website, blog, or online shop through an email marketing solution.
Small business owners and startups can use Email marketing services to build a customer base, get more brand recognition and get an increase in sales.
Email marketing helps amplify your other marketing channels like social media platforms. Email marketing in 2021 is a critical strategy that is used widely by various industries and businesses. It helps engage and nurture leads into loyal clients and it is a cost-effective way to increase ROI.
Top 10 Email Marketing Services
Several Email marketing services help you design emails easily, view analytics reports, segment your list and personalize your messaging.
Here is the list of top 10 marketing services that we have put together after many hours of research. With the use of this, you can easily choose the perfect email marketing software for you.
HubSpot — Best for automated email marketing
Hubspot email marketing is a top-notch platform that offers all-in-one sales and marketing services like landing pages, CRM, email marketing, live chat, etc. HubSpot's Email marketing software is quite exceptional as it is easy to use and offers amazing results.
Using Hubspot email marketing services, you can design, optimize and send out amazing emails. There are numerous customized features in HubSpot that help small businesses or large companies.
You can create an email using pre-made email templates or start from the beginning. There are several layouts in templates where you can add text, images, buttons, or dividers. Their email editor is easiest to use and faster than other tools.
There is a preview tool that helps you see previews based on various devices. These previews ensure that your emails look amazing in your inbox. Personalization is another amazing tool at HubSpot as you can personalize your email content based on the user's device, geographic location, and list segment.
There is a tool named Smart Send that allows you to adjust your send time to enhance engagement. There is a HubSpot analytics dashboard that provides you data on opens and clicks along with information on time spent on your email.
Features
Mobile optimization
Automated sequences
Gmail extensions to track emails and automate outreach
Full-features CRM
Form builders
Personal calendars for appointments
Phone and email support
Inbound leads, email, and ad analytics
Constant Contact — Most beginner-friendly email builder
Constant Contact helps small businesses achieve great heights easily with more than 100 contemporary and mobile-optimized templates that help engage and convert potential clients. You will get real-time reporting and analytics along with features like polls, coupons, and events.
Event management is one of the most unique features that help you manage registrations, invitations, and tickets. Constant Contact pricing is based on the number of contacts on your list. Paid plan starts at $18 per month for about 500 contacts, which makes it a cheap Email Marketing Service.
Constant Contact works well for several industries as you can use it as it is or customize it. Your emails will look amazing and you can schedule them to be sent to your contacts at any time.
You can also schedule emails to celebrate specific events like your client's birthday.
There are Plus features that help you execute campaigns like surveys, donation collection, and coupon offers. There are two plans available through Constant Contact, which are $20 and $45 per month.
They offer a free trial so you can experience the services before buying them.
Features
Marketing automation
Contact management dashboard
Statistical Reporting
Event Marketing tools
E-Commerce Integrations
More than a hundred responsive and customizable email templates
Drag and drop email editor
Comprehensive image library
Auto-adjust smart columns for emails
Email list management
List segmentation tools
2GB hosting for images and documents
Moosend — Best for AI-powered eCommerce sales
Moosend is an amazing tool that automates repetitive tasks and saves time. Using this tool, you can design behavioral email campaigns based on information about subscribers. There is an advanced segmentation feature to send accurate emails to every recipient.
You will get a detailed campaign performance report that helps you optimize your campaigns and get better results easily. You can also integrate it with some apps to share important information between various tools.
It is the only email marketing service that does not include its logo in the emails you send. Moosend offers several amazing features and is a great tool for beginners that is not over-simplified.
This platform offers almost everything from well-designed templates, weather-based email triggers, visual campaign builders, and AI cross-selling recommendations. Moosend is a great option for small agencies as there is not much internal training required and it provides awesome results without costing a lot.
It is an easy-to-use and exceptional email marketing automation service that helps facilitate the monitoring and management of email marketing campaigns. Several businesses opt for this software as it helps them send the right emails at the right time to your subscribers.
Features
Customized sign-up forms
Email list segmentation
Manage your campaigns easily
Automatically build and grow your email list
Create amazing email newsletters
Email marketing automation
Responsive templates for newsletters
Pre-made workflow recipes
Email analytics
Export reports
Integrations
Sendinblue — Best for growing your list
This is an all-in-one marketing platform that is reliable and used by thousands of businesses worldwide. Users can build relationships and increase ROI using email campaigns. You will get an extensive set of email marketing services with Sendinblue.
Your contact list can be organized according to different demographic segments and target groups of potential buyers. You can use the aesthetics to grab the attention of buyers as there is an intuitive email editor that has a drag and drop builder to build themes for your emails.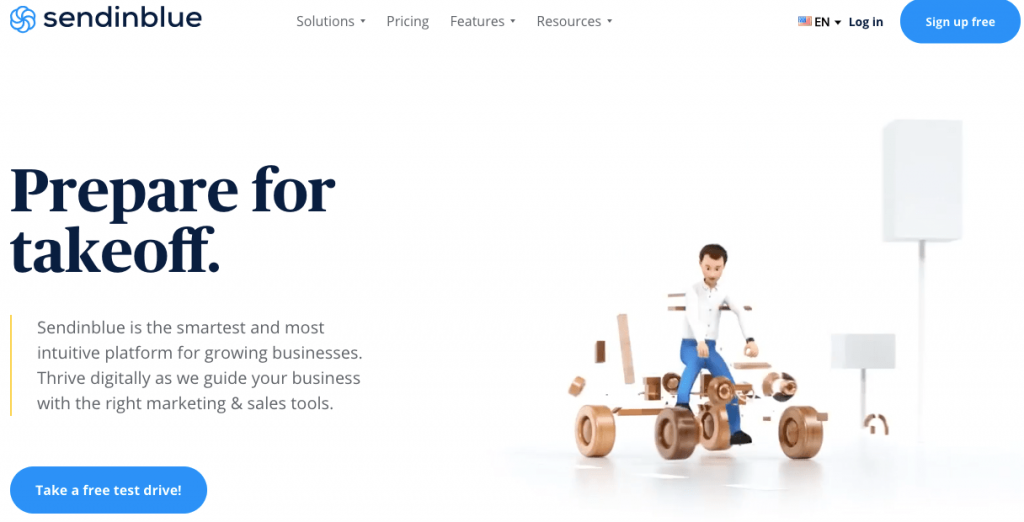 SendinBlue also automates sending of emails based on digital leads. This software is amazing as it allows you to create workflows after you map out the triggers and types of emails that you want to send.
The platform also has a Send Time Optimization feature that finds out the best time to deliver emails and sends them out automatically at that time. Using the functionalities by Sendinblue, you will have less work and more buyers. Whenever you activate a trigger, it automatically updates the status of all targeted contacts.
Features:
Signup forms
CRM
SMS marketing
Email campaigns
Transactional email
Shared inbox
Landing pages
Marketing automation
Chat
Facebook ads
Subscription forms
Trigger monitoring
Google Analytics Integration
Omnisend — Best for eCommerce businesses
It is a marketing automation platform that offers an omnichannel marketing strategy to websites. This software combines SMS, emails, social media, and other channels to the same platform so that website owners can easily reach their customers and boost sales.
There are numerous features available that can streamline your efforts using all the provided channels. There are built-in templates that can be used to create personalized emails and automate segregation.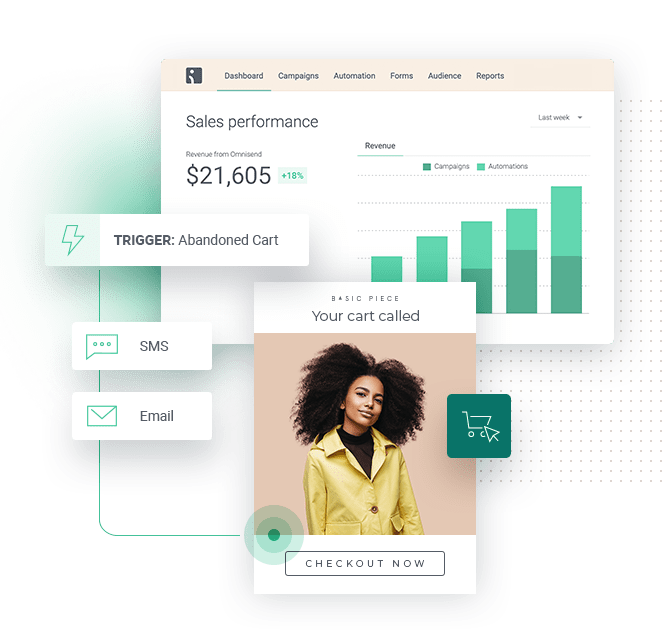 Marketers can reach out easily and connect with clients. With Omnisend, you can create engaging and powerful leads to improve the lead capture rates. Using this software, you will get different types of forms to collect email addresses like popups, Signup boxes, and interactive wheels of fortune.
There are additional features like a Campaign booster to resend emails, a robust content editor, and A/B testing to create engaging emails. You can set up smart triggers so that your buyers get the right message while they are browsing and your overall sale boosts.
Features
Push Notifications
Omnichannel marketing campaigns
Image editor
Email and newsletter templates
Product picker
Image editor
A/B testing
Coupon code creation
Welcome emails
Campaign booster
Landing page creation
Smart send solution
Order confirmation emails
GetResponse — Best all-in-one automated lead generation tool
GetResponse marketing service is a popular email marketing service that has more than 1 billion subscribers every month. It is one of the easiest email marketing systems that are hassle-free to create professional emails and landing pages.
There is an email intelligence feature that enhances the impact of your campaigns. You can view segment subscribers, measure site conversions, hourly fluctuations, make intelligent decisions, compare follow-ups.
To use GetResponse, you will not require a technological background to use email automation tools for boosting your business. GetResponse offers 24/7 support through live chat and email.
There is a third-party integration so that you can easily connect apps with your present business website. There are many ways to develop a subscriber list through GetResponse.
Features
Analytics
Responsive email design
Landing pages
Forms
A/B testing
Webinars
Email creator
Email intelligence
Inbox preview
Autoresponders 2.0
List booster
MailerLite — Simplest email marketing service
It is an email marketing platform designed for small businesses. It gives them powerful services that complement existing marketing platforms and strategies. Several professional features are needed in email marketing software.
There is an intuitive interface with a drag and drop editor that helps you design professional emails with great ease. There is an exclusive HTML editor that helps you create HTML emails and you can edit in Rich Text.
You can make your landing pages, embedded forms, subscribe buttons, web forms, and pop-ups. Using MailerLite, you can tailor your email as per your requirement and can include elements like image headers, dividers, or social media links.
You will have the ability to track your email statistics and can see important charts and figures of your marketing campaign. Emails and newsletters are optimized for mobile devices so that your emails look amazing on tablets or smartphones.
Features
Rich text editor
Drag-and-drop editor
Free newsletter design templates
File manager
Custom HTML Editor
Built-in photo editing
Pop-ups
Landing pages
Campaign reports
RSS Campaigns
Auto resend
Click Maps
AWeber — Most value for smaller lists
AWeber is an email marketing platform that is referred by several experts and professionals for email marketing. It offers several amazing features and superior autoresponders.
AWeber is great for businesses as it automates the process of sending out personalized and professionally designed emails so it is one of the best email marketing services for nonprofits. They also provide targeted messages to the customers so that you can send follow-up emails as per the schedule.
Businesses can establish a great relationship with their clients using targeted messages. AWeber has an integrated system that easily blends in the software and can be used seamlessly with Drupal, WordPress, Launch Effect, Raven, Magento, or Cyfe.
The platform is reasonably priced and all the large and small enterprises can buy it easily. AWeber provides amazing customer support as there is a team of email marketing professionals that are knowledgeable and responsive. AWeber also offers regular webinars for those who are new to email marketing.
AWeber helps flexibly manage your contacts so that you can create attractive emails and a personalized subscriber's list. They offer insight into the visitors and customers. AWeber offers a different way of creating email campaigns which are autoresponders and follow-up series.
There is a handy drag-and-drop tool to build your own personalized messages. There are several pre-made templates available and you can design your own too, as per your business need.
Features
Email deliverability
Autoresponders
Email newsletters
Sign-up forms
Drag and Drop Editor
AWeber Mobile App
App Showcase
HTML Email templates
Bulk Email marketing
Email Analytics
Subscriber segmenting
Business Email marketing
Direct email marketing
SendPulse ― A one-stop multi-channel marketing automation service
An email marketing service is an essential tool when it comes to customer nurturing. However, marketers looking to apply an omnichannel marketing approach look for platforms with the right functionality, and that's where SendPulse shines.
Automated email marketing campaigns, and email address verifier, SMTP server, handy drag and drop email editor, landing page builder, and custom subscription forms — these are things you'll need if you are serious about your email marketing.
SendPulse also provides all the necessary email campaign analytics to help marketers evaluate the results of email campaigns.
On top of email marketing services, SendPulse provides an intuitive chatbot builder to help marketers create chatbots for Facebook Messenger, WhatsApp, and Telegram. Conversational marketing is now available with no coding or technical skills.
With SendPulse, it's easy to design automated flows of transactional messages and combine email, SMS, and web push notifications to create a nurturing experience for each and every customer.
Automation is all about saving time and boosting your ROI on every marketing campaign.
SendPulse provides a free CRM that brings sales and customer communication into a single hub.
Features
Free CRM
Email, SMS, web push notifications
Free SMTP server
Email template and subscription form editor
Chatbot and landing page builder
Email address verifier
A/B testing and behavioral segmentation
ConvertKit — Best for influencers, bloggers, and creators
This email marketing service is a cloud-based lead-generating solution that has been designed for course creators, podcasters, bloggers, and YouTubers, and business owners. This platform helps you get a bigger email subscriber list and automate e-mail marketing, drag-n-drop email sequences, landing page templates, workflow automation rules, etc.
With ConvertKit you can create responsive opt-in forms and embed them on your website. These forms get adjusted automatically to the sidebar or end of posts. There are three templates for landing pages and you can customize text, patterns, colors, and textures, without using coding skills. With ConvertKit, you will get full control over the order, delivery schedule, and message content.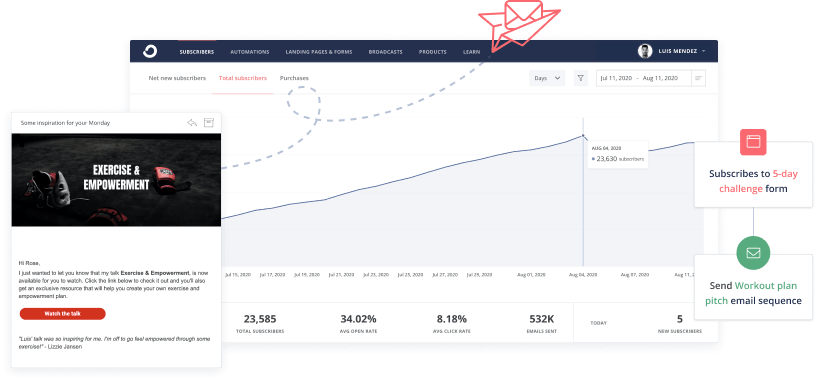 Now personalize your emails with template tags and subscribers info and schedule your emails with great ease. It helps you send out email broadcasts to all your subscribers to announce product launches, blog posts, and discounts.
You can also exclude a group of subscribers from your broadcast like the clients who are not interested in the product. There are amazing benefits like the intuitive interface, tag-based processes, content upgrades, and marketing automation so invest in the best email marketing services for small businesses.
Features
Automation rules
Broadcasts
Custom CSS
Automation blueprints
Custom patterns and textures
Custom opt-in forms
Drag-n-drop interface
Custom segmenting
Customizable landing page design
Email scheduling
Email sequences
Visual editor
Subscriber exclusion
Open rate tracking
Mailchimp— Best freemium plan
Mailchimp is a popular email marketing service that is amazing for small and developing companies as it is the best free email marketing software. They are also great for large enterprises as they can handle large volumes of emails.
It is ideal for startups due to low-cost plans. MailChimp provides analytical features that help enhance your business along with other strong technology tools that help the companies stay in touch with their clients and potential customers. You can market your products and services with great accuracy and turn leads into sales.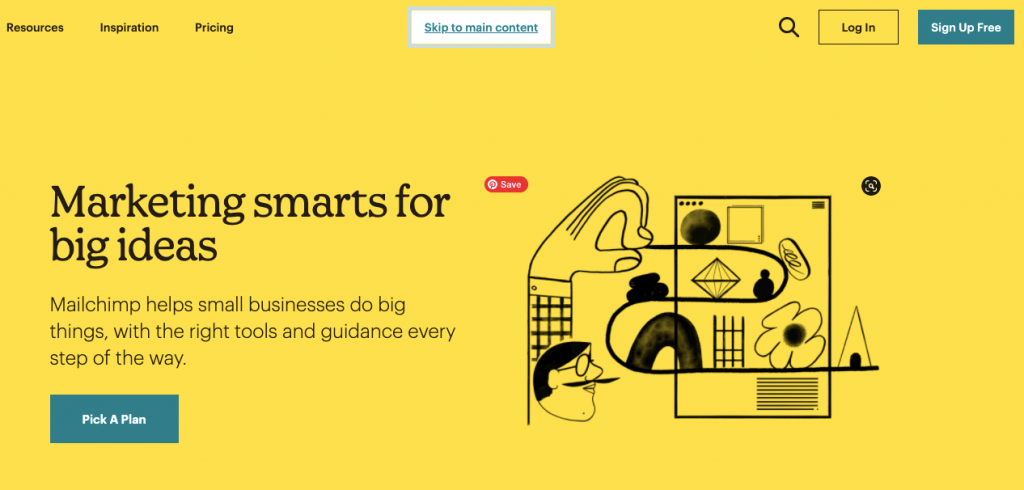 It is easy to use and quite affordable, which makes it popular in the email marketing world. It helps you create and analyze email campaigns and helps you manage sales with great ease.
There is great transparency in the campaigns and you can choose from a wide range of templates to create emails. Small businesses with low budgets can use the freemium plan with which you can send 12,000 emails per month with 2000 subscribers.
Most of the key features are available with a free package and you can also use the mobile app to create ad campaigns and send out emails. Several informative tutorials help you enhance the effectiveness of the platform.
You can improve your campaigns by generating detailed reports of your leads so invest in this free Bulk Email Solution.
Features
Email designer
Email Beamer
Email templates
Merge tags
Integrations
Custom forms
Multi-user Accounts
Subscriber Profiles
Segmentation and Groups
Spam filter diagnostics
Automation
Geolocation
A/B testing
Delivery by Time Zone
How to Choose the Best Email Marketing Service for Your Business?
When choosing the best Email marketing services, you need to choose something unique as every business has different needs. There are some factors though that need to be considered as they are most important for your business.
Here we will mention the details needed about what matters when choosing the best option for your business.
Packages: Email marketing services provide you services for free till a point and after that, there is a standard pricing model for subscribers. The email marketing services cost goes higher with the number of subscribers so ask for their plans and packages so that you can check whether the agency is great for your goals. You can also opt for free Bulk Email Software if you are low on budget.
Account settings: Make sure to check the account settings, whether they give you the liberty to customize emails or personalize them.
Support: Customer support is a very important part of email marketing services and when choosing an email marketing services provider, make sure that the customer services they offer are great so that you get the right support at the right time.
Campaign Settings: Make sure to check whether the email marketing services platform offers all the required campaign settings that can help boost sales as they can help you reach your sales goals with ease. The software should support all types of emails like A/B tests, autoresponders, and newsletters.
Campaign tracking: Insights and analytics help you track the campaigns and make your business better by using them. You can customize emails as per the client's needs and reach your brand goals. A good email marketing service gives you all the tools like KPIs and in-depth metrics.
Templates & Email Editor: Choose the right platform that offers a drag-and-drop visual editor that helps you customize email templates without the use of any coding. Using this you can get email campaigns ready within no time to send out quickly.
Conclusion:
Most of these email marketing tools provide powerful features that make email campaigns robust. Small businesses can boost sales while saving time and money using top email marketing services.
We hope that this guide helps you find the right email marketing tool and you can buy them using special deals from top brands.
So, Choose the email marketing service that is right for you and watch your sales boost like crazy, within no time.
These special deals on email marketing software are available for a limited time only, so don't miss the chance and buy soon.