Digital presence is all the vogue in today's era, and businesses are continuously taking the plunge to come online and reach a wider audience. This makes web development, design, and web hosting a must.
As businesses look for solutions to come up with their websites, they seek an all-in-one platform that can meet their end-to-end needs and requirements. One such platform is Seteviana IT.
StevianaIT is a great platform to go from web designing and development to taking different forms of hosting services for your website. Let's explore more about it in this StevianaIT Review.
Overview of StevianaIT
StevianaIT is a one-stop web solutions company that was established in 2012. For almost a decade, the company has been a cornerstone in providing bespoke IT and web solutions to their client and customers across the country.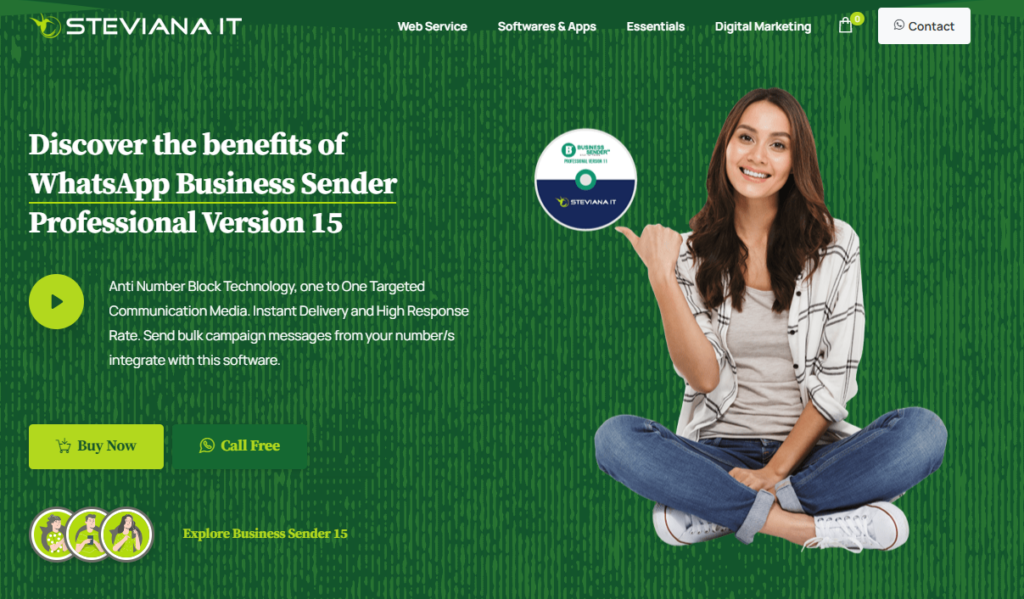 You can get all kinds of services at StevianaIT, including web development, web designing, web hosting, digital marketing, and other application, software, and web services. They're not limited to web hosting. Instead, they take real needs for web development, designing, and growth into the purview of their services.
Test and Analysis
When reviewing a hosting solution, testing it for its ease of use, support, and security is essential. We checked StevianaIT on all these parameters, and here below are our observations.
User Interface & Ease of Use
StevianaIT offers a cPanel control for the admins, making it easier to operate and manage your website. The user interface is readily understandable, and you can get started with your operations and functioning almost immediately. So, the platform is pretty great when it comes to ease of use.
StevianaIT Customer Support
Customer support is the most important aspect of a hosting solution since you can have multiple queries and questions as you manage your website. It's great that Steviana Hosting has got you covered for support. They have a live chat option where you can get instant replies to your queries and questions.
You can also reach them on their social handles or a call. The only problem is that the live chat is powered by Messenger, meaning you'll have to log in to your Facebook account to access the live chat customer support feature.
Security Analysis
Security is the most important aspect of a hosting solution. You want your website data protected at all times. The different types of hosting available at StevianaIT have excellent security features.
The hosting provides for-
Given all these security features, we can conclude that the security of the hosting is pretty great.
StevianaIT Data Center Location
StevianaIT has three data centers in the following locations-
Core Features of StevianaIT
The strength of a hosting solution is determined by the features it offers. Here in below is a complete overview of the core features of StevianaIT for you to understand what you get with it clearly.
SSD Storage
All the hosting plans come with SSD storage that UltraStack powers. It makes your web hosting faster, and your website runs on as much as 20x speed.
c-Panel Support
The hosting comes with c-Panel support, which is highly developer-friendly and offers excellent ease of use and operation by supporting developing languages such as MySQL, PHP, etc.
One-Click App Installations
You can extend the functionalities of your website by adding multiple applications through the simple one-click application installation feature.
eCommerce Tools
The hosting offers not only multiple applications to add to your website but also many eCommerce tools that make it easier for you to start selling your products and services online.
Daily Backups
Your data security is important, and so is keeping their backups so that you never lose your data due to accidental deletion or other security problems. StevianaIT offers automatic daily backups with all its hosting solutions to ensure that your data is always available, safe, and protected.
Types of Web Hosting StevianaIT Offers
StevianaIT has a multitude of web hosting solutions. Here's a list of all the types of web hosting available-
StevianaIT Domain
Having the right domain for your website is essential to its success. StevianaIT offers all the services for domain registration and transfer.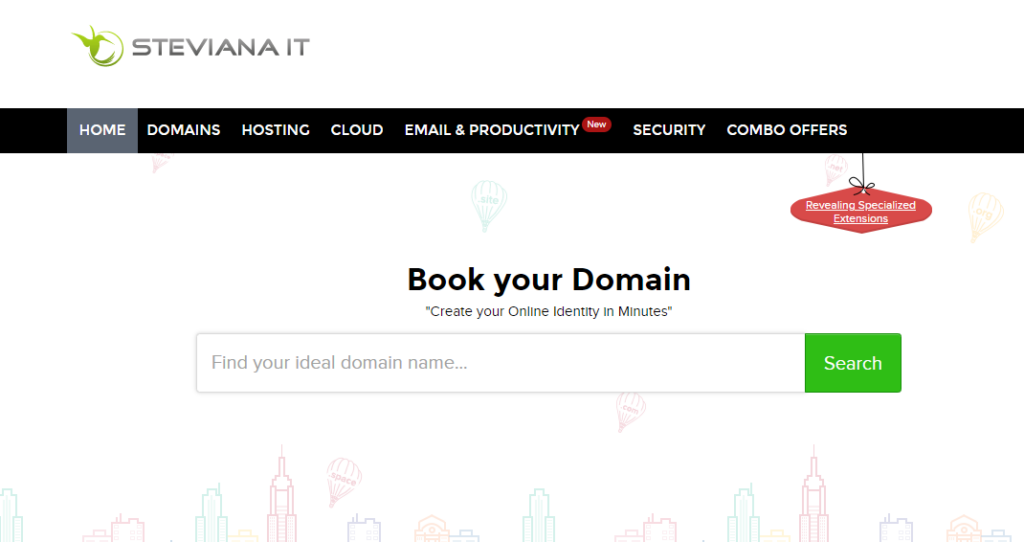 Register a New Domain
You can easily search for a new domain and register it at a cheap and affordable price on StevianaIT. You also get other features like domain forwarding, domain theft protection, etc., when you register a new domain with StevianaIT.
Transfer a Domain
If you have a domain registered with another domain services provider and want to move it to StevianaIT, it's easy and quick. StevianaIT offers a quick and easy procedure to transfer a domain without any hassles.
StevianaIT Hosting Pros & Cons
Every hosting has its pros and cons. Here are some for StevianaIT Hosting.
Pros
Multiple types of hosting solutions.
A multitude of other web, software, and digital marketing services.
Highly affordable hosting plans.
Excellent security features with SiteLock and DDoS protection.
Easy to use and understand user interface.
Cons
The live chat option for customer support is available on Messenger, so you must log in to your Facebook account before approaching support, even for the smallest of things.
FAQ – StevianaIT Review
I already have a website with another host. Can I transfer my website?
Yes, you can easily transfer your website to StevianaIT. Our trained and experienced professionals help you with free website migrations, and you can have your website transferred to your preferred type of hosting in no time at all without any downtime.
Why should I start with Cloud SSD Business Hosting?
Cloud SSD Business hosting has multiple benefits to it-
It's a fast-speed hosting solution that offers excellent website performance.
It's easily accessible over the web as the hosting is available on online servers.
It offers excellent storage for your data, information, and other files.
Why does StevianaIT use NGINX over LightSpeed?
NGINX supports higher speed and performance for websites over LightSpeed servers. The configuration for NGINX is also easier. Given the better use, accessibility, and performance, StevianaIT uses NGINX over LightSpeed.
Do WordPress Hosting Services include Premier Support?
Conclusion – StevianaIT Review
So, that was all there was to cover about StevianaIT hosting. It's a pretty amazing hosting solution with a multitude of features and services. Moreover, all its plans are highly affordable.
There are, of course, some problems when it comes to support, as you need to log in even when you're not a customer, and not everyone is comfortable with that. But besides that, it is a good hosting solution, and in our opinion, it's worth a try.
So, go for it and see how it works for you!