Gaming is at the heart of most people and in today's tech-oriented world people prefer to game on servers. We came across a great platform that helps you own game servers like a pro.
We're talking about NodeCraft. The platform took our hearts with so many games and features that offer the best support for a fulfilling gaming experience on servers. 
So, it was natural for us to compile everything we explored about Nodecraft in a detailed Nodecraft Review to share our experience with you and help you have the best servers for the most amazing gaming experience.
Go on, have a read and know for yourself an amazing game server platform at your disposal.
Overview of NodeCraft
Founded in 2012, NodeCraft is a brilliant team of gamers, programmers, and digital programmers based in Oklahoma to offer the best quality gaming servers to people around the world.

The team initiated its operations for helping people develop independent Minecraft servers. However, over time, with passion, dedication, and constant growth, the team worked towards providing game servers and now has an established name in meeting gaming server needs and requirements for more than 30 games.
The company has been able to achieve this growth with the dedication of all its team members, the numerous data centres on almost every continent around the world, and constant support that keeps the customers at the best of services and experiences.
Test and Analysis
When you're testing a gaming server, you need to look at its ease of use and functionality among other things. Additionally, you need to be assured of good customer support and security.
We have been careful about all these things and tested NodeCraft on every parameter.
User Interface & Ease of Use
Nodecraft is dedicated to providing the fastest gaming servers that you can operate with ease and simplicity.
You can set up your accounts and servers almost instantly and start with your brilliant gaming experiences. So, there's significant flexibility and ease of use in NodeCraft Servers.
NodeCraft Customer Support
NodeCraft boasts of great customer support with a team that's ready and happy to help customers at all business hours. As such, you can reach the support team via calls, emails, or live chats.

However, you may have to wait for the responses from their team as it takes quite some time for the technicians to reach out to you.
Security Analysis
Every server on Nodecraft comes with DDoS protection that keeps the servers secured from low latency and offers excellent speed and performance with up to 99.9% uptime.
So, the security of the systems and servers on Nodecraft is pretty tight and you can trust the servers for uninterrupted service and gaming experience.
NodeCraft Data Center Location
NodeCraft has its data centres around the world in multiple locations. The major data centre locations are-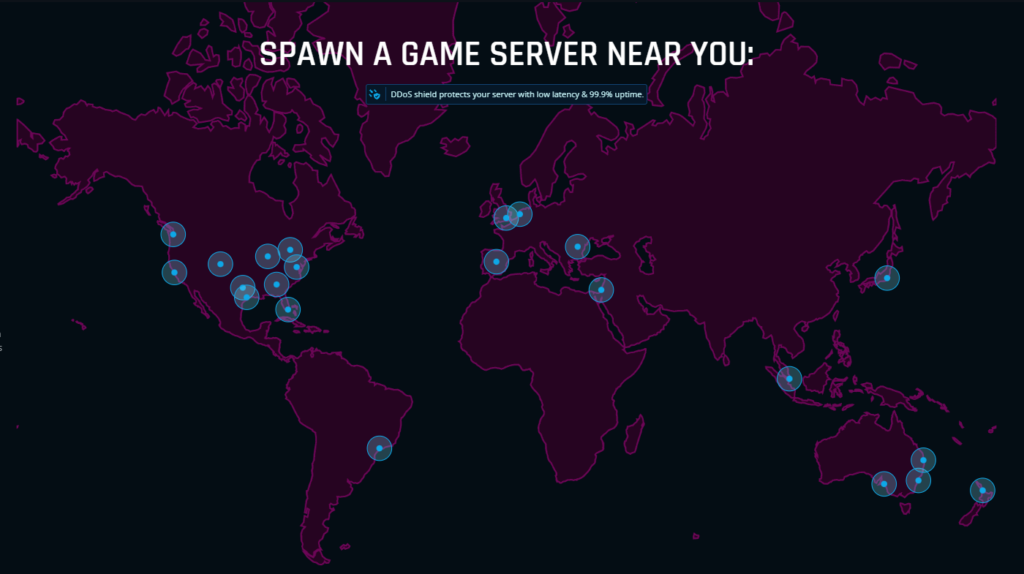 The platforms have data centres in multiple cities, states, and countries across these four continents which helps them serve the fastest speed and most optimal performance for their servers.
Key Features of NodeCraft
The key features of a hosting service show its efficiency and efficacy to the best degree. Here are some of the core features you get in NodeCraft servers.

Game Swapping
NodeCraft has more than 30 games on its platform and once you take a game server plan subscription with them, you can create your gaming server for any of their games without incurring any extra fees or costs.
Cloud Backups
Since you swap between games, you need a system that allows you to store your game data and progress for all the game swaps and setup. You need not worry about your data on the NodeCraft servers as all the data is backed up in the cloud and you can easily swap between games resuming the games where you left them off on your servers.
Dedicated IP Address
Similar IP addresses come with problems of DDoS attacks, latency, network issues, etc. You don't face any of it with your gaming servers on NodeCraft as it provides a dedicated Server IP address that is unique to every server.
Instant Setup
You need not wait to get started with your game servers on NodeCraft. Their systems come with instant setup features. So, once you have purchased the plans, you can quickly create your account and get started with your excellent gaming experiences on the NodeCraft servers.
NodePanel2
NodeCraft hosting is dedicated to delivering the fastest servers with flexible controls and excellent performance. So, they come with NodePanel2 control panels that are built-in by the NodeCraft team from the ground up to offer a pro gaming performance.
Types of Hosting Servers That NodeCraft Offers 
NodeCraft is a platform dedicated to gaming and it offers multiple types of game servers at different prices. The platform initially started to offer servers for Minecraft. 
However, now it takes 30 games in its purview and provides servers for all these games to let you play like a pro. All you have to do is take a game server, select your game, and you can start playing. The game servers start at the cost of $6.49/month.
NodeCraft Hosting Pros & Cons
With every hosting solution, you need to look into its benefits and disadvantages. Let's look at some for NodeCraft.
Pros
Instant setup
DDoS protection with low latency and 99.9% uptime.
Data centers all around the world for maintaining the high speed and performance of the servers.
Excellent support through calls, emails, and live chat.
A free trial is available along with a money-back guarantee.
Cons
The built-in control panel could get quite difficult to understand in the first instance.
FAQs – NodeCraft Review
Does NodeCraft Give Free Trial?
Yes, NodeCraft offers a free trial and you can test the game servers for 24 hours before finally deciding to pay for them.
What kind of Plans does NodeCraft offer?
NodeCraft offers different plans for different games on their servers. The plans start at $6.49/month and you can even swap between games once you purchase and create your game server on Nodecraft.
Does NodeCraft offer Cloud Server?
NodeCraft is a platform that provides gaming servers and you can enjoy gaming over the cloud. All the servers have a cloud backup as well to help you keep your information and data retained between game swapping.
Where are Nodecraft servers located?
NodeCraft servers are located in multiple locations all around the world with data centres in many cities, states, and countries across four continents.
Does NodeCraft offer a MineCraft Game server?
NodeCraft was initially launched with the aim to help gamers create their independent MineCraft game servers. So, yes, NodeCraft offers MineCraft game servers, that's where it began its journey.
Conclusion – NodeCraft Review
This was all there was to cover within this NodeCraft review. After the entire review, we can conclude that NodeCraft is a promising platform for gamers. Its control panel could be a little tricky but you enjoy and understand it once you get the hang of it. Moreover, with all the features and functionalities, gaming servers cannot get better than what Nodecraft offers.
Overall, it's a great platform and even though a bit pricier than the competitors, it stands strong in the market and you should definitely give it a try.