You must have heard of a lot of hosting service providers. But do you have some specific requirements that all hosting providers do not offer?
What if your application needs to be hosted, but not all hosting solutions are suitable for your application?
In this case, we are talking about Java applications. As you know, not all hosting solutions can host Java applications. view
So to help you out, we have a JVMHost review. JVMHosting helps host Java applications. Let us learn more about it.
About JVMHost
JVMHost or also known as Java Host, is a hosting service provider. It specializes in Java application hosting, including servlets, JSP, standalone applications, and application servers or servlet containers.
It has features specifically designed for Java applications so that you do not end up making adjustments and hiring more tools for some minor work.
The founders of JVMHost have years of experience as sysadmins, after which they started a Java hosting company with an aim to provide better Java hosting services.
Key Features of JVMHost
The basic idea of JVMHost is to provide Java hosting. Let us see what features it has got to understand if it is a right fit for you or not.
Variety of Java Hosting Solutions
JVMHost tries to keep up with the technology by introducing various Java hosting solutions. They provide a managed environment and are flexible to upgrade or downgrade your plans according to your needs.
Backups
JVMHost goes through the process of backup regularly to keep your data safe. Shared server users can backup using cPanel. They run weekly and monthly full cPanel account backups. 
Continuous Upgrades
It keeps upgrading its Java, application, and OS. It gives you the best security, the newest versions of JDK, servlet containers, and application servers.
Custom and Easy Management Solution
JVMHost strives to give you the easiest and the best experience working with them. They have developed their own Java Panel so that they do not have to rely on a third party to introduce features required by JVMHost customers.
Hosting Stability
They aim to provide stable hosting, and therefore they provide dedicated servers and use only enterprise-grade hardware. With shared servers, security and speed can become a problem.
Best JVMhost Hosting Plans
JVMHost as said before, provides several hosting plans but specializes in Java Hosting. The types of hosting JVMHost offers include Java hosting, shared hosting, VPS hosting, and dedicated hosting.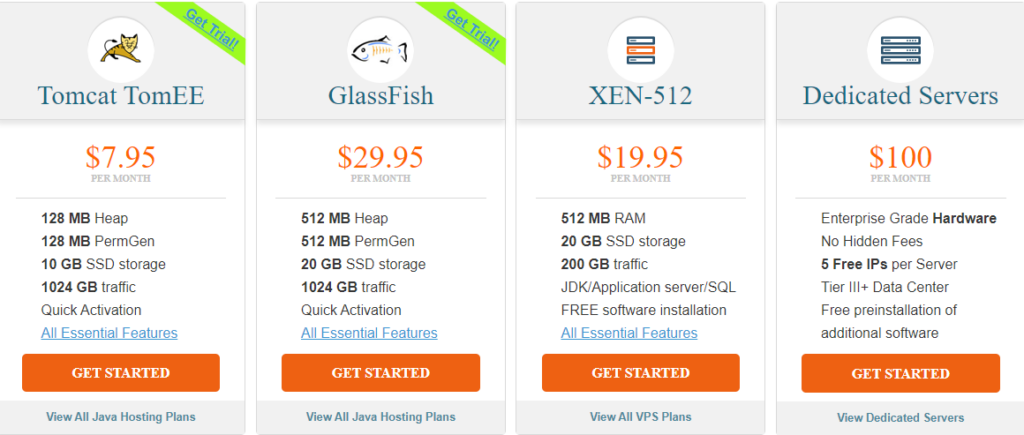 If you are looking for the best hosting plan offered by JVMHost, we would suggest in this JVMHost review Java hosting as it is its speciality. They have several plans for it called Tomcat. The prices range from $7.96/month to $29.95/month.
Is JVMHost the best for Java Hosting?
JVMHost is developed by people who have had years of experience as sysadmins. So they have put a lot of thought into developing JVMHost, which specializes in Java hosting.
It could not be entirely called the best Java hosting. But yes, through the testing results that we obtained for this JVMHost review, we could say it is one of the best for Java hosting.
Why Choose JVMHosting Plans?
The most straightforward answer to this would be the quality of plans. JVMHost pays a lot of attention to the quality and facilities offered in their plans.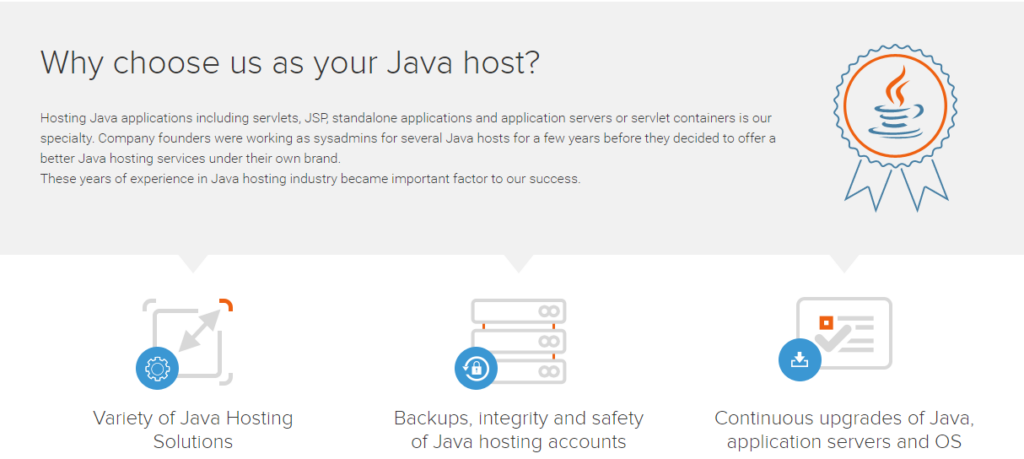 Though they have excellent quality, they still stick to the standard plan prices. So these do sound like good reasons to choose JVMHosting plans.
Conclusion – JVMHost Review
Java hosting can be pretty tricky as there are few options available for that market. So here you went through one of the best Java hosting service providers, JVM Host. Java hosting is their specialty.
So why don't you give it a try when you are getting such good-quality tools and features? 
With JVMHost, you will not have to look for other tools to work with your Java applications. So will this JVM review help you make a decision?