Have you been looking for a hosting service provider that offers you a wide variety of gaming servers? How many hosting service providers have you looked into yet? Now, since you are here, we could help you find one that could be perfect for you.
GPORTAL is a hosting provider specialized in gaming servers. This hosting platform offers servers for plenty of games. Also, you get the benefits that are too good to be true at their prices.
Let us dig into this GPORTAL review to know more.
About GPORTAL
GPORTAL is a hosting service provider with an experience of over a decade. This hosting platform primarily focuses on gaming servers and provides some of the best plans for you to work on with your players.
They have numerous server locations spread across the globe strategically to help you with the best speed and connectivity possible. GPORTAL will high your spirits with its plans so let us get into this GPORTAL review.
Test and Analysis
It is now time to test out the services of this platform in this GPORTAL review.
User Interface & Ease of Use
As we said earlier that GPORTAL would raise your spirits, one of the reasons for us to say so was the user interface of this hosting platform. At first, you are presented with a display where the gaming theme is maintained, and later when you create an account and buy a plan, you will be provided with an easy-to-use dashboard.
GPORTAL Customer Support
With the support of someone always ready to help you, you would not be so worried about taking steps. The same applies to hostings.
With GPORTAL, you get the benefit of 24/7 customer support. You can reach out to the customer support team through phone calling and tickets.
Security Analysis
It is not a regular hosting service provider; therefore, the security might not be that reliable. Is that what you thought?
However, this hosting platform takes optimal care of your gaming data. Here you get features such as DDoS protection to keep your data secure.
GPORTAL Data Centre
The Data centers of GPORTAL are located in: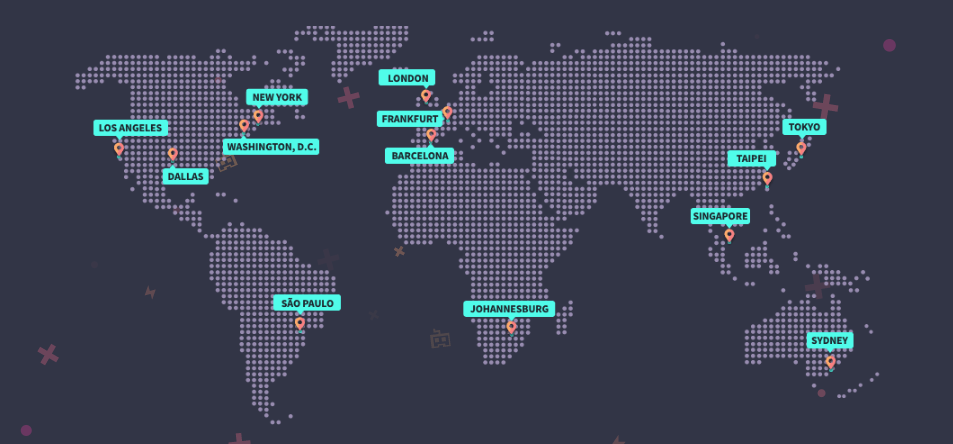 Key Features Of GPORTAL
Let us now list out the key features of GPORTAL.
DDoS Protection
People always emphasize the importance of the safety of your valuables. Why?
Because the valuables you own are built out of your hard work, and it needs to be kept safe. Therefore, GPORTAL offers you the security of DDoS protection, which saves your data from all DDoS attacks.
Did you pay a lot more than what you initially agreed to pay for your hosting plan? Did you use up its resources and add additional players?
With GPORTAL, you will not have to worry about any extra players as this hosting platform puts no limit on players on some of its plans, such as the Minecraft server.
Do you dread wasting time as you have lots to do and have less time on your hands? Or do you get too excited and do not want to waste hours waiting for your server to set up?
Now you will not have to do that. With GPORTAL, you can get your server online in just 3 minutes and nothing more.
What types of web hosting are offered by GPORTAL?
GPORTAL offers the following hostings:
GPORTAL Refund Policy
Suppose you buy a product, use it for a while, and do not like it. So you lost the money?
Don't you remember that the seller offers a refund on its products? Go get your money back. You can do the same with the plan you bought on GPORTAL, as this hosting platform offers a 48-hour refund policy. However, if you have made payments using the Paysafecard, there will be no refund.

Once the payment is made and you are looking to cancel it, you need to manually cancel the payment that is authorized through Microsoft or PayPal. Also, the policy allows you to get a refund on recurring or auto-renewals within 72 hours of renewal.
Another refund benefit GPORTAL offers is that you can avail 7-day money-back guarantee if there is any fault in services (Excluding Early Access game server software). Lastly, if you have credits in your account, they cannot be refunded to any other account for usage.
GPORTAL Pros & Cons
Let us now look at the pros and cons of GPORTAL.
Pros
Instant setup
Backups
DDoS protection
Cons
Only a 48-hour refund policy
FAQs: GPORTAL Review
What is GPORTAL?
GPORTAL is a hosting service provider primarily focused on offering gaming servers to the world through its various server locations.
Is GPORTAL suitable for Minecraft?
Absolutely. This hosting platform has a separate section dedicated to Minecraft. With the Minecraft plans on GPORTAL, you get numerous benefits such as instant setup, DDoS protection, and more.
Is Gportal reliable?
Yes, GPORTAL has been in business for a long time and has gained sufficient trust from its users. It works in legal terms and starts its terms of service on its websites.
How do I contact the GPORTAL?
You can contact GPORTAL at any hour of the day through phone calling and tickets. You will be responded to within minutes, if not in seconds.
Conclusion: GPORTAL Review
Let us now conclude this GPORTAL review and look at the good and not so good features of this hosting platform as per our experience with it. This hosting platform has several server locations, which are pulse points and adds excellent speed.
The Minecraft section facility makes it easier for Minecraft players at affordable prices. However, this hosting platform could have been more precise about its data centers and plans.