If you are starting to build a new website, WordPress is probably a name you must have heard a lot of times. It is one of the best yet effortless CMS platforms where you can build a fabulous web presence single-handedly.
Knowingly, GetFlyWheel is the largest WordPress-oriented agency that offers all-in-one WordPress solutions to launch a strong WordPress site for you. However, can the company really satisfy all your WordPress requirements in one place?
Well, let's answer this question with this GetFlyWheel review.
About GetFlyWheel
GetFlyWheel is a new aging technology company that binds people with unique innovations and services. The platform offers top-notch services and solutions to create the best WordPress website to take your business from fast to the fastest.
Talking the robust team, it is an amalgamation of innovative idea makers that turns your work experience more established and rich.
As the company is specifically centric on WordPress, they endeavor high expertise professionals who have acquired years of experience building top-notch WordPress websites and establishing complete site management.
Key Features of GetFlyWheel
The reason behind its top-notch services lies in its solutions. So, here are some of the basic features of GetFlyWheel.
Security Focused Procedure
GetFlyWheel has multiple security features like plugin security alerts, nightly backups, and free malware cleanup that helps your site block unwanted attacks and malware.
Auto Health Method
Handling a bunch of data is not an easy task. Therefore, GetFlyWheel provides complete data security with cutting-edge technology and methods. So, you can now deal with service failure or any other malfunctioning site crashes effortlessly.
Automatic Backups when you Sleep
GetFlyWheel offers regular backups that are held automatically when you sleep. This helps you start fresh the next day without facing any hassle during work.
Globally Active Base
The company aims to get close to its users regardless of location. Therefore, you get the nearest data center to your location. These data centers are highly enriched with top-notch amenities, tools, and features that help bring you closer to next-gen technology.
Best GetFlyWheel WordPress Hosting Plans
As mentioned, GetFlyWheel is a WordPress-driven agency offering one on one WordPress-related solutions to help people land a leading website on the platform. Interestingly, the company offers a 14-day trial method, wherein you can explore their plans for 14 days without cost.
Moreover, looking ahead is a list of some of the major services offered by the company-
Best GetFlyWheel WordPress Hosting Plans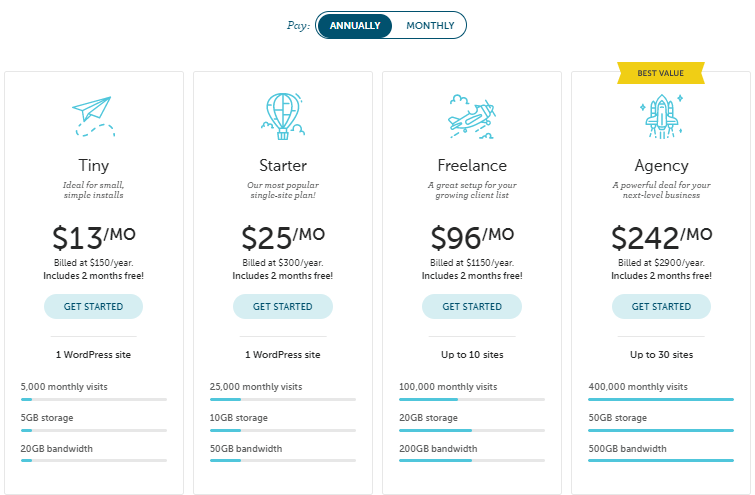 How GetFlyWheel Stands Against Competitors?
One of the significant reasons why GetFlyWheel is standing four steps ahead of its competitors is its services. GetFlyWheel is a WordPress-oriented company offering the utmost WordPress services to help you improve your site!
These solutions are budget-friendly and ensure complete quality in a single package.
Why Choose GetFlyWheel WordPress Hosting Plans?
GetFlyWheel is the fastest-growing WordPress hosting solution agency throwing the limelight to the most affordable, reliable, and best-in-quality services. The company offers real-time-based solutions combined with some in-house methodologies to utter the best possible solutions for you.
Following are some grounds that prove GetFlyWheel to become the No.1 choice:
Conclusion – GetFlyWheel Review
So, this was all about GetFlyWheel and a record of its quality features. If you want to expand your brand on WordPress, then GetFlyWheel can be a fruitful buy for you.
The company will offer excellent management tools and some excellent features to host your website like a pro!
We hope this Getflywheel review was helpful in understanding this hosting solution better, and you're all set to try it out to make your business fly to the next level of profitability, scalability, and success.