Virtual Machines are a cornerstone in creating isolated and secure server environments where businesses can host their resources and achieve more simplicity and flexibility in their work, along with making operational data and resources more accessible to their users.
However, virtual machines are advanced technology, and you need good companies hosting these machines for you to use them to their optimum capabilities.
Evoxt is one such company that is growing rapidly in this industry. So, it was impossible not to test its virtual machines and give a detailed review of the company. Thus, here is our detailed Evoxt review to help you analyze and understand if this is the platform you want for hosting your resources or not.
About Evoxt
Evoxt was founded in 2020 with the mission and vision to make cloud virtual machines a part of every organization at low cost and high performance.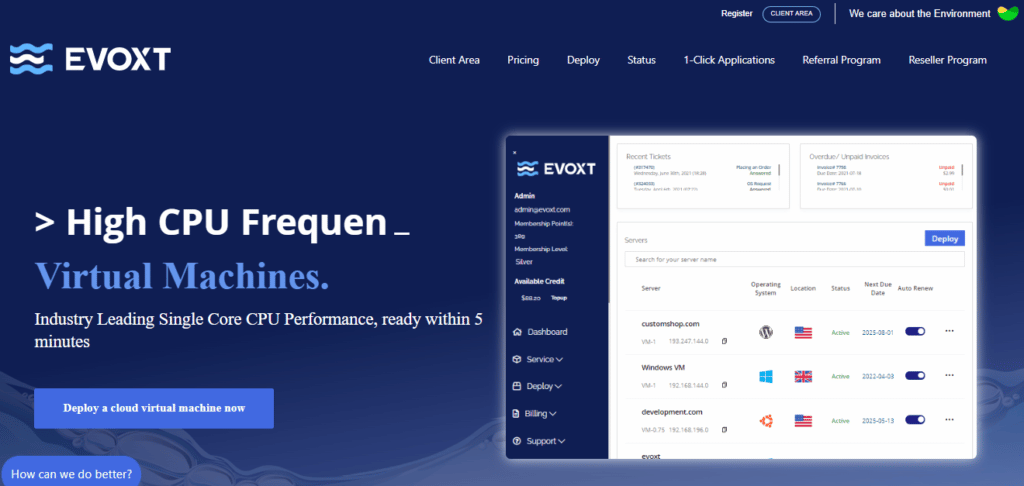 The founder of Evoxt has been playing at virtual machines since 2015 and has gained experience working with different companies and hosting virtual machines for them over the years.
In 2020, he took it as a business and came up with the vision to create and deploy high-performing virtual machines at lower costs than competitors.
With that aim, the company has garnered a reputable name in providing excellent cloud virtual machines with multiple CPU cores that deliver excellent performance while also including all tools and backups in the services free of cost.
Test & Analysis
We have tested Evoxt on multiple parameters to see how they put up with the user requirements. Hereinbelow are the results of our tests and analysis.
User Interface & Ease of Use
Evoxt is a company that has kept simplicity as a core. It is easy to navigate through the Evoxt servers and virtual machines with intuitive and easy-to-use interfaces that are designed for the best user experiences.
The interfaces are readily understandable, even by a non-technical person. So, you can get on with the platform quickly without fiddling around.
Evoxt Customer Support
Evoxt is good with its customer support. It has a telegram channel to offer support and answer user queries and questions.
Alternatively, you can open a support ticket to reach out to the support team. You can even give your bug reports through support tickets, and they reach back to you based on the priority level of your support request.
The response is very quick. On testing the services, we received a response within 10 minutes of raising the query.
Security Analysis
Evoxt servers offer multiple layers of enterprise-level security with an isolated virtual environment to prevent unauthorized access to your server.

There is also an enterprise-level layer three security firewall that can easily be adjusted as per your preference with just a few clicks. Additionally, the data on your servers is backed up automatically, and all the servers include free weekly backups that you can access easily.
Key Features Evoxt offers
Evoxt is a company dealing in advanced technology virtual machines. So, the features are pretty unique and advanced too. Herein below is a brief overview of some of the key features of Evoxt.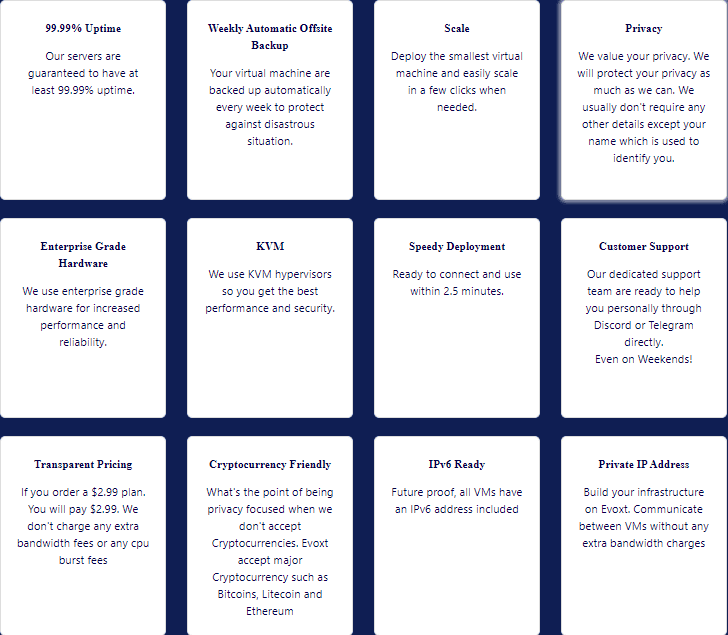 Evoxt Pros & Cons
On testing a platform, you are sure to see many benefits but some disadvantages as well. The same is the case with Evoxt. Herein below are the pros and cons of the platform.
Pros
Free backups
Enhanced security measures 
Affordable services
Compatibility with multiple operating systems.
Unique and advanced features.
High availability
Cons
While they have a money-back guarantee, many terms and conditions are put on the refunds.
FAQ– Evoxt Review
How much does Evoxt cost?
Evoxt offers many plans at various price points, starting from $2.99 /month and going all the way up to $95.99 /month.
Depending on your needs, you can also find a sliding price estimator on the website to determine the perfect plan for you.
What's Evoxt  Refund Policy?
If you do not like the services provided by Evoxt, you can file for a refund within seven days of purchasing the plan.
However, there are too many terms and conditions for the refunds to be processed, even if covered in the money-back guarantee.
Do Evoxt offer DDoS-protected services?
Yes, Evoxt servers are DDoS protected. US will be 150 Gbps null route while the UK region will be 130 Gbps active filtering.
What types of Web Hosting Evoxt Offers?
Evoxt is a dedicated platform that focuses on cloud technology. As such, it offers cloud virtual machines and servers as a part of its services.
You can also look out for their referral and reseller programs to benefit more from the services.
Conclusion- Evoxt Review
So, this was a detailed Evoxt review. The platform seems great and is doing excellent work to meet its purpose and mission.
The servers and virtual machines provided by the platform are cheap and affordable, and the features are very advanced. You get high security and excellent flexibility in using the servers and resources. The support is also excellent, and you will never have to wait too long for your issues to be resolved.
Overall, the entire platform is great, and you can definitely give it a try if you're looking for excellent virtual machines.