To secure a name for your website, you must first register it. Without registering it with a reliable registrar, you are always at risk of losing it.
Also, having a domain name and hosting on the same platform makes it even easier to handle.
DomainFactory is a hosting service provider that offers hosting and domain names on the same platform.
As the name suggests, this platform's primary focus is on domain names and is provided at affordable prices.
Let us learn more about its services as we progress in this DomainFactory review.
About DomainFactory
DomainFactory is a hosting service provider founded about two decades ago in Germany.
Since then, this hosting service provider has been thriving as one of the leading hosting platforms in its home country. 
Since this hosting platform originates in Europe, the rules are set exceptionally strictly. Here, you get plenty of domain names within the $1 range.
Besides, you also get quite a range of hosting services.
Test and Analysis
Now it's time to move ahead in this DomainFactory review and analyze its services. 
User Interface & Ease of Use
The user interface offered by DomainFactory is user-friendly and can be used by beginners due to its easy-to-understand dashboard.
However, this hosting platform might require some German fluency.
DomainFactory Customer Support

One of the best services offered by DomainFactory is its customer support. This hosting platform provides customer support through calls within 85 seconds. You can also email and send a fax to them. 
Security Analysis
The security offered by DomainFactory is pretty appreciable. This hosting platform provides security features such as malware scanners and repairs, firewalls, SSL certificates, and backups.
Also, you can buy a separate security plan at as low as $1.
Key Features Of DomainFactory
Let us now list out the key features of this platform in this DomainFactory review.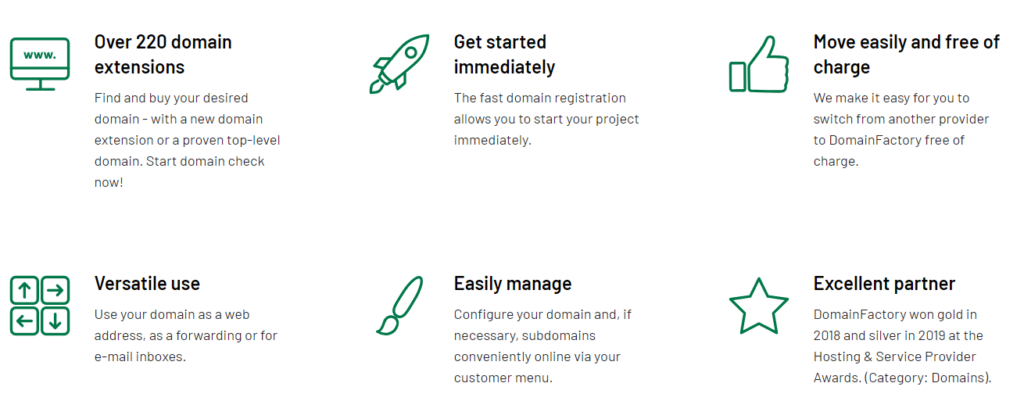 CronJobs
With hosting plans offered by DomainFactory, you get a set of CronJobs included, which makes your hosting experience even more accessible and reduces the effort required to do repetitive tasks such as backups and sending emails.
Managed Hosting
If you are someone with minimal hosting experience, this hosting platform would be perfect for you. With DomainFactory, you get managed hosting, which can handle most hosting tasks. 
Flexible Hosting Plans
With DomainFactory, you do not have to stick to a standard plan and add features that require more, as this will ensure higher efficiency, speed, and less workload. 
What Types of Web Hosting are Offered by DomainFactory?
DomainFactory offers the following hosting plans:

DomainFactory Domain
As the name suggests, DomainFactory also offers domain-related services. Let us take a look at them in this DomainFactory review.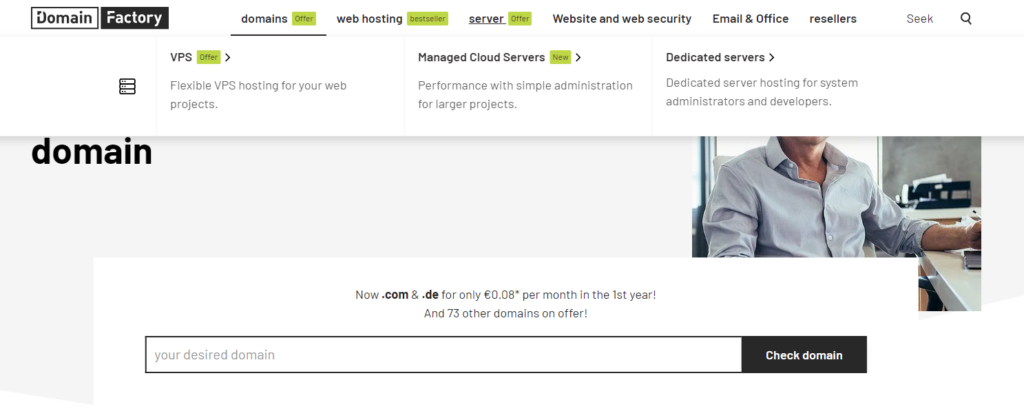 Domain Registration
With DomainFactory, you can choose from over 70 domain name extensions. Many of them come under the precise range of $1 and start from about $0.08.
Domain Transfer
If you have an existing domain name, you do not fear losing it, as DomainFactory will get it transferred for free. Also, the entire process is monitored by the customer support team.
DomainFactory Pros & Cons
Now it's time to consider the pros and cons of DomainFactory hosting plans.     
Pros
60-day refund policy
Managed hosting
85 seconds response time
Affordable
Cons
Data centers only in Europe
Calling is available only during working hours and a few hours on holidays
FAQs – DomainFactory Review
Why Choose DomainFactory Web Hosting?
You could choose DomainFactory as your hosting service provider as it offers reliable customer support and affordability.
What is the customer support of DomainFactory?
The customer support offered by DomainFactory is pretty appreciable. This hosting platform provides a wait time of fewer than two minutes on calls.
Is DomainFactory good value for money?
Yes, the hosting plans on this platform are pretty affordable, come with many features, and offer a 60-day refund policy. 
Does DomainFactory offer a Free SSL Certificate?
What is the refund policy of DomainFactory?
This hosting service provider offers a 60-day refund policy which you could use to decide whether you want to keep this plan or not after testing it. 
What is the Starting Price of DomainFactory Hosting?
The hosting plan of domain names on DomainFactory is $0.08, and the hosting plan range starts from $2 a month.
Conclusion – DomainFactory Review
We may now take account of all the features and services we looked into while reading through this DomainFactory review.
This hosting platform has two data centers, but both are located in Europe, which could affect the speed of many users.
Also, the website is built in German, which could be a language barrier. However, the customer support offered by this platform is pretty reliable, and the plans are filled with beneficial features.