Days after the imposition of Covid-19 restrictions, working on a remote basis (Working from home or from anywhere else in the world) has become a common nature of job among the professionals.
Work from home has succeeded over the years attracting more newcomers into this field. However, employees who are new to working on a remote basis have no idea about how to make their performance efficient.
In this article we'll be sharing Top 15 Remote work productivity tips that can prove extremely to the newbies who have newly opted for Remote work services.
We have also discussed activities that you should refrain from, while working remotely. In addition, we have drawn a comparison between Work from home & Work remotely and resolved a few FAQs as well.
Now sit back and relax, as we are going to know the 15 Best Remote Work Productivity Tips. So buckle yourself up! 👍
15 Best Remote Work Productivity Tips 2024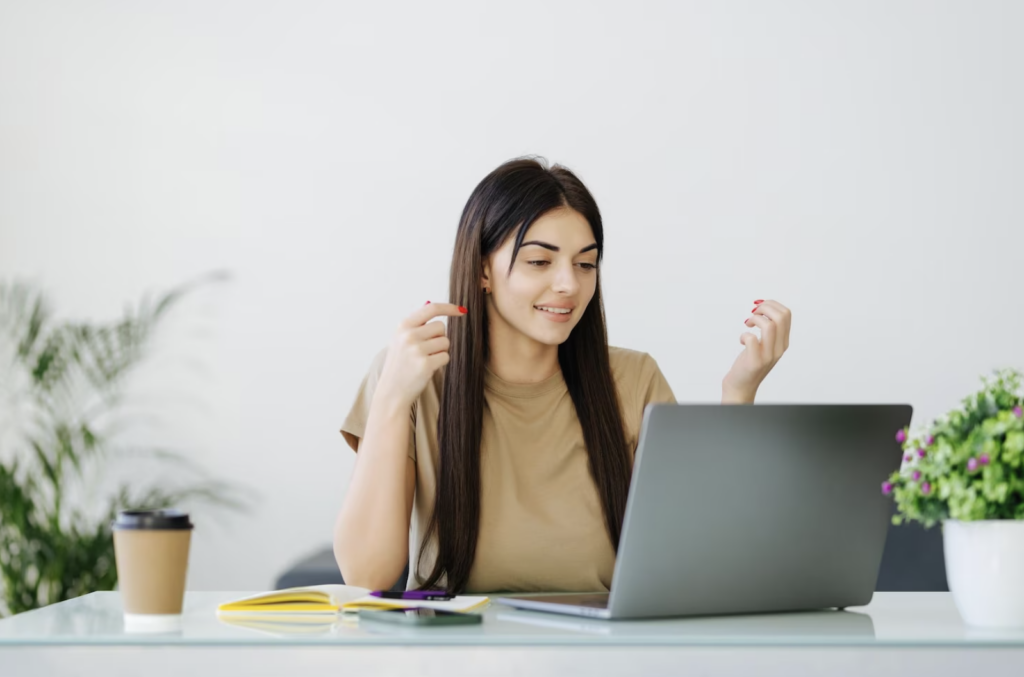 If you are working or are planning to pick a job on a remote basis, you need to adhere to 15 Best Remote Work Productivity tips to boost your work efficiency and hike your performance as well.
Keep reading further to know creamy tips to be productive while working remotely:
1. Prioritize your schedule
The first and the foremost tip to productively work on a remote basis is to schedule your daily routine. Begin with setting up an alarm to wake up early, Do work out for an hour or a half, Have a healthy breakfast and start off with your work.
Make use of alarm clocks and necessary mobile applications to set your timetable. Irregular routine may hamper your work efficiency and thereby lead to less productivity.
2. Set daily or weekly Goals
Before starting off with your work, chart your daily or weekly targets to enable you to check your performance and cohesively arrange your projects for timely completion. Use Goal Tracker Application softwares to draft your goals and accomplish it accordingly.
Since you are working remotely, you have to be your own supervisor at times to set objectives and track the predetermined goals on a daily basis.
3. Dress yourself well
Get ready for your work as you used to do when you worked on an official site. Obviously do not wear the same uniform but try putting on clothes that you find comfortable and wear formals while you attend virtual meetings with your team members.
A nice dress up style provides a working atmosphere enabling you to focus more on your projects.
4. Choose a specific workspace
A privilege that an employee, operating remotely, enjoys, is that he is entitled to choose the desired location for his work meeting his suitability. He can either choose to work from home or operate official tasks from a near-by coffee shop.
A suitable and a friendly workspace elevates the level of his focus that he puts on his work thereby hiking productivity.
5. Avoid distractions
Constant distraction no matter experienced in an official site or while working remotely can adversely impact your work performance.
So, before making a right choice for your desired workspace make sure to choose such a location that provides a working atmosphere.
6. Take time to relax and take tea breaks
Overloaded work can mitigate your performance, thereby hampering your productivity. So, take your time to sit back and relax. If you work from home, then spend five to ten minutes with your family or take a small tea break to replenish the zeal within yourself.
7. Have a nice eating habit
Having nutritious and less caloric food might boost your health and ensure your physical fitness at times when you end up devoting several hours on laptop. Intake of health conscious stuff like Juices, fruit salads, and healthy meals can elevate your work performance.
8. Keep your internet connectivity and power supply rock solid
Keeping internet connection via Wifi and power supply 24/7 is crucial when it comes to operating on a remote basis. The level of productivity tends to decline when remotely working employees face technical glitches and irregular power supply.
9. Talk and keep in touch with your team
Establish communication with your co-workers at all times to report to them the developments you've made in your assigned projects. This will ensure them not only to track your work status but also work together as a team to enhance the level of productivity.
10. Seek for a feedback
A feedback by your superiors to your submitted work is as important as anything in remote operational work. It enables you to verify the grade of efficiency you are able to devote and to work with a greater zeal and by removing all possible hindrance to your work as well.
11. Attend the web meetings
Attending web meetings ensures a weekly or a monthly interaction with the entire office staff where members discuss the opportunities and the developments needed to be taken to accomplish a challenging task ahead. It enables the remotely working employees to draft their plans accordingly for greater results.
12. Use productive apps
Productive step that employees working on a remote basis can take is to make use of a variety of Application software to enable them to track their performance as well as to check upon their working hours. Using softwares like desktime, Trello and a lot more, can help you and your team members to trace the series of developments of your assigned projects.
13. Make effort to complete the assignments before the deadline
One tip that will help you separate from the rest of the employees either working on a remote basis or on the official place, is to complete your assigned project before the deadline declines. Accomplishing the task before the submission dates makes your performance level outstanding.
14. Update your superiors with your work status hourly
Besides using useful software applications like desktime or trello, you can personally email your superiors via gmail or send text messages via slack to regularly update them about your work performance. This helps them to keep a record of your developments achieved in projects assigned in turn revitalizing your energy to put more effort in your work
15. Celebrate your achievements
Take a vacation or a day off on completion of your assigned projects that in turn may help you relax your mind and your body. Achievements in the form of appreciation are relishing once you celebrate it with your family and friends. This on the other hand will muster up greater energy for you to work with more efficiency while working on a remote basis.
With 15 tips to work productively on a remote basis as mentioned above, let us now see how effectively you can attend and perform well in your virtual meetings and presentations.
Are there specific tips for effective virtual meetings and presentations?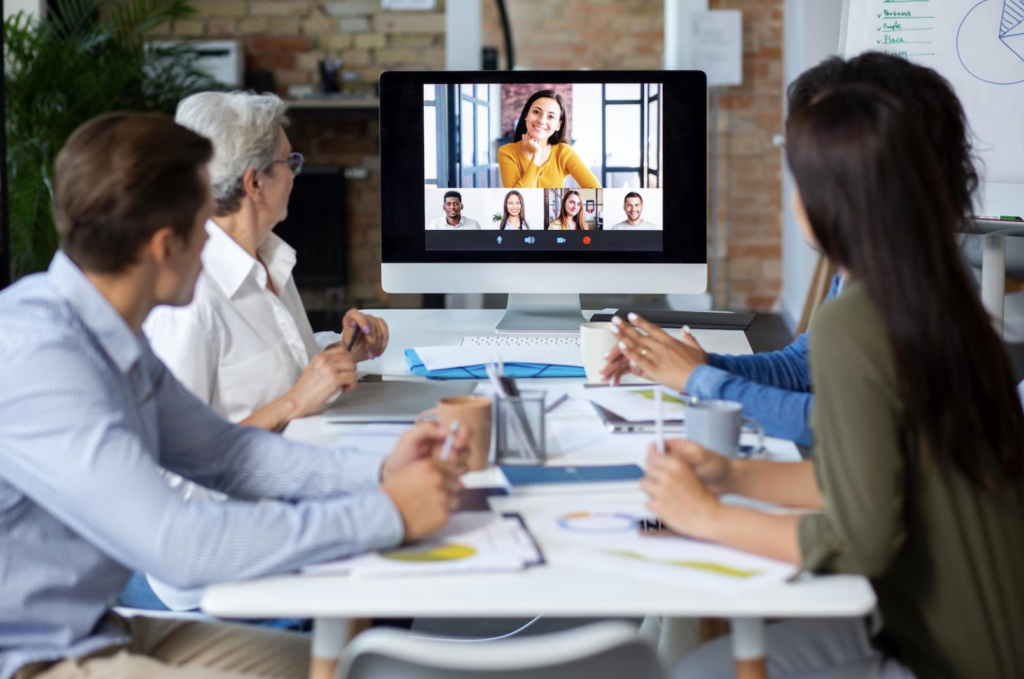 There are several tips for attending virtual meetings and presentations effectively. The key tips to adhere to are as follows:
1. Prepare and Test:
Ensure that you are well prepared for your Web Meeting by setting an agenda, preparing a presentation on your work progress, and checking all your gadgets that you are gonna be using in the web meeting.
2. Create a suitable atmosphere:
Find a Quiet and a Well lit place where you won't be disturbed. A noise free background and neutral atmosphere help to maintain a professional image among your team members.
3. Use good quality equipments:
If you work from home, then invest in good quality microphones, headphones and WebCam for uninterrupted conversation in the meetings.
4. Dress yourself well
Assume that your virtual meetings and presentations are in-person ones. In that case you would dress according to the nature of professionalism and respect to elevate your formal status among your co-workers.
5. Engage all the participants:
Encourage active participation and engagement of your team members by making a good use of chat features, Polling and a lot more. It not only ensures active participation but also brings out the opinion of all the employees at the same time.
6. Speak clearly and slowly:
Make sure you are audible to your team members and speak at a moderate rate. Pronounce your words well so that the members hearing you may understand the idea you are trying to state.
7. Record the meetings:
If it is an appropriate norm or with another team member's consent, record the entire web meetings and the presentations. This allows the participants to review the developments taken place in the discussion.
We sincerely believe that the above guidelines, if followed properly, can make you perform well in your web meetings and presentations. The employees who work on a remote basis can grab a lot of benefits by adhering to the aforementioned tips to attend the virtual meetings.
What Not to Do When You're Working Remotely?
Just the way we have do's and don't s while working in an official workspace, similarly we have set of some activities that we should restrict to perform as it may affect our performance level.
When you work remotely, there are certain things you should avoid doing in order to uphold the productivity status and efficiency.
Below are the points that one needs to omit while working on a remote basis:
After reading the post so far, we believe that you might be taking Working on a remote basis and working from home the same. But to tell the truth it's not.
Working From Home vs Remote Work
Employees who work on a remote basis and those who work from home, have different Working locations, Working hours and a lot more. So to start with let us understand what Work from home and remote Work means.
Work from Home refers to a remote job where the employees operate from their residence instead of an official workspace whereas Remote work is a wider term than refers to any type of work that is done anywhere outside the official premises. (it includes working from home, working from a neighborhood coffee shop or anywhere in the world.)
Some detailed key differences between Working from home and working on a remote basis are as follows:
| | |
| --- | --- |
| Work from Home | Remote Work |
| Employees working from their residence or from the place where they live is termed as Work from Home. | Employees working from anywhere outside the official premises(on-site) is termed as Remote Work. |
| It is a narrow term. | It is a wider term. |
| The place from where you work is your Home. | The place from where you work can be a neighborhood coffee shop, your House, nearby Park and a lot more. |
| Employees need to arrange the equipment they require to work with on their own. | Employees are provided with the necessary equipment by their official authorities. |
| The working hours that the employee needs to devote are flexible. | The working hours that the employee needs to devote depends upon the office hours. |
Still have few doubts in mind? Take no worries. Below we have listed a few FAQs that might help you remove your doubts related to remote jobs.
FAQ's – Best Remote Work Productivity
How does remote work help productivity?
Remote work allows employees to choose their desired workspace, minimize the work pressure, less distraction, enabling them to take coffee breaks to revitalize their energy thereby helping them to increase the level of productivity.
What is the biggest problem with remote work?
The biggest problem with Remote Work is that the Employees can't enjoy the benefits that staff working on official sites get like staff gathering, small tea break chit chats and a lot more.
Does remote work have a negative impact on productivity?
No! Remote work instead has a positive effect on the level of productivity of the employee as he;
tends to enjoy his own choice of workspace
can have a less distractive atmosphere
communicate with his team members at regular intervals
take tea breaks with his family as well.
What are the top productivity challenges faced by remote workers?
The top productivity challenges faced by remote workers is:
Picking the most appropriate location for a workspace.
Limitations observed at times of technical glitches.
Failing to communicate with the team members.
What communication tools should I use to stay connected with my team?
The communication tools that an employee working on a remote basis should use to connect with his team successfully without hindrance are as follows:
Slack, informally can be termed as official whatsapp
Trello, manage your assigned projects and keep your superiors updated with the progress.
Telegram, used to share relevant official pdf's and much more.
Skype, to enable virtual voice or video calls with your team members.
DeskTime, Enables the supervisors to keep a track of employees working remotely.
Conclusion – Best Remote Work Productivity
Lastly , we would like to convey that if you are an employee working on a remote basis then you can easily make your work enjoyable and can be more productive at the same time only if you try to follow these golden rules mentioned above. We assure you that if you make sincere efforts to follow these guidelines then you can drive more results out of it.
We believe that you will definitely get the desired outcomes. We would be grateful too if you could leave us some insightful remarks to suggest to us with your fruitful words. 🙂